Using the wrong A/V receiver affects sound and image quality. The goal is to boost audio and get amazing pictures. Two A/V receivers that accomplish this goal are the RX-A2080 from Yamaha and the Denon AVR-X4500H.
Both are nine-channel receivers with similar features and impedance. Bandwidth is also the same, but the RX-A2080 has more power. It also comes with plenty of inputs and outputs, but the Denon model has an extra HDMI port. The receiver is easier to control and install. Comparing the Yamaha RX-A2080 vs the Denon AVR-X4500 comes down to what you need in an audio/video receiver (>>> Find on Amazon).
Here's a closer look at the receivers, so you can make an informed decision.
Yamaha RX-A2080 vs Denon AVR-X4500H Side by Side:
| | Yamaha RX-A2080 | Denon AVR-X4500H |
| --- | --- | --- |
| | | |
| Video | 4K/60Hz | 4K/60Hz |
| Amplifier | 9.2 Channel (140W per channel) | 9.2 Channel (125W per channel) |
| Sound | 5.2.4 Dolby Atmos | 5.2.4 or 7.2.2 Dolby Atmos |
| Wi-Fi | Yes | Yes |
| Bluetooth | Yes | Yes |
| Dimensions (LxWxH) | 18.66 x 17.13 x 7.56 inches | 17.13 x 15 x 6.63 inches |
| Price | Find on Amazon | Find on Amazon |
Sound quality, ease of installation, and connectivity are features to look for in an A/V receiver.
Audio and Video Quality
With 9.2 channels, you have configuration options. You get front right, left, and center speakers, along with dual wide fronts, surrounds, and subwoofers. Audio is immersive and will fill larger areas with immersive sound. The RX-A2080 does come with more power. You get 140-watts compared to 125-watts with the AVR-X4500H. The additional watts make a difference in large rooms.
Video quality is the same with both receivers. You get 4K upscaling for immersive images, HDR10 and HLG support optimize pictures and produce bright, realistic colors. Dolby Vision is also supported for cinematic quality images.
Better Audio and Video Quality: Yamaha RX-A2080
Connectivity
An A/V receiver is useless if it doesn't have enough connections. Both models have robust connection panels. You get 7 HDMI inputs and 3 outputs, along with 2 ports for subwoofers, a preamp output, USB connections, and an ethernet port with the Yamaha RX-A2080. It also supports rear wireless speakers for improved sound quality.
The Denon AVR-X4500H comes with 8 HDMI inputs which are handy if you want to connect a lot of devices. The downside is the lack of support for wireless speakers.
Better Connectivity: Yamaha RX-A2080
Installation
Both receivers are hefty components you don't want to move around, but the AVR-X4500H is 10 pounds lighter at 30lbs. Depending on where you're installing the receiver, 10 pounds can make a big difference. Wi-Fi, Bluetooth, and Airplay support make it easy to stream your favorite music and come standard with both models.
The Denon A/V receiver may be a little easier to operate thanks to the intuitive remote. The RX-A2080 is hard to use, but the AVR-X4500H is more convenient. It's also more compact making it easier to fit on a shelf with your other components.
Easier Installation: Denon AVR-X4500H
---
Yamaha RX-A2080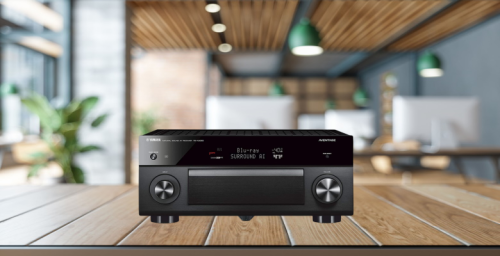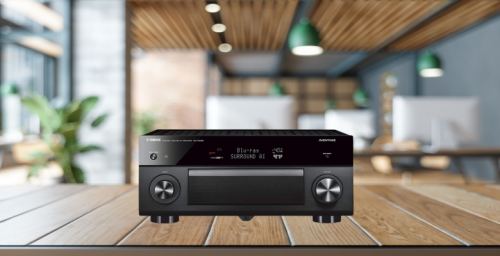 You get a lot with the Yamaha RX-A2080. It makes sense, considering its bulky size. At 37.5lbs and measuring over 18" deep, it's not a compact receiver. It does produce powerful sound across all ranges. A 5.2.4 channel configuration and 140-watts of power easily fill large rooms with sound. You can also add wireless rear speakers to boost audio quality.
The multi-zone receiver comes with Wi-Fi, Spotify, AirPlay, Bluetooth, and Music Cast. Stream music to different rooms and have your favorite streaming apps at your fingertips. AITM technology optimizes audio as it's streaming, so you get impressive audio whether you're watching a movie or listening to music.
Along with support for your streaming apps, you also have plenty of connections with external devices. You get 10 HDMI ports, 7 in and 3 out. USB and ports for external speakers are included, along with connections for mic and audio. You won't have any problems connecting everything from headphones and streaming sticks to gaming consoles and DVD players.
Pros
Powerful sound
2 channels
HDR10/HLG support
Wireless speaker connectivity
Multi-zone
Cons
The receiver's large, bulky size can make it hard to find a place it fits close to your other components
---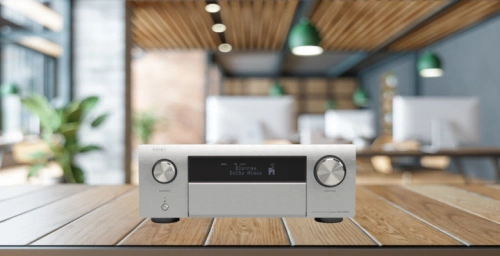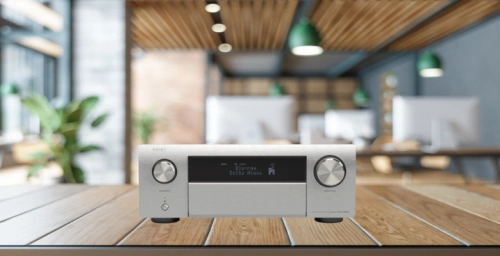 The 9.2 channels are powered by 125-watts. The Audyssey MultiEQ XT32 technology optimizes audio giving your smooth, clear sound. Music and dialogue are crisp and clear without muffling or sudden loud blasts of sound. 4K pixel-shifting technology, along with HDR10 and HLG support ensure images are bright with vivid colors.
HEOS multi-room streaming, along with Wi-Fi and support for your favorite streaming apps is standard with the receiver. It's almost ready to go when you take it out of the box. It's easy to install the Denon AVR-X4500H but watch out for its 30lb weight. It's a sturdy model and requires some muscle when you're setting it up.
The receiver shines with its smart features. Along with the included remote, it's also compatible with Alexa voice control. You can integrate the A/V receiver into most automated smart home systems, making it even easier to control.
Pros
Voice-control
HEOS support
Dolby Atmos sound
4K upscaling
2 channels
Cons
The sound may not be powerful enough to fill large areas
---
Conclusion
Comparing the Yamaha RX-A2080 vs the Denon AVR-X4500H is a great way to find their strengths and weaknesses.
You get more powerful sound with the RX-A2080, but its bulky size can make installation a pain (>>> Check the current price on Amazon). The AVR-X4500H is easier to install, and it also comes with convenient smart features. However, audio isn't as powerful as what you get with the Yamaha receiver.
It comes down to what you want in an A/V receiver, along with available space. Whichever model you take home, you won't be disappointed with the audio and video quality.