An A/V receiver takes your home entertainment system to the next level, optimizing the quality of your sound and video signals and letting you control all your devices through one convenient hub. Unfortunately, receivers are often seen as high-end accessories—and carry a similarly high-end price tag. The good news is, you can find several high-quality receivers at the under $1,000 price point if you know where to look. Which one is the best AV receiver under $1000 will depend on how you plan to use it. For overall home theater use, the Denon AVR-X2800H is the winner when you can find it at this price point, though that's not always guaranteed.
Not sure how to decide which receiver is right for you? Let's take a quick look at the main factors to consider before we jump into the full reviews.
Best AV Receiver Under $1000 for 2023:
Audio Quality
Most people decide to get an A/V receiver when they add a multi-speaker surround sound system to their home theater, and that makes the quality of the audio signal a key factor in the decision. For the best output and sound quality, look for a receiver with discreet amplifiers for each channel, which will do the best job of preserving the integrity of the audio signal.
What kind of sound you're listening to will be a factor, as well. If you're mostly using it for movie and TV sound, support for audio formats like DTS and IMAX Enhanced are key, and you'll likely want Height Virtualization technology for 3D sound.
Best audio quality: Yamaha RX-V6A
Gaming Performance
Responsiveness is the most important factor for gamers. A good gaming receiver won't add any additional lag to the signal and is compatible with the latest generation consoles. Ideally, you want to look for a receiver that offers Quick Frame Transport (QFT), Auto Low Latency Mode (ALLM), and a Variable Refresh Rate (VRR). Receivers like the Denon models below that support 4K gaming are an added bonus, giving you the best possible picture while you're playing.
Best gaming performance: Denon AVR-S970H
Smart Features
Since it pulls control of all your devices together into one centralized hub, an A/V receiver can also be an easy way to set up a smart home entertainment system. All of the receivers on this list offer some kind of voice control support. In some cases that's limited to a specific service, such as the Pioneer Elite VSX-LX104, which can only be used with Apple's Siri. Receivers will broader support for multiple systems are more versatile, but not necessarily more robust in terms of what commands they offer.
If you're looking for the most sophisticated smart control, Denon is the brand to look at. Both Denon models reviewed below can be integrated into a range of smart home automation systems and offer a wide array of voice control commands across supported systems.
Best smart features: Denon AVR-X2800H, Denon AVR-S970H
Set-up Ease
In the past, A/V receivers have been reserved for the most dedicated audiophiles and home theater buffs. This gave them a reputation for being complex and hard to use. High-end receivers are often built with experienced users in mind and may lack some of the guidance you're looking for as a beginner.
Denon makes setting up their AV receivers a breeze. Both models come with an onscreen guide that walks you through the setup steps. It even helps calibrate the speakers in your sound system, so you hear crisp, clear audio without any hassle.
Easiest to set up: Denon AVR-X2800H, Denon AVR-S970H
---
Denon AVR-X2800H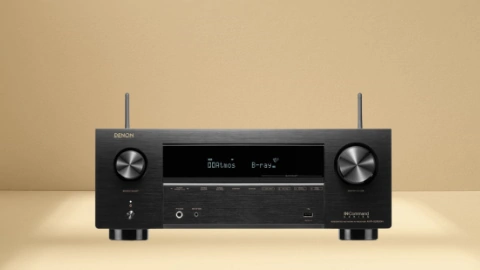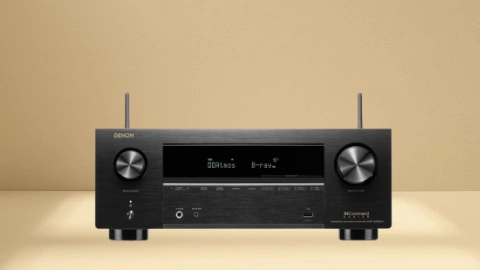 You get immersive audio with the AVR-X2800H. Not only does it come with Dolby Atmos and DTS:X technology, but you also get DTS Neural:X and Dolby surround sound. You hear movies and music the way it is intended to be heard. With 7.2 channels you have a flexible setup. It also means you can forego overhead speakers and still fill the space with audio.
Built-in Wifi and Bluetooth allow you to stream music from your smartphone. You also get HEOS support. You can stream music and share content with other devices in different zones. It makes listening to your favorite playlists quick and easy.
When you need to connect external devices, the receiver has a robust panel. It comes with six HDMI inputs, three are dedicated to supporting 8K content. You are ready for the next generation of televisions. HLG and HDR10+ help ensure a crisp picture with accurate colors. The receiver also comes with Dolby Vision and a dynamic HDR pass-through.
Setting up the receiver is easy, even for first-timers. It comes with Denon's award-winning setup assistant. You get step-by-step instructions and the Audyssey EQ software automatically optimizes the sound.
Pros
Three 8K inputs
Automatic audio calibration
Easy to setup
Onboard HEOS technology
Built-in Wifi and Bluetooth
Cons
The firmware can accidentally change the audio source to TV
Full review: Denon AVR-X2800H
---
Yamaha RX-V6A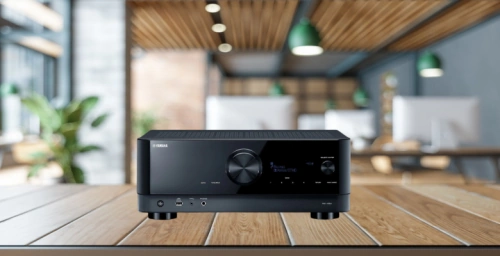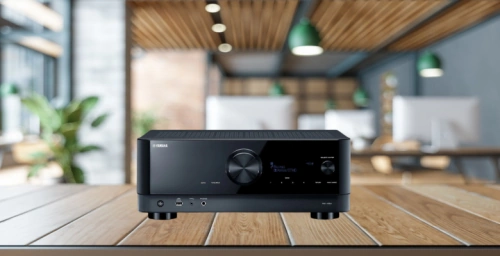 For audiophiles, the Yamaha RX-V6A is an excellent receiver that can serve as the hub of a smart listening room or entertainment system. It supports up to a 7.2-channel speaker system through wired inputs, or up to 5.1-channel wireless speaker systems, giving users a lot of versatility for their set-up.
No matter how you connect the speakers, you'll get an exceptional sound quality from the Yamaha RX-V6A. It supports advanced audio technology like Dolby Atmos and DTS:X, along with a compressed music enhancer that restores signal loss from digital formats like MP3, maintaining the integrity of the audio signal from all content sources. The YPAO technology enhances the experience further, optimizing the acoustics across your listening area so the whole room is a sweet spot.
This is also an easy receiver to set up and use, with a clearly-labeled rear panel and an intuitive interface. The wireless connectivity of the Yamaha RX-V6A makes it a convenient choice for modern smart home theaters. It has built-in support for popular voice control systems and can stream music directly from services like Spotify and Pandora thanks to its MusicCast support. While its input/output options are more limited than other receivers, it has everything audiophiles need, including a phono input and analogue audio hook-ups.
Pros
Upgradable to 8K
Supports Dolby Atmos and DTS:X
Multipoint acoustics for consistent room-filling sound
Works with Alexa and Google voice control
Seamless connectivity with wireless speakers
Stream or cast content through MusicCast and AirPlay2
Cons
Limited outputs
No height virtualization (coming in future update)
---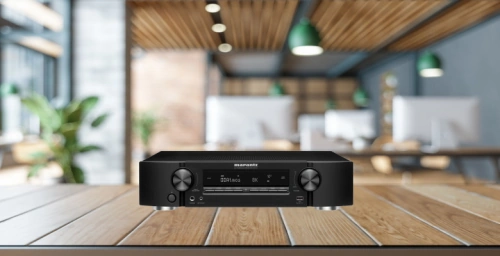 The Marantz NR1711 is a great budget-friendly receiver for those setting up home theaters. It supports the advanced audio and visual technology you need to create a truly immersive movie watching experience. Support for various HDR formats and 8K resolution mean you'll see content the way it was intended. It also supports the latest audio formats, including overhead speakers and 3D sound with Dolby Height Virtualization.
Another reason we love the Marantz NR1711 for home theaters is its gaming performance. It has ALLM, QFT, and VRR, that ideal trifecta of technologies that prevent lag and ensure a smooth on-screen response. This makes it a great choice for multi-use home entertainment systems.
We also appreciate the convenient design of this receiver. The Marantz NR1711 has a slimmer profile than most models, good news for anyone with limited space on their entertainment center. It also supports voice control through Alexa, Google Assistant, Siri, or Josh.ai, something smart home owners will appreciate.
Pros
8K pass-through and upscaling on HDMI inputs
High visual quality with HDR10+, HLG, and Dolby Vision
Slim profile fits easily on any entertainment center
Supports Dolby Height Virtualization for 3D sound
Broad voice control compatibility
Low lag and high refresh rate are great for gamers
Cons
Sound quality for music isn't as high
Setup process can be tedious
---
Denon AVR-S970H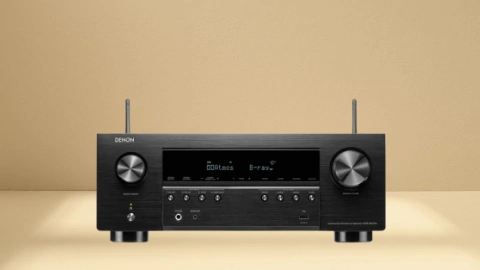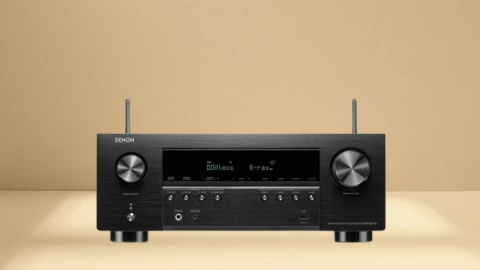 The AVR-S970H has several features in common with other Denon receivers. The primary difference between this and the other Denon model is it brings next-generation gaming to your home entertainment system. You can enjoy a smooth gaming experience. Along with a low input lag, the 8K/60Hz passthrough helps eliminate any tearing. Along with a variable refresh rate, the receiver also offers quick-frame transport.
Don't worry about sound quality. The receiver boasts 90 watts of power. It's enough to fill a small or medium size space with sound. Dolby Atmos and DTS:X technologies further optimize audio quality.
Beginners aren't going to have an issue setting up the receiver. It comes with an onscreen setup guide that includes instructions on how to connect your external devices. Audyssey room correction takes care of calibrating your speakers, and even tunes the receiver.
Connecting external devices isn't a problem. Along with 8 HDMI ports, and three for 8K content, you also get analog and digital outputs, along with one for a record player. Onboard WiFi and Bluetooth connectivity let you stream music directly to your speakers. The receiver is also compatible with HEOS for multi-room streaming.
Pros
7.2 channels
Multi-room support
8K ready
Low input lag for gaming
Dolby Atmos
Cons
The receiver may not be compatible with all Samsung TV models
Our more in-depth review of the Denon AVR-S970H
---
Onkyo TX-NR6100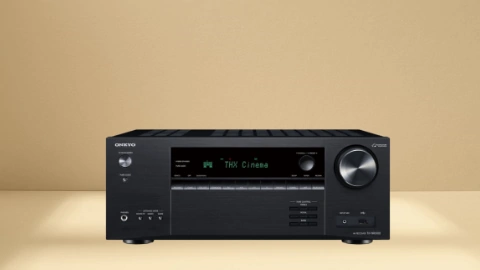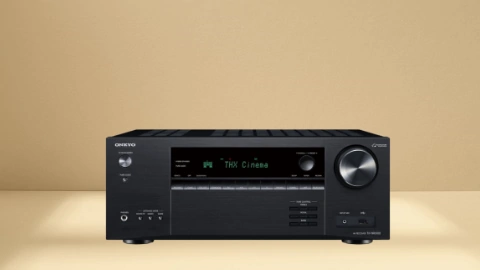 The TX-NR6100 is a THX-certified receiver. It means you get four listening modes to match your content, gaming, cinema, music, and surround EX. Dolby Atmos and DTS:X ensure the audio moves smoothly between the connected speakers. Dolby Atmos Height Virtualization gives you the illusion of surround sound.
When it comes to connectivity, the receiver has you covered. Along with plenty of ports for your external devices, some streaming services are built into the receiver. You have instant access to Pandora, Spotify, TIDAL, and other popular platforms. The free control app for Android devices makes it easy to find and stream music. The receiver even integrates with most smart home systems, simplifying multi-room control.
Gamers will appreciate the HDMI passthroughs. You can game in 4K resolution. The variable refresh rate keeps games running smoothly, along with the auto-low latency mode. It eliminates issues with frame-tearing and scene stuttering.
Pros
4K passthrough
7.2 channels
Onboard streaming services
Dolby Atmos support
Multiple listening modes
Cons
Calibrating connected speakers can be difficult
---
Denon AVR-X2700H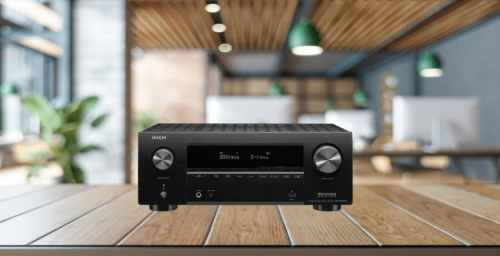 The Denon AVR-X2700H shares a lot of features with the AVR-X3700H above but sells for a more consistently affordable price. That makes it a top option for buyers with a strict budget limit, especially if you'll be using it in a smaller space. Its 7.2 channels will still produce enough sound to fill most rooms, and support 3D audio as well as DTS sound formats.
When it comes to home theater and gaming performance, the Denon AVR-X2700H gives you the best bang for your buck. It's 8K ready and supports all the latest visual formats, with a 120Hz 4K pass-through that's responsive enough for both movies and 4K gaming. Technology like VRR, QFT, and ALLM keeps the on-screen action smooth, and it has plenty of inputs for all your devices.
You can use the Denon AVR-X2700H in smart home theaters, too. It has full voice control compatibility and integrates easily with Josh.ai or Control4 SDPP, along with supporting HEOS multi-room music and streaming through AirPlay2. The only major negative is that the firmware can be a bit glitchy and often requires updating before you set it up, so it's not quite as plug-and-play as other receivers on the list. For our more in-depth review of this receiver click here.
Pros
Immersive, Hi-Fi audio
8K ready with a 120Hz 4K pass-through
Supports all the latest HDR video formats
Works well for gaming
Voice control and multi-room music support
Good range of wireless and wired connection options
Cons
Set-up can be tricky and time consuming
Doesn't support pass-through from all 4K sources
---
Best AV Receiver Under $1000: The Verdict
While the Denon AVR-X2800H has the overall strongest performance on the list (>>> Check its current pricing on Amazon), it's not necessarily the best choice for everyone. The most important thing when you're buying a receiver is to pick a model that works well with your space, speakers, and other devices. We hope this comparison has helped you figure out what you're looking for!
REFERENCES AND FURTHER READING: