Your home theater setup needs a powerful receiver to watch IMAX-level movies and listen to music with immersive sound. The AVR-S970H receiver promises 8K video, immersive sound, and lagless gaming. If you've been hunting for receivers, this one may have caught your eye, and you may wonder if it's good. We're here to answer this question.
Our Denon AVR-S970H review will help you decide if this is your receiver by examining its major features (>>> Check on Amazon).
Denon AVR-S970H Review of Specifications:
Denon AVR-S970H
Video
8K/60Hz, 4K/120Hz
Amplifier
7.2 channel (90W per channel)
Sound
7.2 or 5.2.2 Dolby Atmos
Wi-Fi
Yes
Bluetooth
Yes
Price

Find on Amazon





B&HPhotoVideo
Video Quality
This receiver can produce 8K/60Hz and 4K/120Hz video. With its three 8K inputs, it's simple to upscale your favorite films and shows into 8K, and it looks fantastic. You may be skeptical about playing a 1080p video on this, but you will be a believer when you see its stellar colors and stark contrast.
In addition, it has a stellar picture of smaller and larger rooms. Of course, many receivers optimize well according to your room's needs, but we were still impressed by what it could do.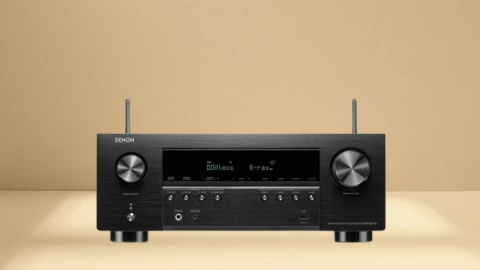 Gaming
When you're playing video games competitively or casually, you want your gaming sessions to be as lag-free as possible. Even a bit of lag can mess up your game and make you want to quit it. If you're hosting a tournament, you need something that makes every player feel they lost fair and square.
The AVR-S970H uses Variable Refresh Rate, Quick Frame Transport, and Auto Low Latency Mode (VRR, QFT, ALLM) to deliver as lagless of an experience as possible. Both its 8k and 4k modes also ensure enough FPS to see every piece of the action.
Pros
Unsurpassed video and audio quality
Easy on-screen setup gets your audio perfect
Gaming mode for lag-free gaming
It has all the smart features of a modern home
Cons
Some may find the previous version to offer a better value for the money
Sound
The AVR-S970H has an immersive 3D sound that goes well with a 7.2 or 5.2.2 setup. It supports Dolby Atmos and DTS:X to deliver an incredible cinematic experience that few receivers can match. In addition, the receiver has an on-screen setup that calibrates your speakers according to your room's size. So it's easy to get the optimal sound according to your room's needs. Even low-quality MP3s sound great when played through this receiver.
Extra Features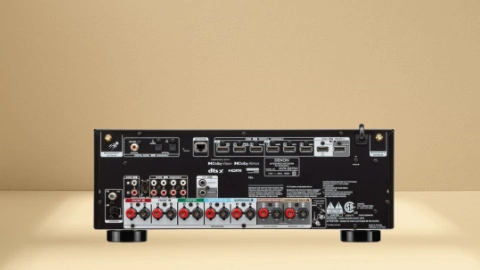 The AVR-S970H also comes with Wi-Fi and Bluetooth, making connecting your favorite music much more effortless. It also supports multi-room speakers, meaning you can play music across your entire home without needing additional hardware. It also supports music apps like Pandora, Spotify, and other prominent apps. With all its modern bells and whistles, we believe the AVR-S970H will take it to the 2020s.
Denon AVR-S970H Review: The Verdict
This powerful receiver brings your home theater setup into the 2020s. It supports incredible 8K video and 3D audio that the entire house can hear. In addition, it has all the modern conveniences of a smart receiver. >>> It's included among the top picks under $1,000.
While it is more expensive than its previous iteration, it will last your home a while. Denon creates some receivers built to last, and you will love what they offer. Of course, there are other receivers that you may love as well. Try this one out and see how well it works for you (>>> Find the current price on Bhphotovideo).