Denon is a trusted name in home audio equipment, with more than a hundred years of expertise backing their designs and technology. Comparing their latest models, the Denon AVR-X1700H vs. AVR-S760H, you'll see they have a lot in common. Both are 7.2-channel receivers with 8K capability and the HDMI inputs and other connection options modern users need. While the AVR-X1700H produces a slightly better sound quality, the AVR-S760H is more user-friendly and a better value overall. Let's take a closer look at the details and differences (>>> Find on Amazon).
Denon AVR-X1700H vs AVR-S760H Side by Side:
Denon AVR-X1700H
Denon AVR-S760H
Video
8K/60Hz, 4K/120Hz
8K/60Hz, 4K/120Hz
Amplifier
7.2 Channel (80W per channel)
7.2 Channel (75W per channel)
Sound
5.1 or 7.1 Dolby Atmos
5.1 or 7.1 Dolby Atmos
Wi-Fi
Yes
Yes
Bluetooth
Yes
Yes
Price

Find on Amazon





B&HPhotoVideo

Find on Amazon
Installation and Setup
It's relatively easy to get started with the Denon AVR-X1700H. The rear panel is intuitively laid-out and well labeled, making the speaker setup intuitive even for those who have never owned an AV receiver. The front panel has a large digital display and ample options for adjusting your sound and settings. This includes Audyssey room correction, which allows the AVR-X1700H to produce Dolby Atmos sound optimized to your space without the need for manual adjustments.
Where the AVR-S760H excels here is its on-screen setup assistant. This walks you through the process of connecting speakers and content sources, along with adjusting your settings to optimize the sound to your space. Since it has the same array of HDMI inputs and a similarly straightforward rear panel layout to the Denon AVR-X1700H, as well as similar EQ adjustment options, this gives the AVR-S760H the edge for installation ease.
Easier to set up: Denon AVR-S760H
Sound Quality
What you play through the Denon AVR-S760H will sound pretty good. It uses a 7-channel amplifier with discrete processing for each channel and supports technology like Dolby Atmos sound and DTS to ensure the accuracy of sound signals. Along with this, its Audyssey EQ calibration system gives users lots of settings to optimize the response and sound quality. It also supports Dolby Surround and Dolby TrueHD processing and has a dialogue enhancer that boosts the mid-range frequencies for more dialogue clarity, even in movies with powerful sound effects.
As strong as the performance of the S760H is, the AVR-X1700H exceeds it on two key points. It has more power per channel, allowing for a louder, clearer, and more powerful overall output. The Audyssey MultEQ XT calibration system is also more sophisticated, with room correction technology that automatically optimizes the sound to match your space. Music sounds better on the Denon AVR-X1700H, as well, thanks to its Compressed Audio Restorer, which brings more detail and depth to compressed sound file formats like MP3s.
Higher sound quality: Denon AVR-X1700H
Home Theater Performance
Either the Denon AVR-X1700H or Denon AVR-S760H can function beautifully in a home theater space. Both receivers support 3D sound in multiple speaker setup configurations and formats. This includes support for Dolby Atmos Height Virtualization, which emulates the immersive soundscape produced by using overhead or upfiring speakers without needing to install speakers on the ceiling. If you do use a full array of 3D speakers, both receivers offer the same support for a range of technology, including Dolby TrueHD and Dolby Atmos surround, as well as DTS Virtual:X and DTS Neural:X.
These Denon receivers are similarly closely matched on the video quality side of the equation. The AVR-X1700H and AVR-S760H both have 6 HDMI inputs, 3 of which support 8K resolutions. All of the HDMI inputs support 4K content, as well as Dolby Vision, HLG, and HDR10+, ensuring whatever you're watching looks the way it was intended. Using those 8K-equipped HDMI inputs also gives you access to 8K upscaling, meaning some shows and movies will look even better than their original form. Since these receivers are basically identical on their home theater performance stats, the AVR-S760H takes the slight edge here because it gives users that impressive technology at a better value.
Better home theater receiver: Denon AVR-S760H
Gaming Performance
While video quality is important to gamers, especially the video contrast and black levels, the responsiveness of the AV receiver is equally crucial for those who play fast-paced first-person shooters and other reflex-based games. The 8K/60Hz and 4K/120Hz pass-through on both receivers' HDMI inputs is a plus here, keeping the on-screen action smooth for both movies and games.
Along with this high frame refresh rate, the Denon AVR-S760H and AVR-X1700H both have additional technology for gamers. This includes Auto Low Latency Mode (ALLM), which automatically switches to a low-lag gaming mode when the receiver detects a gaming console or PC is sending the signal. Both receivers also have Quick Frame Transport (QFT) to decrease display latency and Variable Refresh Rate (VRR) so the receiver can automatically adjust the refresh rate to match the frame rate of the content. This combination of features makes both receivers suitable for all styles of gamer.
Better gaming performance: Denon AVR-X1700H & Denon AVR-S760H
Smart Features and Streaming
Smart home owners will also be impressed by both of these Denon receivers. You can stream content directly to the Denon AVR-S760H or AVR-X1700H through AirPlay 2 or streaming platforms like Spotify Connect, Pandora, and Amazon Music, just to name a few. They also support HEOS multi-room music and DSD audio streaming up to DSD5.6.
We also appreciate the hands-free control options offered by the AVR-S760H and AVR-X1700H. Since each has a built-in microphone, you can control them through voice control services like Amazon Alexa, Apple Siri, or Google Assistant, without the need for a third-party device. You can also use remote apps on Android or iOS smart phones and tablets to control either receiver, giving users lots of options for how to play and adjust content.
Better smart features and streaming: Denon AVR-X1700H & Denon AVR-S760H
---
Denon AVR-X1700H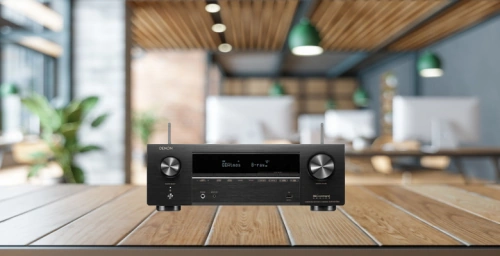 The Denon AVR-X1700H is a multi-functional 7.2-channel receiver perfect for home theaters and other entertainment spaces. It has support for 8K pass-through and upscaling on multiple HDMI inputs, with support for technology like HDR10+ and Dolby Vision that ensure an accurate, immersive viewing experience on connected displays. You can use it for gaming, too, with a 120Hz 4K pass-through and technology like Quick Frame Transport, Variable Refresh Rate, and Auto Low Latency Mode that prevent lag and other issues.
The AVR-X1700H is equally impressive when it comes to audio signals. It uses room correction technology with Audyssey MultEQ XT sound calibration, analyzing each speaker's output to optimize the sound to your space and equipment. It also supports 3D sound through Dolby Atmos Height Virtualization or DTS:X, providing the surround sound experience you want in a home theater. For music lovers, you can stream directly through TuneIn, Pandora, Amazon Music, and other music streaming services.
Smart home owners will also find a lot to love about this receiver. It supports voice control through the most popular services, and can be used as a part of HEOS multi-room music setups. You can also control the sound settings through the Audyssey app, giving users more options for changing settings and customizing your sound experience. Click here for our more in-depth Denon AVR-X1700H review.
Pros
Sophisticated automatic sound calibration
8K pass-through and upscaling
VRR, QFT, and ALLM for gamers
Extensive wired and wireless connectivity (Bluetooth and WiFi)
Direct streaming through Pandora, Spotify, and more
Compatible with Alexa, Google, or Siri voice control
Cons
Higher cost
8K support only on a few HDMI ports
---
Denon AVR-S760H
The Denon AVR-S760H is a budget-friendly mid-range offering from the Denon AVRS line, and a great option for a modern home theater space. Its 6 HDMI inputs all support an 8K pass-through and upscaling, ensuring you get the most out of your visual content. Along with this, it's compatible with Alexa, Google Assistant, or Siri voice control, and has built-in multi-room music and music streaming.
One of the best things about the AVR-S760H is that it makes this impressive performance accessible to everyone. The on-screen setup assistant guides users through connecting devices and adjusting the sound, so you don't need to be an A/V expert to get the most out of it. It also has full wireless connectivity, including Bluetooth connectivity for headphones or speakers, making it easier to send content to the receiver, and can be controlled easily through a remote app.
The discrete 7-channel amplifier used in the Denon AVR-S760H gives it an impressive sound quality for movies or music. It also supports 3D sound through Dolby Atmos or DTS:X, so it can give you an immersive movie theater experience. Click here for our more in-depth Denon AVR-S760H review. 
Pros
Easy on-screen setup assistant
8K support on all HDMI ports
Audyssey EQ calibration
No added lag for gamers
3D sound with Dolby Atmos Height Virtualization
Compatible with most voice control services
Multi-Zone feature for multi-room music
Cons
Lower sound quality and output
---
Customer Impressions
As with other aspects of their performance, the user reviews and ratings for the Denon AVR-S760H and Denon AVR-X1700H are similarly high. Both average a 4.5-star rating across review platforms. By and large, buyers are impressed by how easy these receivers are to use, and how quickly they're able to fill their home theater with powerful, immersive sound.
The main issue reported by low-scoring reviewers of the Denon AVR-S760H is related to the eARC on its HDMI inputs. Some devices can have issues connecting smoothly, specifically with Blu-ray players and Dish network systems. Similarly, users of Xbox series X consoles have reported difficulty getting the picture from their Xbox to display properly and use Dolby Atmos sound. These issues aren't universal, but are something to be aware of if you use any of this equipment in your setup.
Users of the Denon AVR-X1700H don't report issues with connecting devices, but some are frustrated with the multi-room music controls on the remote. The remote lacks a button for selecting a Zone 2 source, which is an annoying oversight for those who plan to take advantage of this function. Some users have also reported issues with the AVR-X1700H overheating. This isn't a widespread issue, but is something to keep in mind if you live in a hot climate where equipment overheating is more likely to be a concern.
Denon AVR-X1700H vs AVR-S760H: The Bottom Line
Choosing between the AVR-X1700H and the AVR-S760H comes down to the little details. On a big-picture level, they're both exceptional performers with robust connectivity, smart features, and high sound and video quality. With its lower price point and similar performance, the Denon AVR-S760H represents the better overall value (>>> Check on Amazon), though users who want the absolute best sound quality will want to pay a bit more for the Denon AVR-X1700H. We hope this comparison has helped you decide which one fits your home the best!