Denon is a trusted name in home audio equipment, with more than a hundred years of expertise backing their designs and technology. Comparing their latest models, the Denon AVR-X1700H vs. AVR-S760H, you'll see they have a lot in common. Both are 7.2-channel receivers with 8K capability and the connectivity modern users need. While the AVR-X1700H produces a slightly better sound quality, the AVR-S760H is more user-friendly and a better value overall. Let's take a closer look at the details and differences (>>> Find on Amazon).
Denon AVR-X1700H vs AVR-S760H Side by Side:
| | Denon AVR-X1700H | Denon AVR-S760H |
| --- | --- | --- |
| | | |
| Video | 8K/60Hz, 4K/120Hz | 8K/60Hz, 4K/120Hz |
| Amplifier | 7.2 Channel (80W per channel) | 7.2 Channel (75W per channel) |
| Sound | 5.1 or 7.1 Dolby Atmos | 5.1 or 7.1 Dolby Atmos |
| Wi-Fi | Yes | Yes |
| Bluetooth | Yes | Yes |
| Price | B&HPhotoVideo | Find on Amazon |
Installation and Setup
It's relatively easy to get started with the Denon AVR-X1700H. The rear panel is intuitively laid-out and well labeled, while the front panel has a large digital display and ample options for adjusting your sound and settings.
Where the AVR-S760H excels here is its on-screen setup assistant. This walks you through the process of connecting speakers and content sources, along with adjusting your settings to optimize the sound to your space.
Easier to set up: Denon AVR-S760H
Sound Quality
What you play through the Denon AVR-S760H will sound pretty good. It uses a 7-channel amplifier with discrete processing for each channel, and supports technology like Dolby and DTS to ensure the accuracy of sound signals. Along with this, its Audyssey EQ calibration system gives users lots of settings to optimize the response and sound quality.
As strong as the performance of the S760H is, the AVR-X1700H exceeds it on two key points. It has more power per channel, allowing for a louder, clearer, and more powerful overall output. The Audyssey MultEQ XT calibration system is also more sophisticated, with room correction technology that automatically optimizes the sound to match your space.
Higher sound quality: Denon AVR-X1700H
Home Theater Performance
Both of these receivers can function beautifully in a home theater space. They have support for 3D sound and lag-reduction technology that lets them work equally well for movies or games. While both have an 8K pass-through and upscaling option, the AVR-S760H offers it on more HDMI ports, giving it the slight edge for home theater applications.
Better home theater performance: Denon AVR-S760H
---
Denon AVR-X1700H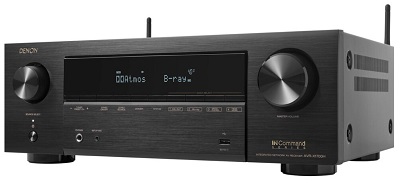 The Denon AVR-X1700H is a multi-functional 7.2-channel receiver perfect for home theaters and other entertainment spaces. It has support for 8K pass-through and upscaling on multiple HDMI ports, with support for technology like HDR10+ and Dolby Vision that ensure an accurate, immersive viewing experience on connected displays. You can use it for gaming, too, with a 120Hz 4K pass-through and technology like Quick Frame Transport, Variable Refresh Rate, and Auto Low Latency Mode that prevent lag and other issues.
The AVR-X1700H is equally impressive when it comes to audio signals. It uses room correction technology with Audyssey MultEQ XT sound calibration, analyzing each speaker's output to optimize the sound to your space and equipment. It also supports 3D sound through Dolby Atmos Height Virtualization or DTS:X, providing the surround sound experience you want in a home theater. For music lovers, you can stream directly through TuneIn, Pandora, Amazon Music, and other music streaming services.
Smart home owners will also find a lot to love about this receiver. It supports voice control through the most popular services, and can be used as a part of HEOS multi-room music setups. You can also control the sound settings through the Audyssey app, giving users more options for changing settings and customizing your sound experience. Click here for our more in-depth Denon AVR-X1700H review.
Pros
Sophisticated automatic sound calibration
8K pass-through and upscaling
VRR, QFT, and ALLM for gamers
Extensive wired and wireless connectivity
Direct streaming through Pandora, Spotify, and more
Compatible with Alexa, Google, or Siri voice control
Cons
Higher cost
8K support only on a few HDMI ports
---
Denon AVR-S760H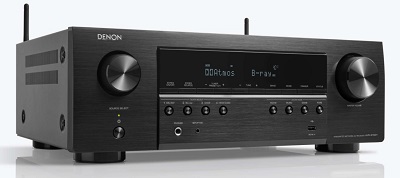 The Denon AVR-S760H is a great option for a modern home theater space. Its 6 HDMI inputs all support an 8K pass-through and upscaling, ensuring you get the most out of your visual content. Along with this, it's compatible with Alexa, Google Assistant, or Siri voice control, and has built-in multi-room music and music streaming.
One of the best things about the AVR-S760H is that it makes this impressive performance accessible to everyone. The on-screen setup assistant guides users through connecting devices and adjusting the sound, so you don't need to be an A/V expert to get the most out of it. It also has full wireless connectivity, making it easier to send content to the receiver, and can be controlled easily through a remote app.
The discrete 7-channel amplifier used in the Denon AVR-S760H gives it an impressive sound quality for movies or music. It also supports 3D sound through Dolby Atmos or DTS:X, so it can give you the immersive movie theater experience.
Pros
Easy on-screen setup assistant
8K support on all HDMI ports
Audyssey EQ calibration
No added lag for gamers
3D sound with Dolby Atmos Height Virtualization
Compatible with most voice control services
Multi-Zone feature for multi-room music
Cons
Lower sound quality and output
---
Denon AVR-X1700H vs AVR-S760H: The Bottom Line
Choosing between the AVR-X1700H and the AVR-S760H comes down to the little details. On a big-picture level, they're both exceptional performers with robust connectivity, smart features, and high sound and video quality. With its lower price point and similar performance, the Denon AVR-S760H represents the better overall value (>>> Check on Amazon), though users who want the absolute best sound quality will want to pay a bit more for the Denon AVR-X1700H. We hope this comparison has helped you decide which one fits your home the best!