The Denon AVR-S760H is a powerful and versatile 7.2-channel receiver, and a great fit for a modern home theater. Its combination of connectivity, sound quality, and usability means it checks all the boxes most buyers look for in a receiver, as you'll see from this Denon AVR-S760H review. Read on to learn its strengths, shortcomings, and what type of environment it's best suited to (>>> Check the current price on Amazon).
Denon AVR-S760H Review Specs:
| | Denon AVR-S760H |
| --- | --- |
| | |
| Video | 8K/60Hz, 4K/120Hz |
| Amplifier | 7.2 Channel (75W per channel) |
| Sound | 5.1 or 7.1 Dolby Atmos |
| Wi-Fi | Yes |
| Bluetooth | Yes |
| Price | Find on Amazon |
Sound Quality
The detailed and powerful sound from the Denon AVR-S760H starts with its discrete 7-channel amplifier. It also uses the company's Aussey MultEQ and Dynamic Volume, making it easy to adjust the frequency balance and output to match your space. Along with this, it has specialized adjustments to correct for common issues, like its compressed audio restorer to bring MP3s back to their full glory, or its dialog enhancer to make sure you hear every word when you're watching movies.
The Denon AVR-S760H also produces immersive 3D surround sound. It can be used with setups that utilize height speakers, or with virtual height channels thorugh Dolby Height Virtualization. Support for Dolby ProLogic II, Dolby TrueHD, and DTS Virtual:X and Neural:X mean you'll get the same immersive listening experience from all of your home theater content. Relevant comparison: Denon AVR-S660H vs AVR-S760H
Pros
Powerful and detailed sound
Multiple 3D sound formats
Video resolutions up to 8K
No added lag for gamers
Built-in streaming and voice control
Cons
Lower power per channel than other receivers
Only 3 HDMI ports support 8K
Movies and Games
Three of the six HDMI inputs on the Denon AVR-S760H support 8K resolutions, with a 4K/120Hz pass-through for smooth playback of Ultra HD content. All HDMI inputs support 4K resolutions, as well as Dolby Vision, HDR10+, and HLG, delivering accurate and lifelike colors and exceptional sharpness and detail. Re
You can also use the AVR-S760H for gaming without worrying about lag. It has the full suite of modern latency reduction technology, including Auto Low Latency Mode (ALLM), Quick Frame Transport (QFT), Quick Media Switching (QMS), and Variable Refresh Rate (VRR).
Connectivity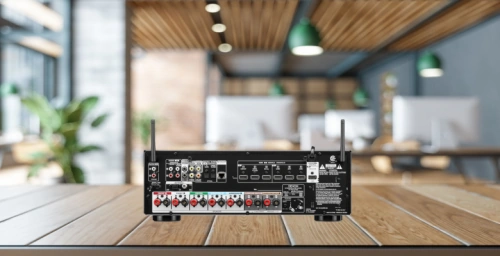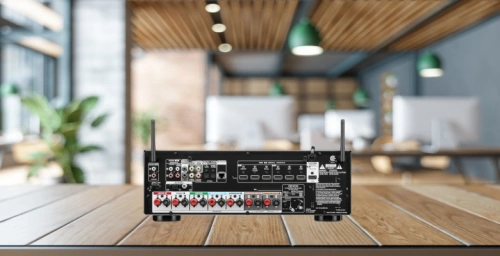 With both Bluetooth and Wi-Fi connectivity built in, the Denon AVR-S760H can wirelessly connect to both content sources and peripherals. Support for HEOS multi-room music extends that support to devices in other rooms, letting you set up and control multiple entertainment spaces through a single device.
That wireless support also gives the AVR-S760H direct streaming capability. You can listen to music from services like Amazon Music, Pandora, or Spotify without needing an external device. It also has full compatibility for the three most popular voice control services (Alexa, Siri, and Google Assistant), making it a convenient choice for smart home entertainment spaces.
The Bottom Line: Denon AVR-S760H Review
It's rare to find a 7-channel receiver at the price of the Denon AVR-S760H, especially one with this level of sophistication in its features and technology (>>> Find on Amazon). While it's not the most powerful receiver on the market, it can still drive your speakers to fill a typical home theater space with sound. We hope this review has helped you decide if it's the best receiver for you!
FAQs
Do I need a third-party device to use voice control on the Denon AVR-S760H?
That depends on what voice control system you use. For Alexa, you will need to have it installed on another device, such as an Echo speaker on the same network. Siri can be used through AirPlay 2, while Google Assistant can be used through the HEOS app, so you won't need a designated speaker for those.
Does the Denon AVR-S760H come with a setup guide?
Yes. The included on-screen setup assistant walks users through the steps of connecting speakers and displays, adjusting the EQ settings, and optimizing the surround sound to your space.
Can you use an external amplifier with the Denon AVR-S760H?
No. This receiver doesn't have pre-outs that would allow it to connect to an external amplifier.
REFERENCES AND FURTHER READING: