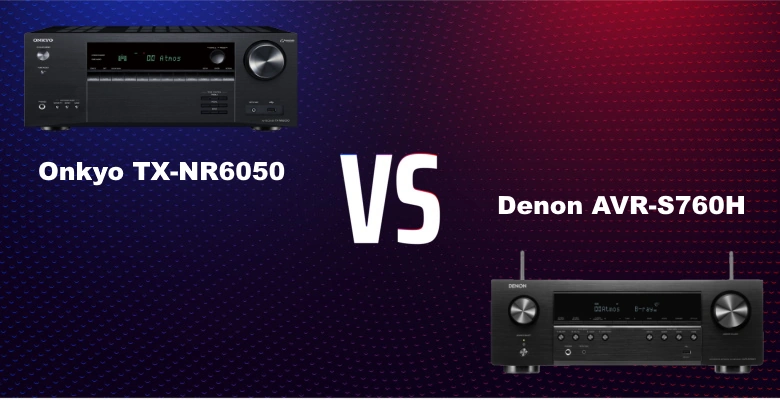 The Onkyo TX-NR6050 and Denon AVR-S760H are both strong contenders for the title of best 7.2 channel receiver under $500. These modern receivers combine high video and sound quality with robust smart features and user-friendly controls, checking all the boxes most look for in an A/V receiver.
While both of these are strong performers, when you compare the Onkyo TX-NR6050 vs Denon AVR-S760H side-by-side you'll see the Denon has a few extra features you won't get from the Onkyo and is the better overall option for most (>>> Check on Amazon). Let's take a closer look at the main differences between them so you can see where each excels.
Onkyo TX-NR6050 vs Denon AVR-S760H Side by Side:
| | Onkyo TX-NR6050 | Denon AVR-S760H |
| --- | --- | --- |
| | | |
| Video | 8K/60Hz, 4K/120Hz | 8K/60Hz, 4K/120Hz |
| Amplifier | 7.2 Channel (90W per channel) | 7.2 Channel (75W per channel) |
| Sound | 5.2.2 Dolby Atmos | 5.1 or 7.1 Dolby Atmos |
| Wi-Fi | Yes | Yes |
| Bluetooth | Yes | Yes |
| Price | Find on Amazon | Find on Amazon |
Sound Quality
You'll get a balanced and full sound through both of these receivers. The Onkyo TX-NR6050 has a wide frequency range and a dynamic amplification system with AccuReflex phase matching and an overall high sound quality. It also supports 3D setups in a 5.2.2 configuration, with support for Dolby Atmos and DTS that make it a great choice for home theaters as well as listening to music.
While the Onkyo sounds good, the Denon AVR-S760H is even better. This is partly thanks to its Audyssey MultEQ sound configuration, making it easier for users to optimize the sound to their space. It also supports Dolby Atmos Height Virtualization along with physical 3D sound setups, giving home theater owners more ways to create an immersive listening experience.
Better sound quality: Denon AVR-S760H
Speaker Support and Output
While the Denon AVR-S760H has a high sound quality thanks to its discrete 7-channel amplifier, it's not as powerful as the Onkyo TX-NR6050, which drives each channel with 90 watts compared to the 75 watts of the Denon. The Onkyo also works seamlessly with all speakers, including Sonos Certified speakers. That makes the Onkyo the better option for getting the maximum volume output out of whatever brand of speakers you have in your home.
Wider speaker support and volume range: Onkyo TX-NR6050
Video Quality
Both the Onkyo TX-NR6050 and the Denon AVR-S760H support 8K resolution, along with visual technology like Dolby Vision and HDR10. You'll only get 8K resolution for 8K content with the Onkyo, though, while the Denon supports 8K upscaling for lower-resolution content.
Better video quality: Denon AVR-S760H
Wireless Capability
Both of these receivers have robust wireless connectivity and support voice control through the three major platforms. You can also use both for multi-room music setups, though their method of achieving this is different. The Onkyo TX-NR6050 has discrete 2 Zone entertainment, while the Denon AVR-S760H supports HEOS multi-room music. This gives it the slight edge since it can stream music anywhere in your home.
Better wireless capability: Denon AVR-S760H
Usability
The Onkyo TX-NR6050 is easy to install and comes with a well-written Quick Start guide to help A/V beginners connect their speakers and content sources. You also have multiple ways to control the receiver, with the hands-free options above as well as an included remote and the option to control content through the Onkyo Music Control app.
Here's another area where the Denon AVR-S760H takes the slight lead. It can be controlled with the free Denon Remote app, which gives users more options than the app control of the Onkyo. The Audyssey EQ system also has automatic optiosn for smoothing out the volume and enhancing dialogue, making it easier for users to optimize its sound output.
Easier to use: Denon AVR-S760H
---
Onkyo TX-NR6050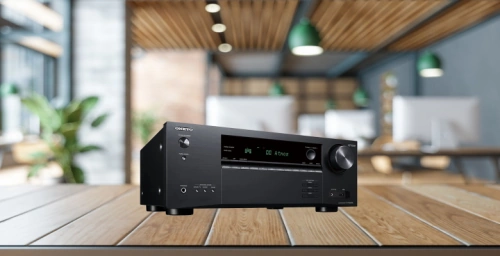 The Onkyo TX-NR6050 has the capability to handle all of your home entertainment needs. Each of its 7 speaker channels is driven by 90 watts of dynamic power, with AccuReflex phase matching and support for Dolby Atmos and DTS:X sound. It also supports 5.2.2 configurations for 3D sound. For gamers, its VRR, ALLM, and QFT technology limit lag, with a 4K/120Hz pass-through that keeps the on-screen action smooth. It's similarly advanced on the video side of the equation, supporting resolutions up to 8K as well as Dolby Vision, HLG, and HDR10, so moves played through it will look as good as they sound.
We also appreciate that the Onkyo TX-NR6050 is easy to set up. The included quick start guide walks beginners through the installation process and it has the full connectivity modern home theater owners need, with 6 HDMI inputs along with both Bluetooth and Wi-Fi wireless connectivity. Discrete Zone 2 switching lets users control the entertainment in two different rooms at once, a handy feature for families. It's also easy to access your favorite content. It has built-in streaming through services like Spotify, Pandora, and TuneIn and DTS Play-Fi through the Onkyo Music Control app, which lets you access content stored on personal devices. If you're looking for more AV receiver options in a similar price range, follow the link: http://hqsound101.com/best-av-receiver-under-500/
Once you have it set up, the Onkyo TX-NR6050 is equally easy to control. Along with the straightforward display and controls right on the receiver, it integrates into smart home systems like Amazon Alexa, Google Assistant, and Apple AirPlay for hands-free control. The front panel USB and headphone jacks are another convenient feature, and the included remote is functional and intuitively laid-out.
Pros
Supports 3D sound
High sound quality and output
Video resolution up to 8K
Includes lag-reduction technology for gamers
Built-in streaming and voice control
Easy to set up and use
Cons
No video resolution upscaling
Read the full review: Onkyo TX-NR6050
---
Denon AVR-S760H
If you want a receiver that will make movies look even better than the original, the Denon AVR-S760H is one to keep in mind. It doesn't just support 8K content but can upscale lower resolutions to nearly 8K detail, backed by technology like HDR10+ and Dolby Vision. It also has similar lag-reduction technology to the Onkyo above, including VRR, ALLM, and QFT.
The Denon AVR-S760H is similarly robust when it comes to connectivity and smart features. It supports a range of popular music streaming services and integrates seamlessly into Siri, Alexa, or Google Assistant-based smart home entertainment systems, and can be used for whole-home entertainment thanks to HEOS multi-room music support. It's also helpful that it works with the Denon AVR Remote app, letting users control it through their phones.
As far as sound quality, each channel is driven by a discrete 75-watt amplifier, producing immersive and detailed sound that can truly fill your home theater space. The Audyssey MultEQ calibration system includes Audyssey Dynamic EQ and Dynamic Volume to smooth out volume spikes and add clarity to spoken dialogue. Audiophiles will appreciate the MultEQ Editor App, where you can view speaker data and make more nuanced sound adjustments. You'll also get more options for 3D sound setups. It supports physical height channels in 5.1.2 configurations, as well as Dolby Atmos Height Virtualization to emulate a 3D soundscape without the need for overhead speakers.
Pros
3D sound with height speakers or height virtualization
Advanced sound calibration options with Audyssey MultEQ
Supports 8K video resolutions and upscaling
Hands-free control through popular voice control services
Built-in HEOS and music streaming
No added lag for gaming
Cons
---
What's the Bottom Line?
At the price, either one of these receivers is an exceptional value, and can be a great choice for a modern home theater. Based on performance, the Denon AVR-S760H is the overall better option when it comes to sound quality, 3D sound options, video quality, and ease of use (>>> Find on Amazon). That said, the Onkyo TX-NR6050 is more powerful and usually sells for a bit cheaper, which can make it very appealing for budget-conscious buyers. We hope this comparison has helped you decide which one to buy!