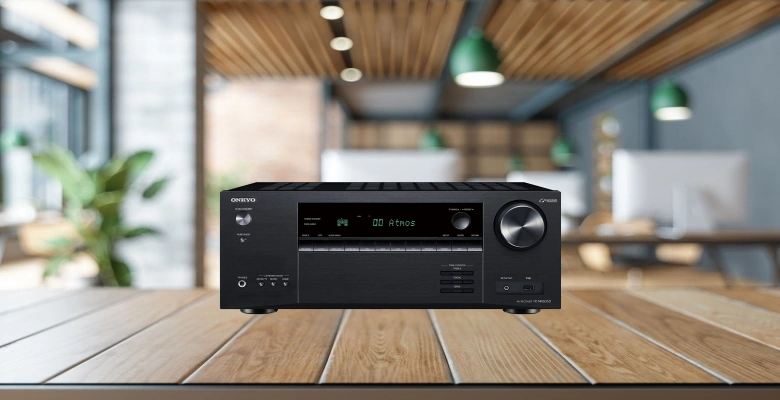 When it comes to A/V receivers, the rule of thumb is that the price goes up as you add channels, and a quality 7.2-channel receiver is a rare find in the under-$500 price range. We'll check out one of the best in this Onkyo TX-NR6050 review. Overall, it's an impressive receiver, giving home theater owners the modern technology they need in an affordable and easy to use package (>>> Check current price on Amazon).
Onkyo TX-NR6050 Review Specs:
| | Onkyo TX-NR6050 |
| --- | --- |
| | |
| Video | 8K/60Hz, 4K/120Hz |
| Amplifier | 7.2 Channel (90W per channel) |
| Sound | 5.2.2 Dolby Atmos |
| Wi-Fi | Yes |
| Bluetooth | Yes |
| Price | Find on Amazon |
Sound and Speakers
The Onkyo TX-NR6050 uses a Dynamic Audio Amplification system, with AccuReflex phase matching and 90 watts of power per channel. It works seamlessly with speaker systems from a range of brands, including Sonos Certified systems, to create a natural and immersive surround sound sound experience.
Along with a standard 7.2-channel configuration, the TX-NR6050 can be used in a 5.2.2 setup, adding height channels for 3D sound. It also supports DTS and Dolby upmixing and virtualization, letting users get that same three-dimensional sound without installing overhead speakers. Whatever 3D configuration you're using, AccuReflex optimizes it to create a cohesive sound field.
The EQ controls on the TX-NR6050 are minimal but effective. It uses an AccuEQ Acoustic Calibration system with a dedicated subwoofer EQ that detects the size and distance of the speakers and adjusts levels to match. The Vocal Enhancer feature is a helpful option for home theaters, amplifying the volume and clarity of dialogue.
Pros
Clear, powerful sound from 7.2-channel speaker systems
Multiple 3D sound formats
Supports video resolutions up to 8K
Great choice for gamers
Wireless streaming and control
Compatible with smart home and voice control services
Supports multi-room entertainment
Cons
No built-in voice control (requires third-party device)
Limited EQ adjustment options
Video and Gaming
All of the HDMI inputs on the Onkyo TX-NR6050 use the latest 2.1 format with eARC, supporting resolutions up to 8K with a 60Hz refresh rate (120Hz for 4K content). It also supports dynamic HDR formats for enhancing the color and contrast of videos. Whatever you're watching, you won't have to worry about quality loss or sync issues. It can even control the entertainment in two different rooms of your home thanks to its Zone 1/Zone 2 HDMI switching.
For gamers, the biggest question is whether a receiver will add extra lag. The Onkyo TX-NR6050 has the features to ensure a smooth response. This includes Quick Frame Transport (QFT) and Variable Refresh Rate (VRR) to eliminate frame-tearing and latency issues, with Auto Low Latency Mode (ALLM) that helps cut down on lag the whole way from your game system to your TV or projector. Check its comparison vs. Denon AVR-S760H.
Smart Features and Streaming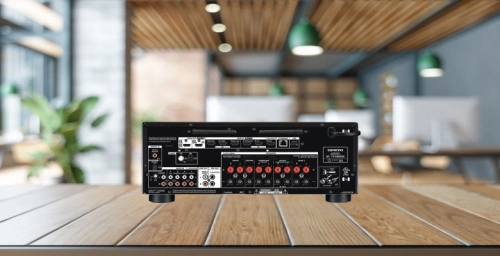 The Onkyo TX-NR6050 comes with Deezer, Pandora, Spotify, TIDAL, and TuneIn already installed for direct music streaming. You can search for music through the apps for these services, or by using the Onkyo Control app on your phone. DTS Play-Fi adds access to your personal music library, letting you link it to as many iPhones, iPads, or Android devices as you'd like. Connected devices can be used to control music playback, too, or to sync playback across multiple rooms. It also has bi-directional Bluetooth, meaning it can both receive signals through Bluetooth and transmit signals wirelessly to headphones or speakers.
As far as voice control, the Onkyo TX-NR6050 can be integrated into smart home systems using services like Google, Alexa, or Apple AirPlay. However, it doesn't have this capability built-in—you'll need a compatible device with a microphone to add voice control to the receiver. Check its comparison vs. Yamaha TSR-700.
Onkyo TX-NR6050 Review: The Bottom Line
The main thing the Onkyo TX-NR6050 lacks compared to pricier receivers is a microphone (>>> Find on Amazon). Without this, it can't offer built-in voice control, and its automatic room calibration isn't as sophisticated.
To be honest, though, that's not a feature we'd expect at this price point. And there are several things the TX-NR6050 can do that are surprising for the price, too, like its 8K support and built-in music streaming services. Its streamlined interface and multiple control options make it an easy way to control the entertainment, not just in your home theater, but throughout your home.