A 7.2-channel receiver is the ideal size for many modern home theaters. These receivers have enough channels to support 3D sound setups but cost less than larger 9.2-channel models without sacrificing sound quality or features. Comparing the Onkyo TX-NR6050 vs. Yamaha TSR-700, you'll see they're both very reasonably priced at around $500, and both support modern features like voice control and 8K resolution.
Looking at all the features, the Yamaha TSR-700 will be the better choice for most users (>>> Check on Amazon). However, the Onkyo TX-NR6050 outperforms the Yamaha in a few areas, and will be the preferred option for some homes and uses. Let's take a closer look at where each model shines so you can decide which one is your best fit.
Onkyo TX-NR6050 vs Yamaha TSR-700 Side by Side:
| | Onkyo TX-NR6050 | Yamaha TSR-700 |
| --- | --- | --- |
| | | |
| Video | 8K/60Hz, 4K/120Hz | 8K/60Hz, 4K/120Hz |
| Amplifier | 7.2 Channel (90W per channel) | 7.2 Channel (100W per channel) |
| Sound | 5.2.2 Dolby Atmos | 5.1 Dolby Atmos |
| Wi-Fi | Yes | Yes |
| Bluetooth | Yes | Yes |
| Price | Find on Amazon | Find on Amazon |
Sound Quality
The Onkyo TX-NR6050 offers 90 watts of power per channel and supports multiple 3D sound configurations, with technology like AccuReflex phase matching to ensure the realism and accuracy of that sound. While its sound is good, though, the Yamaha TSR-700 goes further. It has more power per channel, for one thing. Along with this, its proprietary sound field technology creates a more immersive listening experience, while the compressed music enhancer ensures music sounds as good as movie soundtracks and effects.
Better sound quality: Yamaha TSR-700
Usability and Setup Ease
It's relatively easy to install and use the Onkyo TX-NR6050. For A/V beginners, it comes with a Quick Start Guide to help you get up and running. There are also multiple ways to control it, with an included remote as well as voice control capability and the option to control it through the Onkyo Music Control app.
The AV Setup Guide App that comes with the Yamaha TSR-700 is more thorough in guiding users through the setup process. You also won't need to make as many manual adjustments since it uses YPAO's automatic sound calibration, while the 8 scene buttons let users save custom settings for different inputs. It also supports more voice control platforms as well as control on your phone through apps like MusicCast and AirPlay.
Easier to use and setup: Yamaha TSR-700
Gaming Performance
The Yamaha TSR-700 has the capability for technology like Auto Low Latency Mode (ALLM), Variable Refresh Rate (VRR), and Quick Frame Transport (QFT) that gamers look for to prevent extra lag. Unfortunately, these aren't available right out of the box, but need to be added via a future firmware update. The Onkyo TX-NR6050 has these technologies installed when it arrives so gamers can play frustration-free from day one.
Better gaming performance: Onkyo TX-NR6050
---
Onkyo TX-NR6050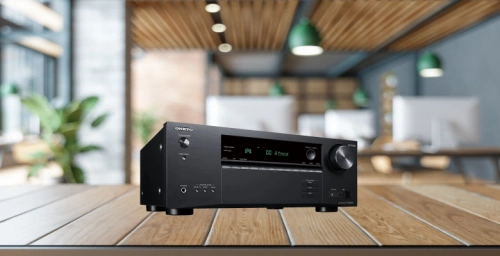 The Onkyo TX-NR6050 is a convenient way to manage your whole home's entertainment. With 6 HDMI inputs along with wireless and streaming capability, it supports the connectivity you need in a modern home theater. Its discrete Zone 2 HDMI switching means it can play content in two rooms simultaneously, while DTS Play-Fi lets you access your media library and play it through the receiver using the Onkyo Music Control App.
This is a versatile receiver in other ways, too. Latency reduction technology like ALLM, QFT, and VRR lets it function just as well as a gaming receiver as it does for music or movies. It's also a great choice for smart homes, supporting voice control through either Amazon Alexa or Google Assistant, though you will need to connect it to a third-party speaker to use this capability since it lacks a microphone.
The Onkyo TX-NR6050 has the technology and features to make all your content look and sound its best. For visual signals, it has a 4K/120Hz pass-through with support for 8K resolutions, as well as technology like Dolby Vision and HDR10. For audio signals, each channel has a discrete amplifier with 90 watts of power, producing detailed, powerful sound from any speakers, including Sonos speakers. It also supports multiple 3D sound configurations, including 5.2.2 setups with physical height channels as well as Dolby Atmos or DTS height virtualization and upmixing.
Pros
Supports resolutions up to 8K
Powerful, high-quality audio
3D sound and height virtualization
Easy to install and control
Bi-directional Bluetooth and 5GHz Wi-Fi connectivity
Multi-room entertainment
Works with Google or Alexa voice control
Cons
Requires a third-party speaker for voice control
Our more in-depth Onkyo TX-NR6050 review.
---
Yamaha TSR-700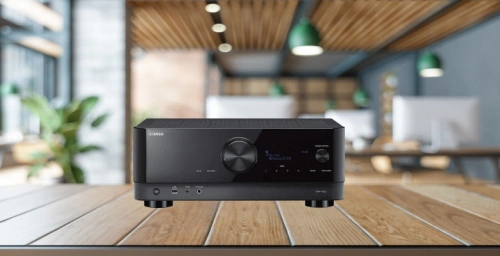 The Yamaha TSR-700 uses the company's proprietary YPAO room calibration, automatically optimizing the sound to match your space and speakers. For immersive sound, you have the choice of using two overhead speakers or Dolby Atmos Height Virtualization, with DTS Neural:X spatial remapping to enhance the realism of your 3D audio. Along with this, Yamaha's Cinema DSP 3D sound field and True Sound enhancement add more depth and realism, while the Compressed Music Enhancer brings that same high audio quality to compressed music formats like MP3.
You'll get that same level of quality for visual signals processed thorugh the Yamaha TSR-700. It supports 8K signals at 60Hz (4K/120Hz), along with visual technology like HDR10 and HLG. Unfortunately it's not as powerful for gaming out of the box as the Onkyo since you'll need a firmware update to add technology like ALLM and VRR.
One thing we love about the Yamaha TSR-700 is how easy it is to set up and control. The AV Setup Guide walks users through connecting speakers and adjusting the settings. There are also multiple ways to control the receiver, including the MusicCast app through your phone or voice control through Siri, Alexa, or Google Assistant. It also has multi-room music capability through AirPlay, MusicCast, or Zone 2 speaker terminals.
Pros
Highly detailed and realistic sound
Multiple 3D sound formats
Video resolutions up to 8K
Easy guided setup with automatic room calibration
Supports voice control and multi-room music
Programmable SCENE buttons for quick settings and input switches
Cons
Lag reduction features require a future update
Requires third-party device for voice control
---
The Bottom Line: Onkyo TX-NR6050 vs Yamaha TSR-700
The performance of the Onkyo TX-NR6050 and Yamaha TSR-700 is very similar, and to be honest either one could be an excellent way to control the entertainment throughout your home. Having said that, though, the Yamaha is easier to set up and sounds better for both home theater use and listening to music, and will be the better receiver for most buyers (>>> Find on Amazon).