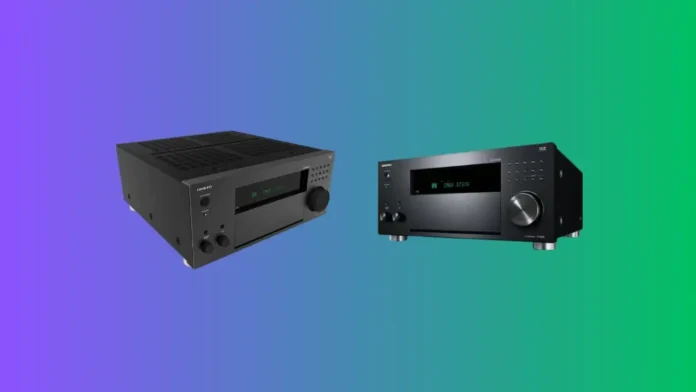 In the world of audio-video receivers, Onkyo has long been a trusted brand. In the Onkyo TX-RZ70 vs. RZ50 showdown, the TX-RZ70 and TX-RZ50 emerge as two formidable contenders. Both offer a plethora of features designed for the modern home theater enthusiast. But how do they truly stack up against each other? We've had the privilege of extensively testing both models, delving into their specifications, features, and real-world performance. Let's dive into the details and find out which receiver might be the best fit for your audio-visual needs.
In This Comparison:
Onkyo TX-RZ70 vs. TX-RZ50: In-Depth Comparison
| | Onkyo TX-RZ70 | Onkyo TX-RZ50 |
| --- | --- | --- |
| | | |
| Number of Channels | 11.2 | 9.2 |
| Stereo RMS Power (watts) | 140 | 120 |
| Hdmi Inputs/Outputs | 7/3 | 7/2 |
| Video Upscaling | To 4K and 8K | To 4K and 8K |
| Weight | 48.5 lbs | 30.9 lbs |
| Today's Best Price | Find on Amazon | Find on Amazon |
Design and Build
The Onkyo TX-RZ70 and TX-RZ50 share a strikingly similar design aesthetic, embodying a minimalist elegance that is characteristic of many modern audio-video receivers. Both units are enveloped in a sleek matte black finish, giving them a subtle yet sophisticated appearance that seamlessly blends into any home theater setup.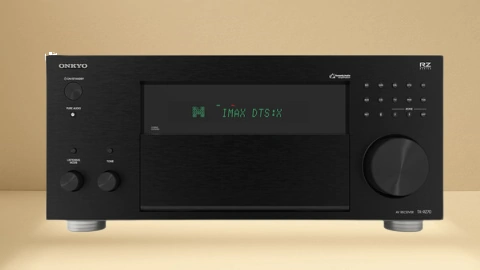 In terms of dimensions, the TX-RZ70 measures in at 17.1 inches in width, 7.9 inches in height, and 18.9 inches in depth, weighing 48.5 pounds. The slightly more compact TX-RZ50 has identical width and height measurements of 17.1 inches and 7.9 inches, respectively, but is less deep at 15.7 inches and weighs in at 30.9 pounds. Despite their variances in depth and weight, both receivers maintain a sturdy build, ensuring durability and longevity.
Winner: a Tie
Connectivity and Setup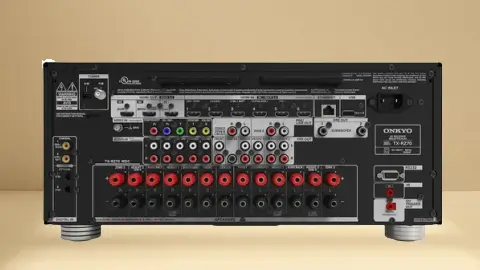 The Onkyo TX-RZ70 boasts extensive rear A/V inputs including 6 HDMI 2.1 ports, multiple stereo RCA and composite connectors, 3RCA component, and both digital coaxial and optical TOSLINK. Its A/V outputs are similarly diverse, with 3 HDMI 2.1 for Zone 2 and a wide array of RCA configurations. The front panel adds another HDMI input, a headphone output, and a setup mic input. It also supports diverse wireless audio protocols like AirPlay 2, Chromecast, and DTS Play-Fi, not to mention its Wi-Fi and Bluetooth capabilities. The speaker connectors accommodate 13 binding post pairs, enhancing its versatility.
  Get the Best Deal on Amazon Today!
On the other hand, the Onkyo TX-RZ50 provides 6 HDMI ports, a mix of RCA composite and component, and essential digital audio connections for its rear A/V inputs. Outputs are more streamlined with HDMI options and 11-channel RCA pre-outs. The front I/O shares similarities with the TX-RZ70, including a headphone output and setup mic input. While the TX-RZ50 also supports Wi-Fi and Bluetooth, it specifically uses Wi-Fi 5 (802.11ac). The speaker connections feature 11 binding post pairs. Given the extensive options listed for both models, the TX-RZ70 comes out on top in terms of sheer number of connections, offering a bit more flexibility than the TX-RZ50.
Winner: Onkyo TX-RZ70
Audio Performance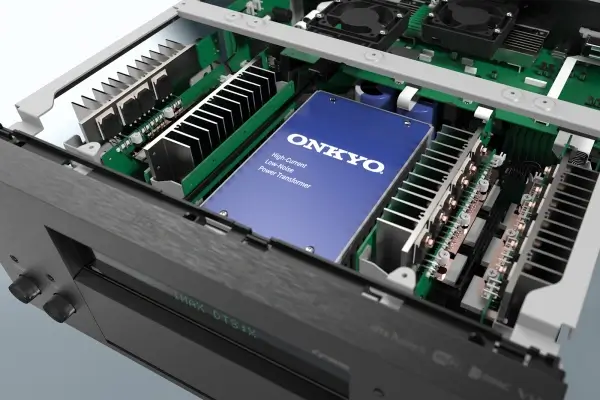 During our hands-on testing with the Onkyo TX-RZ70, we were genuinely impressed by its robust 11.2 channel amplifier, capable of accommodating 7.2.4 configurations that truly enhanced the immersive sound experience. Utilizing Class-AB amplification, we found that its consistent power delivery of 140W at 8 Ohms drove our demanding speaker setups with ease and accuracy. We recorded a frequency response from 10 Hz to 100 kHz, showing a stable ±1/-3 dB deviation. Notably, the TX-RZ70's THD+N of 0.08% between 20 Hz and 20 kHz reaffirmed its high-fidelity prowess. Our team particularly enjoyed the versatility it offered with features like DTS Neural:X, DTS:X, IMAX Enhanced, Dolby Atmos, and Dolby Surround, with the added Dolby Atmos Height Virtualization providing an extra dimension to our listening sessions.
  Get the Best Deal on Amazon Today!
In contrast, the Onkyo TX-RZ50 we tested came with a 9.2 channel amplifier. Its performance, especially when 2-channel driven, managed a solid 120W at 8 Ohms, but it was its surge to 250W at 6 Ohms in a 1-channel driven mode that captured our attention. This dynamic power across varied impedance levels showcased its adaptability. Its frequency response, starting slightly lower at 5 Hz and stretching to 100 kHz, stayed within the ±1/-3 dB range, mirroring the TX-RZ70. Its tone controls were invaluable, granting us the freedom to tweak both bass and treble to our preference. Although the TX-RZ50 efficiently handled DTS:X and Dolby Atmos, its absence of Auro 3D was noticeable. However, the unit didn't falter in delivering a rich and captivating audio experience throughout our tests.
Winner: Onkyo TX-RZ70
Video Performance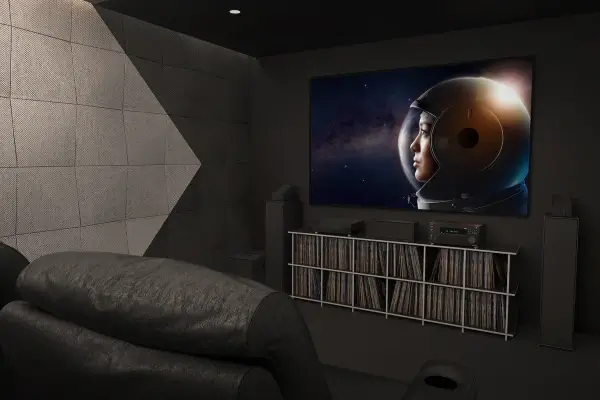 In our extensive video performance testing of the Onkyo TX-RZ70 and Onkyo TX-RZ50 AV receivers, some distinct features stood out. Both receivers boast the advanced HDMI 2.1 specifications with support for 4K/120 and 8K/60Hz video pass-through. This was evident as we relayed high-definition content through them. The TX-RZ70, with its triple HDMI outputs, provided a remarkable flexibility, effortlessly handling simultaneous video outputs to separate displays. Its upscaling ability from 1080p sources to 4K and even 8K was a visual treat, delivering crisp, clear images on compatible screens. The analog-to-HDMI video conversion, while restricted to the main HDMI output, still presented a noteworthy performance.
The TX-RZ50, on the other hand, offers dual HDMI outputs with the potential of routing different HDMI sources to another room via its Zone 2 feature. During our test, the upscaling performance of the TX-RZ50 was on par with the TX-RZ70, lending visually compelling results. The HDR capabilities of both receivers are truly commendable. The support for HDR10, HDR10+, HLG, and particularly Dolby Vision ensured that the dynamic range in visuals was expansive, offering depth and detail in both shadow and brightly lit areas. Dolby Vision's dynamic metadata technology genuinely augmented the visual experience, with each scene having its unique color and brightness levels. All in all, both Onkyo models proved to be stalwarts in video performance, making them worthy contenders in their category.
Winner: a Tie
OVERVIEWS:
Onkyo TX-RZ70
The Onkyo TX-RZ70 stands out as a top-tier home theater receiver offering 11.2 channels of audio. With 140 watts per channel, this powerhouse can reproduce THX-certified theater reference sound, making it perfect for movie lovers. Dolby Atmos, DTS:X, and IMAX Enhanced decoding ensure that users get an immersive 3D audio experience. Additionally, its compatibility with Klipsch Optimize Mode and Dirac Live calibration technology ensures that audio playback is tailored for the listening environment. The TX-RZ70 is not just about powerful sound. Its connectivity features, from built-in Wi-Fi, Bluetooth, Apple AirPlay 2, and Chromecast, to support for popular music streaming services like TIDAL and Spotify, make it a modern entertainment hub. With six 8K/60Hz supporting HDMI inputs at the back and a slew of other connections, it's future-ready for the next generation of home theater equipment. Read our in-depth Onkyo TX-RZ70 review.
Pros
11.2 channels for expansive sound configurations.
140 watts per channel boosts powerful output.
IMAX Enhanced for authentic cinema sound experience.
Advanced Dirac Live room calibration system.
Extensive 8K/60Hz HDMI support (6 rear-panel inputs).
Cons
Configuration screen issues with certain TV models.
Problem with Atmos soundtracks and signal recognition.
---
Onkyo TX-RZ50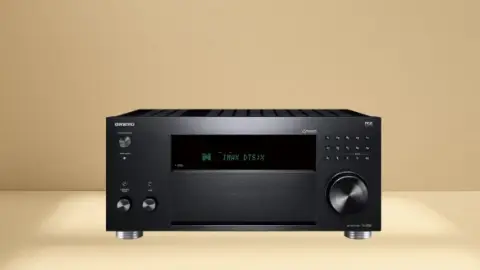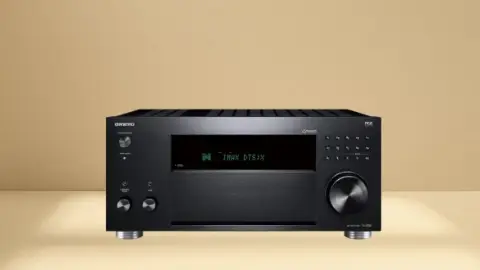 The Onkyo TX-RZ50 is a robust 9.2-channel home theater receiver designed for those who want a balance between performance and price. Delivering 120 watts per channel, it features Dynamic Audio Amplification, Dolby Atmos, DTS:X, and IMAX Enhanced support for a captivating cinematic experience. The built-in Dirac Live advanced speaker calibration system ensures that the sound is perfectly matched to your room's acoustics. For modern users, the TX-RZ50 offers a plethora of digital music streaming options, including Wi-Fi, Bluetooth, Apple AirPlay 2, Chromecast, and compatibility with services like Pandora, SiriusXM, and Spotify. Its seven HDMI 2.1 ports, supporting 8K/60Hz, ensure it's ready for the latest video technology. The multi-room audio capabilities, ample analog and digital connections, and even a phono input for turntable enthusiasts, round out its impressive feature set. Read our in-depth Onkyo TX-RZ50 review.
Pros
Dynamic Audio Amplification ensures lifelike sound dynamics.
Dolby Atmos Height Virtualization offers 3D effects.
HDMI 2.1 support for 8K/60Hz video.
Multi-room audio enhances diverse listening experiences.
Phono input caters to vinyl enthusiasts.
Cons
HDMI 2.1 signal processing issue with certain devices.
Fewer high-resolution HDMI ports than RZ70.
---
Onkyo TX-RZ70 vs TX-RZ50: the Verdict
In our Onkyo TX-RZ70 vs RZ50 comparison, the Onkyo TX-RZ70 emerges as a more advanced and newer receiver, boasting additional channels over its counterpart, the TX-RZ50. However, this sophistication comes at a cost, as the TX-RZ70 is priced at nearly double that of the TX-RZ50. (Get the Best Deal on Amazon Today!) Those seeking cutting-edge features and more channels might find the premium justified, while budget-conscious consumers might lean towards the TX-RZ50 for its compelling value proposition.