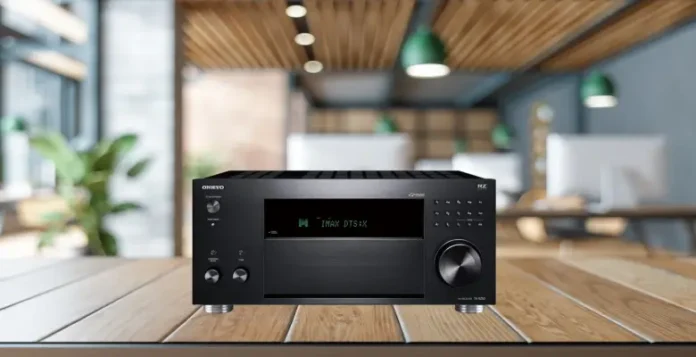 The Onkyo TX-RZ50 is an exceptional value for a 9.2 receiver, priced around what you'd expect to pay for a 7.2-channel or smaller unit. That's great news for those with large home theater spaces, or who want to use their receiver to control multiple entertainment areas in their home.
The obvious next question, of course, is what you need to sacrifice compared to other receivers to get that impressive price. We'll answer that question in this Onkyo TX-RZ50 review, along with explaining what it does well and who this receiver is best for (>>> Check current price on Amazon). Let's take a look!
Onkyo TX-RZ50 Review of Specifications:
Onkyo TX-RZ50
Video
8K/60Hz, 4K/120Hz
Amplifier
9.2 channel (120W per channel)
Sound
up to 11.2 Dolby Atmos
Wi-Fi
Yes
Bluetooth
Yes
Price

Find on Amazon





B&HPhotoVideo
Sound Quality
With up to 120 watts of power per channel, the Onkyo TX-RZ50 can get room-filling sound out of whatever speakers you connect to it. This includes Sonos equipment, and the TX-RZ50 is Sonos Certified and links to the Sonos app to use features like Volume Pass Through or Sonos Radio streaming. It also has a Klipsch Optimize mode for integrating Klipsch Reference Premier speakers into the sound ecosystem, and other speaker brands will work with it just as well.
You'll love listening to that sound, too, whether you're using the receiver for music or in a home theater. Onkyo was the first receiver brand to be THX-certified and it's carried that reputation for excellence into the present day. Its four THX listening modes include dedicated options for cinema, music, gaming, and surround sound effects, making it easy to customize it to your content. It's also easy to adjust to your space thanks to built-in Dirac Live Room Correction, which automatically optimizes the sound using a USB microphone (though, bear in mind, you will need to buy this mic separately). It also supports IMAX Enhanced, DTS:X, and Dolby Atmos, with AccuReflex phase matching for Atmos speakers.
All of these features mean the Onkyo TX-RZ50 can produce immersive surround sound with true-to-life movement through the space. That said, you will need physical height speakers to achieve a 3D soundscape, since it doesn't have the option of Height Virtualization. On the plus side, it can process up to 11.2 channels, supporting systems up to 7.2.4 for a full-immersive 3D sound scape.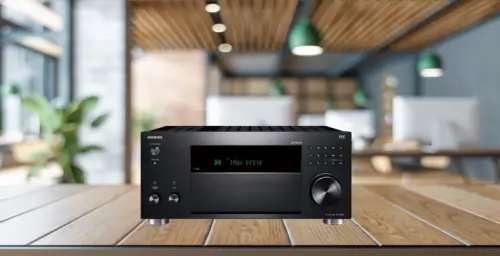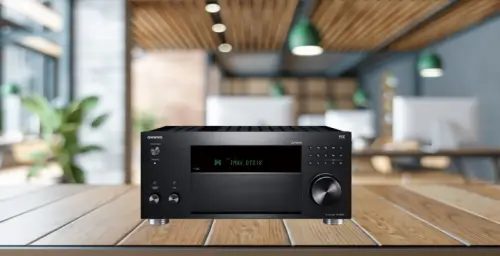 Pros
Powerful sound for music or movies
Multiple sound modes with Dirac Live correction
Supports multiple 3D sound configurations
Video resolutions up to 8K
Multiple control options, including voice commands and the Onkyo app
Lag-reduction features for gamers
Full Zone 2 control
Cons
No height virtualization
Requires an external microphone for voice control
Video and Gaming
The Onkyo TX-RZ50 supports video signals up to 8K resolution, as well as HDR formats like HDR10+, HLG, and Dolby Vision. Considering most displays today still max out at 4K resolution, this means you won't just get the best image quality available now but also well into the future.
The TX-RZ50 is also very responsive and has the lag-reduction features you want for gaming. It has a 120Hz frame refresh rate for 4K content, keeping the on-screen movement smooth. Along with this it has technology like Auto Low Latency Mode (ALLM), Variable Refresh Rate (VRR), and Quick Frame Transport (QFT) that prevent added lag so you can just enjoy your games.
Streaming and Connectivity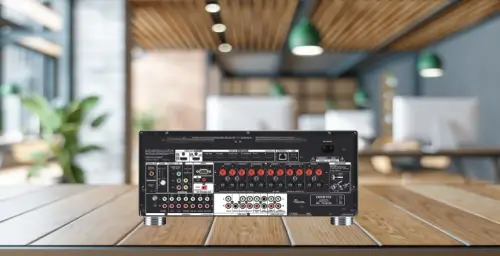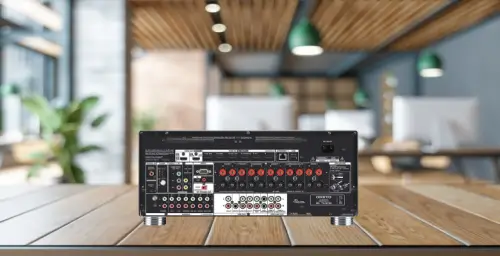 The wired inputs on the rear panel of the Onkyo TX-RZ50 are fairly standard. All of its HDMI inputs have the same 8K resolution and lag reduction, and it also has an array of RCA and optical inputs, giving it good versatility for a variety of devices. Check the comparison versus the Pioneer VSX-LX505.
The TX-RZ50's wireless connectivity is equally robust. It has built-in Wi-Fi and bi-directional Bluetooth, meaning you can send music to the receiver or from it to wireless speakers and headphones. It also supports DTS Play-Fi, connecting to the Onkyo Music Control App to access files stored on drives throughout your home, and has built-in streaming through services like Spotify, Pandora, and TuneIn.
Multi-room music support further expands the use of the Onkyo TX-RZ50. Its discrete Zone 2 switching means you can send both video and audio signals to a second room, letting you set up and control two full home theater spaces at once. The icing on the cake is its integrated support for voice control through Alexa, Google, or Siri via Apple AirPlay. The only caveat here is that you'll need a third-party device with a microphone to use it since there isn't a mic built in to this receiver.
The Verdict: Onkyo TX-RZ50 Review
There's a lot to love about the Onkyo TX-RZ50, especially at the price, but like any receiver it's not perfect. The lack of height virtualization can be a limitation in some home theater spaces, and you'll need to have an external Echo speaker or similar device to use its full voice control capabilities. If these aren't an issue for you, though, the sound and video quality of content played through the TX-RZ50 make it an excellent value at the price (>>> Check on Bhphotovideo).
FAQs
What does 9.2 channels mean for a receiver?
This means it can power up to 9 speakers and up to 2 subwoofers at the same time, with discrete audio signals sent to each. When you see three numbers in the sequence (such as 7.2.4), the third number is the up-firing speakers for 3D sound.
Does the Onkyo TX-RZ50 come with a setup guide?
Unfortunately no, and this can make it a bit tricky for A/V beginners to install. It does have an online user manual, though, which you can access online if one didn't come with your receiver.
Onkyo TX-RZ50 vs. other AV receiver models: