Denon is one of the top-rated manufacturers of A/V receivers, known for producing exceptional audio and video. Comparing the Denon AVR-X4700H vs the AVR-X4500H, you quickly notice their similarities.
Both A/V receivers come with Dolby Atmos sound and plenty of channels to fill a room with immersive audio. The Denon AVR-X4700H is the better receiver overall (>>> Find on Amazon). Image and audio quality are better, and it is also easier to connect external devices. The AVR-X4700H may come out ahead in several areas, but that doesn't mean you should ignore the other receiver. The AVR-X4500H also produces high-quality audio and video.
If you're still trying to decide between the two Denon A/V receivers, sometimes it helps to take a closer look at both components.
Denon AVR-X4700H vs AVR-X4500H Side by Side:
Denon AVR-X4700H
Denon AVR-X4500H
Video
8K/60Hz, 4K/120Hz
4K/60Hz
Amplifier
9.2 Channel (125W per channel)
9.2 Channel (125W per channel)
Sound
7.2.4 or 9.2.2 Dolby Atmos
5.2.4 or 7.2.2 Dolby Atmos
Wi-Fi
Yes
Yes
Bluetooth
Yes
Yes
Price

Find on Amazon





ProjectorScreen.com

Find on Amazon
You won't be disappointed with either A/V receiver, but one may be a better fit for your home.
Audio Quality
With 125-watts of power and 9.2 channels, you can turn your home into a movie theater or music concert with either Denon A/V receiver. Sound is crisp in the lower ranges, and higher frequencies are crystal clear. Dolby Atmos and surround upmixer optimize audio as it plays. You won't have to worry about distortion in the middle of your favorite song.
D.D.S.C. technology further optimizes sound quality. Both A/V receivers also boast DTS:X and Auro-3D. You get three-dimensional audio for a truly immersive listening experience.
Better Audio Quality: Denon AVR-X4700H
Video Quality
You will get better image quality with the AVR-X4700H. While the AVR-X4500H comes with HDR10 support, the AVR-X4700H boasts HDR10+ technology. Colors are brighter and more vivid across the spectrum.
Both components upscale content to 4K resolution. You get 8.3 million pixels per scene, so you can see every detail. Even darker frames are still detailed, it's exactly what you see in the theater. The AVR-X4700H also comes with 8K support. You may not need it yet, but it's nice to know you don't have to replace the receiver when it becomes the new standard in resolution.
Better Video Quality: Denon AVR-X4700H
Connectivity
The Denon AVR-X4700H is the winner when it comes to connectivity. Both receivers support voice control and are compatible with most of the popular streaming apps. You get 8 HDMI inputs and 3 outputs, but the AVR-X4700H also comes with an 8K passthrough. Both models come with a front USB port, along with composite and component video inputs.
You also get wireless connectivity with the AVR-X4700H and support for Bluetooth 4.2. The AVR-X4500H only supports Bluetooth 3.0 and does not come with 8K support.
Better Connectivity: Denon AVR-X4700H
---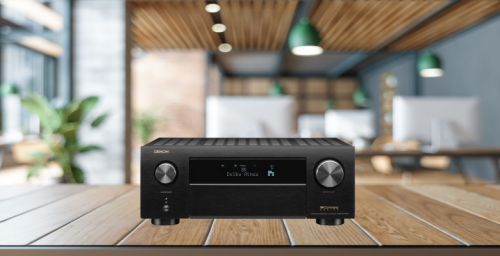 The Denon AVR-X4700H is a 9.2 channel receiver with 125-watts of power. You get 9 amplifiers and 2 sub-woofers, and the flexibility to configure the receiver to the room's dimensions. Thanks to Dolby Atmos and DTS:X technology, you can easily create an audio system that fills your home with sound. Add in support for most audio technology and music and dialogue and you get a robust sound.
Gamers will appreciate the fast 240Hz refresh rate and relatively low input lag. You also won't lose 4K resolution when you connect a gaming console. The latency speed is too slow for most first-person shooter games, but casual gamers won't have any issues with blurry images or slow loading frames.
An A/V receiver is worthless if it can't produce high-quality images. Along with a 4K HDMI port for stunning images, the receiver also comes with Dynamic HDR and HDR10+ technology. Colors are accurate without fading, and images are detailed. Add in the robust sound and you can have a theater experience at home.
Pros
HDR10+ technology
HEOS support
125-watts
Multiple-HDMI posts
Fast refresh rate
Cons
The A/V receiver does not support the Denon Link HD
---
Denon AVR-X4500H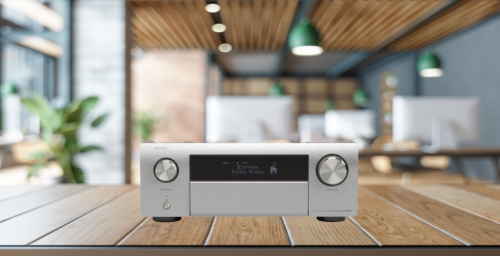 The Denon AVR-X4500H comes with 9.2 channels you can configure to fit your room. You can even have a 7.2.4 configuration if you connect a two-channel amp. HEOS technology allows you to create multiple zones, you can listen to the same audio in a different room. Add in 125-watts of power and support for most audio technology, and you get immersive sound across all frequencies.
Image quality is almost as impressive as the sound. A 4K HDMI passthrough upscales content to 8.3 million pixels per frame. While the AVR-X4500H does not support HDR10+, it does come with built-in HDR technology.
You won't have a problem connecting external devices or installing the receiver. It comes with ethernet and Wi-Fi connectivity, along with plenty of HDMI in and outputs. A USB port on the front makes it easier to content devices. The A/V receiver is also compatible with voice control and Bluetooth 3.0.
Pros
2 channels
125-watts
Multi-room support
HDR technology
Voice-control compatibility
Cons
The receiver does not support the latest Bluetooth version 4.2
---
Conclusion
You do get more with the Denon AVR-X4700H (>>> Check on ProjectorScreen.com). It is evenly matched with the AVR-X4500H when it comes to sound quality, but it comes out ahead with image clarity. It is also ready to go when 8K resolution becomes common.
The AVR-X4500H is missing some of the features you get with the other Denon model. Most notably, support for Bluetooth 4.2 and 8K upscaling. However, this is not necessarily a deal-breaker. You don't need an 8K passthrough yet, and not everyone has upgraded their Bluetooth devices. The receiver also comes at a slightly lower price point which is something else to consider.
REFERENCES AND FURTHER READING: