In this showdown, we've put the tried-and-true Yamaha CX-A5200 against one of the newest high-end preamplifiers on the market -the Marantz AV7706. The Marantz AV7706 vs Yamaha CX-A52200 competition is fierce. There is a lot to like about Yamaha's preamp, but we are ready to embrace the future of audio and video performance. We recommend the Marantz AV7706 to power your audiophile-quality home theater. (>>> Check on Amazon)
Marantz AV7706 vs Yamaha CX-A5200 Side by Side:
| | Marantz AV7706 | Yamaha CX-A5200 |
| --- | --- | --- |
| | | |
| Video | 8K/60Hz or 4K/120Hz | 4K/60Hz |
| Amplifier | 11.2 Channel | 11.2 Channel (150W per channel) |
| Sound | 7.1.6 Dolby Atmos | Dolby Atmos/DTS:X |
| Wi-Fi | No | Yes |
| Bluetooth | No | Yes |
| Price | Find on Amazon | Find on Amazon |
The Yamaha CX-A5200 is a great preamp, but the Marantz AV7706 simply outclasses it. The quick facts are below that give you some information about why we like the Marantz unit. Later in this article, you will find detailed information about each of these high-end preamps.
Design and Layout Features Winner: Marantz AV7706
When it comes to the look and feel of a quality preamp, the Marantz is the hands-down winner. It has the sleek style and convenient layout you are looking for in a high-end preamp.
Connections Features Winner: Marantz AV7706
It's only a matter of time before 8k becomes a standard resolution and we think you'll want to be ready to handle the most realistic content possible. We also found that the Marantz preamp offers a broader range of connection types to enable hooking up all sorts of different devices.
Performance Features Winner: Marantz AV7706
The only feature that is important is how well a preamp performs. In this case, the Yamaha and the Marantz are very close. But the audiophiles out there will hear the difference, and the Marantz produces cleaner sound at all levels.
---
Layout and Design In-Depth
Even though it may not be your primary interest in picking up a preamp, the way the unit looks is the first thing you notice about it. People tend to form lots of opinions simply by the way something looks. As audiophiles looking at the design and layout of a preamp, we look for certain features like controls, input and output port locations, and the type of display. A preamp with a poor design won't just look ugly, it'll be difficult to use.
Marantz AV7706 Layout and Design Features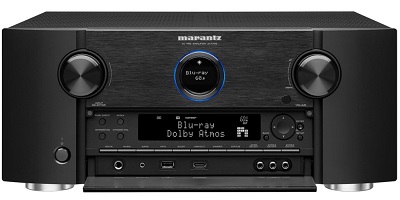 Pros
Elegant looking, high-performance preamp that features the ability to handle up to a massive 11.2 channel system and has 8k capabilities
Perfect choice for the audiophile who demands perfection and only wants crystal-clear frequencies without distortion at any volume
Attractive design blends with modern furnishings and looks great with a brand-new 8k television
Cons
There are few things to dislike about this preamp. It can be a little fussy to adjust properly
When you approach this piece of equipment, you automatically know you are looking at a high-quality product. The matte black case is broken up from monotony with a machined aluminum panel. The effect is a stunning and attractive preamp. Two large dials provide function and source selection. The boxiness of the unit is further broken up with the unique round display.
Behind the aluminum drop tray, you'll find controls and front ports for connecting USB devices and other temporary devices. A second display provides the information you need about source selection and tuning options.
The back panel locates all of the most important ports in useful and logical places. Speaker connections are along the bottom and all of the AV connections are above. This design makes it simple to keep your wires well organized when you install your preamp.
The Marantz AV7706 looks just like the Marantz AV7705 that it replaces, which is great news because these are beautiful preamps. If there is one thing we could wish for it would be to have the main display a little larger. It is very legible at a distance, but doesn't have the room to display a lot of information.
Yamaha CX-A5200 Design and Layout Features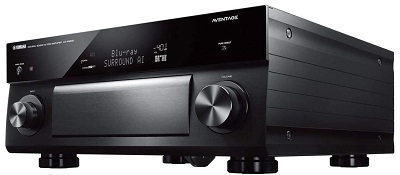 Pros
A workhorse preamp with a documented history of providing audiophile-quality audio and great video resolution reliably
Full-width display makes identifying information from across the room easy to do
Cons
Doesn't provide 8k pass through
Doesn't offer gaming-specific features
A few years ago when this unit came out, we liked the way it looked. Sure, it looked just like the Yamaha CX-A5100 it replaced, but it was okay. As time has gone on, tastes have changed, and the Yamaha seems a little dated on first impression. It uses a full-width display and a drop tray that protrudes from the front surface. It isn't a bad looking unit, but it lacks the pizzaz and sophistication of the Marantz preamp.
Even though the display looks dated, it does provide all of the important information you need while being easy to see from across the room. Dual dials on the face provide the source selection and function controls as well as the volume. The knobs sit against raised escutcheons that add to the vintage appearance.
When you open the drop tray on the front, you get lots of tiny buttons and connection ports for HDMI and RCA cables. The effect is cluttered and somewhat irritating considering the diminutive size of the buttons.
The back panel looks a lot less fussy than the Marantz preamp because there are fewer connections available. Side-by-side with the Marantz, the lack of input and output features becomes readily obvious.
Connections Features In-Depth
The audiophile looking to buy a preamp cares very much about the layout of the back panel. It's not only the location of certain ports, but also which types of devices can be connected. There is a significant difference between these products -and it's something that matters to you.
Marantz AV7706 Connection Features
On the back panel, you find a plethora of connection options. So many in fact that it is a little overwhelming even to the expert familiar with AV equipment. You'll find balanced and unbalanced outputs for a full 11.2 channel system that feature gold plated connections for the ultimate in signal transmission. A row of eight HDMI ports provide inputs from multiple devices. One HDMI port is dedicated to 8k/60 Hz pass through.
Built-in WiFi and Bluetooth connectivity makes streaming from a device easy. You can also stream audio from the preamp to connected wireless headphones. This preamp uses HEOS technology to allow for multi-zone setups using wireless speakers connected through WiFi. AI Assistant connectivity lets you use your voice to control the preamp processor.
You'll also find optical ports, dedicated gaming console ports, and ports specifically for DVD player connections. The way the connections are laid out on the back panel makes cable organization easy.
Yamaha CX-A5200 Connection Features
The back panel has the same 11.2 balanced and unbalanced connections for hooking up speakers. The ports are on the bottom of the panel except for the subwoofer connections which are in the middle. Seven HDMI ports, all of which feature 4k/60 Hz pass-through, reside on the top of the panel. There are optical inputs, but not dedicated inputs for gaming or players.
Bluetooth and WiFi are built in along with convenient access to apps and AI assistants. Multi-zone wireless speaker setups are possible through MusicCast.
The layout of the Yamaha back panel feels cluttered and messy. There are large areas of open space with all of the connections bunched together. The effect looks sloppy and compared to the Marantz preamp, looks incomplete as well.
Performance In-Depth
Everything else aside, the only reason to buy a preamp is because you are a discerning audiophile that can tell the difference between clean frequencies and muddled noise. Both of these preamps do a superior job of boosting and filtering audio to provide the best possible sound quality.
Marantz Performance In-Depth
Hooking this preamp up to a power amp and connecting it to an 11.2 channel surround sound system is just like any other unit. Marantz bundles the MultiEQ XT32 tuning system into this preamp. If you haven't used MultiEQ before, you'll be surprised at how easy it is to get the sound perfectly tuned. Your music will open up in a new way, audio on a movie will sound three dimensional, and your gaming experience will be thrilling.
The sound quality from this preamp is exemplary. Marantz tunes this preamp to give you "that Marantz sound" which basically means that you'll forget that you are listening to a digital audio source and think for a moment you are sitting in the front row at a sold-out show. Marantz focuses on authenticity over impact, so this isn't the most bass-heavy system on the market.
Marantz includes a full suite of features specifically geared to gamers. VRR,QFT, and ALLM technologies work in concert to provide a smooth gaming experience without lag, stutter, or hesitation in 4k UHD at 120Hz.
Yamaha CX-A5200 Performance In-Depth
There is nothing complex about setting this preamp up. It handles up to an 11.2 channel configuration and takes advantage of YPAO tuning technology to perfect the frequencies and volumes of individual speakers in your system. YPAO is not difficult to use and does a great job of getting fantastic overhead and dimensional sound.
The audio quality from this preamp is legendary. The Yamaha sound is big and bold, bringing depth and color to anything you listen to. It is more bass-heavy than Marantz. This preamp lets us down in terms of video capabilities more than anything.
Conclusion
The Marantz AV7706 is one of our favorites on the market right now. It offers tons of features and flexibility to make any home theater experience mind-blowing. When coupled with a matching power amplifier, the Marantz is everything you could ask for in a future-ready preamp. (>>> Find on Amazon)
REFERENCES AND FURTHER READING: