If you are tired of overpriced audio-visual receivers that promise the best possible sound quality but fall short of expectations, it might be time for you to check out the line of high-quality receivers from Onkyo. This Onkyo TX-NR797 review will give you the knowledge you need to make a great purchase decision. We will break down everything you need to know about this affordable AVR option (>>>Find on Amazon).
Onkyo TX-NR797 Review of Specifications:
| | Onkyo TX-NR797 |
| --- | --- |
| | |
| Video | 4K/60Hz |
| Amplifier | 9.2 Channel (220W per channel) |
| Sound | 5.2.2 Dolby Atmos |
| Wi-Fi | Yes |
| Bluetooth | Yes |
| Price | Find on Amazon |
We are going to get right into the nitty-gritty details here that matter the most. You'll find the following sections contain the essential and detailed information about the TX-NR797 and how it will work to help you create a true home theater experience.
Audio Features
The NR797 is a 9.2 channel design that can be configured as a 5.3.4 setup to take advantage of ceiling mounted rear speakers and powered subwoofers. Each of the nine channels provides up to 100 watts of wall-shaking power so you'll not be disappointed with the volume you can get. You can even run three-ohm speakers to get as much as 250 watts per channel. That's a ton of power and rivals much more expensive offerings.
Audio Protocols
One of the first things you'll notice about this receiver is that it offers some of the high-end protocols you rarely find on receivers costing twice as much. For example, you will notice that this receiver includes Dolby Height Actuation technology that can elevate the sound of your speakers digitally to provide true 3D sound quality. You'll hear sounds moving overhead even with floor standing speakers.
The receiver is THX-certified and IMAX compatible, so you get the best quality sound regardless of the source. DTS Master HD ensures that you have the purest sounding audio possible. You'll hear minute nuances from your favorite songs you've never noticed before. Dolby Atmos takes advantage of technology to ensure you get the most from your music.
Pros
Affordable and high-performance option that has features many high-end units don't include
One of the best user interfaces you'll find
Excellent for gamers and movie watchers
Cons
Bluetooth connectivity is poor
Sound control is weird because it doesn't start until 40
Video Protocols
Native 4k pass-through ensures you'll get the highest quality video content along with realistic and natural sound. The NR797 provides support for a variety of video formats and can provide displays with HDR and UHD video content from IMAX and Dolby Vision. The receiver provides true-to-life color without lag or flicker.
Gaming Performance
The Onkyo TX-NR797 is a great receiver for gamers. The receiver provides several modes for enhancing surround sound depending on the type of game you are playing. This allows sounds to move naturally around the room, making your gaming experience even more realistic and enjoyable. The 4k/ 60 Hz performance means you won't experience lag and stutter, even when playing highly detailed games. This receiver enhances your experience while playing all types of games.
Connectivity Options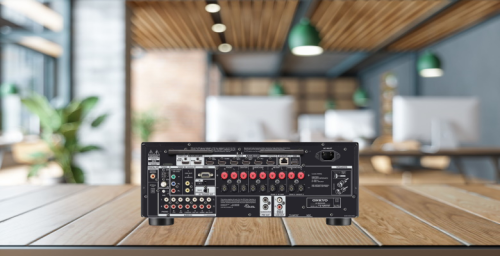 Do you like to stream music and movies? The NR797 is out-of-the-box ready to let you stream from your favorite device using built-in WiFi and Bluetooth connections. It offers native support for Pandora, Spotify, and numerous other popular streaming services. Chromecast is built-in so you can use your Google Assistant and connect to your smart home. It even works with Sonos to provide multi-room wireless audio.
Audio and Video Connections and Tuning
Six HDMI outputs mean you'll have lots of options for hooking up optional accessories like a turntable or a video gaming system. All six HDMI ports are capable of 4k passthrough, so you won't need to switch inputs to get the best connections.
AccuEQ tuning gives you the ultimate flexibility to tune and adjust your particular speakers and room for the ultimate in audio quality. If you've used programs from some of the high-end makers and been frustrated, you are in for a treat. Tuning the Onkyo receiver is simple and the interface is both easy to use and simple to understand.
Conclusion
This is a fantastic choice for someone who is looking to build a home theater system. It gives you the performance and options you'll need to get started and allows the ability to expand to a full 9.2 channel surround sound theater with height actualization that is rare even in higher cost units.
We think this is a great option for buyers scared off from the cost of big-name brand receivers who still want high-fidelity audio and excellent tuning capabilities. The lower price allows for you to spend more on better speakers, making your home theater come together more quickly and with great results. Includes proportioning valve relocation bracket (>>> Check on Amazon).
REFERENCES AND FURTHER READING: