A high-quality receiver isn't just a convenient way to control your entire entertainment system with one remote. The right receiver maintains or even enhances the quality of your content, and gives you the power to fine-tune your speakers to match the acoustics of your space.
We considered a variety of factors in our search for the best 9.2 receiver. The Denon AVR-X4700H is the overall winner, with an easy setup, high sound and video quality, and a powerful output (>>> Find on Amazon). That's not to say it's the best choice for everybody, though. Let's look at some of the key features so you can decide which receiver is right for you.
Best 9.2 Receiver 2022 – Top picks:
Home Theater Use
For a home theater, you want a receiver that will maintain the contrast, color, and detail of the video signal. All of these receivers have at least a 4K pass-through, while many go a step further and support 8K video resolutions. The Marantz SR7015 and SR6015 are the best in this regard, with 8K upscaling on all HDMI ports as well as support for visual technology like HDR10 and HLG.
Sound quality is just as crucial for a truly immersive home theater experience. Every receiver reviewed here supports 3D surround sound and can deliver a powerful, detailed sonic picture. Again, though, the Marantz SR7015 outperforms the competition, with a nuanced and balanced sound with excellent balance and depth in all speaker configurations.
Best home theater receiver: Marantz SR7015
Gaming Performance
The same picture and sound considerations for home theater apply for gamers, but there's another crucial factor to consider: the lag time. Some receivers add delay to the signal, and this can be a problem for reflex-based gaming.
If you plan to connect a PC or gaming console to the receiver, look for one that offers Variable Refresh Rate (VRR) and Auto Low Latency Mode (ALLM). You'll get both of these from Denon receivers like the AVR-X4700H and AVR-X3700H, along with a 4K/120Hz pass-through that ensures a smooth playing experience for all kinds of games.
Best gaming performance: Denon AVR-X3700H, Denon AVR-X4700H
Power and Volume
If you have a larger home theater space, you need more power from your receiver to fill the room with sound. All of these receivers are powered by at least 110 watts per channel, but the Onkyo TX-NR797 takes the cake when it comes to sheer power, with 220 watts per channel. This means big, full sound for any space and speakers.
Most powerful receiver: Onkyo TX-NR797
Home Automation Integration
All of these receivers have at least some voice control capability through a service like Alexa or Google Assistant. They don't all offer the same array of command options, however, and some only support voice searches and basic playback commands.
If you want the option of writing the receiver into custom home automation routines, the Denon AVR-X5400H is your best bet. It works with a wide range of automation systems along with supporting voice control through Amazon Alexa and HEOS multi-room music, giving smart home owners a lot of options.
Best for smart homes: Denon AVR-X4500H
Setup Ease
With their plethora of inputs and options, A/V receivers can be a bit intimidating for first-time users. Receivers that have a guided installation and calibration system take the trial and error out of the set-up process, an especially helpful tool for home theater beginners.
The automatic room calibration of the Denon AVR-X4500H is a handy feature in this regard, providing optimized sound without the need for manual fiddling. The X3700H and X4700H expand on this with a fully guided on-screen setup assistant that streamlines the installation process.
Easiest to set up: Denon AVR-X3700H, Denon AVR-X4700H
---
Denon AVR-X3700H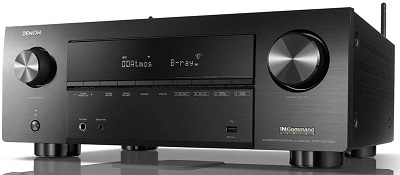 The Denon AVR-X3700H is an excellent all-purpose receiver for controlling all the entertainment in your home. It's an ideal choice for home theaters and media rooms, supporting video resolutions up to 8K, backed by technology like HDR10+ that keeps that picture sharp and vibrant. Gamers can use it, too, with a fast 120Hz frame rate in 4K and the technology you need for a smooth playing experience, free of lag or frame tearing.
Another point in the Denon AVR-X3700H's favor is how easy it is to set up and use. The large display and intuitive controls make it easy to adjust inputs and settings, while the guided set-up assistant walks users through the process of connecting and calibrating speakers.
For smart home users, the Denon AVR-X3700H supports a variety of voice control services, as well as home automation services like Josh.ai. You can also control speakers and content wirelessly through HEOS or AirPlay, along with its direct streaming capabilities. All of these features combine to make it a top choice for modern home theaters.
Pros
3D audio with a variety of speaker configurations
Supports video content up to 8K
4K pass-through and upscaling
Lag-free gaming with VRR and ALLM
Easy installation with on-screen setup assistant
Streams music from Pandora, TuneIn, and other services
Multi-room music through HEOS
Cons
4K pass-through not supported from all media sources
---
Denon AVR-X4700H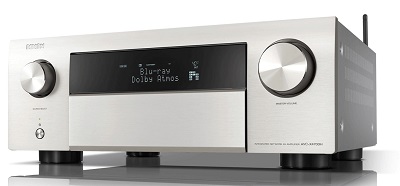 The Denon AVR-X4700H shares a lot of strengths with the 3700H above. It's just as easy to set up, for one thing, with a similar guided set-up assistant and two calibration pre-sets to choose from for the speakers. It's also equally well-designed for integration into smart home entertainment systems, supporting HEOS multi-room music and a range of voice control platforms.
The main advantage of the AVR-X4700H is that it's more powerful. With 125 watts per channel, it can reach higher volume levels without any distortion, letting you enjoy hi-fi music or movie effects at any volume. Dolby Atmos Height Virtualization means you can create fully immersive 3D soundscapes in a home theater.
The Denon AVR-X4700H does an equally great job maintaining the quality of visual signals. It can process 8K content and has a 120Hz pass-through for 4K. That's good news for gamers as well as home theater use, and it has ALLM and VRR to prevent lag, frame tearing, and other issues from interrupting your play. Click here for our more in-depth Denon AVR-X4700H review.
Pros
8K ready
Lag-free 4K gaming
Full 3D sound support
Powerful volume output
Wide voice control compatibility
Easy to use set-up assistant
Extensive wired and wireless connectivity
Cons
May be too large for some entertainment centers
Pass-through not supported for all media sources
---
Marantz SR7015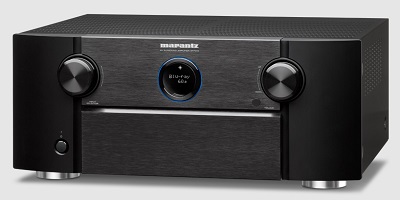 The Marantz SR7015 is the best 9.2-channel receiver for a high end home theater. Not only does it support 8K resolutions, with a dedicated 8K input and 60Hz 8K pass-through, it also makes 8K upscaling available on all of its HDMI inputs, giving your content the potential to look even better than it was intended.
The Marantz SR7015 has the same sophisticated processing for audio signals, supporting Dolby Atmos Height Virtualization, DTS:X and IMAX Enhanced sound. All Marantz receivers are tuned at the factory and use discrete amplifiers with preamps on all speakers channels, giving you a full and detailed sound across the frequency range.
Along with HEOS multi-room music, the Marantz SR7015 supports voice control through Alexa, Google Assistant, or Apple HomePod. This gives users a few different options when they're setting up a smart home theater, though it's not as easy to integrate into many home automation systems as other receivers. Click here for our more in-depth Marantz SR7015 review.
Pros
8K upscaling on all HDMI ports
3D audio using the most advanced formats
Balanced, musical sound with excellent detail
Lag reduction for gamers
High volume output with low distortion
Voice control through Alexa, Google, or Apple
Cons
Not the best for home automation integration
Can take a while to set up and calibrate
---
Marantz SR6015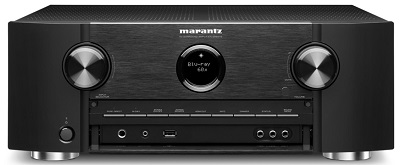 If the SR7015 is a bit out of your budget range, the Marantz SR6015 has a lot of the same features and usually sells for a few hundred dollars less, making it a great value for A/V enthusiasts. This includes 8K upscaling on all 7 HDMI ports, as well as advanced object-based audio formats like IMAX Enhanced and Dolby Atmos Height Virtualization for 3D sound.
The Marantz SR6015 produces a sound quality to suit any audiophile. Each channel uses a discrete amplifier powered by 110 watts—not the most on the list, but enough for a full, detailed sound from any source. Support for HEOS is built-in, too, so you can control the music throughout your home right from the SR6015.
Like other Marantz receivers, the SR6015 works with the 3 major voice control systems, but doesn't work as well with other home automation systems. The option of controlling it with the Marantz remote app through a phone or tablet is a helpful feature from an ease of use standpoint, too, as is the direct music streaming through AirPlay. For our more in-depth Marantz SR6015 review, click here.
Pros
8K upscaling on all HDMI ports
Full 3D sound and video support
Discrete amplifiers for full, clear sound
Built-in music streaming
Works with Alexa, Google, and Apple voice control
Great value
Cons
Lower maximum output than other models
Not a great choice for home automation integration
---
Onkyo TX-NR797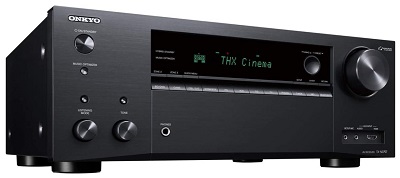 If you're looking for the most powerful possible sound from a 9.2 receiver, the Onkyo TX-NR797 is a great choice. It's powered by an impressive 220 watts per channel and that means a big, full sound that's ideal for larger dedicated home theater spaces.
The Onkyo TX-NR797 is THX certified to meet the strict parameters for cinema-level sound. Dolby Atmos and DTS sound mapping provide a soundscape that's perfectly in sync with the video content, and sounds just as good from all areas of the room. It also supports multiple 3D sound layouts, giving it good versatility for different sizes and styles of viewing space.
One great thing about the Only TX-NR797 is that it's compatible with a wide range of different A/V equipment. It pairs easily with the Sonos Connect system and has built-in AirPlay, FlareConnect, and Chromecast, expanding your options for accessing content, connecting devices, and controlling speakers. While it doesn't have quite as many input options as the other receivers reviewed here, it will still support all but the most complex home entertainment set-ups. Click here for our more in-depth Onkyo TX-NR797 review.
Pros
4K resolution with HDR10 support
Powerful volume output for music and movies
Chromecast, AirPlay, and streaming support
IMAX Enhanced and Dolby 3D sound
Works well with Sonos sound systems
Google Assistant voice control
Cons
Fewer wired input/output options
No 8K support
---
Denon AVR-X4500H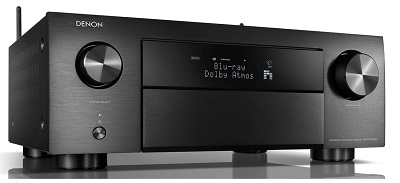 Last but not least, here's another great 9.2-channel receiver from Denon. The AVR-X4500H uses Denon's Audyssey MutiEQ XT32 calibration system, which measures the room and optimizes the speaker output to match. This eliminates dead spots for a consistent sound quality and output wherever you're sitting.
The Denon AVR-X4500H meets the current standard for home theater technology. It supports 4K resolutions, with 4:4:4 pure color sampling, HLG, and HDR10 to ensure the accuracy and clarity of the image. That said, it doesn't support 8K resolutions, so it may not be as good of a long-term investment for those want a cutting-edge home theater.
One place the Denon AVR-X4500H is fully modern is its smart home support. It integrates smoothly with home automation systems from a range of providers, along with supporting full Alexa voice control and music streaming through services like Pandora and Spotify. For our more in-depth Denon AVR-X4500H review, click here.
Pros
High-quality 4K picture for home theaters
3D sound and video support
Optimizes sound to your listening environment
Wide wireless and wired connection options
Easy to integrate into home automation systems
Cons
Max resolution of 4K (no 8K support)
Doesn't work with all voice control systems
---
The Verdict: Best 9.2 Receiver
Your space and equipment are the first things to think about when you're buying a receiver. For a larger room, the powerful Onkyo TX-NR797 is an excellent option, while smart home owners will appreciate how easy the Denon AVR-X4500H is to work into automation routines. It's true that the Denon AVR-X4700H is the best all-around option (>>> Check on Bhphotovideo), but each of the receivers reviewed here was picked out for a reason and they all have their strengths. We hope this review has helped you see the differences and decide which is the perfect choice for your home!