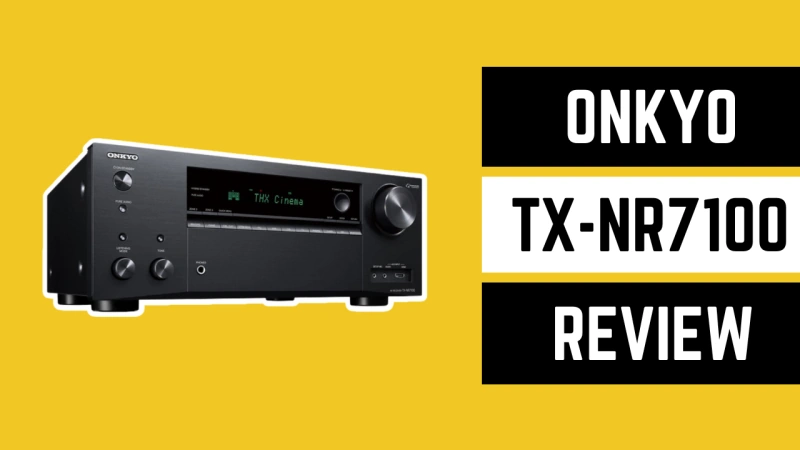 An excellent audio/video receiver can enhance your home theater experience, and Onkyo has a stellar reputation for its products. The Onkyo TX-NR7100 is a mid-range receiver with plenty to offer, making it one to consider if you don't feel like spending a ton of money. Our Onkyo TX-NR7100 review will help you decide if this receiver is for you (>>> Check on Amazon).
Onkyo TX-NR7100 Review of Specifications:
Onkyo TX-NR7100
Video
8K/60Hz, 4K/120Hz
Amplifier
9.2 channel (100W per channel)
Sound
5.1.4 Dolby Atmos
Wi-Fi
Yes
Bluetooth
Yes
Price

Find on Amazon





B&HPhotoVideo
Pros
Amazing video and audio quality
Intuitive design
Enhanced Gaming Mode for lagless gaming
IMAX-Enhanced
Can make older video and audio sound amazing
Cons
The app can be a bit finicky at times
Design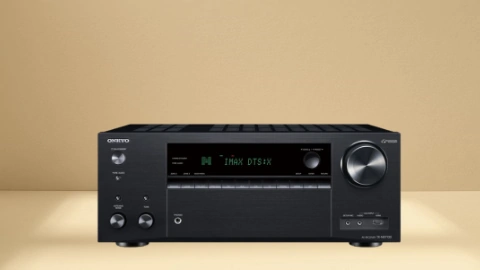 Its overall design is your typical receiver. It's a bit boxy, but that box contains many components to help make your home theater experience as authentic as possible.
At under 23 pounds, this receiver is a little heavy, but nothing terrible. It has a front interface that displays your actions. Its back includes all the ports you need and is adequately organized.
There is an aux input on the front, including a front HDMI port. Putting HDMI cables in the back can be a hassle, so we love its convenience.
The receiver also includes an app for control and a remote with batteries included. The app can sometimes be a bit laggy, but the remote was smooth and let us change everything efficiently. Check the comparison versus Denon's AVR-3700H.
Video Qual
This receiver has Discrete Zone 2 HDMI switching, enabling you to choose between two HD entertainment options. In addition, the video quality goes up to 8K/60Hz, giving you the ultimate home theater experience. Through this receiver, you're able to look at cinema-quality films. Even older media looks clean on it, and it manages to capture this in a crisp, clear image that really stands out.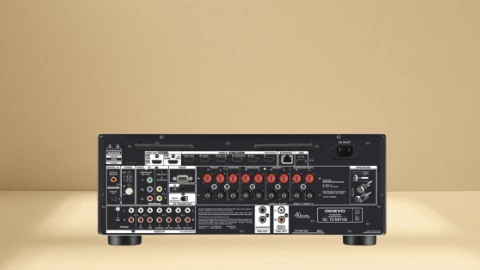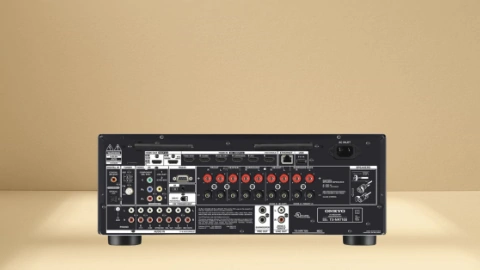 Audio Quality
Four letters any home theater lover wants to read are IMAX. The TX-NR7100 has an IMAX Enhanced mode, which uses DTS: X technology to enhance the audio experience. So you feel like you're in the theater while watching a movie, and it can immerse you in your favorite music thanks to its crystal-clear audio quality.
One technology it uses is its DIRAC Live Room Correction. It can calibrate sound according to your room's size, and its app enables you to adjust when needed. It also works well for USB mics, delivering a booming vocal performance across the room.
In addition, this 9.2 receiver works with all primary streaming services, including Spotify, Amazon Music, Pandora, and more, so you can get amazing sound quality no matter what you're streaming.
Gaming Quality
Is this receiver ideal for gamers? Many gamers want to play with the best graphics and FPS possible. If you're hosting a tournament, you need something to do all this with as little lag as possible. You want the game to be fair, not make players feel cheated.
The TX-NR7100 delivers an Enhanced Gaming Mode. Its HDMI 2.1 port ensures lag-free gaming and includes several features to prevent more lag. For example, it includes Variable Refresh Rate (VRR,) Auto Low Latency Mode (ALLM,) and Quick Frame Transport (QFT.) All these work together to ensure that you play without any lag. Check some of the best AV receivers for gaming. 
Onkyo TX-NR7100 Review: The Verdict
This is a fantastic receiver if you're serious about your home theater. Of course, cheaper ones are available, but the TX-NR7100 is a reminder of why investing more money can benefit. The performance, the video quality, and the audio are all A+ (>>> Find the current price on Bhphotovideo).
With that said, you may not have the budget for it or be sold on this one. We have other projector reviews you may want to check out as well. Thank you for reading.