The centerpiece of any home theater is the AV receiver. When you have a powerful projector and some fantastic speakers, the receiver helps deliver these signals to their proper outputs. Today, we're looking at two receivers: the Onkyo TX-NR7100 vs Denon AVR-X3700H.
Which is better? Let's find out.
Onkyo TX-NR7100 vs Denon AVR-X3700H Side by Side:
Onkyo TX-NR7100
Denon AVR-X3700H
Video
8K/60Hz, 4K/120Hz
8K/60Hz, 4K/120Hz
Amplifier
9.2 channel (100W per channel)
9.2 Channel (105W per channel)
Sound
5.1.4 Dolby Atmos
5.1.4 or 7.1.2 Dolby Atmos
Wi-Fi
Yes
Yes
Bluetooth
Yes
Yes
Price

Find on Amazon





B&HPhotoVideo

Find on Amazon
Audio
When we tested these out, we noticed that the Denon had slightly more watts at 105 than 100 for the Onkyo AV receiver.
Onkyo supports Dynamic Audio Amplification, which delivers lossless audio we can hear. The Denon, meanwhile, allows you to use a 2 channel amplifier, while the Onkyo does not. In addition, the Denon comes with several sound processors, including Audyssey Dynamic EQ.
They also support their own room calibrations, with Denon's coming with Audyssey and Onkyo using AccuEQ.
We tested both and knew both delivered stellar sounds, but Denon's edged it out. The Denon has slightly more power and sound processors, which made the difference. However, we acknowledge that many won't tell the difference.
Winner: Denon AVR-X3700H
Video
Meanwhile, the Onkyo TX-NR7100 is much more capable than the Denon with 7 HDMI 2.1 inputs as opposed to Denon's having only one. Denon does have three outputs as opposed to Onkyo's two, however.
Both can upscale to 8K and 4K with 60 Hz and 120 Hz, respectfully. They also support 3D. Regarding HDR support, the Denon does support Dynamic HDR, helping if you're going from SDR to static HDR.
We believe the Onkyo excels because it has more HDMI 2.1 ports. When we were testing the Denon, switching ports every few seconds was a hassle. Denon having Dynamic HDR does not make much difference besides exceptional cases.
Winner: Onkyo TX-NR7100
Gaming
When it comes to gaming, both support features to deliver as lag-free of an experience as possible. For example, if you're trying to set up tournaments, both ensure that the input lag stays to a minimum.
However, the Onkyo having more HDMI ports means connecting multiple PCs and consoles is a cinch. We were disappointed to learn that some devices on the Denon could not reach 120 Hz. Otherwise, the input lag is around the same.
Winner: Onkyo TX-NR7100
---
Onkyo TX-NR7100
Pros
Stellar audio and video
Gaming mode
Smart features
Cons
The Onkyo TX-N7100 excels in both video and audio. Its DIRAC Live Room Correction means your room experiences the best sound possible via its app. No matter your speakers, it will deliver the most pristine experience possible.
It also supports up to an 8K, 60Hz resolution. Its discrete Zone 2 HDMI switching means you can set up various options without problem. It also supports IMAX Enhanced content, turning your home into a mini theater.
For gamers, the HDMI 2.1 ensures 4K/120 HZ content with a variable refresh rate (VRR,) auto low latency mode (ALLM,) and quick frame transport (QFT.) These work together to deliver as lag-free of an experience as possible.
Finally, the TX-NR7100 supports all major music streaming apps.
Our hands-on review: Onkyo TX-N7100
---
Denon AVR-X3700H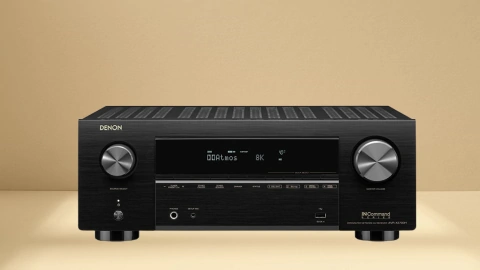 Pros
Supports 8K video and lagless gaming
The award-winning setup means you have the most customizable experience
Includes many ports that are easy to identify
Cons
It does not work with all 4k/120Hz media sources
The AVR-X3700H is a potent AV receiver, delivering 8K/60Hz or 4K/120Hz pictures. In addition, its Dolby Atmos Height Virtualization and DTS Virtual: X delivers the gold standard in surround sound and image processing. It also comes with Dynamic HDR and HDR10+.
The AVR-X3700H supports VRR, QFT, and ALLM for gamers and can use 11.2 channel processing to deliver the best sound possible.
With 10 HDMI ports, it's also simple to switch with ease. Smart features include Bluetooth speaker connectivity, Spotify and similar app support, and voice control. It also comes with its trademark on-screen setup assistance, making setting everything easier than ever.
Read our more in-depth Denon AVR-X3700H review.
---
Onkyo TX-NR7100 vs Denon AVR-X3700H: Which is Better?
Both have their pros and cons. The Denon delivers more audio, and its setup assistance is much more intuitive. However, the Onkyo has more HDMI ports and can support more 120 Hz devices.
It's a close one, but the HDMI ports are too tempting. The Onkyo TX-NR7100 is the clear winner (>>> Check on BHPhotovideo). However, we can't knock the Denon AVR-X3700H too much. It also is an amazing AV receiver. No matter what you choose, you cannot go wrong.
Related AV Receiver Reviews & Comparisons: