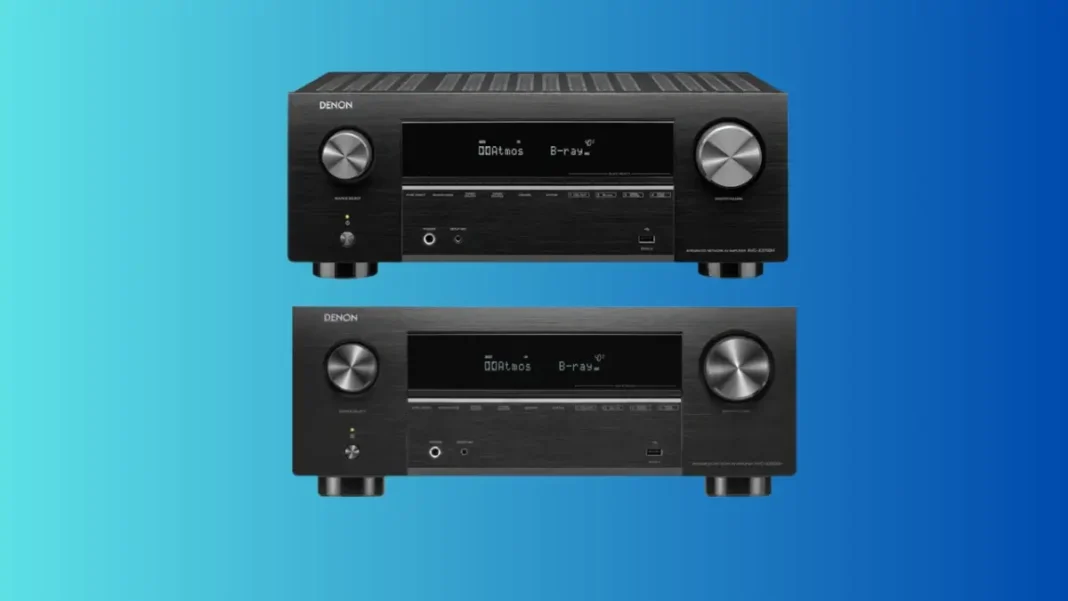 Denon has over a century of experience manufacturing innovative audio products. Hand-tuned to produce exceptional sound, consumers rarely go wrong choosing any of the company's products.
Along with speakers, sound bars, and more, Denon also specializes in AV receivers. Two models have our attention, the AVR-X3700H vs the AVR-X3800H. The X3800H is a newer model, released in 2022. The X3700H hit the market in 2020. Let's see if two years make a difference in the receivers' technology.
Denon AVR-X3700H vs. AVR-X3800H Side-by-Side:
Denon AVR-X3700H
Denon AVR-X3800H
Amplifier:
9.2 channel (105W per channel)
9.4 channel (105W per channel)
Connectivity (Inputs/Outputs):
7/3 x HDMI, 5 x Analog In, Phono In, 2 x Optical, 2 x Coaxial, Subwoofer Out, 11 x Speaker Terminals, 1 x USB Type-A

6/2 x HDMI, 5 x Analog In, Phono In, 2 x Optical, 2 x Coaxial, Subwoofer Out, 11 x Speaker Terminals, 1 x USB Type-A

Audio Formats:
2.8 MHz DSD, 5.6 MHz DSD, AAC, ALAC, DSD, FLAC, MP3, WAV, WMA

2.8 MHz DSD, 5.6 MHz DSD, AAC, ALAC, DSD, FLAC, MP3, WAV, WMA

Video Support:
HDR10, HDR10+, Dolby Vision, Hybrid Log Gamma
HDR, HDR10+, Dolby Vision, Dynamic HDR
Upscaling
up to 8K 60/50
1080p to 8K UHD

Dimensions:
17.4 x 15.4 x 6.5
17.1W x 14.9D x 6.6"H
Weight:
27.6 lbs
27.6 lbs
Price

Find on Amazon

Find on Amazon





ProjectorScreen.com
Denon AVR-X3700H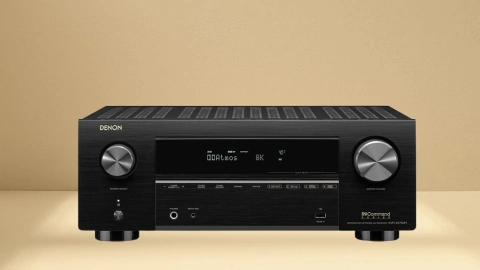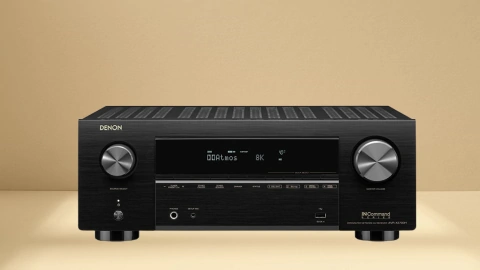 It may be an older model, but the X3700H has a lot to offer. The receiver has something for music and video lovers, along with gamers.
Along with Dolby Atmos and IMAX support for exceptional 3D sound, the receiver is also ready for next-generation gaming. The 4K/120Hz pass-through ensures stunning images without any lag. To prevent frame tearing, the receiver has a Variable Refresh Rate (VRR) and an auto-low latency mode (ALLM).
Your videos will play as smoothly as your games. The receiver has Quick Media Switching technology. It helps prevent any video delays. Everything from live-action sports to movies plays smoothly.
We mentioned voice control compatibility and it's a feature we like. You can adjust the volume, switch tracks, and more without having to locate the included remote. The onboard HEOS technology is another bonus. You can easily stream music to any connected room. HEOS speakers are extra, so it's something budget-conscious buyers may want to consider.
Pros
4K and 8K support
2 channels for a flexible installation
Built-in HEOS
Voice-compatibility
3D audio
Cons
The 4K passthrough does not support all types of media devices.
Follow the link for our more in-depth review of the Denon AVR-X3700H.
---
Denon AVR-X3800H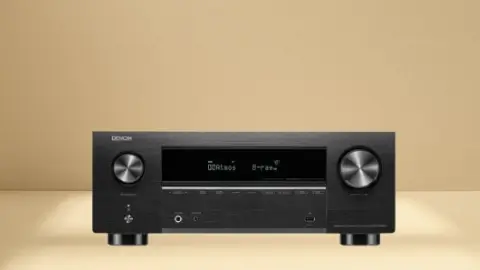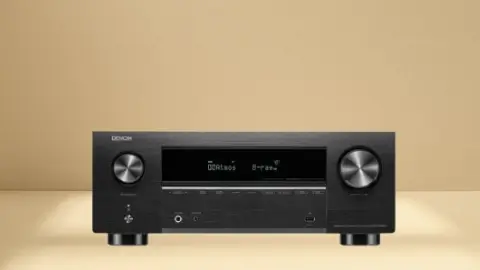 Released a couple of years after the X3700H, we noticed some similarities and a few differences with the X3800H. The audio quality is the same. You get the Dolby Atmos suite to support 3D sound. IMAX and DTS:X enhance audio, so you hear music and movies the way they are meant to sound.
Along with a dynamic HDR pass-through, Dolby Vision, HLG, HDR10+, and HDR technology produce impressive image quality. The HDR pass-through is also great for gaming. It reduces lag for a smooth experience.
Plenty of ports make it easy to connect your devices, even ones with 8K content.
Pros
6 4K/8K inputs
Automatic calibration
Immersive images and 3D audio
Flexible installation with 9.4 channels
Built-in setup assistant
Cons
The setup assistant may tune the receiver to unwanted radio stations.
---
Denon AVR-X3800H vs. AVR-X3700H Features Compared

Audio Quality
Both are nine-channel receivers capable of delivering 105W of power at 8 ohms. You get immersive 3D sound regardless of the room's size. Dolby Atmos technology, including Surround effectively prevents dead zones. DTS:X, DTS VirtualX, and IMAX support further optimizes audio quality.
We like that you do not need height channels. Depending on your speaker arrangement, you can create virtual height effects.
Best Audio Quality: A Tie
Image Quality
Are you ready for 8K content? These AV receivers are. The X3700H has a dedicated 8K HDMI port, while the X3800H comes with six. All six of its HDMI inputs support 8K video.
HDR and HDR10 Plus are standard with both receivers. You get crisp, accurate colors across the spectrum. However, we feel the image quality is a little brighter with the X3800H. It comes with Dolby Vision and a dynamic HDR pass-through.
Best Image Quality: Denon AVR-X3800H
Connectivity
The X3800H comes out ahead in connectivity. Along with six 8K compatible HDMI inputs, there are three going out. The X3700H only has one dedicated 8K HDMI input. However, it does boast more 2.0 HDMI ports. The X3700H has ten, compared to nine with the X3800H.
HEOS technology is built-in, allowing you to stream music with either model.
USB, phono, and digital inputs are standard with the Denon receivers. The X3800H also has four RCA and XLR subwoofer ports. (Check the current price on Amazon)
Best in Connectivity: Denon AVR-X3800H
Ease of Set Up and Use
The receivers are compatible with Alexa, Google Assistant, and more. Even though the remote is self-explanatory, we like being able to control the AV receivers from different rooms. You can also integrate the components with most smart home systems, like Control4 SDPP and Josh.ai.
Be prepared for some weight, but it's normal with AV receivers. The X3700H is a little lighter, but both weigh close to or over 30 pounds. The X3800H is a few pounds heavier at 33.3 lbs, but it's not enough to make a difference in getting the receivers out of the box.
We found the X3800H is easier to set up. You get step-by-step instructions thanks to Denon's setup assistant. Simply follow the onscreen directions. It only takes a few minutes, even for first-timers. We also like the Audyssey EQ software. It automatically calibrates audio. It's one less thing for you to do.
Easiest to Set Up and Use:  Denon AVR-X3800H
Conclusion
We can notice the differences between the two Denon AV receivers. You get a bitter picture and have more connectivity with the X3800H. Check on ProjectorScreen.com However, it also comes at a higher price. For entertainment systems that do not need multiple 8K inputs and are capable of calibrating their audio, the X3700H is a strong option.
Related Comparisons: