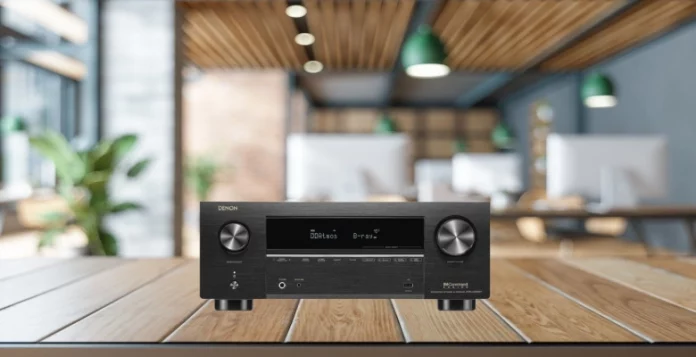 For large or complex home theater setups, a 9.4-channel receiver gives you the power and flexibility you need to fill your space with sound. This is especially true of a receiver like the Denon AVR-X3800H, whose impressive combination of features makes it one of the most versatile home theater receivers around. If you're not sure whether this is the best choice for your home, check out the full details in this Denon AVR-X3800H review to find the answer (>>> Check current price on Amazon).
Denon AVR-X3800H Review Specs:
Denon AVR-X3800H
Video
8K/60Hz, 4K/120Hz
Amplifier
9.4 Channel (105W per channel)
Sound
7.1, 5.1 or 2.1 Dolby Atmos
Wi-Fi
Yes
Bluetooth
Yes
Price

Find on Amazon





B&HPhotoVideo
Amplifier and Sound Quality
The impressive sound produced through the Denon AVR-X3800H starts with its nine discrete high-current amplifiers. They can drive each speaker channel with up to 150 watts, enough for a massive output from any type of speaker. There is also a pre-amplifier mode for those who use external amplification, and it can process signals up to 11.4 channels, giving it the flexibility to drive nearly any type of sound system.
The sound from the Denon AVR-X3800H is detailed and well-balanced, along with being powerful. It has built-in Audyssey MultEQ sound calbiration, along with Dynamic EQ and Dynamic Volume. Using the included microphone lets you automatically calibrate the audio to your space and setup, and you can adjust the sound in more detail through the Audyssey app. It also supports Sony's 360 Reality Audio technology for immersive sound from any source, as well as a compressed audio restorer to ensure music files like MP3s sound their best.
Pros
Powerful and realistic 3D sound
Automatic room calibration
8K video on all HDMI inputs
Supports multi-room music
Wide voice control compatibility
Supports IMAX Enhanced and 3D video
Cons
Higher price than many Denon receivers
Home Theater Use
All six HDMI ports of the Denon AVR-X3800H support 8K resolutions, along with picture technology like HLG, HDR10+, and Dolby Vision. It also supports IMAX Enhanced content and 3D pass-through from Blu-ray players and broadcast sources. In short, your movies and shows will look as good as they sound played through the AVR-X3800H.
The 3D audio capabilities are another reason this receiver is a perfect fit for a home theater. It uses Auro 3D to create a more immersive three-dimensional listening experience, with Auro-Matic upmixing to bring that realism to older content. It also supports multiple 3D sound configurations, including 5.1.4 configurations with physical overhead speakers as well as Dolby Atmos Height Virtualization, Dolby TrueHD, and a range of DTS formats (DTS:X, DTS HD Master, DTS Neural:X, and DTS Virtual:X). Check comparison vs. Denon AVR-X4800H.
Wireless and Smart Features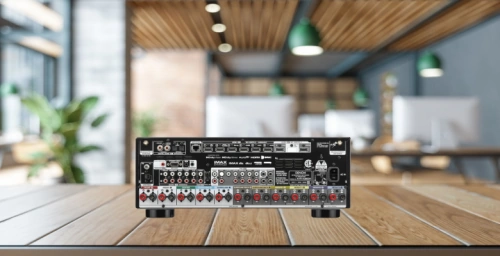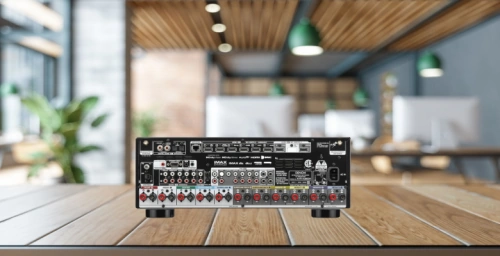 The broad wireless connectivity of the Denon AVR-X3800H includes both Bluetooth and Wi-Fi built-in. It also works with streaming systems like AirPlay 2 and Spotify Connect, in addition to the music streaming services supported straight through the receiver, like Pandora, SiriusXM, and TuneIn. You can even control it from anywhere by pairing it with the Denon Remote app for Android or iOS devices.
You can also send signals from the Denon AVR-X3800H to other rooms in your home using two-zone audio or HEOS. This lets you keep one room set up as a 7.1-channel surround sound system while the other plays 2.1-channel stereo sound perfect for music, and these two zones can be synced or play their own sound, depending on your neeeds.
Smart home users can easily integrate the Denon AVR-X3800H into their setup, too. It supports voice control through Alexa, Google Assistant, Apple Siri, or Apple HomePod, and also supports Josh.ai.
The Bottom Line: Denon AVR-X3800H Review
The Denon AVR-X3800H is a powerful, feature-rich receiver ideal for large homes and complex entertainment setups (>>> Check on Bhphotovideo). While its price is fair for a 9.4-channel receiver, though, it does cost more than most models in Denon's catalog. Check more projectors in a similar price range. If you don't need a full 9.4 channels, you can save yourself quite a bit going with one of Denon's 7-channel options like the AVR-X2800H or the budget-friendly AVR-S760H without sacrificing too much in the way of performance.
FAQs
What does 9.4 mean for a receiver?
This tells you how many speaker and subwoofer channels the receiver has. The first number refers to speaker channels, while the second indicates subwoofer channels. In the case of the AVR-X3800H, it can process 9 discrete speaker channels and 4 discrete subwoofer channels at the same time.
Can the Denon AVR-X3800H be used for gaming?
Yes, this receiver supports all styles of gaming. Along with its high 120Hz frame refresh rate for 4K content, all of its HDMI ports have an Auto Low Latency Mode (ALLM) pass-through, as well as Variable Refresh Rate and Quick Frame Transport.
Is the Denon AVR-X3800H hard to set up?
Not at all! The sheer number of speaker channels and outputs can make the rear panel of this receiver a bit overwhelming for newcomers, but it's not as complicated as it looks. It also comes with an on-screen setup assistant to guide you through the process, and even a complete A/V novice can get it up and running relatively quickly. The Audyssey room correction helps here, too, optimizing the sound to the space automatically so you don't need to mess with the settings unless you want to fine-tune it.