If you have a home theater system, are a professional gamer (or even if you are only an amateur), or appreciate crystal clear music and audio, then you have probably already thought about investing in an AV system. Even if you already have one, it is never a bad idea to upgrade your system, especially to a receiver that is packed with quality and will last.

A high-quality AV receiver will give you ultimate control over all of your devices, immersing you in your viewing or listening experience. We've looked through the leading contenders and have found six of the best receivers for under $2,000.
After looking at each model separately and comparing them against each other, there was one receiver that beat out the others. The Pioneer VSX-LX505 is our top choice, but other receivers will do better in some situations (>>> Find the current price on Amazon). Let's take a look at all the best options.
Best AV Receiver Under 2000 – Top Picks for 2023:
Channels
If you are new to the world of AV receivers, you might be confused with all of the numbers that are thrown at you, so let us clear up the most common numbers, the number of speakers that your receiver can power.
You will often see two numbers separated by a period, such as 7.2 or 9.2, and that refers to the number of speakers (the first number) and the subwoofer count (the second number).
You'll find that most older systems are 5.2 (which still gives many options), and newer models are 7.2 at a minimum, which still gives you a lot of power. Bass lovers will appreciate the extra subwoofer support of the 9.4-channel Denon AVR-X3800H, the only option on the list that can handle more than 2 subwoofer channels. The Onkyo TX-RZ50 and Pioneer VSX-LX505 can both process up to 11.2 channels, giving them the broadest speaker channel support on the list.
Most channels: Onkyo TX-RZ50, Pioneer VSX-LX505
Sound and Picture Quality
If you are buying an AV receiver, it should be standard that it gives you high-quality audio and video. You should never settle for anything substandard, and all of the options presented on our list will provide you outputs that are of the same quality as the inputs. With upscaling, many of the receivers on our list enhance the signal so that the output is even better.
If you are creating a home theater or gaming system, there are some technologies to look out for. Dolby Atmos (especially with height virtualization) and IMAX Enhanced will combine to offer immersive 3D sound and unparalleled visuals.
All of the receivers on our list give you immersive viewing and gaming, and most will support video resolutions up to 8K. The Pioneer VSX-LX505 goes a step further with 8K upscaling for 4K and lower content, as well as audio technology like DIRAC room correction and support for DTS and Dolby Atmos surround sound. This impressive combination of features gives it the best overall A/V quality on the list.
Best sound and picture quality: Pioneer VSX-LX505
Set-up Ease
If you are buying the best AV receiver under $2,000, you are getting a high-quality piece of equipment, and that generally means you have a lot of connections, customization, and power. On the one hand, this is exactly what you are paying for, but this can be overwhelming if you are new to the world of AV technology.
Denon has been been creating AV technology for years, and they have honed their internal software to bring you the most intuitive user systems, and both the AVR-X4700H and AVR-X3800H are easy to navigate. However, the guided setup and multiple methods of control you'll get with the Marantz Cinema 60 make it the best choice in this regard. Not only does it have Audyssey automatic room correction, its easy integration into home automation systems gives it a smooth setup in any space and situation.
Easiest set-up: Marantz Cinema 60
Smart Features
It is almost standard now that an AV receiver is compatible with voice assistants, and you should have no problem connecting to each of the devices through voice commands. All of the devices on the list are compatible with Alexa, Google Home, Siri, Josh.ai, and more.
With that in mind, it comes down to what else it can do. Both the Onkyo TX-RZ50 and Pioneer VSX-LX505 support multi-room audio and visual, in additon to thorough voice agent support, giving them a lot of versatility. The only sticking point here is that neither includes a microphone, so you'll need extra accessories to take advantage of their full features, but since that's the case with the majority of A/V receivers, we won't hold that against them.
Best smart features: Onkyo TX-RZ50, Pioneer VSX-LX505
---
Denon AVR-X3800H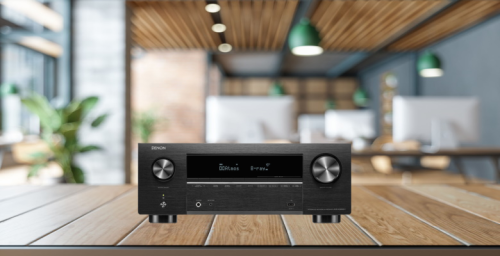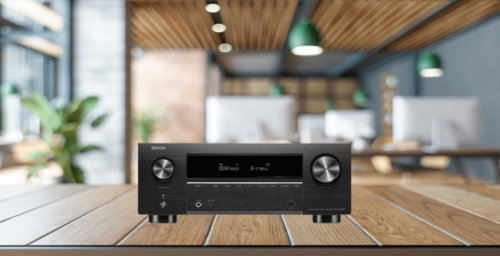 The 9.4-channel capacity of the Denon AVR-X3800H is its most distinctive feature compared to other options. This means it can power 9 speaker channels and 4 subwoofer channels at once, adding extra bass power to your home theater sound. That's particularly useful for two-zone audio and multi-room music setups, letting you get a full, balanced sound in both spaces. It also has a pre-amplifier mode that lets you use an external amp or powered speakers, further expanding its versatility.
Like other Denon receivers, the AVR-X3800H uses MultEQ XT32 EQ software with automatic room measuring and calibration using the included microphone. You can customize the sound profile further with the Audyssey Editor app. The X3800H also includes Sony 360 Reality Audio technology, creating an immersive listening environment with true-to-life movement, as well as support for IMAX Enhanced, Dolby Surround, and DTS 3D sound formats, maintaining that sonic detail and realism across content styles.
The Denon AVR-X3800H is intuitive to set up and navigate, and it gives users a lot of options for controlling your entertainment. Along with the included remote, you can turn your phone into a remote with the Denon AVR Remote app. It also supports voice control and home automation routines through services like Siri, Alexa, or Josh.ai, making it a smart choice for smart homes.
Pros
Video resolutions up to 8K
Automatic room calibration
External amplifier option expands capacity to 11.4 channels
Powerful sound, especially for bass frequencies
Guided setup assistant
Multiple control methods, including voice control
Suitable for gamers with ALLM and VRR
Cons
Some users report issues with HDMI ports
Runs a bit hot
Full review: Denon AVR-X3800H
---
Denon AVR-X4700H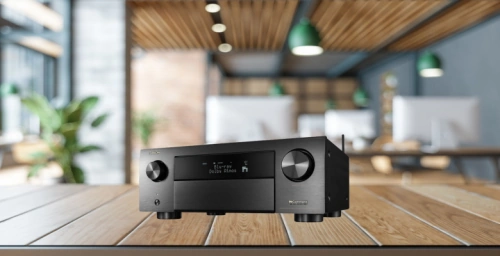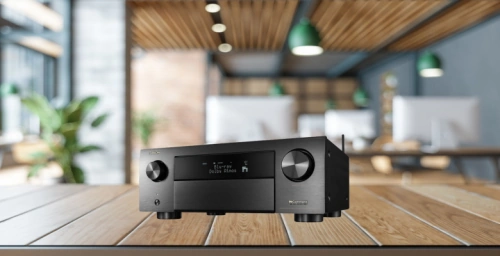 If you are a gamer or want a professional home theater system, you will love the 8k HDMI connections, giving you flawless 8K/60Hz video passthrough and upscaling. You also have access to the latest HDR and HDR10+ technology, and the quick media switching eliminates any video delay, essential for live streaming.
The full 3D audio support will immerse you in your movie or gaming session. The DTS:X and DTS Neural:X gives unmatched realism with 5.1 surround sound, and the DTS Virtual and Dolby Atmos improve that immersion without the need for height channels, and you can easily switch between 7.1, 5.1, and 2.1 speaker setups. Click here for our more detailed Denon AVR-X4700H review.
As expected from any high-quality AV receiver, the Denon AVR-X4700H comes with full voice service, allowing you to connect to most smart systems. This is one of the top receivers out there for gaming or for anyone who wants control over their speakers.
Pros
Aura 3D for surround sound
IMAX Enhanced and 8K/60Hz passthrough
2 channel processing capabilities
Dynamic HDR and HDR10+ support
Turntable compatible
Great for immersive gaming
Cons
No tactile manual
Functionality can be overwhelming
---
Marantz Cinema 60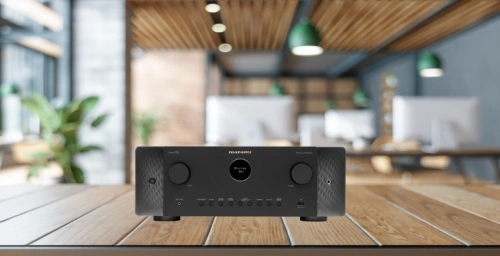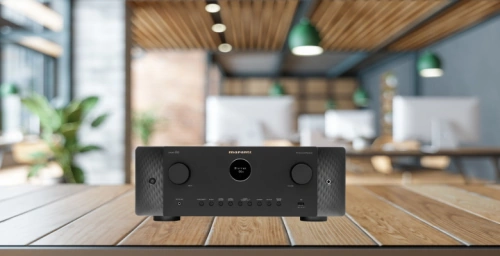 The Marantz Cinema 60 is one of the best A/V receivers you can find for a modern home theater. All of its HDMI ports have eARC support, with three that can support 8K resolutions and a 120Hz refresh rate for 4K content on all inputs. It also supports visual technology like Dolby Vision, HDR10+, and HLG, along with multiple 3D formats and the lag-reduction features you need for gaming. In short, it can play just about any visual content and keep it looking its best.
You'll get the same precision and performance on the audio side with the Marantz Cinema 60. It supports Dolby Atmos Height Virtualization and DTS Virtual:X, letting users create a three-dimensional soundscape without the need for overhead speakers. The Audyssey MultEQ XT32 automatic room correction takes the guesswork out of optimizing the sound to your space, and the proprietary HDAM amplification ensures that sound is detailed and musical, no matter what kind of content you're using it for.
The full wireless connectivity of the Marantz Cinema 60 lets it stream music from services like Spotify Connect, AirPlay 2, or Amazon Music. Its seamless voice control support lets you fully control the receiver through the major voice agents, and it integrates easily with popular home automation systems, as well, bringing modern home theater owners the smart capabilities they need. Click here for our more in-depth Marantz Cinema 60 review.
Pros
Powerful sound for music or movies
Multiple 3D sound format options
Easy setup with automatic room calibration
Seamless voice control and home automation integration
Supports streaming and multi-room music
Video resolutions up to 8K
Cons
8K support is only on 3 HDMI inputs
Small front screen can be tricky to read
---
Marantz SR6015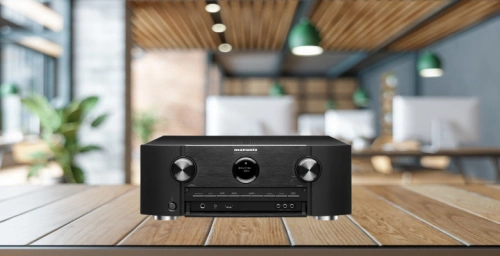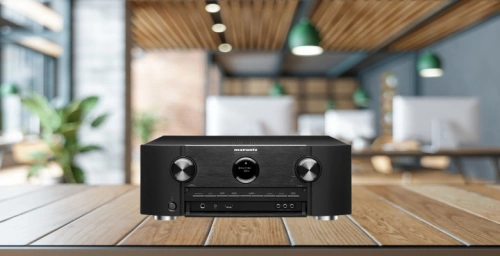 If you have 8K devices, the Marantz SR6015 will help to connect them. 8K upscaling is available in all 7 of the HDMI ports, and the latest HDMI technology gives support for all modern devices, seamlessly streaming audio and video. There are 9.2 channels, with great power amplification and 110W per channel. For a home theater, this is perfect.
Most object-based audio formats are supported, with Dolby Atmos, Dolby Atmos Height Virtualization, DTS:X, DTS Virtual:X, and IMAX Enhanced. This results in multi-dimensional audio that is immersive and clear. Enhanced Audio Return Channel (eARC) HDMI support that allows you to connect your TV (or other devices) with uncompressed and object-based audio. The Dynamic HDR10 and HDR10+ give fantastic video for an optimum viewing experience. When combined, you have crystal clear audio and video that are excellent for home viewing experiences. Click here for our more detailed Marantz SR6015 review.
Pros
8K/60Hz & 4K/120Hz video passthrough
Supports 8K devices
Object-based audio with Dolby Atmos & DTS
eARC HDMI support
Dynamic HDR
Cons
Is bulky, so plan your shelf space
HDMI chipset bug
---
Pioneer VSX-LX505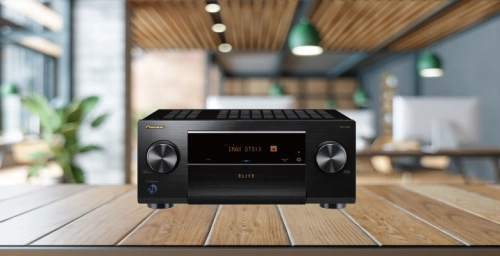 Pioneer is a long-time leader in the audio equipment industry for a reason, and the VSX-LX505 lives up to their reputation for quality. This starts with its powerful output of 120 watts per channel, which will drive any brand of speakers, including Sonos Certified equipment. Along with this, it offers DIRAC Live Room Correction and MCACC Audio Room Testing to optimize the sound to your room. The only minor annoyance here is that it doesn't come with a microphone, so you'll need to use a third-party device to access this feature.
The 9.2 channels of the Pioneer VSX-LX505 can be used for full 2-zone entertainment, controlling both the sound and the display of two separate home theater setups at once. Both zones can be controlled through the Pioneer Music Control app, as well. You also don't need overhead speakers for a 3D surround sound setup thanks to its support Dolby Atmos Heigh Virtualization, and the surround sound upmixer supports multiple DTS formats, as well.
You'll get the same high performance on the visual side through the Pioneer VSX-LX505. It doesn't just play 8K content but can also upscale 4K or 1080p signals to nearly 8K quality, and it's compatible with IMAX Enhanced and Dolby Vision content, too. Built-in Chromecast expands your options for accessing content, with support for voice commands through the major providers as well as a user-friendly interface, so it's easy to control your content in any kind of home theater setup.
Pros
8K support with upscaling
Multiple room calibration options
Full 2-zone audio and video
Lag reduction technology for gamers
Built-in streaming and voice control
Works with Sonos speakers
Cons
---
Onkyo TX-RZ50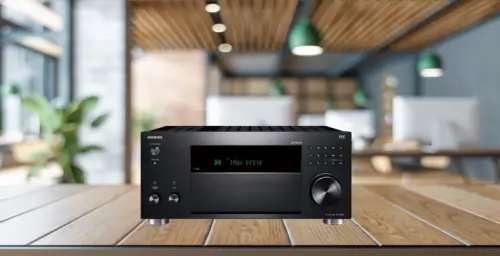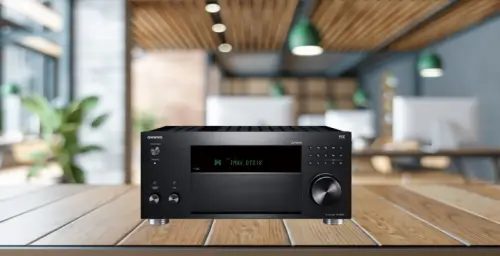 The quality of the audio output is the main strength of the Onkyo TX-RZ50. It's THX-certified so you'll know you're getting the ultimate in home theater audio through this receiver, with four listening modes as well as DIRAC Live Room Correction so you can quickly optimize the sound to your tastes and AccuReflex phase matching for Atmos speakers. It also integrates well with Klipsch or Sonos speakers, and can process up to 11 speaker channels, giving it lots of versatility to work with different equipment and setups.
The Onkyo TX-RZ50 brings that same high quality to movies and games. All 6 HDMI inputs support resolutions up to 8K with a 60Hz refresh rate, along with IMAX Enhanced and other advanced visual formats. You can also game in 4K, with ALLM, QFT, and VRR to ensure a low latency. Its Zone 2 switching supports dual visual and audio signals, so you can game in one room and watch movies in another, or whatever combination of entertainment options you want to bring to your home.
Music lovers will appreciate the Onkyo TX-RZ50, too. Support for DTS Play-Fi makes it easy to access your whole music library, and you can also stream music through services like Spotify and Pandora, which come built-in. It also works with voice control inlcuding Alexa, Google, and Siri through AirPlay, though you'll need to add a microphone to use this capability.
Pros
Excellent 3D sound quality
eARC and 8K support on all HDMI inputs
THX-certified sound with multiple listening modes
DIRAC Live Room Correction and AccuReflex phase matching
Works with most speakers, including Klipsch and Sonos
Built-in DTS Play-Fi and music streaming
Cons
---
What's the Bottom Line?
As you can see from the individual reviews above, and also when we compared the receivers, no one receiver beats the others in every area. While we do recommend the Pioneer VSX-LX505 (>>> Find it on Bhphotovideo), mostly for its 8K upscaling, easy control, and superior sound calibration, other receivers will be the better choice for some homes.
For larger spaces, the added subwoofer channels on the Denon AVR-X3800H can ensure you get the bass power you're looking for. If you want the most user-friendly receiver, the Marantz Cinema 60 is a great option, and this usability is backed by powerful sound, great visuals, and a system responsive enough for gamers. No matter which one you choose, you are going to get a great AV receiver for under $2,000.
REFERENCES AND FURTHER READING: