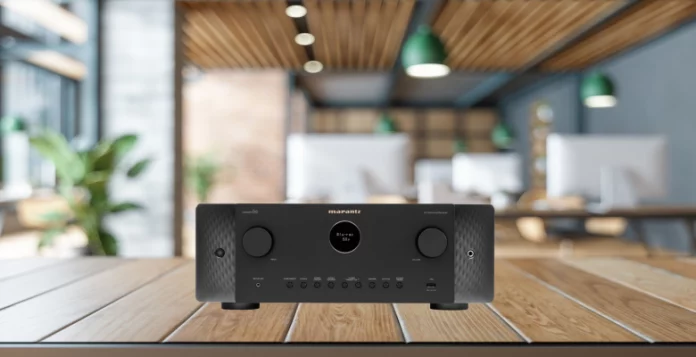 With 7.2 channels and support for the latest video, audio, and voice control technology, the Marantz Cinema 60 is a great way to coordinate the entertainment in a modern home theater. It's also on the upper end of the price spectrum for a home theater receiver of this size, however, which could leave buyers wondering whether it's worth the investment. Luckily, you've come to the right place! We'll break down its full features in this Marantz Cinema 60 review so you can decide if it's a good fit for your home (>>> Check current price on Amazon).
Marantz Cinema 60 Specs:
Marantz Cinema 60
Video
8K/60Hz, 4K/120Hz
Amplifier
7.2 Channel (100W per channel)
Sound
7.1, 5.1, or 2.1 Dolby Atmos
Wi-Fi
Yes
Bluetooth
Yes
Price

Find on Amazon





B&HPhotoVideo
Installation and Connectivity
The Marantz Cinema 60 comes with a guided on-screen setup assistant that takes the guesswork out of connect speakers and adjusting the settings, for an effortless setup even for complete A/V beginners. Once it's set up, you can pair the Cinema 60 with the Marantz AVR remote app for easy control through your phone from anywhere in your home.
The rear panel of the Cinema 60 has 6 HDMI inputs, along with digital and analog audio inputs, including a connection for turntables. This is further expanded by its wireless connectivity, with integrated Bluetooth and Wi-Fi as well as support for apps like AirPlay and Spotify Connect. In short, its connectivity is ideal for a modern home theater space. 
Audio Quality
The immersive 3D sound you'll get playing content through the Marantz Cinema 60 is a definite point in its favor. Its 7 speaker channels are each driven by 100 watts of power, and can be utilized in 7.1, 5.1, or 5.1.2 speaker configurations. Along with this, it supports a variety of Dolby and DTS sound formats, including Dolby Atmos Height Virtualization and Dolby TrueHD, as well as DTS Neural:X and DTS Virtual:X upmixing. The result is detailed and immersive sound from any source. This buyers guide might be relevant: http://hqsound101.com/best-av-receiver-under-2000/
It's also easy to get that amazing sound in any space. You can connect the included microphone to tune the Cinema 60 using Audyssey Room Measurement and MultEQ calibration, optimizing the sound to match your room. You can even split the sound between two spaces using its built-in multi-room streaming through HEOS.
Pros
Powerful sound for music or home theaters
Automatic room calibration
Supports 8K resolutions with upscaling
Multiple 3D sound and upmixing formats
Voice control through multiple platforms
Compatible with Marantz remote app
Cons
8K support only on 3 HDMI inputs
Requires a 3rd-party device to use some voice control systems
Video Signal Support
Three of the six HDMI inputs on the Marantz Cinema 60 support 8K resolutions at a 60Hz frame refresh rate. These inputs also bring HDMI upscaling to 1080p or 4K content, enhancing it to nearly 8K levels of detail and letting you see your favorite shows and movies with even more clarity and realism than the original. Rounding out its impressive video production is support for Dolby Vision, HDR10+, and HLG, ensuring the contrast and color of the image match its sharp resolution every time.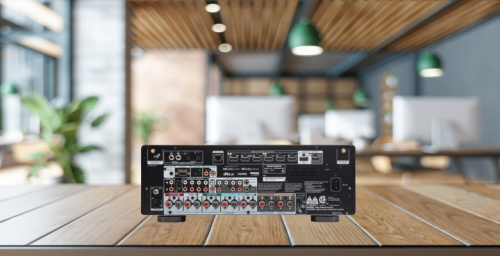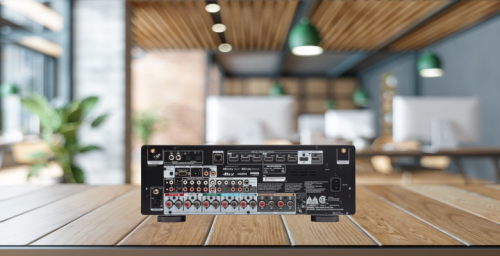 Smart Features
The Marantz Cinema 60 can be controlled completely hands-free through Amazon Alexa, and also supports voice commands through Apple HomePod or Google Voice Assistant. For more complex home automation systems, it also supports control through RS232 and other network systems.
The streaming capabilities of the Marantz Cinema 60 are equally impressive. It supports SiriusXM and TuneIn internet radio, along with services like Amazon Music, Tidal, Pandora, and a range of other options. The MDAX2 compressed audio enhancer ensures this streamed music sounds as full, balanced, and detailed as other file formats. 
Marantz Cinema 60 Review In Summary
There is certainly a lot to love about the Marantz Cinema 60, from a powerful sound to impressive picture quality and an easy setup and navigation. Having said that, you'll get similar performance on most fronts from receivers that cost half as much or less. It's up to you whether features like 8K upscaling are worth the investment, or whether a more affordable A/V receiver would fit your needs just as well (>>> Check current price on Bhphotovideo).
FAQs
Can you play games through the Marantz Cinema 60?
Absolutely. It includes the full suite of lag-reduction technology you'd expect from a modern receiver, including Auto Low Latency Mode (ALLM), Variable Refresh Rate (VRR), and Quick Frame Transport (QFT).
Can a cassette tape deck be connected to the Marantz Cinema 60?
Yes. The four assignable RCA pairs can be used for connecting a tape deck. There are also RCA pairs for things like older gaming systems or DVD players.
How do the channels split for Zone 1/Zone 2 multi-room music?
The typical arrangement is to split this into a 5.1-channel surround sound system in the main room, with 2.1-channel stereo sound in Zone 2. If you want to use the full 7-channel surround sound in the main space, you can connect an external amplifier to the Zone 2 pre-out and expand the channel capability.
Comparisons: