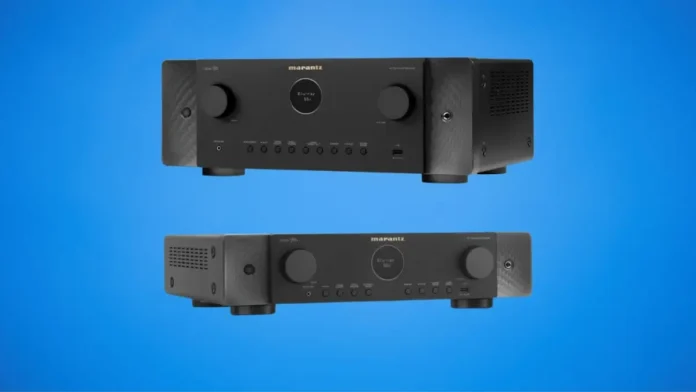 AV receivers continue to evolve, and Marantz is often leading the way. Gone are the bulky models, instead, you get slim, sleek models that look great on any shelf. These receivers are packed with features and offer a great audio and video experience. Two models capturing consumers' attention are the Cinema 60 and 70s.
Both of these receivers are from Marantz and released only a year apart. We decided to see if a year can make a noticeable difference in performance to see which AV receiver is the best option for audio and videophiles. Comparing the Marantz Cinema 60 vs the 70s has some surprising results. Keep reading to find out more about these two AV receivers.
Marantz Cinema 60 vs 70s Side by Side:
Marantz Cinema 60
Marantz Cinema 70s
Video
8K/60Hz, 4K/120Hz
8K/60Hz, 4K/120Hz
Amplifier
7.2 Channel (100W per channel)
7.2 channel (50W per channel)
Sound
7.1, 5.1, or 2.1 Dolby Atmos
Dolby Atmos, DTS:X & Auro 3D
Wi-Fi
Yes
Yes
Bluetooth
Yes
Yes
Price

Find on Amazon





B&HPhotoVideo

Find on Amazon





B&HPhotoVideo
Audio Quality
Even though you want a receiver with plenty of power to fill a room with sound, it's not the only factor affecting audio quality. The Cinema 60 does produce more power than the 70s, but you may not need 100W per the seven channels in smaller spaces. The 50W per seven channels you get with the 70s will keep you rocking without disturbing your neighbors.
Other than a difference in power, the AV receivers are closely matched in audio quality. Dolby Atmos, Dolby Surround, and DTS Neural:X upmixer technology give you the illusion of 3D sound. You can avoid dead spaces in the room without adding ceiling-mounted speakers.
Best Audio Quality: Marantz Cinema 60
Video Quality
We are pleasantly surprised by the video quality of the two receivers. You are ready for 8K and 4K resolution, using one of the passthroughs. The refresh rate is a little low in 8K, at 60Hz. You may experience some lag during graphic-rich games or fast-paced action and sports scenes. The refresh rate jumps to an acceptable 120Hz in 4K resolution.
Dolby Vision is standard with both receivers. Colors have depth and dynamic contrast, bringing images to life. Support for HLG, HDR10+, 3D, and more, producing realistic images regardless of what you are watching. It's also great for gamers. Dark scenes are clear without any fuzzy images.
Best Video Quality: A Tie
Gaming Quality
AV receivers are catching up with gamers' needs, and it applies to both receivers. Competitive gamers may experience some performance issues, but casual players will appreciate image and audio quality.
A refresh rate of 120Hz is a little slow for some multiplayer games. However, if you're a fan of solo play you can enjoy lag-free gaming. We like the 4K resolution. It can make you feel like you are in the game. The stereo receivers also support ALLM, QFT, QMS, and VRR to optimize your gaming experience.
Best Gaming Quality: A Tie
Connectivity
Think of an AV receiver as the brains of your entertainment system. Using voice control, you can easily switch between the various connected components. It means not having to unplug a device when you want to connect another one.
Both Marantz stereo receivers have robust connection panels, but the Cinema 60 offers a little more. You get 8 HDMI ports with the Cinema 60, compared to 7 on the 70s. One input may not seem important until you are connecting all of your external devices. Both AV receivers boast 3 8K inputs, and dual subwoofer ports, along with connections for phone, digital, analog, and USB sticks.
While you aren't going to run into issues connecting devices with either receiver, we like the additional HDMI input on the Cinema 60. Check how it compares against the Denon AVR-X3800H.
Best Connectivity: Marantz Cinema 60
Ease of Set Up
You want to plug your stereo receiver in and enjoy stunning audio and video. Spending hours setting up the receiver isn't how anyone wants to spend their day.
While the receivers have a slim and sleek design, they are also sturdy models. Each one weighs over twenty pounds, with the Cinema 60 being a little heavier. It's also a couple of inches smaller than the Cinema 70s. It can make a difference if you have limited space.
What we really like about both AV receivers is the inclusion of Audyssey MultEQ XT32 technology. It automatically corrects the acoustics to match the size of the room. You don't have to spend hours trying to calibrate the audio. You also get an easy-to-navigate onscreen interface. You can select sources, fine-tune the receiver, and quickly browse through the various menus.
Easiest to Set Up: A Tie
Features
Consumers expect their receivers to come with features, and these models deliver. Voice-control functionality is standard on both receivers. Along with built-in Alexa, the receivers also support Siri and most other smart home systems. You can change components, adjust volume, and switch tracks without getting up from the couch.
Multi-room streaming is something else consumers expect from an AV receiver. Both Marantz receivers allow you to stream audio to multiple rooms. They come with built-in Wifi, HEOS, Bluetooth, and AirPlay 2. The receivers are also compatible with popular streaming services like Pandora and Spotify.
Best Features: A Tie
---
Marantz Cinema 60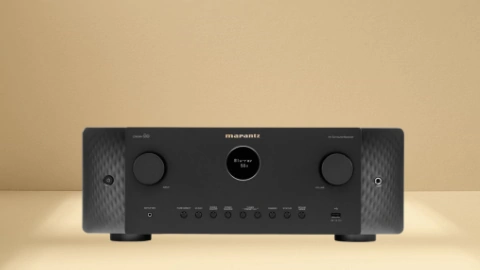 Pros
100W per seven channels
Dynamic audio and video
Flexible set up
Robust connection panel
Onboard streaming services
Cons
The receiver's price may be too steep for some consumer budgets
The Cinema 60 produces immersive audio and realistic video. With 7.2 channels, you get a flexible setup. It can also eliminate the need for ceiling speakers in a 7.a, 5.1 or 2.1 installation.
Multi-room streaming functionality allows you to listen to audio throughout the house. The receiver comes with multiple streaming services, including HEOS, AirPlay 2, Bluetooth, and Wifi. HDAM circuitry and feedback amplification ensure cinematic sound with rich details. The receiver is just as impressive with its video quality.
We do wish there was more support for gamers. Even with ALLM, QFT, QMS, and VRR compatibility, the refresh rate is too slow for some types of gaming. However, it does improve input lag by reducing the time it takes for commands from the controller to reach the screen. Check our full review of the Marantz Cinema 60.
---
Marantz Cinema 70s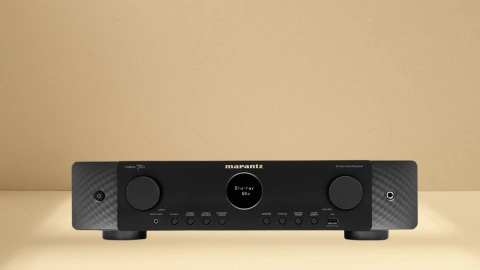 Pros
Slim design
Easy set up process
Automatic room calibration
Voice-control support
Clear mid-range audio
Cons
The low power (50W) may not be enough to fill larger rooms with sound
The Cinema 70s is a more budget-friendly option compared to some other Marantz receivers. It also comes with most of the features as the Cinema 60.
You get 7.2 channels for a flexible setup. You also get the illusion of surround sound with Dolby Atmos and Height Virtualization. It can eliminate the need for ceiling speakers. With 50W of power per 7.2 channels, you can fill most rooms with crisp, clear audio.
Voice-control and automatic acoustic calibration makes the receiver a breeze to operate and install.  A user-friendly interface takes the hassle out of tuning the receiver and navigating the menus. Check our full review of the Marantz Cinema 70s.
---
Conclusion
Our tests show the similarities between the two Marantz AV receivers. Both produce amazing audio and video and are acceptable for most types of gaming. However, you get more power with the Cinema 60 (>>> Check on BHPhotovideo), along with an extra HDMI port, but the Cinema 70s is priced noticeably lower. Since everyone's entertainment system is a little different, it's up to you to decide which stereo receiver is the best option.