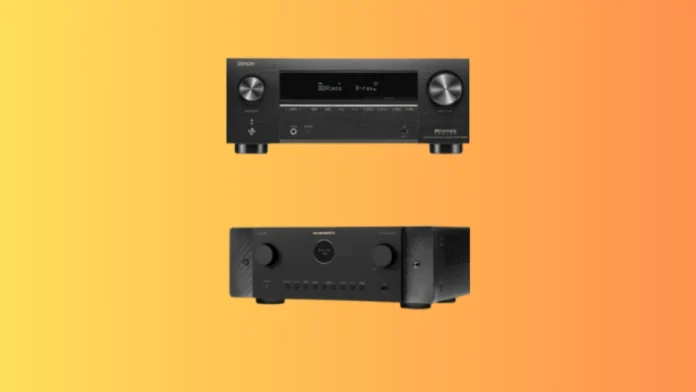 The world of AV receivers is rife with choices, but when it comes to the showdown between Denon AVR-X3800H vs Marantz Cinema 60, the stakes are particularly high. Both brands boast a rich heritage and have garnered the loyalty of audiophiles and home theater enthusiasts alike. Today, we're diving deep into an exhaustive comparison between these two standout models.
Spoiler alert: If you're looking for a quick recommendation, our tests reveal that the Denon AVR-X3800H stands out as the better pick for a well-rounded home theater experience. But read on to find out why we arrived at this conclusion and how each of these AV receivers performs in specific categories.
In This Comparison:
Denon AVR-X3800H vs Marantz Cinema 60 Specs:
Denon AVR-X3800H
marantz cinema 60
Video
8K/60Hz, 4K/120Hz
8K/60Hz, 4K/120Hz
Amplifier
9.4 Channel (105W per channel)
7.2 channel (100 watts per channel)
Sound
7.1, 5.1 or 2.1 Dolby Atmos
7.1 dolby Atmos
Wi-Fi
Yes
yes
HDMI In/Out
6/3
6/2
Dimensions (WxDxH)
17.1 x 14.9 x 6.6
17.3 x 14.2 x 6.3
Weight
16.8
22.3
Price

Find on Amazon





ProjectorScreen.com

Find on Amazon





B&HPhotoVideo
Overviews
Denon AVR-X3800H
The Denon AVR-X3800H is a feature-packed 9.4 channel AV receiver that promises a future-proof home theater setup. Offering an impressive 105 watts per channel and up to 11.4 channel processing capability, this unit is equipped to handle high-definition audio formats like Dolby Atmos, DTS:X, and IMAX Enhanced. Furthermore, it stands out for its six 8K-compatible HDMI inputs, making it highly adaptable for future video technology. Audyssey MultEQ XT32 room correction and optional Dirac Live upgradability ensure an optimized sound experience tailored to your space. With HEOS built-in technology, it provides seamless streaming across a variety of music services, consolidating itself as a versatile and comprehensive choice for any home theater enthusiast.
Pros
Robust 105 watts per channel for powerful sound.
9.4 channels offer extensive configuration flexibility.
Advanced 8K HDMI support future-proofs your setup.
Audyssey MultEQ XT32 ensures accurate room calibration.
HEOS Built-in for versatile music streaming options.
Cons
Video quality sometimes degraded in our tests.
No composite video input for legacy devices.
Marantz Cinema 60
The Marantz Cinema 60 is a 7.2 channel AV receiver that brings the company's rich audio heritage into your living room. Offering 100 watts per channel, the unit is well-equipped to handle immersive audio formats such as Dolby Atmos. While it may not boast as many channels or as much power as the Denon, it excels in delivering warm, rich tones that Marantz is famous for. It comes with six 8K-compatible HDMI inputs and an array of streaming options, ensuring you're not left wanting for connectivity. Its Audyssey MultEQ XT32 and optional Dirac Live also provide effective room calibration, guaranteeing a listening experience that can be finely tuned to your room's acoustics. However, it lacks the extended flexibility and higher power output that make its competitor stand out. Read our in-depth Marantz Cinema 60 review.
Pros
Excellent sound quality in line with Marantz heritage.
Supports the latest immersive audio formats like Dolby Atmos.
8K HDMI input for future-ready video.
Audyssey MultEQ XT32 offers tailored sound calibration.
Elegant, timeless design complements any space.
Cons
Less power and fewer channels limit setup options.
HDMI ARC control can be inconsistent.
Design and Build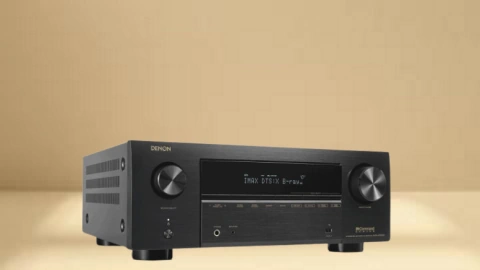 When it comes to design aesthetics and build quality, both the Denon AVR-X3800H and Marantz Cinema 60 make compelling cases, but they do so in distinct manners. The Denon AVR-X3800H sports a modern, minimalist front panel with a 1-line FLD display. The unit has a sleek, utilitarian look with its combination of metal and plastic, adhering to the brand's reputation for sturdy and functional designs. Weighing in at 16.8 lbs and measuring 17.1 x 14.9 x 6.6 inches, it offers a more compact footprint that can easily fit into various setups.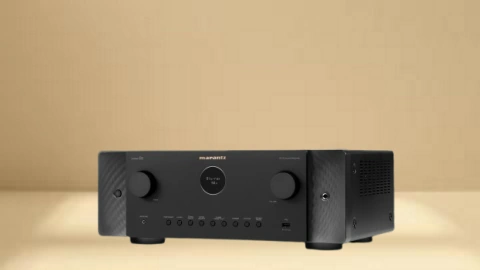 Marantz, on the other hand, opts for a timeless elegance, staying true to its iconic porthole design showcased through a 1-line OLED front display. The Cinema 60 is slightly heavier at 22.3 lbs and measures 17.3 x 14.2 x 6.3 inches. The extra weight can be attributed to its robust internal components, hinting at the device's promise of superior audio quality. Overall, Marantz seems to target consumers who appreciate an aesthetic that is both contemporary and classic, making it a great choice for those who want their AV receiver to be a talking point in their home décor.
Winner: Marantz Cinema 60
Connectivity and Setup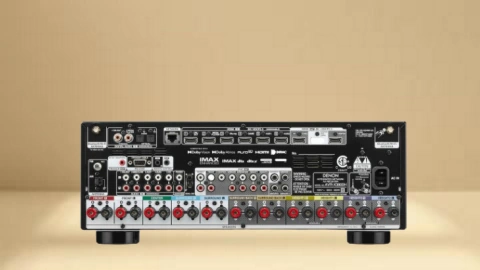 In our testing environment, both the Denon AVR-X3800H and the Marantz Cinema 60 demonstrated robust connectivity options, but there were differences that could sway your choice depending on your needs. The Denon AVR-X3800H comes equipped with six HDMI In and three HDMI Out ports, all supporting 8K video, which exceeds the Marantz's two HDMI Out ports. Furthermore, the Denon model boasts four independent subwoofer outputs and eleven speaker terminals, allowing for a truly expansive 9.4 channel setup. On the audio front, we were particularly impressed by its multi-room output capabilities, with both analog and digital options available. Setting up the receiver was a breeze, largely due to the Audyssey MultEQ XT32 room correction technology and intuitive on-screen display.
The Marantz Cinema 60, while offering the same number of HDMI In ports, lags a bit with only two HDMI Out ports. It has a 7.2 channel setup with seven speaker terminals and two independent subwoofer outputs. Where Marantz truly shines is in its simple yet effective setup process. Overall, both units offer impressive connectivity, but Denon leads in terms of sheer extensibility while Marantz wins on user-friendly setup.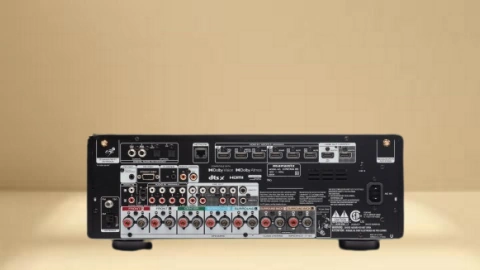 Winner: Denon AVR-X3800H
Amplifiers and Sound Performance
When it comes to sound performance, the amplifiers are the heart and soul of any AV receiver. During our testing, the Denon AVR-X3800H exhibited a highly capable 9-channel amplifier that can pump out up to 105 watts per channel at 8 ohms, between 20Hz-20kHz, with a THD of 0.08%. What really caught our attention was the clarity and the 3D audio experience offered by its support for Dolby Atmos, DTS:X, and IMAX Enhanced formats. In our real-world tests with a 9.4 setup, the Denon delivered room-filling sound with fine-grained detail, enveloping the listener in a captivating audio environment. Its high-current amplifiers provide ample power to drive even demanding speakers, and its versatility extends to optional Dirac Live upgradability, which could be a game-changer for some users.
Get the Best Deal on Amazon Today!
On the other hand, the Marantz Cinema 60 offers a 7.2 channel setup with a slightly lower power output of 100 watts per channel at 8 ohms. (Find the best 7.2 receivers round-up review here). However, don't let the numbers mislead you. What Marantz lacks in sheer power, it more than makes up for in audio quality. During our testing, the warmth and richness of the Marantz sound came through clearly, creating an immersive soundscape that was particularly impressive in 2-channel stereo for music. The dialog clarity was another standout feature; in complex movie scenes, dialog was crystal clear and easily distinguishable from background noise. Marantz's signature sonic quality was evident in every audio format we tested, from Dolby Atmos to simple stereo, making it a top pick for those prioritizing sound quality over sheer output.
Winner: Denon AVR-X3800H
Video Performance
In our hands-on comparison, the video performance of these two AV receivers was put to the test across a variety of content, from streaming services to Ultra HD Blu-ray discs. The Denon AVR-X3800H demonstrated excellent 8K video support on all of its six HDMI inputs and two of its three outputs, making it future-proof and adaptable for emerging 8K content. Supporting HDR10+, Dolby Vision, and Dynamic HDR passthrough, the receiver ensured stunning picture quality. However, we did notice some video degradation when connected directly to the source, an issue also highlighted by some users. But in a counter test bypassing video modifications, the image quality remained superb, particularly when eARC was utilized for audio.
The Marantz Cinema 60 also performed admirably in the video department, offering 8K support and compatibility with current HDR standards. But where the Marantz really excelled was in its color reproduction and image stability. We didn't encounter the HDMI Arc control issues some users have reported, but it's worth mentioning for potential buyers. Even though the Marantz Cinema 60 doesn't offer as many HDMI outputs, the quality of video performance was consistently high, maintaining vibrant colors and sharp image clarity throughout our tests. In a side-by-side comparison, both receivers are more than capable of delivering top-notch video, but the Denon AVR-X3800H offers more flexibility with extra HDMI outputs, albeit with some minor quality concerns to keep in mind.
Winner: Denon AVR-X3800H
Verdict
After rigorous testing and comparison across multiple dimensions, the Denon AVR-X3800H emerges as the clear winner in this head-to-head battle with the Marantz Cinema 60. With its higher channel count, more robust power output, and greater flexibility in HDMI connectivity, the Denon AVR-X3800H offers a more future-proof package. While the Marantz Cinema 60 excels in delivering its signature warm and rich sound, the Denon provides a more versatile, high-performing, and comprehensive solution for modern home theater setups. Therefore, for those looking to invest in an AV receiver that offers a complete package of audio and video performance, the Denon AVR-X3800H is the better choice.