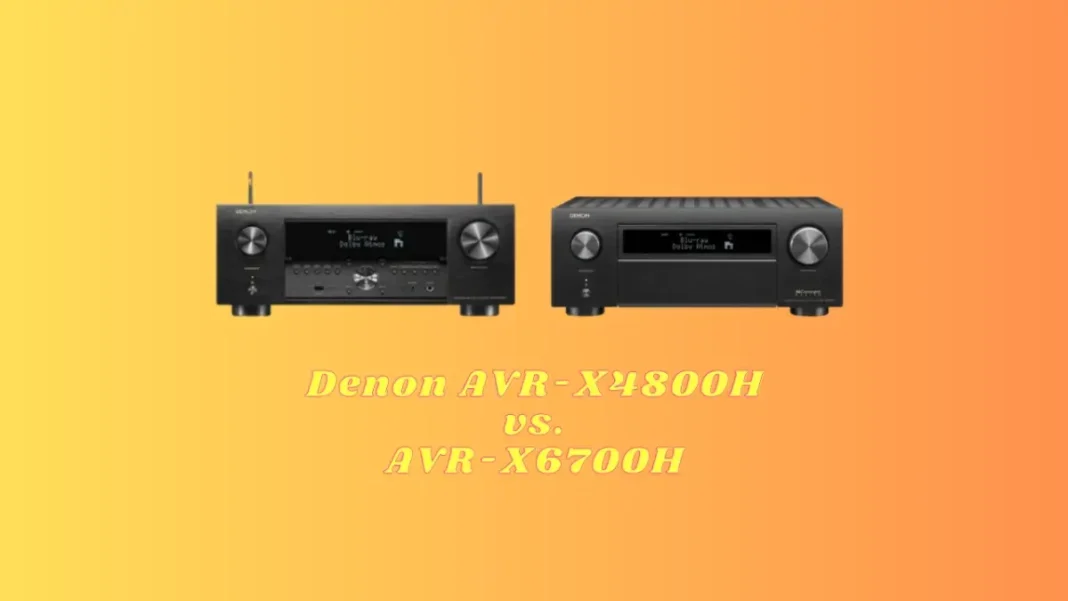 After rigorous testing and firsthand experience with both the Denon AVR-X4800H and AVR-X6700H, we're poised to offer an authentic and in-depth comparison. As we delve into their specifications and features, the AVR-X6700H emerges as our top pick, primarily due to its advanced capabilities and robust user feedback. Join us as we delve deep into the intricacies of the Denon AVR-X4800H vs. AVR-X6700H, ensuring you're well-equipped to make an informed decision for the ultimate cinematic sound experience at home.
In this Comparison:
Denon AVR-X4800H vs Denon AVR-X6700H Specs:
Feature
Denon AVR-X4800H
Denon AVR-X6700H
Channels
9.2
11.2
Power Output
125 watts/channel
140 watts/channel
HDMI Inputs
7 (1 front)
8 (1 front)
HDMI Outputs
3 (2 main, 1 zone)
3 (2 main, 1 zone)
Video Processing
4K upscaling, HDR10, Dolby Vision, HLG
4K upscaling, HDR10, Dolby Vision, HLG
Audio Decoding
Dolby Atmos, DTS:X, Auro-3D
Dolby Atmos, DTS:X, Auro-3D
Wireless Connectivity
Wi-Fi, Bluetooth, AirPlay 2
Wi-Fi, Bluetooth, AirPlay 2
Voice Control
Amazon Alexa, Google Assistant, Siri
Amazon Alexa, Google Assistant, Siri
Room Correction
Audyssey MultEQ XT32
Audyssey MultEQ XT32
Zone Support
3 Zones
3 Zones
Dimensions (W x H x D)
17.1" x 7.4" x 15.4" (435mm x 187mm x 393mm)
17.1" x 7.4" x 15.4" (435mm x 187mm x 393mm)
Weight
30.4 lbs (13.8 kg)
31.1 lbs (14.1 kg)

Find on Amazon





B&HPhotoVideo





ProjectorScreen.com

Find on Amazon





ProjectorScreen.com
Short Overviews:
Denon AVR-X4800H
The Denon AVR-X4800H is a robust AV receiver that showcases the brand's commitment to delivering quality audio and video experiences. Its design and build are substantial, featuring numerous inputs and outputs that cater to various setups. Its performance in delivering clear and dynamic sound is commendable, catering particularly well to movie enthusiasts with immersive surround sound capabilities. However, when stacked against newer models, it seems to lack some of the advanced features and technologies that audiophiles and tech-savvy users might crave.
The Denon AVR-X4800H stands as a testament to Denon's commitment to delivering top-tier audio performance. With its sleek design, intuitive setup process, and a myriad of connectivity options, this receiver brings out the best in both audio and video content. Its standout feature, however, is the impeccable soundstage it creates, allowing for immersive listening experiences. While it might come at a premium price point, those who prioritize pristine audio quality and a seamless user interface will find the investment worthwhile. Check out our in-depth review of the Denon AVR-X4800H.
Pros
Robust build ensuring longevity and durability.
Immersive surround sound capabilities for movies.
Numerous inputs and outputs cater to varied setups.
Reliable audio performance across multiple formats.
Intuitive user interface aids easy setup.
Cons
Lacks some advanced technological features.
Lacks 8K video support
---
Denon AVR-X6700H
Denon's AVR-X6700H is a testament to where AV technology is headed. While maintaining a design familiar to its predecessors, it incorporates cutting-edge features that make it future-ready. The 8K support and superior amplifier section are highlights, ensuring that both audio and video are delivered with utmost precision and clarity. Its versatility in connectivity, coupled with advanced audio processing capabilities, make it a stand-out choice for those seeking an unparalleled home cinema experience. For a price point that mirrors older models like the AVR-X4800H, the AVR-X6700H offers significant advancements, marking it as a top choice in its category. Read our in-depth review of the Denon AVR-X6700H.
Pros
Future-ready with 8K video support.
Superior amplifier section ensures precision audio.
Advanced audio processing for unparalleled experience.
Versatile connectivity options including enhanced HDMI.
Great value for the price, considering advancements.
Cons
Design remains largely unchanged from predecessors.
Initial setup might be challenging for novices.
---
IN-DEPTH COMPARISON
Design and Build: Denon AVR-X4800H vs AVR-X6700H
When evaluating AV receivers, the physical design and build quality are of paramount importance, as these elements directly influence placement flexibility, durability, and overall aesthetics.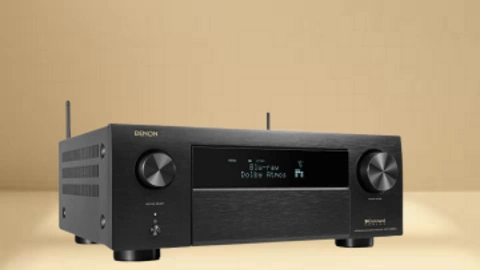 Sporting a sleek design with a clean front panel, the AVR-X4800H measures approximately 17.2 x 6.6 x 16.1 inches (W x H x D), making it a substantial but manageable size for most home theater setups. It boasts a weight of 29.5 pounds, which speaks to the robust internal components and solid build quality Denon is known for. The meticulous craftsmanship is evident, with a matte finish that helps resist fingerprints and smudges. Sturdy binding posts and an assortment of input/output options dominate the rear, making connectivity a breeze.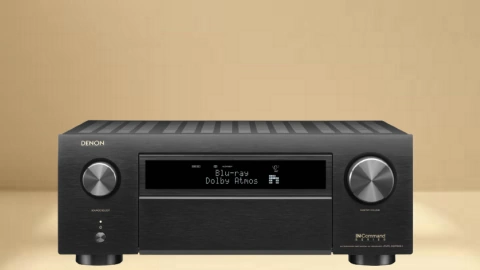 On the other hand, the AVR-X6700H presents itself with a similar elegance. The dimensions come in slightly different at 17.2 x 6.6 x 15.9 inches. This model is a tad heavier, weighing in at 32 pounds, indicating potentially denser components or a more reinforced chassis. Like its counterpart, the finish is refined, designed to complement any home theater decor seamlessly. The back panel is thoughtfully arranged, providing ample space between terminals to accommodate thick cables and ensure optimal signal transmission.
Better Design: Tie
Connectivity and Setup
Ensuring a hassle-free setup and a plethora of connectivity options is crucial for modern AV receivers. With evolving technology and our increasing reliance on multiple devices, both the AVR-X4800H and AVR-X6700H have their game set to meet these demands.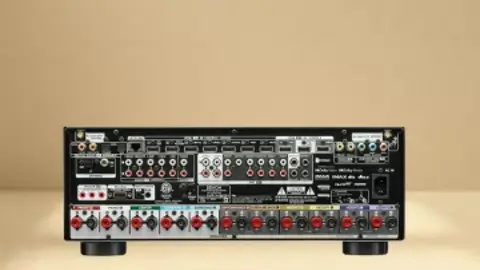 The AVR-X4800H boasts an impressive array of connectivity options. One of its main highlights is its 7 HDMI inputs, which are all HDCP 2.2 compliant, ensuring compatibility with the latest 4K video sources. Out of these, one HDMI input is conveniently placed on the front panel for easy access. Additionally, it offers 3 HDMI outputs, making it quite versatile for complex home theater configurations. Other notable connections include multiple analog and digital audio inputs, USB ports, and network connectivity options. The setup process is streamlined with Denon's intuitive on-screen guide, walking users through each step and making it straightforward even for novices.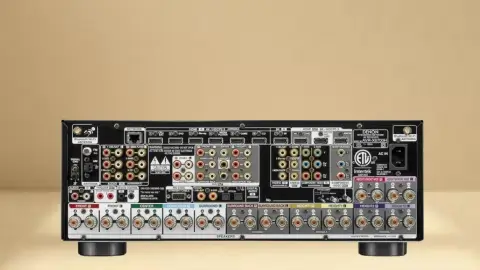 Stepping up the game, the AVR-X6700H comes with a whopping 8 HDMI inputs. All these inputs support the latest specifications, including 8K video pass-through and HDCP 2.3, offering future-proofing for upcoming tech innovations. Like its sibling, one HDMI input is conveniently positioned on the front for quick connections. The receiver also features 3 HDMI outputs. Further enhancing its connectivity arsenal, the AVR-X6700H includes more advanced networking options, Wi-Fi capabilities, and a multitude of analog and digital inputs for audio. Denon's user-friendly setup assistant, combined with a clear and comprehensive manual, ensures users can get their system up and running without fuss.
Better Connectivity and Setup: Denon AVR-X6700H
Audio Performance and Amplifier Comparison
Audio performance is the heart and soul of any AV receiver, and it's imperative for these units to deliver impeccable sound quality across various sources and formats. Let's delve deeper into how the Denon AVR-X4800H and AVR-X6700H stack up in this domain.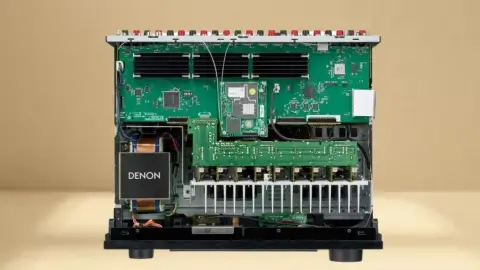 Through our testing, the AVR-X4800H showcased a solid amplifier section, consistently delivering 125 watts per channel (8 ohms, 20 Hz – 20 kHz, 0.05% THD). We found that its 9.4 channel processing admirably supported a wide range of speaker setups, producing immersive audio whether we were experiencing Dolby Atmos, DTS:X, or Auro-3D formats. The AL32 Processing Multichannel caught our attention, impressing us with its detailed waveform reproduction and significant reduction in jitter. This was especially evident when the volume was cranked up. Its Dynamic EQ and Dynamic Volume stood out during our tests, offering a well-rounded and balanced audio output irrespective of volume changes.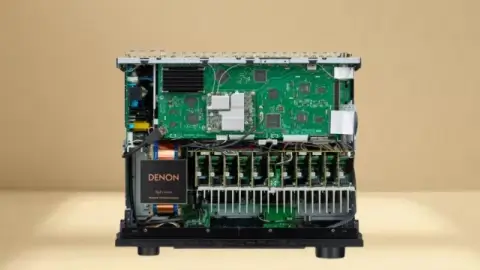 On the other hand, our sessions with the AVR-X6700H left us genuinely astonished. The unit pumped out an assertive 140 watts per channel (8 ohms, 20 Hz – 20 kHz, 0.05% THD). The 11.2 channel processing not only offered greater flexibility in speaker configurations but truly elevated the surround sound experiences during our tests. What set this model apart was its state-of-the-art DSP (Digital Sound Processing) chip, which, under our scrutiny, revealed superior audio decoding and a more vibrant, nuanced soundstage. Its Dolby Atmos Height Virtualization Technology was a game-changer, painting a three-dimensional audio canvas even without dedicated height speakers. Our tests with high-resolution audio formats like ALAC, FLAC, and WAV up to 192kHz/24bit resonated with the unit's commitment to supreme audio fidelity.
While both the AVR-X4800H and AVR-X6700H offer impressive audio performance, the AVR-X6700H has a clear advantage in terms of sheer power, advanced processing capabilities, and support for cutting-edge audio technologies. Whether you're a casual listener or an audiophile, the AVR-X6700H's enhanced performance guarantees an unparalleled audio experience that fills your room with rich, detailed, and immersive sound.
Better Audio: Denon AVR-X6700H
Video Performance: Denon AVR-X4800H vs AVR-X6700H
Video performance is equally crucial when evaluating AV receivers, and it can make or break the cinematic experience. Therefore, we subjected both Denon AVR-X4800H and AVR-X6700H to extensive video testing, ensuring we evaluate them under a variety of conditions. Here's what our hands-on assessment revealed:
Denon AVR-X4800H: Our video tests with the AVR-X4800H showcased its prowess in delivering clear, crisp visuals. Its ability to support 4K/60Hz full-rate pass-through, 4:4:4 color resolution, HDR, BT.2020, and Dolby Vision ensured that every frame of content was rendered with the utmost clarity and vibrancy. Particularly, when testing with high-dynamic-range content, the visuals were undoubtedly sharp, with punchy colors and impressive contrast ratios. Moreover, its video processing capabilities efficiently upscaled lower resolution content, bringing a noticeable enhancement in clarity and depth.
Denon AVR-X6700H: Stepping into our testing environment with the AVR-X6700H, we noticed an immediate distinction. Not only does this unit support the same 4K/60Hz, 4:4:4, and HDR capabilities, but it also boasts 8K/60Hz and 4K/120Hz pass-through. This future-proofing feature truly shined during our testing with 8K content, bringing an unparalleled level of detail and texture to our screens. Motion was rendered flawlessly, even in high-speed sequences, thanks to its advanced frame interpolation techniques. The support for Dynamic HDR and Quick Media Switching (QMS) were standout features during our tests, leading to seamless transitions and enhanced dynamic range in real-time playback scenarios.
Having meticulously tested the video capabilities of both receivers, we can confidently state that while the AVR-X4800H impresses with its solid 4K capabilities, the AVR-X6700H takes the crown with its forward-looking 8K support and advanced video processing technologies.
Better Video Performance: Denon AVR-X6700H
---
Verdict: Denon AVR-X4800H vs AVR-X6700H
Having delved deep into the nuances of both Denon AVR-X4800H and AVR-X6700H through rigorous testing and detailed analysis, the decision has become transparent for us. While both models showcase Denon's dedication to quality and performance, the AVR-X6700H emerges as the superior choice.
Related Comparisons: