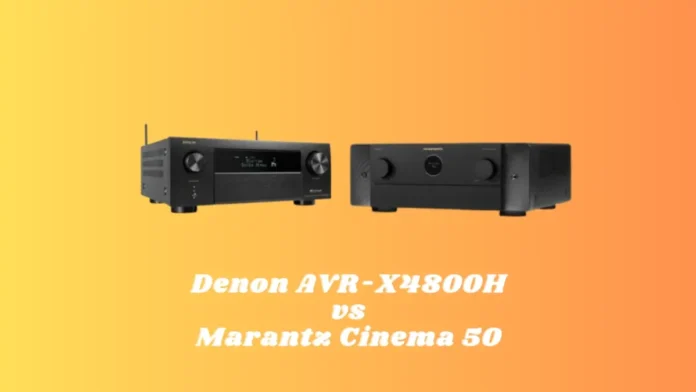 When considering a premium AVR for an elite audio experience, the choice often boils down to renowned brands that have consistently showcased their prowess in the industry. Among these, two models recently caught our attention, prompting a head-to-head comparison: the Denon AVR-X4800H vs Marantz Cinema 50. Both from powerhouse brands – Denon and Marantz – these AVRs boast features that appeal to audiophiles and home theater enthusiasts alike.
Through our meticulous testing and evaluation, one model began to shine a tad brighter. By the end of this review, you'll find that the Marantz Cinema 50 is our top pick, but it's crucial to understand why. Dive in as we dissect their specifications, share our hands-on experiences, and relay feedback from actual users, aiding you in the Denon AVR-X4800H vs Marantz Cinema 50 decision.
In This comparison:
Denon AVR-X4800H vss Marantz Cinema 50 Specs:
Overviews
Denon AVR-X4800H 9.4-Ch Receiver
Melding a substantial 125 watts per channel amplifier power with cutting-edge features, the Denon AVR-X4800H offers an auditory journey that caters to both novices and seasoned audiophiles. Its remarkable audio clarity ensures high-res audio playback that remains unblemished, even at towering volumes. Beyond its sonorous capabilities, this model boasts an intuitive interface coupled with a streamlined setup, and its multiple HDMI inputs guarantee comprehensive device compatibility.
While audio prowess is at its heart, the AVR-X4800H doesn't lag in modern conveniences. It embraces built-in streaming services and Bluetooth functionality, facilitating diverse entertainment avenues. This quality extends to its robust build, which pledges lasting durability. However, the weight and size of this beast may challenge placement in some settings, and the limited custom EQ settings might not resonate with every audiophile's needs. Read our detailed Denon AVR-X4800H review.
Pros
Exceptional audio clarity with high-res audio support.
User-friendly interface and setup process.
Multiple HDMI inputs for extensive connectivity.
Built-in streaming services and Bluetooth.
Robust build quality ensures longevity.
Cons
Limited custom EQ settings.
Heftier design may limit placement options.
---
Marantz Cinema 50 9.4-Ch Receiver
With an elegant 110 watts per channel amplifier strength, the Marantz Cinema 50 symbolizes the brand's continuous pursuit of audio excellence. This receiver, apart from its luxurious appearance, is a true performer, producing an intricately detailed and expansive soundstage. Every audio nuance is accentuated, courtesy of its optimal calibration that tailors the output to room acoustics. Its support for leading audio and video standards affirms its position at the pinnacle of home theater equipment.
The Cinema 50 isn't just about sound superiority; its stature is cemented further by glowing customer testimonials, which highlight its unparalleled performance. An advanced calibration system fine-tunes audio to perfection, making it a fit for diverse environments. Its premier nature, however, is reflected in its price tag, potentially deterring some budget-minded enthusiasts. Moreover, while its remote control is undeniably functional, it might seem somewhat lackluster in comparison to the receiver's grandeur. Check our full Marantz Cinema 50 review.
Pros
Premium aesthetics with a refined finish.
Accurate and immersive soundstage reproduction.
Advanced calibration system for optimal sound.
Supports latest audio and video formats.
Strong customer reviews vouch for quality.
Cons
Price point might deter budget-conscious buyers.
Remote control feels slightly basic.
---
In-Depth Comparison
Design and Build: Aesthetics Meet Functionality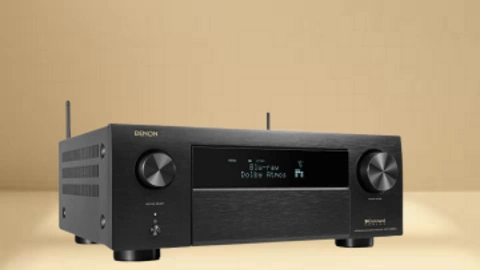 The first thing one notices about the Denon AVR-X4800H is its robust and substantial presence. It boasts a classic black finish that exudes a sense of professional quality. The front panel has a minimalist design, with essential buttons and dials subtly placed, ensuring a sleek appearance without overwhelming the user. The distinctively designed display is informative without being obtrusive.
As for its measurements, the Denon AVR-X4800H stretches 17.2 inches in width, stands 6.6 inches tall, and extends 16 inches in depth. This sizable footprint is a testament to the power packed inside. Despite its expansive dimension, Denon has managed to keep its weight at a manageable 29.5 pounds, making setup and positioning relatively straightforward, given its class.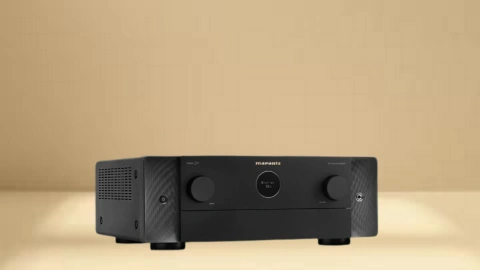 Marantz's Cinema 50, on the other hand, carries the brand's iconic design language. The porthole display in the center is a hallmark of Marantz, giving it a distinctive appearance that's both sophisticated and functional. Its front face is adorned with a brushed metal finish, and its curved edges offer a more fluid look, contrasting with the Denon's more angular appearance.
In terms of dimensions, the Marantz Cinema 50 is slightly broader, measuring 17.4 inches in width, but stands almost similarly at 6.5 inches in height. Its depth, at 15.7 inches, is marginally less than the Denon. It's fascinating to note that despite these minimal differences in dimensions, the Cinema 50 weighs a tad more at 29.8 pounds.
Setup: Navigating the Connectivity Maze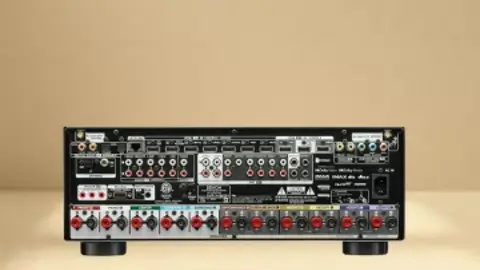 Setting up the Denon AVR-X4800H feels like a breeze, especially for the tech-savvy user. With a plethora of connection options, it promises to be the heart of any modern home theater system. The device comes with 7 HDMI inputs, all supporting 4K/120Hz, ensuring it can handle multiple high-definition devices seamlessly. A particular highlight is its 3 HDMI monitor outputs, which can cater to diverse viewing environments, perhaps a combination of a television, projector, and an additional screen.
Moreover, the inclusion of both optical and coaxial digital inputs ensures that your audio sources are well accommodated. Vinyl enthusiasts will appreciate the dedicated phono input. While the Ethernet port and built-in Bluetooth and Apple AirPlay 2 ensure a variety of wireless streaming options. And for those who are keen on wired connections, the USB ports are a welcome inclusion.
The Audyssey MultEQ XT32 auto speaker calibration is another bonus, guiding users in achieving optimal sound based on their room's acoustics.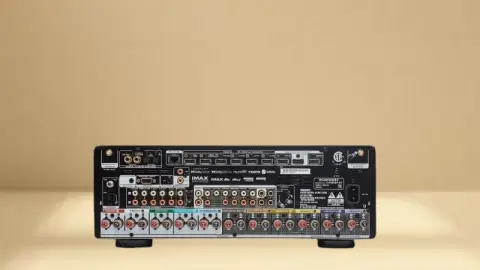 Much like its counterpart, the Marantz Cinema 50 doesn't skimp on connection options. With 6 HDMI inputs that support 4K/120Hz, it may be one short of the Denon, but it's still more than ample for the average user. Its 3 HDMI monitor outputs match the Denon, catering to diverse display needs.
The Cinema 50 also provides both optical and coaxial digital inputs, ensuring that users have ample flexibility when connecting various audio sources. The phono input, as with the Denon, is a nod to the vinyl aficionados. Its built-in wireless capabilities, such as Bluetooth and Apple AirPlay 2, mirror those of the Denon, offering a seamless experience for users who prefer wireless streaming.
An advantage of the Cinema 50 is its clear on-screen display through HDMI, simplifying the setup process. The Audyssey MultEQ XT32 auto speaker calibration feature is identical to the Denon, ensuring the sound is tailored to the room's specifics.
Audio Performance: Our Deep Dive into Sound
After several hours of meticulous testing and a variety of audio sources, we've gained some valuable insights into the audio capabilities of both units.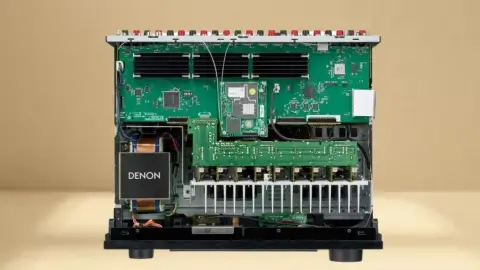 The Denon AVR-X4800H immediately impressed with its robust output. Pushing out up to 125 watts per channel (8 ohms, 20Hz-20kHz, THD: 0.05%), it had no trouble driving our test floorstanding and bookshelf speakers, delivering sound with depth and authority.
The AKM AK4458 32-bit D/A converters were a revelation during our high-resolution audio tests. The clarity, especially in the mids and highs, was notable. Tracks with dense instrumentation were rendered beautifully, with each instrument distinct and clear. The AL32 processing multi-channel was another highlight, especially when playing back high-definition tracks. The soundstage felt wide and engaging, pulling us into the recording.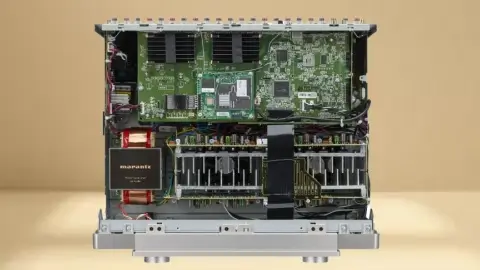 The Marantz Cinema 50, while slightly trailing in raw power at 110 watts per channel (8 ohms, 20Hz-20kHz, THD: 0.08%), made up for it in finesse. During our tests, its proprietary HDAM (Hyper Dynamic Amplifier Module) technology made its presence felt. The transition from soft passages to dynamic bursts was swift and seamless.
Vocal tracks, in particular, were a delight on the Marantz. The richness and warmth typically associated with Marantz were evident, giving vocals a lifelike quality. The AKM AK4458 converters worked their magic here as well, ensuring that high-resolution tracks were given the treatment they deserved. And with the Audyssey MultEQ XT32 room correction in play, we noticed an excellent adaptation of the sound to our testing room's acoustics.
Video Performance Evaluation: A Visual Feast
After delving deep into the audio attributes, we decided to put these two giants through a rigorous video performance assessment.
Starting with the Denon AVR-X4800H, the seven HDMI inputs—all being 4K/120Hz-Capable—provided us with ample flexibility during our testing. The HDMI 2.1 support, which caters to Variable Refresh Rate (VRR) and Auto Low Latency Mode (ALLM), was a boon for gaming. When paired with a next-gen console, we witnessed fluid graphics, with reduced tearing and smoother transitions—making it an ideal choice for avid gamers.
The Denon's video upscaling capability was also put to the test. Feeding it with various lower resolution videos, it successfully upscaled content to both 4K and even 8K with impressive detail preservation. The support for multiple HDR formats including HDR10, HDR10+, HLG, and Dolby Vision ensured that movies and TV shows were rendered with rich colors and optimal contrast levels. This versatility makes it adaptable to a plethora of content types, ensuring users get the best visual experience regardless of the source.
The Marantz Cinema 50, with its six 4K/120Hz-Capable HDMI inputs, was no slouch either. Just like the Denon, it too supports HDMI 2.1, making it a strong contender in the gaming arena. Our tests with high-intensity gaming sessions confirmed the effective utilization of VRR and ALLM, promising smoother gameplay.
Where the Marantz slightly edged out was in color reproduction. With a vast array of movies, from action-packed blockbusters to subdued dramas, colors were consistently vibrant and true-to-life, likely owing to its advanced video processing capabilities. Its upscaling prowess, similar to the Denon, transformed lower-resolution content into near 4K and 8K quality. And with its robust HDR support, scenes appeared lifelike, boasting deep blacks and brilliant highlights.
Verdict: Marantz Cinema 50 Shines Through
After rigorous testing and in-depth evaluations, it's time to pick a champion. Both the Denon AVR-X4800H and Marantz Cinema 50 have showcased stellar capabilities, ensuring they stand at the zenith of their respective categories. However, when making a selection, one has to consider not just the performance but also the overall experience, and that's where the Marantz Cinema 50 truly shines. >>> Get the Best Deal on Amazon Today!
The undeniable aura of luxury that the Marantz Cinema 50 emanates sets it apart. Its design, build quality, and even the tactile feel of its controls make it clear that this is a more premium device. Coupled with the consistently glowing customer reviews lauding its reliability, performance, and the sheer depth of its audio-visual experience, it's evident that the Marantz stands out. And when it comes to investment, considering that both devices hover around the same price range, it only makes sense to opt for a device that offers a touch more prestige and has garnered more favor in the user community.
Related Comparisons: