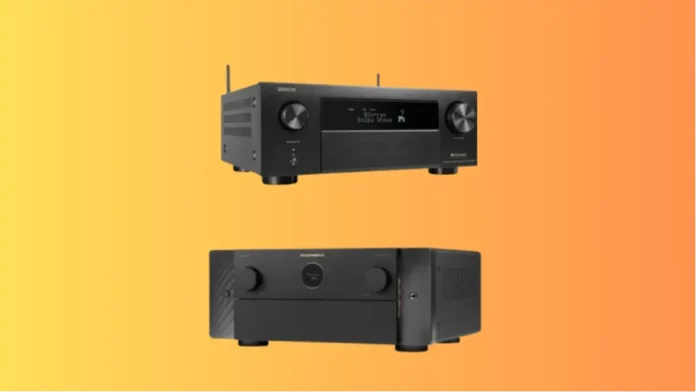 In the cutthroat world of high-end audio equipment, two stalwarts that have consistently stood out are Denon and Marantz. Both brands resonate with a legacy of top-notch quality, having carved a niche among audiophiles and home theater connoisseurs over the years. The decision to pick one over the other is never easy, especially when presented with two formidable models like the Denon AVR-X4800H and the Marantz Cinema 40.
Representing the pinnacle of their respective line-ups, both receivers boast of impeccable audio prowess, cutting-edge connectivity, and a suite of features that are nothing short of impressive. In our thorough comparison of the Denon AVR-X4800H vs Marantz Cinema 40, we aim to dissect each model's intricacies and guide you in determining which reigns supreme. Spoiler alert: the Denon AVR-X4800H emerged as our top pick, but let's dive into the reasons why.
In this Comparison:
Denon AVR-X4800H vs. Marantz Cinema 40 Specs:
Specification
Denon AVR-4800H
Marantz Cinema 40
Price

Find on Amazon





B&HPhotoVideo





ProjectorScreen.com

Find on Amazon





B&HPhotoVideo

Number of Power Amps
9
9
Power Output (8 ohm, 20Hz - 20kHz)
125W
125W
Power Output (6 ohm, 1kHz)
165W (0.7% 2ch Drive), 235W (10% 1ch Drive)
165W (0.7% 2ch Drive), 235W (10% 1ch Drive)
HDMI In/Out
8/3
7/2
Phono (MM) In
Yes
Yes
Multichannel Pre-Out
Yes (11.4)
Yes (11.4)
Subwoofer Out
4 (independent)
4 (independent)
Number of Speaker Terminals
11
11
Speaker A/B/Multi-Room Speaker Terminal
Assignable
Assignable
Auto Speaker Setup by Microphone
Audyssey MultEQ XT32, Dirac Live (upgrade)
Audyssey MultEQ XT32
Front Display
2-Line FLD
2 line FLD + port hole OLED
Maximum Dimensions (W × D × H) in inches
17.1 × 15.3 × 6.6
17.3 x 16.2 x 7.3
Weight
29.1 lbs
|33.3 lbs
Price

Find on Amazon





B&HPhotoVideo





ProjectorScreen.com

Find on Amazon





B&HPhotoVideo
Quick Overview
Denon AVR-X4800H 9.4 Channel AV Receiver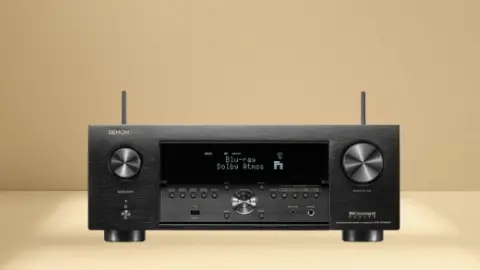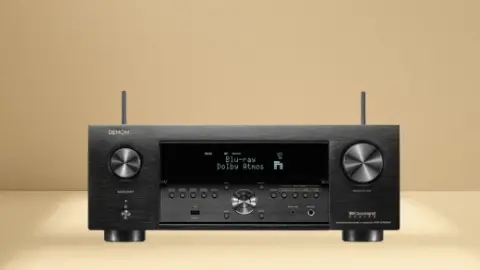 The Denon AVR-X4800H stands as a testament to Denon's commitment to producing high-quality audio equipment for the discerning audiophile. At first glance, the sleek design and intuitive interface are inviting, signaling the top-notch engineering that lies within. Once powered on, the receiver does not disappoint, delivering crisp, clear, and immersive audio that can make even the most demanding of audio tracks come alive.
Moreover, its suite of features, ranging from cutting-edge connectivity options to compatibility with a range of audio formats, ensures that it's a versatile addition to any home theater setup. Especially noteworthy is its price-to-performance ratio; the AVR-X4800H packs a punch that far exceeds its price tag, making it a favorite among those who want exceptional value without compromising on quality. Check an in-depth Denon AVR-X4800H review.
Pros
Exceptional audio clarity and depth.
Versatile connectivity options.
User-friendly interface and setup.
Competitive price-to-performance ratio.
Supports numerous audio formats.
Cons
Bulky design may not fit all setups.
Lacks some niche audio tuning features.
---
Marantz Cinema 40 9.4 Channel AV Receiver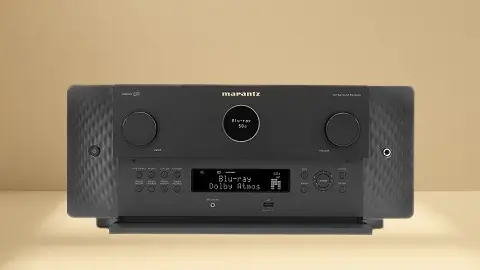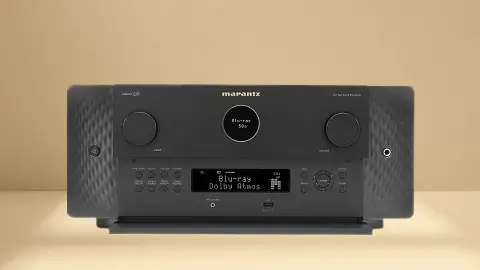 Marantz, a brand synonymous with precision and refinement, further solidifies its reputation with the Cinema 40. From its distinctively elegant design to its robust internals, the Cinema 40 is crafted for those who seek perfection in their auditory experiences. The sound quality is nothing short of phenomenal, with a depth and clarity that is emblematic of Marantz's meticulous attention to detail. Every note, whether from music or film, is rendered with an authenticity that is both captivating and moving.
In terms of features, the Cinema 40 is right up there with the best, offering a plethora of connectivity options and compatibility with a vast array of audio formats. While its price might be on the higher side, for those who prioritize sheer audio brilliance and are willing to invest in it, the Marantz Cinema 40 is undoubtedly a compelling choice. Check an in-depth Marantz Cinema 40 review.
Pros
Premium build and elegant design.
Phenomenal sound precision and quality.
Abundant connectivity and feature suite.
Authentic audio rendition for movies.
Compatible with a wide audio range.
Cons
High price point.
Slight learning curve for beginners.
---
Detailed Comparison
Design Aesthetics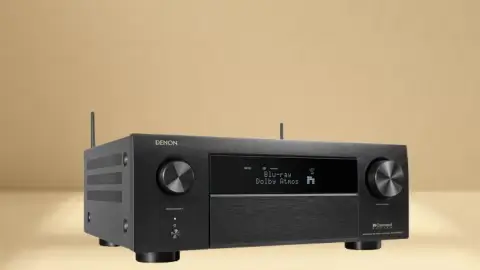 The Denon AVR-X4800H features a sleek, modern design with a brushed aluminum faceplate. Its display is large and clear, showing necessary information without appearing cluttered. The buttons and knobs are neatly arranged, with a tactile feedback that feels premium. The front panel can be covered with a drop-down door, giving the receiver a seamless appearance when not in use.
On the other hand, the Marantz Cinema 40 exudes a more classical charm. Its porthole display is a signature design element of Marantz, lending a touch of elegance and nostalgia to the unit. The gold-accented knobs and softly illuminated buttons contrast beautifully against the deep black or silver faceplate.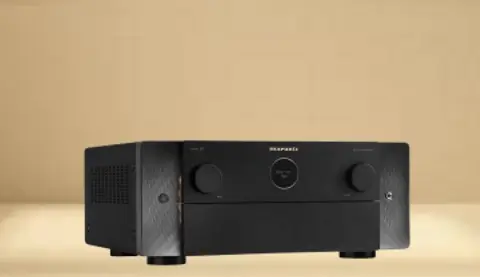 Measurements & Weight
The Denon AVR-X4800H measures at approximately 17.1 inches in width, 6.6 inches in height, and 15.3 inches in depth, weighing in at roughly 29.1 pounds. This substantial build underscores its robust internal components and the brand's commitment to durability.
Conversely, the Marantz Cinema 40, while similar in dimensions at 17.3 inches wide, 6.3 inches high, and 14.9 inches deep, has a slightly heftier weight of 33.3 pounds. The additional weight can be attributed to Marantz's distinct chassis design, which is focused on minimizing vibration and interference.
Setup Process
Denon AVR-X4800H Setup
Setting up the Denon AVR-X4800H is relatively seamless, thanks to its intuitive on-screen guide that walks users through the initial configuration. Once powered on, the user is greeted by a step-by-step tutorial which covers speaker connection, source device setup, and basic calibration. The Audyssey MultEQ XT32 room correction system takes the spotlight here, simplifying the acoustic optimization process. By using the included microphone, the system measures various points in the room and automatically adjusts the sound parameters to ensure an ideal listening experience.
Marantz Cinema 40 Setup
Much like its counterpart, the Marantz Cinema 40 boasts a user-friendly setup process. The on-screen instructions are clear and straightforward, guiding users through the essential steps of configuration. Marantz also employs the Audyssey MultEQ XT32 for room calibration, ensuring that even in acoustically challenging environments, the audio playback is optimized for clarity and depth.
Connections
In comparing connections, the Denon AVR-X4800H offers a slightly broader range of input options, particularly with its additional HDMI and analog audio inputs. However, the Marantz Cinema 40 holds its ground with comparable digital audio options and the same 11.2 channel pre-out flexibility.
Denon AVR-X4800H: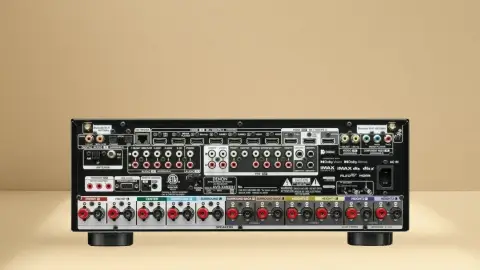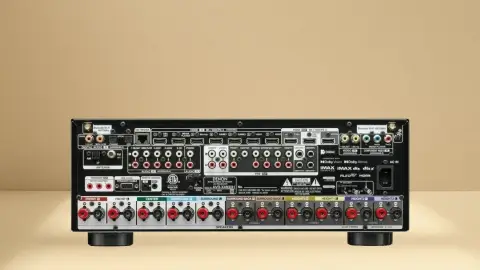 Inputs:

8 x HDMI (1 on the front panel)
3 x Component Video
4 x Composite Video
6 x Analog Audio (1 on the front panel)
2 x Optical, 2 x Coaxial Digital Audio
1 x USB (front panel)

Outputs:

3 x HDMI (1 ARC-compatible)
1 x Component Video
2 x Composite Video
11.2 channel pre-out
2 x Subwoofer Pre-Out
Marantz Cinema 40: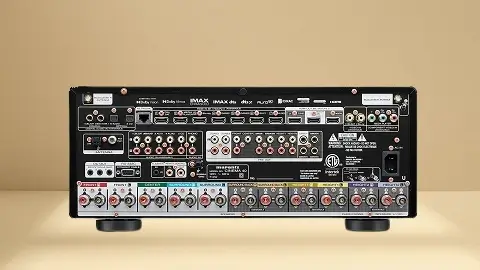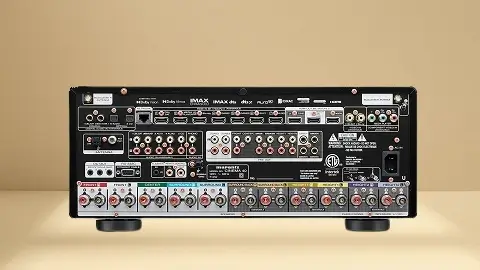 Inputs:

7 x HDMI
2 x Component Video
3 x Composite Video
5 x Analog Audio
2 x Optical, 2 x Coaxial Digital Audio
1 x USB

Outputs:

2 x HDMI (1 ARC-compatible)
1 x Component Video
1 x Composite Video
11.2 channel pre-out
2 x Subwoofer Pre-Out
Amplifiers Comparison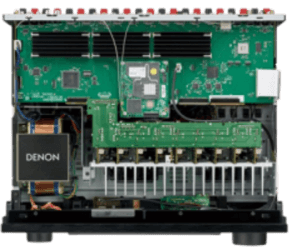 The Denon AVR-X4800H is equipped with a 9-channel (125W) amplifier, designed to deliver a detailed and dynamic audio performance. Utilizing Denon's proprietary HDAM (Hyper Dynamic Amplifier Module) technology, this receiver ensures clean, clear, and powerful sound reproduction across all channels. Furthermore, the amp can handle low impedance speakers rated at 4 ohms, a testament to its robust build and design.
The amplifier section of the Marantz Cinema 40 is a highlight of its design. Also boasting 9 channels (125W), the unit incorporates Marantz's proprietary HDAM circuitry. This tech ensures that the Cinema 40 can deliver high-speed instantaneous peak currents, necessary for reproducing demanding audio content with precision. The pure direct mode, a staple in Marantz's lineup, ensures signal purity by turning off unused circuitry, reducing possible interference and delivering a pristine audio experience.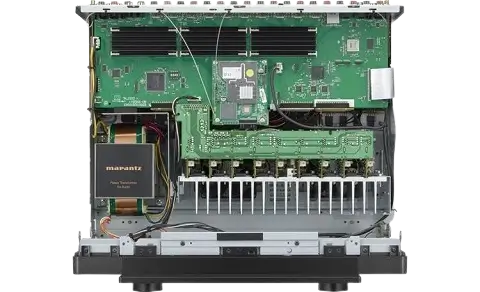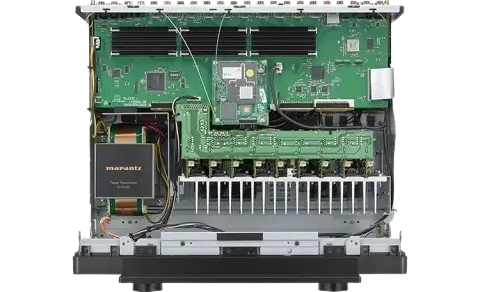 Audio Comparison
Denon AVR-X4800H: On the auditory front, the Denon AVR-X4800H presents a robust audio performance worthy of its flagship designation. During our tests, the receiver showcased its ability to deliver sound that was both powerful and intricate. Using high-fidelity tracks to assess its prowess, the device produced soundscapes that were dynamic, detailed, and expansive. The low frequencies emanated depth without muddiness, while the mids and highs were crystal clear, allowing individual instruments and vocals to shine.
The AVR-X4800H's support for Dolby Atmos, DTS:X, and Auro-3D further expanded its capabilities. In our cinematic tests, the object-based audio formats provided an engulfing 3D sound experience, placing sound elements precisely around our test room. This was particularly evident during action sequences, where every audio detail, from subtle whispers to booming explosions, was expertly handled.
Marantz Cinema 40: The Marantz Cinema 40, while operating in the shadow of its Denon counterpart, manages to carve its niche in the audio realm. Marantz has a rich history of producing devices with a warm and musical sound signature, and the Cinema 40 proudly continues this tradition. Upon playing various genres of music, we noticed that this receiver offers a smoother sound, especially in the mid-range, and is slightly more forgiving on tracks with less-than-perfect recordings.
Its prowess was further elevated with cinematic audio. The Cinema 40 supports Dolby Atmos and DTS:X, delivering a captivating sound bubble that truly immersed us in the content. Dialogue was clear and center-focused, and the transitions between speakers, even during high-action scenes, were fluid and cohesive. The Audyssey MultEQ XT32 room calibration tool ensured the sound adapted perfectly to our test space, optimizing playback for the environment.
Video Performance Evaluation
Denon AVR-X4800H: During our hands-on evaluation, the Denon AVR-X4800H showcased its prowess not just in the realm of audio but video as well. When we hooked it up to an 8K display, the receiver flawlessly managed 8K/60Hz content, presenting an unbelievably clear and detailed image. Its capability with 4K/120Hz video was equally impressive, delivering seamless, high-resolution visuals. The real highlight was the support for HDR10, Dolby Vision, and HLG. When testing a variety of HDR content, the difference was tangible—colors were more vibrant, and contrasts were sharper. For older content, the in-built video processor did a commendable job of upscaling to 8K. Our gaming session on this receiver was an absolute delight, thanks to features like VRR, ALLM, and QFT that ensured an immersive, lag-free experience.
Marantz Cinema 40: Switching over to the Marantz Cinema 40, our expectations were high, given Marantz's legacy. It didn't disappoint. Running similar 8K and 4K tests, the receiver proved its mettle with crisp, vibrant visuals. The nuances in HDR10+, Dolby Vision, and HLG content were beautifully rendered, rivaling its Denon counterpart in depth and clarity. The eARC functionality shone when we transmitted high-definition audio from our TV setup, preserving every audio detail. Our gaming benchmark on the Cinema 40 was noteworthy, offering sharp visuals with zero lag, thanks to the VRR, ALLM, and QFT features. The video upscaling capability on this unit was especially impressive, rejuvenating older classics to near-8K brilliance.
While both receivers are top-tier in terms of audio delivery, they possess distinct sound signatures. The Denon AVR-X4800H leans towards a more dynamic and detailed presentation, making it an excellent choice for those who crave precision and clarity. On the other hand, the Marantz Cinema 40 offers a warmer, more musical experience, ideal for those who enjoy a smoother sonic palette.
Verdict
After rigorous testing and comparisons across multiple categories, our team has reached a consensus. While both the Denon AVR-X4800H and the Marantz Cinema 40 excel in their respective domains, presenting features and performances that are undeniably top-tier, there is a clear winner when the cost-to-benefit ratio is considered.
The Denon AVR-X4800H, with its similar specs and outstanding performance, carries a price tag that is approximately $1,000 less than the Marantz Cinema 40. This considerable difference in cost, coupled with the Denon's formidable array of capabilities, makes it difficult to justify the additional expenditure for the Marantz.
Related Comparisons:

Denon AVR-X4800H vs Yamaha RX-A6A Aventage Comparison