If you've been looking for a powerful and easy-to-use home theater receiver, the Marantz CINEMA 40 might be for you. The Marantz CINEMA 40 is an all-in-one receiver that delivers immersive and dynamic sound with support for high-resolution audio formats, extensive features, and an intuitive user interface, all packaged together in a sleek receiver that will compliment your media console. Find the current price on Amazon
Marantz CINEMA 40 Review of Specs:
Marantz Cinema 40
Amplifier:
9.2 channel (125W per channel)
Connectivity (Inputs/Outputs):
3/0 x Composite, 7/3 x HDMI, 5 x Analog In, Phono In, 2 x Optical, 2 x Coaxial, 4 x Subwoofer Out, 11 x Speaker Terminals, 1 x USB Type-A
Audio Formats:
MP3, WMA, AAC. FLAC HD 192/24, WAV 192/24, ALAC 192/24. 2.8 MHz & 5.6 MHz DSD Audio
Video Support:
HDR, HDR10+, Dolby Vision, Dynamic HDR
Network Connectivity
RJ-45, Integrated Wi-Fi, Bluetooth
Voice Assistants:
Alexa, Google Voice Assistant, Apple HomePod
Dimensions:
17.3W x 16.2D x 7.3"H
Weight:
33.3 lbs.
Price

Find on Amazon





B&HPhotoVideo
Build and Design
Regarding build quality, Marantz has consistently impressed us with the attention to detail put into their receivers. The CINEMA 40 features an aluminum front panel with a modern design inspired by the previous Marantz Series 30 receivers.
Features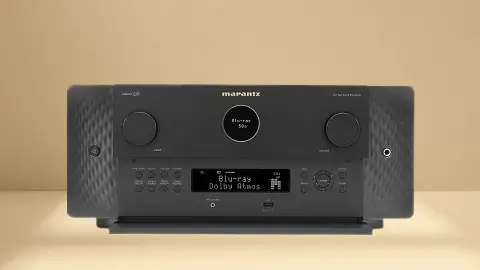 The Marantz CINEMA 40 is a comprehensive home theater receiver featuring 9-high power amplifier channels to deliver a total of 990 watts of power output. Check out our review of the  9.4-channel Marantz receiver. Experience an immersive soundscape thanks to the inclusion of Dolby Atmos, DTS:X, and IMAX Enhanced support. Additionally, the CINEMA 40 can upscale HD and 4K content to 8K resolution, providing an immersive and stunning visual experience with compatible displays. There is also Audyssey MultEQ XT32 room correction technology, which allows us to analyze the room's acoustics and adjust the sound accordingly for optimal performance.
Performance
We found the Marantz CINEMA 40 among the best receivers we've seen on the market. Regarding audio quality, we found the CINEMA 40 to deliver a warm and natural sound, similar to other Marantz receivers we've used. Tin addition, there is a clear and detailed sound across a wide range of frequencies, and the inclusion of Audyssey MultEQ XT32 room correction technology allowed the receiver to effectively optimize the sound for our room's acoustics, ensuring we always had a consistent sound quality regardless of which environment we used the receiver in.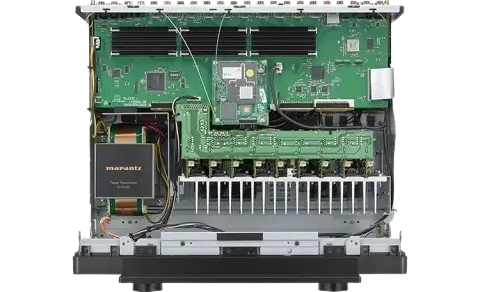 Switching over to video performance, we found that the Marantz CINEMA 40 also delivered an excellent video performance. We were particularly impressed with the resolution up-scaling capabilities of the CINEMA 40 and found it to work effectively, making lower resolution look sharper and more detailed. In addition, there's support for video-centric features such as HDR10, HLG color support, and Dolby Vision, which all work together to boost video content's contrast, color, and brightness.
Usability
We found the CINEMA 40 to be easy to use, simple to set up, and as having a user-friendly interface. Initial setup is a breeze, thanks to an on-screen installation guide from Marantz. The guide walks you through each setup step, including which speakers to connect or leave out. If you have never used a receiver before, it would only take you around half an hour to set up the CINEMA 40. It's simple to use, with intuitive buttons and support for voice control assistants such as Siri, making the set up even more straightforward. Additionally, this receiver supports Apple AirPlay2, making everything even easier to control.
Connectivity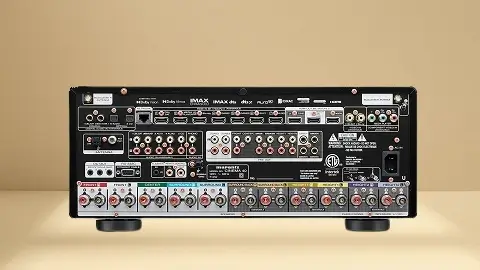 Packing a wide range of connectivity options, the CINEMA 40 has a total of seven HDMI ports; There's also integrated Wi-Fi, Bluetooth support, and support for Apple's AirPlay2 platform. We found it simple and easy to plug in various devices to the CINEMA 40, including a PlayStation 5, an Apple TV, and our subwoofer and speakers. There were more than enough connections for a multi-room speaker setup. In addition, Marantz has included built-in HEOS capability with the CINEMA 40, allowing us to control up to three zones of audio.
Pros
 Detailed and precise sound that is rigorously tested by Marantz
Sleek and classy design that will complement most rooms
Handles 8K video with ease
HEOS integration for multi-room speaker setups
Cons
No 3D signal passthrough support
What's the Bottom Line?
The CINEMA 40 is an impressive receiver on just the specifications alone. We found the experience to be even better than anticipated, thanks to its wide range of features, easy-to-use and intuitive interface, and connections that would work excellently with most audio systems we could think of. On top of it all, this is a beautifully designed receiver that will add an extra layer of tasteful class to any media console. We hope our Marantz CINEMA 40 review has helped you learn more about this great receiver! Find on BHphotoVideo.com