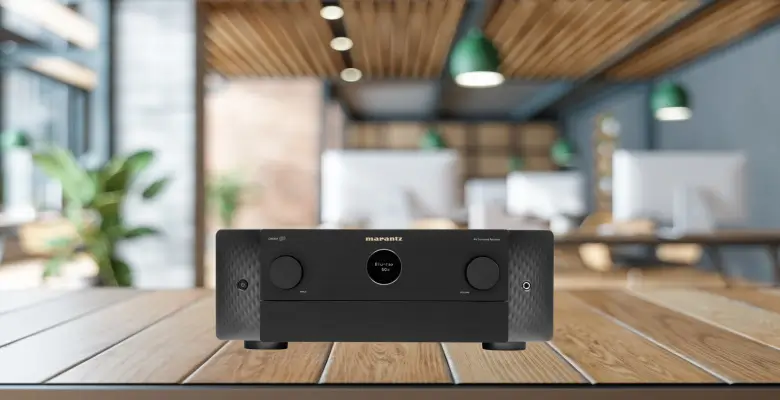 Marantz is known for producing premium audio equipment. The company was originally founded in New York, but is now based out of Japan. However, their gear is available worldwide. The Marantz Cinema 50 is one of their newer products (>>> Check on Amazon).
Marantz Cinema 50 Review of Specifications:
Marantz Cinema 50
Video
8K/60Hz, 4K/120Hz
Amplifier
9.4 channel (110W per channel)
Sound
7.1, 5.1, or 2.1 Dolby Atmos
Wi-Fi
Yes
Bluetooth
Yes
Price

Find on Amazon





B&HPhotoVideo
The Cinema 50 by Marantz is a home theater AV (audio video) receiver that can pretty much do it all. It can bring movies to life in your living room, fill the space with perfectly balanced music, and even help immerse you in your favorite video games.
All this is accomplished by the receiver being able to run 9 speakers at the same time, up to 110 watts per channel, using Dolby Atmos or DTS:X. Additionally, the video capabilities are just as impressive.
Video Features
The Cinema 50 can support up to 8K HDR video, and even has features to optimize gaming, with compatibility for the latest consoles (Playstation 5 and Xbox One X). The specific features are VRR and ALLM, respectively. Check the comparison vs. Cinema 60
VRR stands for Variable Refresh Rate and controls the refresh rate of a game in real-time. ALLM stands for Auto Low Latency Mode and it automatically enables your TV to enter a game mode for lower latency.
Pros
High quality audio for music, movies, and gaming
Optimizes sound for the room
Wifi and Ethernet ports
9 speakers
4 subwoofers
Remote control for ease of use
Cons
Internet Capabilities
You can also connect the AV receiver to the internet via an Ethernet port or the onboard Wifi. It supports tons of common apps, like Pandora, Spotify, Apple AirPlay2, and more. It can provide the Hi-fi quality tracks from these applications, as well.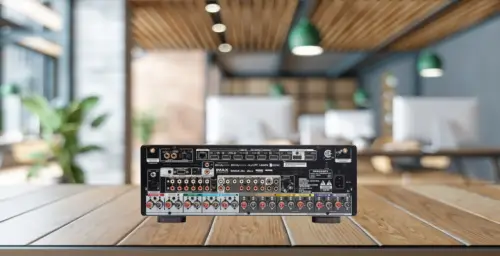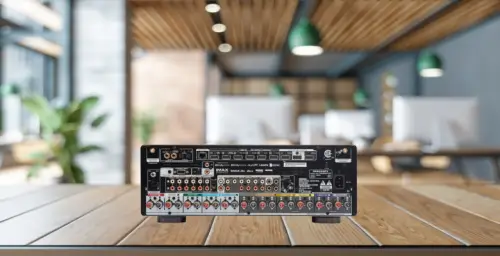 Custom Sound
Perhaps one of the most impressive features is the MultEQ XT32, which functions as a room acoustic corrector. In other words, you get the optimal sound for your listening space.
For those who love bass, the Cinema 50 comes equipped with 4 subwoofers. While you can opt for a more balanced sound, having heavy bass can be preferred in movies and video games, as well as some types of music.
All of this is packaged in an attractive and sleek cabinet. It has an OLED display and subtle style, such as the dimpled edges and unmarked knobs.
Conclusion
The Marantz Cinema 50 is probably the only AV receiver you would never need, allowing you to stream music, play movies or video games with high quality video and audio (>>> Find the current price on Bhphotovideo). There is Wifi to connect to your favorite streaming services, and the sound is literally customized to provide the best experience for your room.
The only drawback is the price of entry; it is a premium product with a premium pricetag. However, audiophiles who want the greatest experience might find the price a necessary one to pay.
FAQs
Is The Marantz Cinema 50 Worth The Money?
At $1,700.00, this AV receiver is certainly not cheap, and might even exceed many people's idea of reasonable. If you are after the highest quality and plan to use the receiver often, then yes, it is worth the money. However, if you only want a basic AV received and do not need/want the very best, then you would likely benefit from choosing a less expensive model.
Are Marantz and Denon The Same Brand?
Another well known brand in AV receivers is Denon, and oftentimes people wonder if Denon and Marantz are identical. While both are owned by the same parent company, they are actually separate brands, meaning Marantz and Denon offer unique products.
Does Marantz Cinema 50 Have Bluetooth?
Yes. You can connect your smartphone to it and play audio from your phone through the receiver.
Comparisons with other AV receivers: