Picking the perfect amplifier for your music listening desires often means compromising in one area or another. For listeners who want to get the most out of rock & roll music, the Cambridge Audio CXA81 gives the perfect British hi-fi sound that brings out the most from your favorite tunes, letting you hear elements of classic songs you've never known about before. This Cambridge Audio CXA81 review will show you why this is the perfect amplifier for classic rock listeners (>>> Check on Amazon).
Cambridge Audio CXA81 Review of Specifications:
| | Cambridge Audio CXA81 |
| --- | --- |
| | |
| Amplifier | 2.1 Channel (80W per channel) |
| Frequency response | 5 Hz - 60 kHz |
| Weight | 19.14 pounds |
| Wi-Fi | Yes |
| Bluetooth | Yes |
| Product Dimensions | 13.43 x 16.93 x 4.53 inches |
| Price | Find on Amazon |
The Cambridge Audio CXA81 amplifier is an ideal compliment to your preamp or AV receiver. The benefit of a separate amplifier is that you will get true high fidelity sound without distortion and unwanted noise. This amplifier is one of the best options on the market for getting detailed audiophile-quality sound.
Power Features
This two-channel amplifier is intended to feed 80 watts RMS at 8 ohms resistance to your speakers. It works fantastically well for providing power to floor standing speakers with high power demands. Power comes from an overspecified toroidal transformer that ensures each value is accurately presented at any volume level.
Optimized capacitor values provide you with the clarity and control of frequencies that you demand without overtaxing the amplifier. Sound quality is nearly free of unwanted noise that frequently appears in preamp systems due to the close proximity of the preamp and amplifier functions. With this separate, you'll experience the entire range of audio as your music was meant to be heard.
Pros
An industry-leading product with high-end components that provides detailed sound quality
Unbelievable depth and realism that brings your music to life
Highly attractive design looks great with your other components
An amplifier to last a lifetime
Cons
Lack of tone control makes this not a good choice for integrating with movies in your home theater
Remote control lacks some functionality
Connection Features
Unlike many lesser products, the Cambridge Audio CXA81 gives you several options for connecting to a preamp and to your speakers. You'll find digital coaxial and optical inputs, along with unbalanced RCA inputs and balanced XLR inputs. Built-in Bluetooth aptX HD gives you the freedom to connect wirelessly for even more adjustability to suit any setup in any space.
Sound Features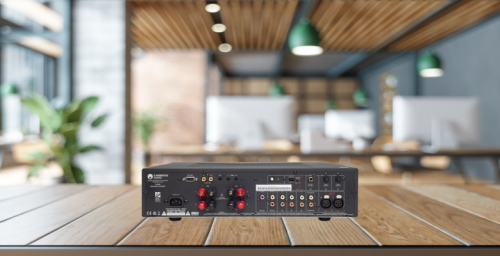 If you've never heard a Cambridge Audio amplifier, you are in for a treat. The CXA81 is the pinnacle of audio perfection. The various features of the amplifier provide depth and realism that is simply unmatched by other amplifiers, even more expensive options. Every note, frequency, and vocalization has life and authority that seem impossible. Some of the most demanding audiophiles in the world work with the engineers at Cambridge Audio to ensure that the product you buy will create a soundstage unlike anything you have ever experienced.
When coupled with a dynamic preamp or receiver such as the Cambridge Audio CXN Stereo Network Streamer, you get every note exactly as it was meant to be. Close your eyes and it's like you are surrounded by your favorite songs. You hear delicate, nuanced sounds that are lost by lesser equipment. Even CDs with their limited range suddenly come to life. The experience of hearing this amplifier in action is something that many people remember for a lifetime. Find our comparison vs. Marantz PM7000n
This is an amplifier built for the most discerning ear, and true audiophiles won't be disappointed. Music is detailed and lifelike without sounding forced or clinical. The audio performance from the CXA81 amplifier is astounding -it's even better than some of the equipment used in professional studios. Making the decision to add an integrated power amplifier to your home theater means that you are willing to sacrifice nothing for the best sounding system possible, and the Cambridge Audio CXA81 should be the first choice on your list.
Conclusion
The Cambridge Audio CXA81 integrated amplifier is an amazing option for building out your musical theater. It is designed to do one thing -make your music come alive like you've never heard before. It does this task with the ease you would expect from a high-end amplifier. While it sounds amazing with any type of music, the CXA81 really does an over-the-top excellent job handling rock & roll music that frequently sees wide changes in audio profile from loud to soft (>>> Find the current price on Amazon).
If you are looking for an amplifier to add to your theater for watching movies or playing video games, this isn't the best choice. The Cambridge Audio CXA81 is for your music, not for casual movie watching. You'll never listen to songs the same way again once you hear how great this amplifier sounds.
REFERENCES AND FURTHER READING: