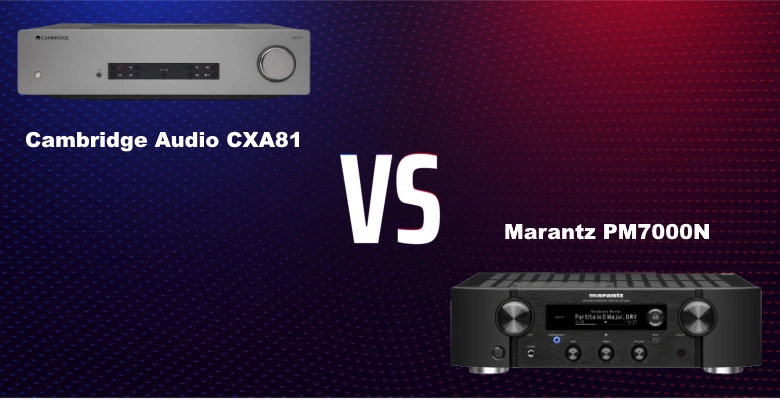 An integrated amplifier can be the solution to getting Hi-Fi stereo sound from a two- or four-channel setup. Integrated amplifiers combine excellent power output with the ability to send signals directly from a variety of sources to the speakers. Integrated amps are often used to add channels to an existing AV receiver and they make popular choices for connecting to a turntable to get the most from vinyl.
Today, we will compare the Cambridge Audio CXA81 against the Marantz PM7000N (>>> Find on Amazon). The Cambridge Audio system is a legend that has excellent abilities, but it falls just short of the Marantz PM7000N for our purposes. We will explain the differences between these amplifiers in this article.
Quick Facts
Both of these models are two-channel integrated amplifiers that offer the ability to connect up to two pairs of speakers. They are designed to work best with excellent floor speakers or as a compliment to a surround sound system powering the front speakers. The products can send signals from a variety of input sources, but are not intended for connecting to HDMI devices as you'll find with a receiver.
Integrated amplifiers are all about powering specific channels to get the most out of music, and both of these designs aim to please the serious enthusiast or audiophile listener. Our top choice offers connectivity options that make it a better option.
Need more information before you decide? Here's a closer look at what you get with each amplifier.
Cambridge Audio CXA81 vs Marantz PM7000N Side by Side:
Cambridge Audio CXA81
Marantz PM7000N
Amplifier
2.1 Channel (80W per channel)
2.1 Channel (60W per channel)
Frequency response
5 Hz - 60 kHz
5 Hz -100 kHz
Weight
19.14 pounds
19 pounds
Wi-Fi
Yes
Yes
Bluetooth
Yes
Yes
Product Dimensions
13.43 x 16.93 x 4.53 inches
17.32 x 4.92 x 14.92 inches

Price

Find on Amazon

Find on Amazon





B&HPhotoVideo
Appearance, Display, and Functions
Neither of these amplifiers are particularly spectacular looking, but the reality is these are "function over form" devices. We will look at the differences in the finishes, the displays, buttons, and ports to let you know what each amplifier offers.
CXA81 External Features
The Cambridge Audio amp is decidedly plain. It has a flat gray finish and small recessed buttons. There is no display and only a single rotary knob on the face of the unit. The power button is recessed and small. A 3.5mm headphone jack is included on the front panel.
The back panel features all of the connection points. The CXA81 offers both standard unbalanced RCA inputs and balanced XLR plugs for use with high-end equipment. There are two Toslink optical digital inputs and a set of binding posts for analog setups. There are assigned RCA ports for a sub-out connection and for preout connections.
Marantz PM7000N External Features
The PM7000N has a nice contrasting brushed metal center panel against matte silver for the remainder of the body. The layout of controls is instantly familiar and classic with two large dials assigned to input and volume and three smaller dials to adjust bass, treble, and balance directly on the unit.
The rectangular display is small, but manages to work well. A directional control button integrated to the display is used for selecting different settings. A power button, a source direct button, and the back button for the display round out the front controls. There is also jack for listening to music on your headphones.
The back panel offers RCA connections including a subwoofer preout and a preout for adding an audio recorder. A phono connection is available for connecting a turntable. Binding posts are provided for connecting to speakers. Dual Toslink optical digital inputs allow compatible televisions to supply audio. An ethernet port is available to integrate with your home network.
Comparisions
There are a few observations that we made as soon as we started comparing these two amps. First, the CXA81 has a very simple, almost industrial look while the PM7000N is more attractive and functional. We like to be able to simply read information on the display of a device, and the lack of a display was notable.
While the CXA81 offers high-end XLR connections, it is strangely lacking a phono input. One of the best uses of an amp is powering speakers for listening to vinyl records. The CXA81 requires an adapter that will occupy two RCA ports while the PM7000N has dedicated ports for a turntable. The PM7000N also offers an ethernet connection that is lacking on the back of the CXA81.
Power and Performance
It doesn't matter how nice a unit looks or what you can hook up to it if it doesn't have the power and performance you expect.
Cambridge Audio CXA81 Power
This amplifier offers bountiful power on demand. Using a toroidal transformer, the amp can supply as much as 120 watts RMS to your four-ohm speakers or 80 watts RMS with 8 ohm speakers. That is more than enough power to satisfy and makes this an excellent addition to a complete AVR system to match high power availability.
Marantz PM7000N Power
The PM7000N is a little less powerful, offering 80 watts at four ohms and 60 watts at eight ohms. Though less than the competition, the power is more than adequate for most situations and is ideal when paired with a set of high-quality speakers. It is ideal when used for playing a turntable to get the most stereo sound from the source.
Performance Differences
There are two things that each of these units do that are unique but different. What we are talking about is the ability to connect to remote zone speakers. The CXA81 offers a physical second set of connections for multi-zone listening, while the PM7000N provides HEOS built in connectivity to allow for wireless speaker connections.
Physical connections are more stable and secure, but also require running long lengths of speaker wire. As the HEOS system has grown in the last several years, it has gotten consistently better and is now a feature that we think adds lots of value.
---
Cambridge Audio CXA81 Review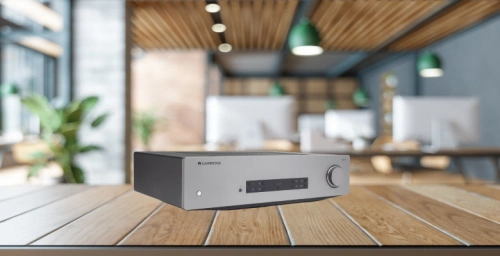 The CXA81 features two powered channels and a subwoofer output to create a detailed 2.1 channel system. It is compatible with four-ohm speakers up to 16 ohms total load so there are lots of options for getting the best speakers. Output ranges from 80 watts to 120 watts depending on speakers. Power is supplied by a toroidal transformer.
The unit offers ideal connections for digital sources and analog options. The inclusion of XLR plugs offers the ability to connect high-end professional equipment. The unit has a built-in ESS Sabre digital-to-analog converter which can be switched off for pure analog audio.
Making connections is easy with built-in Bluetooth that allows connectivity with the unit from your compatible smartphone, tablet, or other device. Functionality is provided through apt:x HD to give excellent sound quality from your favorite streaming service.
Cambridge Audio is known for its "British" sound and is a popular product with fans of British Invasion bands. The sound is described as smooth, mellow, and rich. Click here for our more in-depth Cambridge Audio CXA81 review.
Pros
Powerful amplification option ideal for adding to an existing AVR surround sound system
Provides connections for professional quality XLR cables
Cons
Optional channel for remote zone speakers requires hard-wiring
Bland front panel may look unsightly with other equipment
---
Marantz PM7000N Review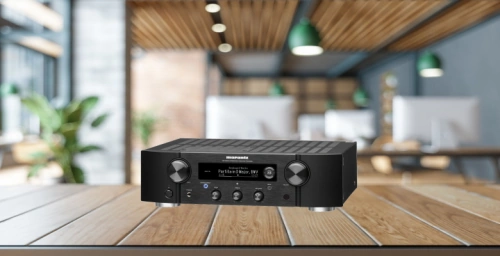 The PM7000N offers two amplified channels and a subwoofer output for a 2.1 channel setup. It uses HEOS built in technology to offer multi-zone speakers that are controlled with the HEOS app. This system is only compatible with HEOS wireless speakers.
The amp is compatible with four-ohm speakers up to eight ohm loads and provides wattage from 60 watts to 80 watts. The unit uses an Asahi-Kasei AK4490EQ DAC that is an excellent high-resolution converter. It can also be switched off to allow a full analog system.
Connections are primarily RCA ports with an assigned option for a phono input. There are dual optical digital inputs for connecting televisions and binding posts for the speaker channels. Bluetooth connectivity through the HEOS app allows wireless streaming of content and control of the amplifier. The headphone jack has it's own special amplification circuit.
The Marantz sound is regarded as soft with balanced bass, a perfect combination for listening to all types of music.
Pros
Phono input allows for a turntable to play vinyl records
HEOS and Wi-Fi allow for numerous options for streaming music
Cons
Only one pair of stereo outputs
Button on display feels cheap and stuck on as an afterthought
---
Final Thoughts
Both of these integrated amplifiers are excellent, high-quality products that perform exceptionally well. The Marantz PM7000N is our pick because of the addition of HEOS wireless speakers and app functionality, and the inclusion of a phono input for controlling a turntable. It provides an excellent amount of power and numerous features for streaming music.
Overall, the Marantz PM7000N is an awesome choice as a stand-alone option for powering a turntable and works exceptionally well to add channels to a built-out audio video receiver setup. The Cambridge Audio CXA81 is a great option that is well-suited for adding channels or as a way to improve output from front channels (>>> Check on Amazon).
The lack of ability to directly connect a turntable to the receiver was the biggest drawback of the Cambridge Audio CXA81 for us. Other issues, like the wired multizone speaker system, are minor things that are easily worked around.