Not everyone needs multiple channels. As long as the amplifier has connectivity, and produces immersive audio, it is all they need to power their entertainment system. The Cambridge Audio CXA81 and the Marantz PM7000N are both two-channel amplifiers that fit discretely into your existing setup. The components are also great building blocks for beginners just started with their systems.
Deciding between the two components isn't easy. There are similarities, but the differences are what matter. You get more power with the CXA81, along with improved Bluetooth support. It also comes with additional analog inputs and a higher price (>>> Find on Amazon). The PM7000N is designed for vinyl lovers and produces a cleaner sound.
Need more information before you decide? Here's a closer look at what you get with each amplifier.
Cambridge Audio CXA81 vs Marantz PM7000N Side by Side:
| | Cambridge Audio CXA81 | Marantz PM7000N |
| --- | --- | --- |
| | | |
| Amplifier | 2.1 Channel (80W per channel) | 2.1 Channel (60W per channel) |
| Frequency response | 5 Hz - 60 kHz | 5 Hz -100 kHz |
| Weight | 19.14 pounds | 19 pounds |
| Wi-Fi | Yes | Yes |
| Bluetooth | Yes | Yes |
| Product Dimensions | 13.43 x 16.93 x 4.53 inches | 17.32 x 4.92 x 14.92 inches |
| Price | Find on Amazon | Find on Amazon |
Each model has its strengths and weaknesses, here's what you need to know about each one.
Audio Quality
Whether it is an 8ohms or 4ohms channel, the CXA81 is capable of producing more power. It can fill a mid-size room with clear audio, whether it is dialogue, music, or sound effects.
Both components are engineered to produce accurate, clear audio, but it is cleaner with the PM7000N. It is due to the component's signal-to-noise ratio. Compared to 105 with the CXA81, the Marantz receiver at 115 produces clearer audio with less interference. It is an important consideration for audiophiles and anyone that enjoys listening to audio without distortion.
Better Audio Quality: Marantz PM7000N
Connectivity
It's hard to separate the two amps, each has something to offer. Both support most of the popular music apps through Wi-Fi and Bluetooth. The CXA81 comes with Bluetooth 4.2 built-in, while the Marantz amplifier only supports the 4.1 version. It's not a deal-breaker when you consider the phono input on the PM7000N.
The Cambridge amp comes with more analog inputs, and the 3.5mm headphone output may be more compatible than the 1/4" on the PM7000N, but vinyl lovers will appreciate the phono input. You can listen to your records in amazing Hi-Fi stereo sound.
Better Connectivity: Cambridge Audio CXA81
Ease of Installation
Installing either amp isn't a problem. Both weight under 20lbs, light enough you won't strain a muscle installing the component. They also have a compact size, though the CXA81 is an inch smaller. Whichever model you choose, it will easily fit on a shelf with the rest of your stereo equipment.
Easier Installation: Cambridge Audio CXA81
---
Cambridge Audio CXA81 Review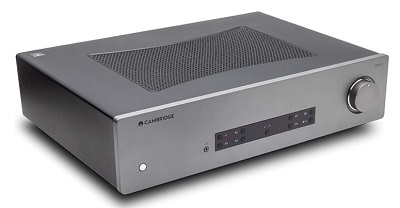 The CXA81 comes with a toroidal transformer, so you get a well-balanced sound without distortion whether you're using 4ohm or 8ohm speakers. Music and vocals are crisp and clear with thumping basslines and rhythmic upper frequencies.
Connecting your external components is a breeze. You have the choice of wired or wireless. Built-in Bluetooth allows you to stream your favorite online radio channels from any compatible device. Use your phone, tablet, or laptop to access your playlists. You also get 5 analog inputs, along with ones for digital optical and coaxial. While the amplifier does support Bluetooth 4.2, it does not come with a phono input.
With its compact size and relatively lightweight, the amp is under 20lbs gives you a flexible installation. You are limited on where you can set the component up. If you are having problems setting the amp up, the handy owner's manual will walk you through the steps.
Pros
2 channels
Balanced sound
Multiple inputs
Built-in Bluetooth
Flexible installation
Cons
Sound is not as dynamic as with similar amplifiers
---
Marantz PM7000N Review

With 60W of power with 8ohm speakers or 80W when you connect 4ohm ones, you get powerful sound, perfect for small and mid-sized rooms. A 115 signal-to-noise ratio eliminates distortion and fuzziness, so all you hear is crisp audio.
Built-in HEOS turns the amp into a multi-room system. With two channels, you can listen to the same song in both zones or play different ones. Its flexibility is one of the amplifier's strong points.
Bluetooth connectivity is built-in, but it is the older 4.1 version. It shouldn't interfere with your ability to stream playlists and music channels, but it's something to consider. Where the PM7000N stands out is with the phono output. You can hear your vinyl the way it is meant to sound. You also get 3 analog inputs, along with a port for your headphones.
Pros
Phono input
HEOS support
Flexible installation
Powerful sound
2 channels
Cons
The amp only supports Bluetooth 4.1 instead of the latest version
---
Conclusion
Comparing the Cambridge Audio CXA81 vs Marantz PM7000N, you'll notice similarities and differences. Both are great starter amplifiers and are ideal in smaller spaces. The amps don't have the power to fill a large room, but you won't have any complaints about audio quality.
The CXA81 does produce more power, supports the latest Bluetooth version, and has additional analog inputs (>>> Check on Amazon). Where the PM7000N comes out ahead, is with its noise ratio, and phono input. If vinyl is a large part of your music collection, the Marantz amp is the better option.
Whichever amplifier you take home, you have a good start on building an impressive sound system.