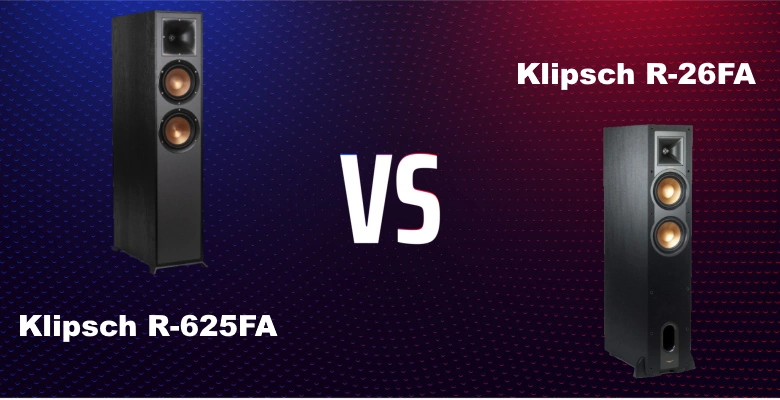 Klipsch is regarded as one of the premier speaker manufacturers around. The company's speakers offer a range of interesting features and advanced technologies that set the unique sound apart from products made by other brands. Not only are the speakers excellent performers, but they are also beautifully designed to stand out from the crowd.
The Klipsch R 625FA is a recent model of floor-standing speaker. The R 625FA replaces the older R-26FA and offers some new features, but is currently being replaced with an all-new Reference R-605FA speaker.
The R-26FA was introduced in 2017 while the R-625FA was introduced in 2018. Both speaker models were replaced by the R-605FA in 2022. Some retailers continue to hold stock of both the Reference R-26FA and R-625FA tower speakers. (>>> Find on Amazon)
The newest Reference R-605FA speaker is built on the tried and proven technology developed in the two speakers we are looking at today.
Klipsch R-625FA vs R-26FA Side by Side:
Appearance
These are large floor-standing speakers that stand roughly 40-inches tall and sit more than 16-inches deep. The cases are elegantly styled and have a simulated woodgrain look using a brushed polymer veneer.
Removable grill covers are included for all speaker openings, but the gorgeous spun copper woofer cones are so beautiful you probably won't want to cover them up. The Klipsch Reference R-26FA and R-625FA feature an outstanding sleek design and offer exceptional performance.
Power Handling Capabilities
Both speaker designs use identically-sized and constructed speakers and have the same specifications for setup. Both speaker models are rated to handle 75 watts RMS at 8 ohms on the top speakers and 100 watts RMS for the front-facing speakers.
Front-Facing Speakers
The front-facing speakers are 6.5-inch woofers that take advantage of a unique and costly material to produce exceptional sound. The woofer cones are made from injection-molded graphite and feature a spun copper finish. This process allows the woofer cone to be exceptionally rigid and ultimately lightweight.
The magnetically shielded IMG woofers allow for a full frequency range with minimal cone breakup to reduce sound distortion. The design results in better frequency response and lower distortion at all power levels.
The two woofers are mounted into the cabinet to take advantage of a ported design. Porting allows the airflow to move in and out of the box to accentuate low frequencies and reduce harmonic distortion.
These speakers are rated to handle frequencies from 38 Hz to 21 kHz, ensuring that every audible note is accurately reproduced.
Top-Firing Speaker System
A unique feature that these speakers bring is the top-mounted, up-firing speaker that is intended to work with Dolby Atmos technology to improve the overall sound field by reflecting sound waves off the ceiling.
The built-in elevation channel design helps to create a surround sound quality listening environment without having height speakers because it reflects sound back to the listening area.
The top speakers are 5.25-inch Dolby Atmos speakers engineered to take full advantage of the detailed performance capabilities. The cones feature the same magnetically shielded IMG woofers with copper cladding.
Additionally, you'll find a one-inch aluminum LTS tweeter mounted to a Tractrix horn in the up-firing position to ensure accurate vocals and high-frequency sound quality.
The frequency response of the top speaker conforms to Dolby Atmos specifications.
Tractrix Horns
Both speakers feature the 90-degree x 90-degree trademarked Tractrix air horn on the front and top. Tractrix horns have been a staple of Klipsch Reference R home theater system speakers for many years. The design properly aligns sound waves to create stunningly precise acoustics and powerful dynamics at all volume levels.
Speaker Connections
Klipsch Reference R speakers use binding posts for making speaker connections. These speakers are not capable of wireless connectivity. You can check out wireless connection speaker designs from HEOS to create a wireless system.
The primary difference between the R-625FA and the Klipsch R-26FA is the binding posts. The R-625FA uses single, gold-plated binding posts while the R-26FA provides dual binding posts for bi-amping or bi-wiring.
---
Individual Product Reviews
Even though the Klipsch R-625FA and Klipsch R-26FA are practically identical in both appearance and performance, it is worth it to take a close look at what they offer individually so you can make a good choice when it comes time to add new speakers to your home theater system.
Klipsch R-625FA Review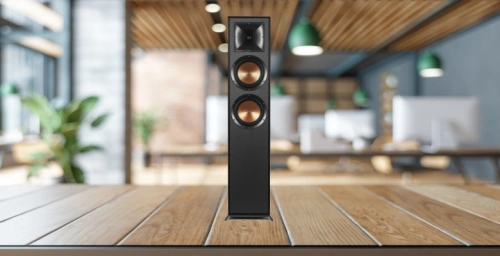 The Klipsch R-625FA was a free-standing floor speaker design that uses two 6.5-inch front-facing woofers and a unique vertical-firing woofer. Linear travel suspension ensures that the speaker accuratley captures high and low frequencies. A ported air horn aids in the distribution of sound by allowing room for air to move when the woofers are pumping.
Angled feet and a special rubber foot ensure the tower speakers are stable when set up properly. These speakers are sold as a pair and are intended for use as left/right channel speakers or as back speakers. Klipsch recommends positioning the speakers between six and 12 feet apart, slightly angled toward the listening environment, and not directly against a wall.
Among the outstanding designs Klipsch incorporates are the magnetic removable grille options. There are seperate grills for the top speaker and the front speakers. When installed, the removable grille protects the surface of the woofer cone without blocking sound waves.
Pros
The combination of unique materials and exceptional sound quality make this one of the best-sounding speakers on the market
Beautiful copper woofers and ideal woofer size options for improving surround sound systems
Cons
Might be difficult to find since the model is discontinued
---
Klipsch R-26FA Review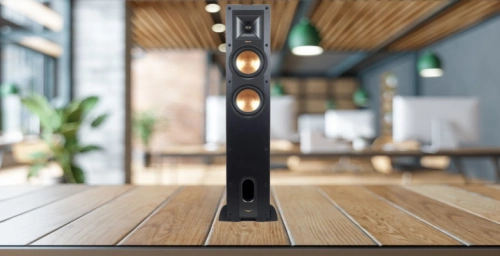 Klipsch releases outstanding designs every few years, so it might be odd to see what looks like a fully-modern design that is actually several years old, but that is the case with the Klipsch Reference R-26FA.
This speaker system is intended for floor-standing setups and it delivers stereo sound with unique audio engineering to ensure the best audio experience with virtually no sound distortion.
One of the few design differences is the shape of the face of the R-625FA vs R-26FA. The front speakers rest in a raised plastic ring on the R-26FA which gives this speaker system a somewhat dated appearance but doesn't affect the excellent sound quality.
The R-26FA was designed as a rear speaker with an upfiring Dolby Atmos design that ensures accurate and room-filling sound. The ported front woofers and sealed top woofer capture the full range of frequencies. Magnetic acoustically transparent grills provide protection for both top and front speaker configurations. Click here for our more in-depth Klipsch R-26FA review.
Pros
Dolby Atmos speakers in the up-firing position significantly enhance playback quality
Excellent power handling characteristics make this a good choice to combine with a high-quality AV receiver or a preamp
Linear travel suspension design and unique Tractrix horns offer superior quality over competitor designs
Cons
Discontinued item that is becoming harder to find in new or like-new condition
Dated physical appearance is outclassed by the similarly-priced and more available Klipsch R-625FA
---
Final Verdict
Because these speakers have been discontinued, you are likely to find great deals on either the Klipsch Reference R-625FA or the R-26FA, possibly saving as much as 50-percent on the cost of the current R-605FA model that has replaced both of these products. The difference of the Klipsch R-625FA vs Klipsch R-26FA is minimal and really comes down to whether you are planning on bi-amping your speakers (>>> Check on Bhphotovideo).
Whether you choose the Klipsch R-26FA or the Klipsch R-625FA, you are going to get a high-quality speaker system that takes advantage of the latest Dolby Atmos technology to create an immersive surround sound environment ideally suited for watching movies with cinematic acoustics.