You get impressive images on your TV, so shouldn't the audio match the picture quality? When the audio matches the images, it's easy to feel like you are watching the movie in a theater. Adding a soundbar dramatically improves audio quality, but how do you know which component is right for your entertainment setup?
Two models to compare are the Bose Smart Soundbar 900 vs the Sonos Arc. Both are premium soundbars with different strengths and weaknesses. Dolby Atmos sound is standard with both models, but the Arc comes with more features allowing you to optimize the audio. Bass is also a little clearer with the Sonos Arc (>>> Find on Amazon). The Bose 900 boasts more wireless playback functions, and its build is sturdier than the Sonos model.
If you're still not sure which smart soundbar is right for your content, sometimes it helps to take a closer look at what you get with each model.
Bose Smart Soundbar 900 vs Sonos Arc Side by Side
| | Bose Smart Soundbar 900 | Sonos Arc |
| --- | --- | --- |
| | | |
| Power (Watts) | No data | 110W |
| Connectivity Options | Bluetooth, Wi-Fi, HDMI | HDMI |
| Subwoofer | No | No |
| Dimensions (inches) | 41.14 x 2.29 x 4.21 | 3.4 x 45 x 4.5 |
| Price | Find on Amazon | Find on Amazon |
Audio Quality
You get Dolby Atmos surround sound with both soundbars for crystal clear dialogue and music. Even sound effects are impressive. Onscreen explosions can shake the room when the volume is cranked up.
Enhanced Trueplay, on the Arc, automatically optimizes the sound to match the room's dimensions. With 3D sound capabilities, you can immersive yourself in audio without having to worry about dead zones. Lower bass frequencies are crisp without distortion. It's great when you are listening to music.
The 900 by Bose comes with two upward-firing speakers to give the illusion of surround sound. TrueSpace processing technology ensures audio reaches every corner of the room.
Best Audio Quality: Sonos Arc
Design Quality
You probably aren't planning on moving the soundbar around, but you still want it to have a durable construction. Smart soundbars come with a higher price tag, and replacing a damaged one is expensive. You also want the soundbar to blend in with your other components.
Both soundbars feature a slim and sleek design, but the 900 has a slight advantage. It has a sleeker design and boosts a more durable construction than the Arc.
Best Design Quality: Bose Smart Soundbar 900
Ease of Installation
Installing either soundbar is a breeze, but the Arc is a little easier. It also has a more flexible installation. It's designed for mounting on a wall, shelf, or table. The Arc also comes with automatic tuning technology.
Both soundbars are easy to operate. They come with voice-control support. The Arc is compatible with Amazon Alexa, while the 900 comes with Bose exclusive voice-4-video technology.
Easiest to Install: Sonos Arc
Connectivity
The smart soundbars come with HDMI ports, along with inputs for external speakers. Wireless support allows you to stream music and content from Apple and AirPlay 2.
The 900 also comes with the Bose Music App, along with Spotify Connect. It offers a little more connectivity, especially for consumers that stream most of their content.
Best in Connectivity: Bose Smart Soundbar 900
---
Bose Smart Soundbar 900 Review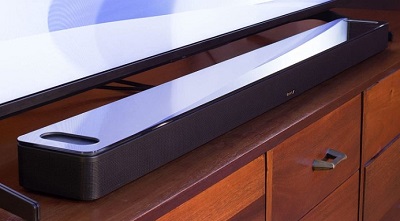 The Bose Smart Soundbar 900 produces powerful audio, thanks to the dual upwards firing speakers powered by Dolby Atmos. TrueSpace spatial technology optimizes sound for an immersive listening experience.
The wireless Bluetooth soundbar boasts a sleek design and durable construction. It's designed to last for years. Its wireless design also makes the soundbar a breeze to integrate with your TV and other components. To start listening to exceptional audio, connect your TV to the optical audio or HDMI eARC port. Built-in Alexa and Google assistant ensure you can operate the soundbar with ease.
Download the Bose Music App and keep your favorite tunes in one convenient place. Its wireless connectivity also lets you stream content from your Bluetooth devices. Enjoy music from Spotify and Apple AirPlay 2. It's amazing how clear the music and dialogue sound with the soundbar.
Pros
Wireless connectivity
Voice-control support
Dolby Atmos sound
Dual upwards firing speakers
Easy installation
Cons
The lack of automatic audio calibration can make it hard to optimize sound quality
---
Sonos Arc Review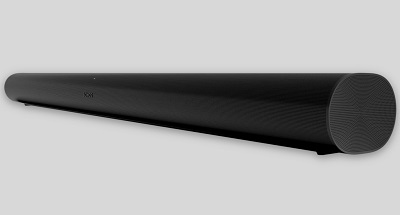 The Sonos Arc produces 3D audio with support from Dolby Atmos sound. The smart soundbar automatically optimizes audio with Enhanced Trueplay technology. You hear crisp audio across the spectrum no matter where the soundbar is placed in the room.
It offers a flexible installation. You're not limited to placing the soundbar on a shelf or table. You can easily mount the Arc on a wall. Connecting the soundbar to your TV and other devices is quick and easy. Along with wireless capabilities, the Arc comes with HDMI and eArc ports on the back. Apply Airplay 2, and the Sonos app allows you to stream and listen to music without turning the TV on.
When you need to hear the dialogue, turn on the speech enhancement function. It produces crisp audio without turning the volume up. When you are ready to expand your system, the soundbar lets you wirelessly connect a sub-woofer and a pair of rear speakers.
Pros
Dolby Atmos Sound
Automatic tuning
Wireless connectivity
Flexible installation
Voice-control capabilities
Cons
The voice enhancement feature does not optimize music quality
---
Conclusion
You are not going to be disappointed with either soundbar. Dolby Atmos ensures optimal sound quality. Comparing the Bose Smart Soundbar 900 vs the Sonos Arc comes down to what you want and need from the component.
The 900 offers more connectivity and comes with a better build. The Sonos Arc has a flexible installation and produces a slightly better sound (>>> Check the current price on Amazon). It's also easier to optimize audio quality with the Arc. The soundbar takes care of it automatically.
Whichever soundbar you bring home, you will notice an improvement in audio quality.