Audiophiles are always on the hunt for the next best solution to getting the most pure and realistic sound possible. Deciding to use a dedicated pre-processor in conjunction with dedicated power amplifiers is the best way to separate sound from distortion and produce amazing high-fidelity sound. This Marantz AV8805 review will detail the key features of this high-end pre-amp and let you know why it is an excellent choice for your custom high-end home theater setup. (>>> Find on Amazon)
Marantz AV8805 Review of Specifications:
| | Marantz AV8805 |
| --- | --- |
| | |
| Video | 8K/60Hz or 4K/120Hz |
| Amplifier | 13.2 Channel (150W per channel) |
| Sound | 7.1.6 or 9.1.4 Dolby Atmos |
| Wi-Fi | Yes |
| Bluetooth | Yes |
| Price | Find on Amazon |
The Marantz AV8805 provides 13.2-channels of processing to help you develop the most complete surround sound system possible using the highest performance speakers you can buy. We will go over the key features that make this an excellent pre-amp processor.
Toroidal Transformer
One of the key features of this pre-pro is the use of an oversized toroidal transformer. This device allows for massive amounts of power while eliminating virtually all induced distortion. Toroidal transformers are essential for creating the most dynamic sound stage at the power levels audiophile listeners demand.
Dedicated DACs
Each channel uses an independent Digital-to-Analog Converter. This design ensures that each channel has the highest fidelity and range possible without losing any of the most important frequencies. Combined with the processing power of the transformer, the 32-bit DACs ensure proper sound processing. The DACs work with high-power capacitors that offer the most reserve current of any Marantz pre-amp.
Pros
Ideal way to get the most clean and powerful audio possible
Creates tremendous options for expansion and custom designs
Cons
Discontinued item that will be hard to service
Terrible customer service after purchase
XLR and RCA Channels
The design of this pre-amp allows for creating numerous configurations to meet the needs of the most discerning listener. It includes balanced XLR outputs and unbalanced RCA outputs to provide as many as six effects channels.
Connectivity Options
Dual-band Wi-Fi is built in so you'll have simple access to your favorite streaming services like Pandora and Spotify. It provides connections for Apple AirPlay using iOS devices, along with access to Android OS services. It has the ability to play high-resolution files with up to 24-bit, 192 kHz and DSD files. Click here for our review of a newer model – the Marantz AV8805A.
Audio Technologies
The Marantz AV8805 offers the best of the best technologies for high-fidelity listening enjoyment. It includes a full suite of Dolby Atmos technologies, DTS:X, and Auro 3D protocols. This gives the listener the most highly detailed options for getting the most accurate and realistic sound possible. It also includes IMAX Enhanced technologies to get the most out of IMAX videos.
Video Technologies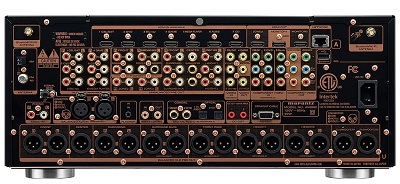 The AV8805 provides a 4k passthrough to enhance your home theater viewing experience, too. It has the ability to provide 4k passthrough and has the latest in HDCP protocols that ensure you don't hit a roadblock trying to watch your favorite Blu-Ray or DVD video.
Tuning
Any time you are setting up an audio system as defined and complex as the AV8805, you'll want some help. When it comes to tuning this system, Marantz provides the award-winning Audyssey MultiEQ 32 Platinum tuning system that will assist with dialing in the perfect sound phase and tune for each of your speakers to create the most enveloping sound stage possible.
Multi-Room Capabilities
The AV8805 provides the ability to set up three separate rooms of audio production that will make it simple to run dedicated channels of music to different rooms in your home and even for adding outside music.
Conclusion
The Marantz AV8805 is an excellent high-end pre-amplifier that is the cornerstone of a tremendously flexible home theater system. It gives the buyer numerous methods of connecting the best speakers, players, and other devices while also giving excellent options for enhanced listening options and multi-room performance. (>>> Check on Amazon)
REFERENCES AND FURTHER READING: