Founded by a BBC engineer in the early 1960s, KEF has been a leading name in the audio technology world for decades. Their high-end speakers, subwoofers, and other audio equipment brings professional-level audio into any space, giving them the versatility to excel in home theaters, listening rooms, or anywhere else you want audiophile-approved sound.
Comparing the KEF LS50 Meta vs R3, you'll see both are paired loudspeakers designed for medium to large rooms in homes. While the KEF R3 has the superior volume output and sound quality (>>> Find on Amazon), the sleek design and smaller size of the LS50 Meta will make them the better fit for some buyers. Let's take a closer look at where they differ.
KEF LS50 Meta vs R3 Side by Side:
| | KEF LS50 Meta | KEF R3 |
| --- | --- | --- |
| | | |
| Maximum output | 106dB | 110dB |
| Sensitivity | 85dB | 87dB |
| Frequency range | 47Hz – 45kHz | 52Hz – 28kHz |
| Dimensions | 12"H X 7.9"W X 12.2"D (each speaker) | 16.6"H X 7.9"W X 13.2"D (each speaker) |
| Price | Find on Amazon | Find on Amazon |
Design and Size
The KEF R3 is a stand-mounted 3-way loudspeaker with dual drivers. While that's good news from a sound perspective, it adds bulk and weight to the speaker, and most users install them on a dedicated stand. Their look is best described as functional. The exterior casing is well-designed, with precision-cut grilles and 3 finish options, but they're not the most stylish-looking speakers on the market.
The KEF LS50 Meta has an eye-catching, modern design that you'll be proud to display in your home. They are also smaller and lighter than the R3, so while you can buy a dedicated stand for them, they're compact enough most users can find space for them on an entertainment center if they'd prefer.
Better design: KEF LS50 Meta
Volume Output
The KEF LS50 Meta has an impressive volume capability for its size. Its maximum output of 106dB is plenty high enough for most spaces and situations. That said, the KEF R3 is even more powerful, and will be the better choice for large home theaters and listening rooms.
Higher volume output: KEF R3
Sound Quality
This is another category where both these speakers are strong performers, but one's just a smidge better. The two-way design and wide frequency range of the KEF LS50 Meta produce a detailed and accurate sound, with a clear mid-range and deep, full low end.
The KEF R3 is a three-way speaker, with separate drivers for the bass and mid-range and a 1-inch aluminum tweeter for high frequencies. This further enhances the sonic detail compared to the LS50 Meta.
Better sound quality: KEF R3
---
KEF LS50 Meta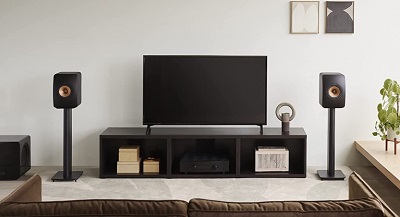 The KEF LS50 Meta is a precise and powerful speaker with excellent sonic detail. It uses a 12th-generation Uni-Q Metamaterial Absorption Technology driver, an innovative design that absorbs 99% of unwanted sound for a pure, distortion-free sound signal and a more natural, realistic listening experience.
The injection-molded compound used inside the housing adds to the sonic clarity, with Constrained Layer Damping (CLD) that controls internal vibrations for minimal sound coloration. The off-set port, meanwhile, reduces sound coloring from turbulence and resonance, further improving the depth and detail of the sound.
Maybe the most impressive thing about the KEF LS50 Meta, though, is that all these features come packed into a very compact and stylish set of loudspeakers. These speakers are designed to fit in any listening room, both in terms of size and style, with four sophisticated color options to choose from and a sleek, modern look to fit any decor.
Pros
Reduced distortion for a more natural sound
Wide frequency range with solid bass response
Good output power for their size
Excellent sound detail for music or home theater use
Compact and stylish design
Cons
High price for the speaker size and design
---
KEF R3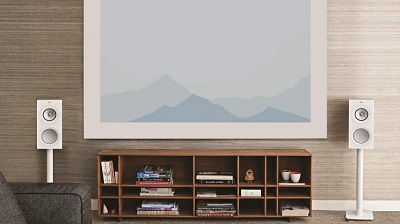 Each KEF R3 speaker has two drivers inside: a 6.5-inch bass driver and a 5-inch midrange driver with an aluminum dome tweeter array with a Uni-Q driver array to improve the sonic imaging. This design means powerful and precise sound for music, movie soundtracks, or whatever else you want to listen to.
The KEF R3 are powerful speakers ideal for listeners who want to fill a room with sound. They have a higher maximum output than the LS50 Meta above. This doesn't just give them more volume potential, it also means the sound stays crisp and distortion-free as it gets louder. That's why the KEF R3 are a great option for home theater spaces, making it possible to get a truly immersive sound experience.
Now, bear in mind these are not small bookshelf speakers. KEF's R3 loudspeakers are on the heavier side, and they perform best when placed on a dedicated stand. What the cabinet lacks in aesthetics, though, it makes up for in quality. The interior bracing effectively dampens vibrations that can affect the sound, ensuring you hear music, dialogue, and sound effects the way they were intended.
Pros
Powerful sound output
Exceptional bass response
Well-braced to reduce vibrations
Pure, natural sound with minimal distortion
Consistently high build quality
Cons
---
The Verdict: KEF LS50 Meta vs R3
Either the LS50 Meta or R3 can be an exceptional choice to bring professional-level sound to a home entertainment space. Based purely on sound quality and output, the KEF R3 is the better choice (>>> Check on Amazon). However, the more compact LS50 Meta still out-performs the majority of speakers on the market, and is a great way to get top sound when you have limited space. We hope this review has helped you decide which one is your ideal speaker!