A pair of high-quality bookshelf speakers is a great place to start when you're upgrading the sound in your home theater or listening space. Speakers from KEF are among the best, using the latest audio technology to bring you high sound quality in a compact package.
Comparing the KEF Q350 vs LS50 really comes down to what you're looking for from your speakers. The overall sound quality and output of the KEF Q350 are superior, and its lower MSRP also makes it the better value (>>> Find on Amazon). That said, the KEF LS50 still sound great, and are more compact and stylish, as well as working better as part of a larger sound set-up. Let's zoom in on the main differences so you can decide which one is best for your home.
KEF Q350 vs LS50 Side by Side:
| | KEF Q350 | KEF LS50 |
| --- | --- | --- |
| | | |
| Maximum output | 110dB | 106dB |
| Sensitivity | 87dB | 85dB |
| Frequency range | 63Hz – 28kHz | 47Hz – 45kHz |
| Dimensions | 14.9"H X 8.25"W X 12"D | 12"H X 7.9"W X 12.2"D |
| Price | Find on Amazon | Find on Amazon |
Sound Quality
Both the Q350 and the LS50 use KEF's Uni-Q driver array, positioning the tweeter inside the woofer for a smoother, more natural overall response. These speakers also both use cabinet and port designs to minimize interference, noise, and distortion, ensuring a clean, crisp response for all types of music, dialogue, and sound effects.
Where the KEF Q350 takes a slight edge here is its mid-frequency/low-frequency driver. It uses a 6.5-inch aluminum driver that's larger and more responsive than the 5.25-inch alloy driver in the LS50. This improves the sound of the Q350 in the low end, especially, and makes it the better pair for use on their own without additional speakers or subwoofers to supplement it.
Better sound quality: KEF Q350
Volume Output
The LS50 gets plenty loud for small or mid-sized rooms, with a maximum output of around 106dB and technology to prevent that sound from distortion as it nears this upper threshold. Again, though, the KEF Q350 edges it out by a hair, with a maximum output of 110dB, another reason it's a better choice for use on its own, or in larger spaces.
Higher volume output: KEF Q350
Design and Style
The cabinets of the KEF Q350 have an old-school, functional design. This isn't to say we'd call them ugly, but they're blockier and larger than most bookshelf speakers out there today. The KEF LS50 is a better fit for many modern home theater spaces in every sense, with a more compact cabinet as well as an updated design and wider choice of finishes.
More stylish design: KEF LS50
---
KEF Q350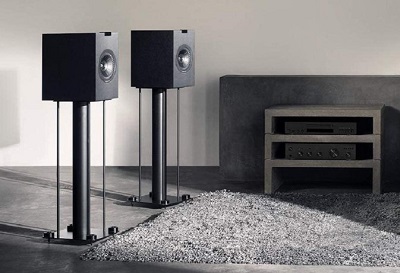 The driver array in the KEF Q350 gives it a smooth, realistic sound scape across the frequency range. The tweeter is set in the center of the bass woofer cone, providing a more accurate, three-dimensional sound than other speaker designs. There's also a damped tweeter loading tube that reduces distortion and harshness in the high end, with a low-distortion inductor on the crossover for cleaner, more articulated bass.
The housing around the KEF Q350 is equally optimized for the best possible sound quality. They've repositioned the drivers to the center of the cabinet to cut down on resonance, distortion, and other noise. The CFD port design reduces mid-range leakage and is tuned to minimize turbulence. All together, this means a higher sound output with better balance and more life-like sound for both music and home theaters.
Now, when it comes to their size, whether the KEF Q350 can actually sit on a shelf depends on your set-up. In many rooms, they're best when installed on dedicated stands, and they're both taller and wider than the LS50. The three finishes still make them easy to fit into a variety of room décor, but they're not a speaker set you'll be able to hide in the background.
Pros
Enhanced driver array for sparkling, smooth upper frequencies
Redesigned port reduces resonance and increases clarity
Tight, punch bass response
High volume output
3 finishes (white, black, and walnut)
Excellent value for the sound quality
Cons
---
KEF LS50 Meta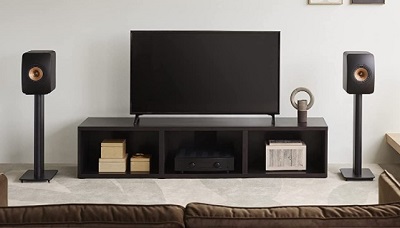 If you want a sleek speaker ready for a modern home theater space, the KEF LS50 Meta is an excellent option. The cabinets are remarkably compact considering the drivers and other technology inside, with an attractive matte finish available in 4 different colors, including unique options like Royal Blue and Titanium Grey.
The KEF LS50 isn't just about looks, either. The curved front baffle cuts down on resonance inside the cabinet, enhancing the clarity of the sound. It also uses a similar Uni-Q Driver array to what you'll find in the Q350. It's the 12th Generation of KEF's driver design, and the latest improvements mean a smooth, natural sound in both the low and high end of the frequency spectrum.
Now the mid- and low-range driver of the KEF LS50 is smaller than the Q350's, which does reduce both its bass power and its overall volume potential slightly. However, it's still plenty loud enough to use on its own in small to mid-sized viewing areas or listening rooms. It also pairs well with a variety of other speakers and subwoofers for those who want to use these speakers as part of a broader surround-sound setup.
Pros
Clear and smooth treble response
Balanced response across the frequency range
Low distortion and noise, even at higher volume levels
Attractive, compact design available in 4 color finishes
Works well with other sound equipment
Cons
Higher cost
Lower overall volume output
---
Which Speakers Should You Buy?
Based just on sound performance, the KEF Q350 is the better option (>>> Check on Amazon), and its typically lower price tag also makes it the better value overall for budget-conscious buyers. On the other hand, though, the more compact LS50 fits better in smaller space, and works better in tandem with other sound equipment as part of a larger surround-sound setup. We hope this comparison has helped you decide which one is best for you!
REFERENCES AND FURTHER READING: