You don't need a huge budget or a ton of space to get great sound in your listening room or home theater. A set of professional-level bookshelf speakers can give you audiophile-approved sound quality and output with a relatively small footprint and without blowing your entire home entertainment budget.
Looking at all the factors, the best bookshelf speakers under $2,000 are the Swans M5A, which combine exceptional sound quality with an elegant and durable all-wood housing and fully-modern connectivity (>>> Check on Amazon). Let's take a closer look at the details so you can see how they stack up side by side.
Best Bookshelf Speakers Under $2,000 – Top Picks for 2023:
KEF Q350 + Q650C
Elac ARB51-GE Navis Premium
KLH Model Three
Triangle Esprit Comete Ez
Polk Legend L200
Hi-Vi Swans M5A
Sensitivity
87dB
No data
88dB
90dB
85.5dB
87dB
Maximum output
No data
300W
150W
160W
200W
70W
Frequency range
62Hz – 28kHz
44Hz – 28kHz
46Hz – 35kHz
49Hz – 22kHz
38Hz – 50kHz
35Hz – 40kHz
Dimensions
Q350: 14.25" X 8.25" X 12"
Q650C: 8.4" X 24.75" X 12"
13.6" X 7.4" X 9.5"
28.25" X 12.25" X 11.5"
12.75" X 7.9" X 15.75"
15.7" X 8.3" X 13.3"
34.25" X 23.25" X 29"
Weight (total)
46.8lbs
35.6lbs
29lbs
41lbs
44lbs
106.3lbs
Price

Find on Amazon

Find on Amazon





B&HPhotoVideo

Find on Amazon

Find on Amazon

Find on Amazon

Find on Amazon
Size and Weight
While bookshelf speakers in general are smaller and lighter than floor-standing models, there is a lot of variation between speakers. Typically, the more advanced the drivers and the higher the sound quality, the heavier and larger the speaker will be, though there are exceptions to this rule.
For those with small spaces who need a compact speaker, the Elac ARB51-GE and Triangle Esprit are the best options. For both sets, each speaker weighs around 20 pounds and has a relatively small footprint that allows them to potentially sit right on your entertainment center without the need for a dedicated stand. Of the two, the Elac ARB51-GE comes out slightly ahead, with a per-speaker weight of less than 18 pounds.
Most compact: Elac ARB51-GE Navis Premium
Sound Quality
Every piece that goes into a speaker affects how your music and movies sound when played through it, but the area of most concern is the driver array. Bookshelf speakers can use either a 2-way or 3-way design. A 2-way speaker has 2 drivers, a tweeter for the highs and a mid-low woofer, while 3-way speakers add a dedicated mid-range driver to this set. While you can certainly find 2-way speakers with high sonic detail and a full, articulate low end, a 3-way speaker as a rule provides a more detailed, clearer sound throughout the frequency range.
The set of drivers on the KEF Q350/Q650C system provides a deep, driving bass response with sparkling highs and good clarity in the mid-range, putting them in the upper end of the rankings as far as sound quality. For the best quality from a 2-speaker set, however, the Swans M5A is the winner, with the most powerful output on the list, as well as a wide frequency range and sophisticated 3-way driver array.
Highest sound quality: Swans M5A
Connectivity
All of these bookshelf speakers can be connected through cables to an amplifier, receiver, or other A/V equipment. This is arguably the best way to connect speakers to your system, providing the most accurate and consistent signal processing for the best possible sound.
For a modern home theater space, wireless connectivity is a helpful option to have. You'll get that on the Elac ARB51-GE and the Swans M5A, each of which has both Bluetooth and Wi-Fi capability built in. Of the two, the Swans M5A has a higher quality Bluetooth connection, maintaining sound quality better when using the wireless option.
Best connectivity: Swans M5A
---
KEF Q350 + Q650C Center Channel Speaker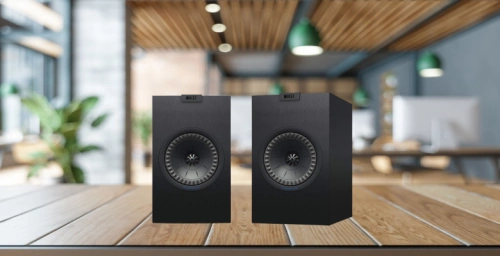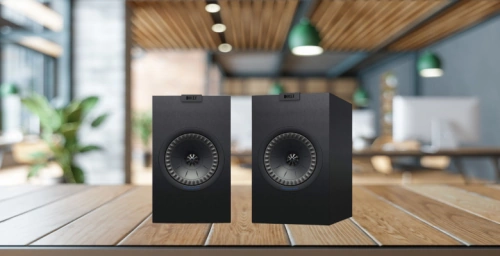 This three-speaker KEF system is an ideal setup for home theater spaces. It includes a pair of KEF Q350 bookshelf speakers with a central Q650C speaker. All three speakers work together seamlessly to provide clarity and power throughout the frequency range, producing an immersive three-dimensional sound experience in your home.
Each of these speakers uses a Unit-Q Driver Array with a sophisticated crossover that ensures bass accuracy and cleaner sound throughout the frequency range. All of them use a damped tweeter loading tube that keeps high-end frequencies well-balanced. The driver of the Q350 is in the middle of the cabinet to reduce resonance and noise, with a rear port for added clarity. The Q650C, meanwhile, uses a closed-cabinet design for low-end frequencies that are well-articulated and powerful at any dynamic level.
The only potential issue with this KEF system is that it does take up more space than your typical bookshelf speakers. The whole set weighs almost 50 pounds and will need a decent amount of shelf space, and the placement can make a significant difference in how the sound fills the space, so it may not be the best option for smaller rooms or cramped entertainment systems. It is also a bit annoying that the grille covers don't come included, though this is a relatively small expense and the set still comes in under $2,000 with this added purchase.
Pros
3-speaker system for immersive, powerful sound
Clear mid-range and dialogue
Smooth treble response
Full, punchy bass from dual 6.5" bass drivers
Available in black or white finishes
Rubber feet prevent damage to entertainment centers
Cons
Magnetic grilles must be purchased separately
No wireless connectivity option
---
Elac ARB51-GE Navis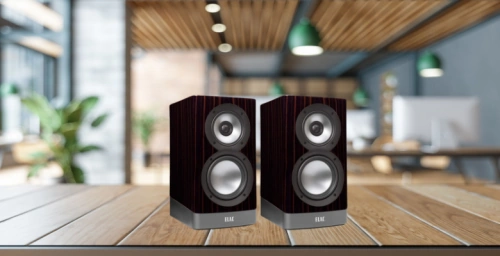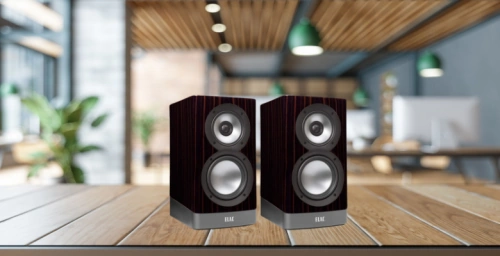 For those who need a compact, lightweight set of bookshelf speakers, the Elac ARB51-GE Navis Premium speakers are a top choice. Each speaker weighs less than 20 pounds and has a relatively small footprint. They're also very attractive, with options of solid black, solid white, or ebony woodgrain finishes, making them as easy to fit into your home décor.
You don't need to sacrifice sound quality or power for the sake of space with the Elac Navis Premium speakers, either. Each speaker uses a 3-way design, with a designated woofer, midrange driver, and tweeter. This improves the bass response compared to 2-way models and gives them a detailed, clear response across frequencies. You can also customize the sound easily, with three separate EQ switches on the back for the lows, mids, and highs.
The biggest difference between Elac ARB51-GE speakers and other options is that the sound production is all analog. There's no digital signal processing for analog signals as long as you're using a cable to connect the speakers. There's a wireless connection option, as well, with support for direct streaming from services like Spotify Connect and Apple AirPlay. This is a convenient feature, though the sound quality is noticeably better when you use a wired connection.
Pros
Pure and clear sound across the frequency range
3-way design gives excellent bass response
3 EQ switches for fine-tuning sound
Option of wired or wireless connection
Streams content directly through popular services
Compact and lightweight
Cons
Sound quality not as high through wireless connection
---
KLH Model Three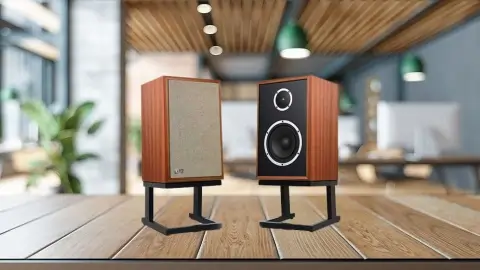 The KLH Model Three bookshelf speakers offer an impressive blend of mid-century design and cutting-edge audio technology. One of the things that immediately catches your attention is their sturdy build and unique, iconic aesthetic appeal, thanks to real wood veneers and sustainable MDF cabinetry. But it's not just about the looks; these speakers were built to deliver an unparalleled sound experience.
The Model Three's acoustic suspension design brings forth a superior, audiophile-quality performance that's typically associated with larger floor-standing speakers. It caters to a wide frequency range (46Hz – 20,000Hz), resulting in an authentic and detailed sound that truly stands out. The three-position acoustic balance control offers the flexibility to tailor the loudspeaker's output, making it versatile for various acoustic environments.
What truly makes the Model Three a standout product is its ability to deliver rich, musical sound, as highlighted by one of the customer reviews. It's an excellent choice for music enthusiasts seeking high-quality sound in a compact package. At its price point, the KLH Model Three offers significant value, combining top-notch sound performance, iconic design, and flexible usage. Read our full KLH Model Three review.
Pros
Delivers high-quality, audiophile-grade sound.
Compact yet powerful performance.
Adjustable acoustic balance control.
Robust and sustainable MDF cabinetry.
Iconic mid-century modern design.
Cons
Size larger than typical bookshelf speakers.
May require a powerful amplifier for peak performance
---
Triangle Esprit Comete Ez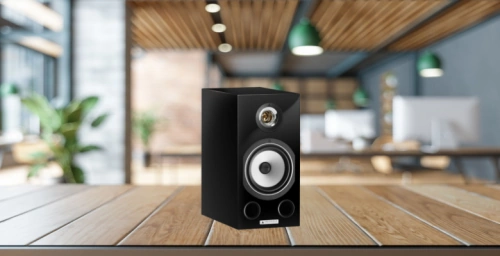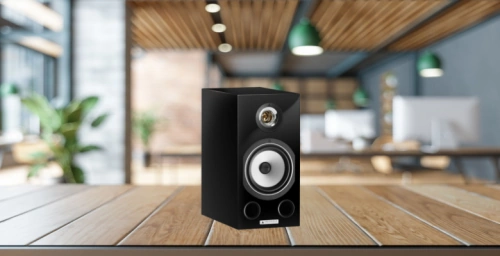 The Triangle Esprit Comete Ez gives a similar sound experience to floor-standing loudspeakers in a smaller package. This is largely thanks to its 6.5" natural paper cone mid-woofer, which gives a nuanced response for low and mid frequencies. Not only does that mean more low-end power, it also adds depth and realism to the listening experience, making this a great choice for medium-sized home theaters.
The sound quality on the high end is equally impressive. The Comete Ez uses a horn-loaded compression chamber with a TZ2510 titanium dome tweeter. Upper frequencies are well-balanced, powerful without being tinny or abrasive even at higher dynamics.
Now, we will say these speakers are still at their best when placed on dedicated stands. They are small and light enough to go right on most entertainment centers, however, so they still have the installation flexibility most look for in a bookshelf speaker set. Overall, the Triangle Esprit Comete Ez strikes the ideal balance, with a powerful output and a relatively small footprint at a reasonable price.
Pros
Efficient horn-loaded design
Excellent output for its size
Powerful low end
Works well with lower power amplifiers
Flexible with room placement and size
Cons
Higher resonance than other options
Low end is a bit boomy at high dynamics
---
Polk Legend L200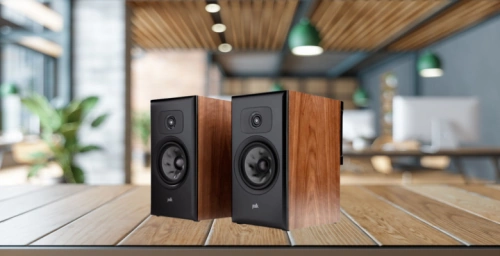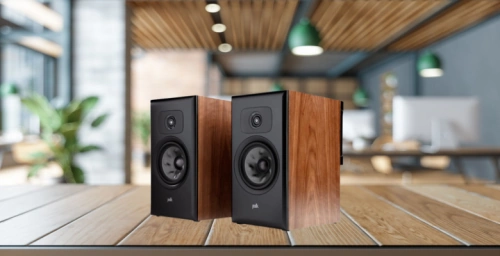 Polk is a leading name in audio equipment for a reason, and their live up to their reputation for quality with the Legend L200 bookshelf speakers. The Pinnacle Tweeter uses an improved ring radiator design that produces natural-sounding treble frequencies with exceptional clarity. For the low end, the rigid turbine cone woofer is punchy and articulate, so you can expect the same detail and depth across the frequency range.
The port design of the Polk Legend L200 is another plus. Polk has re-tooled the port geometry for smoother air flow with less distortion, turbulence, and noise than older port designs. This further enhances the clarity in the low end, ensuring you only hear the sound signal and not the speaker. They pay the same attention to detail with the grilles, which are acoustically inert and won't add annoying buzzing or other noises.
Now, we will say these are hefty speakers. In most spaces you'll want dedicated stands for them, both as a space necessity and to ensure they're at the correct height for ideal sound quality. They're at their best paired with a relatively powerful amplifier or receiver that can do full justice to their sonic potential.
Pros
Hi-Res Audio with wide frequency range
Clear, natural sound in upper frequencies
Detailed mid-range great for music or dialogue
Acoustically transparent grilles
Powerful bass with no added noise
Cons
Requires a powerful amplifier (70W+ per channel)
Not as compact as other options
---
Hi-Vi Swans M5A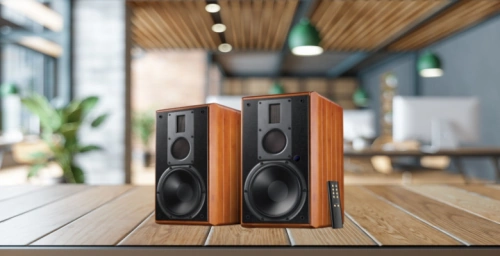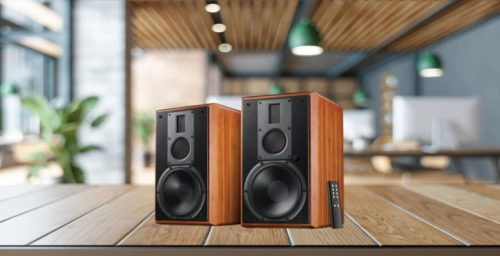 Not all bookshelf speakers have the power to fill a large space like a dedicated home theater. That's where the massive sound of the HiVi-Swans M5A is at its best. The 3-way driver array includes an 8" woofer that puts out the big sound you want for movie sound effects and grooving basslines. This is paired with a responsive ribbon tweeter and 3" mid-range driver, ensuring a full, authentic sound scape for any listening room or home entertainment space.
We also appreciate the control you get with the Swans M5A. The three EQ knobs on the back let you fine-tune the frequency balance to perfectly match your space and preferences. It also comes with a remote for easy volume adjustment or switching of inputs.
The overall design of the Swan M5A is equally impressive. Its solid wood cabinet is hand-crafted for a precision fit and attractive enough you'll want to put them on display. These speakers are also wireless-capable, with built in Wi-Fi and Bluetooth HD 5.0 connectivity. Our only warning is that if you're looking for bookshelf speakers because you have limited space, these probably aren't the best option—they're equal in size and weight to most standalone loudspeakers.
Pros
Exceptional detail and clarity from 3-way driver
3-knob EQ adjustment
Option of Bluetooth, Wi-Fi, or wired connections
Includes a remote for easy control
Solid wood cabinets with leather-coated front panel
Cons
---
The Verdict: The Best Bookshelf Speakers Under $2,000
Choosing the right bookshelf speakers is as much about what fits into your space as it is about the speakers themselves. While the Swans M5A have a lot of strengths, including the best sound quality and more connection options, they're also quite large and heavy (>>> Find on Amazon). For some, this makes a more compact speaker like the Dynaudio Evoke 10 or Elac ARB51-GE the better option.