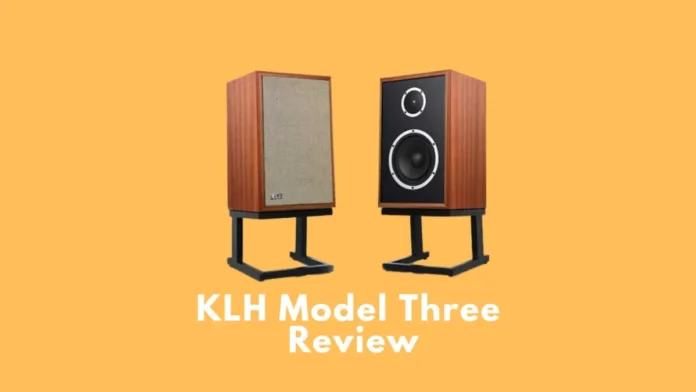 It is with great pleasure that I share my thoughts in this expanded KLH Model Three review. The audacious leap that KLH has taken with their latest installment, the Model Three bookshelf speaker, is truly commendable. This speaker, with its impressive array of features and an iconic mid-century modern design, brings a luxurious, audiophile-level performance to your listening spaces, regardless of their size. >>> Check the Latest Price on Amazon Now!
KLH Model Three Specs:
| | KLH Model Three |
| --- | --- |
| | |
| Where to Buy? | Find on Amazon |
| Specification | Detail |
| Frequency Response | 46Hz – 20,000Hz +/- 3dB |
| Low Frequency Extension | -10dB @ 35Hz |
| In-Room Sensitivity | 88dB @2.83V / 1M |
| Free-field Sensitivity | 85dB @ 2.83V / 1M |
| Power Handling | 150 Watts / 600 Watts Peak |
| Recommended Amplification | 30 Watts to 150 Watts |
| In-Room Maximum SPL | 108dB |
| Maximum Output @45Hz | 101dB |
| Impedance | 6 Ohms (3.7 ohm minimum @320 Hz) |
| Horizontal Dispersion | 140° Degrees |
| Features | Three-Position Acoustic Balance Control |
| Crossover Frequency | 1,600Hz |
| High Frequency Driver | 1" Aluminum Dome with Soft Rubber Suspension |
| Low Frequency Driver | 8" Pulp-Paper Cone with Reverse Roll Rubber Suspension, 1.5" Diameter Flat-Wire Voice Coil |
| Enclosure Material | Structurally Reinforced ¾" Medium Density Fiberboard |
| Inputs | Five-Way Gold-Plated Binding Posts |
| Height | 28.25" (71.8cm) w/ Included Riser Base, 19.0" (48.2cm) w/o Riser Base |
| Width | 12.25" (31.1cm) |
| Depth | 11.5" (29.2cm) w/ Included Riser Base, 10.5" (26.7cm) w/o Riser Base |
| Weight | 29Ibs. (13.2kg) w/o Riser Base, 36Ibs. (16.4kg) w/ Included Riser Base |
| Included Accessories | 8° Slant Riser Base |
| Latest Price | Find on Amazon |
Build Quality and Design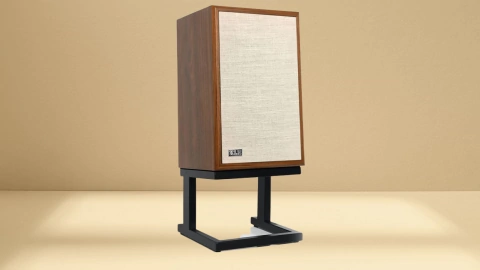 Striking a balance between physical presence and spatial practicality, the Model Three, while more substantial in size compared to typical bookshelf speakers, still maintains a relatively compact form factor. Its intelligent design ensures it can comfortably nestle into small to medium-sized rooms without overwhelming the space. One customer rightly encapsulated its essence as "build quality, looks, and most importantly, sound," a sentiment I wholeheartedly echo. The quality of materials used is top-notch, with real wood veneers, cast aluminum baskets, and robust MDF cabinetry offering both durability and visual appeal.
Pros
Audiophile-grade sound quality with excellent acoustic balance.
Robust build quality featuring real wood veneers.
Three-position Acoustic Balance Control for versatility.
Wide sound dispersion for an immersive experience.
Stylish design with customizable grille options.
Cons
Size might be substantial for some bookshelf spaces.
Requires careful pairing due to 6-Ohm impedance.
Detailed Aesthetic Appreciation
Delving deeper into aesthetics, the Model Three's mid-century modern styling brings an undeniable charm to any decor, effortlessly blending old-world grace with contemporary finesse. The speaker is no less than a piece of art, with a stunning palette of real wood veneers that catch the eye. Adding to the overall visual appeal, KLH offers a variety of customizable grille options: the Stone Wash Linen, the Old-World Linen, and the striking Basalt Black Knit. These can be purchased separately, allowing users to adapt the speakers to their personal taste and interior design themes.
Sound Quality: The Heart of the Model Three
The sonic prowess of the Model Three is genuinely remarkable, rivalling even the largest floor-standing speakers. Its two-way design continues the KLH acoustic suspension legacy, delivering accurate, audiophile-quality performance that is a delight to the senses.
The low-frequency driver, an 8″ pulp-paper cone with reverse roll rubber suspension, produces a precise and smooth bass response. The highs, delivered by a 1″ aluminum dome with soft rubber suspension, are detailed and well-extended, providing a rounded, harmonic sonic experience. The crossover frequency is set at 1,600Hz, ensuring seamless integration of bass and treble, creating a rich tapestry of sound that is nothing short of enchanting.
Power and Sensitivity
In terms of power, the Model Three packs a punch. With the capacity to handle up to 150 Watts and peak power handling up to 600 Watts, this compact speaker delivers impressive volumes without sacrificing sound quality. The in-room sensitivity of 88dB @2.83V/1M further underscores the speaker's efficiency, meaning you'll get plenty of volume even from moderately powered amplifiers.
Set-up and User Experience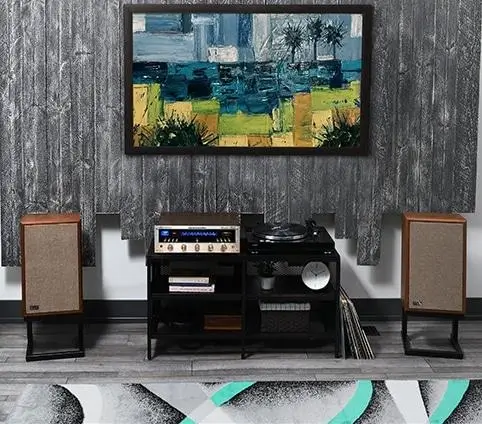 The Model Three also shines when it comes to the user experience. It comes with a comprehensive owner's manual that makes setup straightforward. From unboxing to tuning, every step is well-documented and easy to follow. Once set up, the speakers provide an intuitive user experience, with controls that are simple to understand and adjust.
Acoustic Balance Control
A feature that distinguishes the Model Three from many of its competitors is the three-position Acoustic Balance Control. This function allows you to tailor the loudspeaker's output to match the acoustics of your specific environment, providing an optimal listening experience regardless of the room's dimensions or characteristics.
Versatility and Placement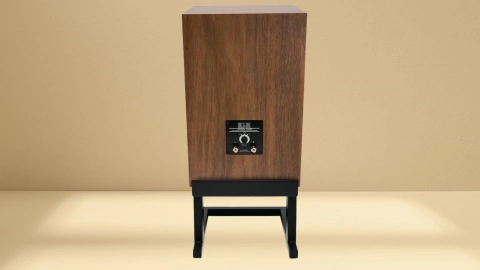 Further enhancing its versatility, the Model Three is designed for flexible placement. Unlike many other loudspeakers at this price point, the Model Three allows for close-to-wall placement, an advantage in smaller rooms or spaces with multiple uses. Additionally, the included 8-degree slant riser base ensures optimal sound dispersion regardless of the speaker's position.
Dispersion and Impedance
In terms of technical specifications, the Model Three offers an exceptionally wide horizontal dispersion of 140 degrees, ensuring a broad and immersive soundstage. The nominal impedance of 6 Ohms is fairly amplifier-friendly, though it requires careful pairing to ensure optimal performance.
Real-Life Experience: A Symphony in My Living Room
My personal experience with the Model Three was nothing short of exceptional. The immersive soundstage, the depth and richness of the bass, the clarity of the midrange, and the crispness of the highs left me truly captivated.
In particular, vinyl records played on the Model Three came alive in a way I hadn't previously experienced. The warmth and richness of the sound, the resonance of the vocals, and the detail in the instrumentals were simply astounding. It was as though the musicians were performing live in my living room, such was the clarity and realism of the sound.
Customer Feedback
Customer reviews of the Model Three are overwhelmingly positive. Many users have praised the speakers' rich, musical sound quality, excellent build and styling, and value for money. Even when compared to more expensive and precision-focused setups, the Model Three holds its own with its warm and "analog" sound.
Value for Money
When considering the price point, the Model Three offers significant value for money. With its combination of high-quality materials, aesthetic appeal, advanced features, and outstanding sound performance, it provides an audio experience typically associated with much more expensive speakers.
Verdict
To conclude this KLH Model Three review, I can confidently state that these speakers are more than just an audio device; they are an investment in quality and performance. Their unique blend of aesthetic appeal, remarkable sound quality, and durability make them an excellent choice for music lovers and audiophiles alike. For those seeking speakers with a "musical" and "analog" sound that deliver on both looks and performance, the Model Three is definitely worth considering. It is not every day that you come across a bookshelf speaker with the heart of a floor-stander! >>> Find on Amazon Now!
Related Guides: