An A/V receiver isn't just useful in a home theater context. They're just as useful for music lovers, serving as a hub for your speakers and music players and maintaining the integrity and quality of the audio signal. The best A/V receiver for music has high-fidelity sound, as well as the inputs and configuration options that let it work with all of your equipment.
All of the receivers we've reviewed here meet those standards, and anyone could be an excellent choice. If pressed to pick a favorite, the Marantz SR8015 has broad channel support and exceptional sound quality and is the best receiver on the list looking just at the stats (>>> Find on Amazon). That doesn't mean it will be the best choice for everyone, though. Check out the side-by-side comparison of the key features to find the right one for you.
Best AV Receiver  for Music 2022 – Top picks:
Sound Quality
This is the most important consideration for most when they're shopping for a receiver for music. While the speakers you use are also a big piece of the puzzle, the receiver is responsible for maintaining the quality of the audio signal and providing power to give room-filling sound with no distortion.
The true hi-fi sound of the Marantz SR8015 gives it the best overall sound quality on the list. Its 11.2-channel system, support for 3D sound, and high 140 watts of power per channel round out its strong sound features.
Best sound quality: Marantz SR8015
Speaker Channels
A 5.1-channel or 7.2-channel system will be enough in smaller rooms, but for a larger space, more speaker channels means a more immersive, realistic overall sound. Having more channels also opens up the option for overhead speakers that take the sonic picture into 3 dimensions. Both the Marantz SR8015 and Denon AVR-X6700H have 11.2 channels, and can process up to 13.2 channels along with supporting 3D configurations.
Most channels: Denon AVR-X6700H, Marantz SR8015
Smart Features and Streaming
Hands-free control is a convenient feature in a receiver, adding voice control support to your speakers and devices. Most of these receivers also support direct streaming of music through popular services like Spotify and Pandora.
For smart home users, Denon receivers generally offer the best integration and most robust voice control support. Not only do they work with multiple voice control services, they also support home automation systems like Josh.ai that you can't use with the Marantz and Yamaha models reviewed here.
Best smart features: Denon AVR series (X6700H, X4700H, and X2700H)
Usability
In the past, A/V receivers have had a reputation for being inaccessible to non-A/V geeks. They've become much more user-friendly over the years but larger, more complicated units can still be intimidating for non-techies and novices, especially once you start digging into the sound and calibration settings.
With its automatic sound optimization and guided setup, the Yamaha RX-V6A is a breeze for even complete beginners to set up and use. Its rear panel is also a bit more streamlined than the other options, ideal for less complex or streaming-based listening areas.
Easiest to use: Yamaha RX-V6A
---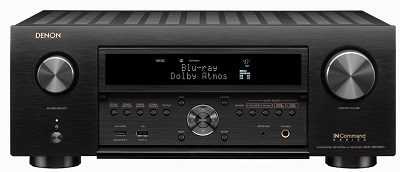 The Denon AVR-X6700H is one of the most powerful and versatile A/V receivers you'll find on the market. It's also one of the smartest. Along with direct streaming from a range of music apps, it supports a range of voice control services, including Alexa, Google Assistant, and Siri, as well as home automation systems like Control4 SDPP and Josh.ai. Thanks to this, it's easy to integrate into almost any smart home set-up, going beyond simple hands-free control to let users work it easily into automation routines.
The sound you'll get using the Denon AVR-X6700H is just as impressive. It has 11 speaker channels, each powered by 140 watts for excellent clarity and output across the frequency range. Support for Dolby Atmos Height Virtualization gives those channels a lot of flexibility, allowing for overhead speakers to create a truly immersive, 3D soundscape, something that's just as appealing for music lovers as it is for home theater uses.
With all these features you might expect the AVR-X6700H to be complicated to use. Its robust back panel can be intimidating for first-time receiver owners, but it's logically laid-out and well-labeled, so even novices can figure out where to plug in speakers and content sources. The digital read-out and front button panel are similarly intuitive, and the USB, HDMI, and headphone ports on the front panel are convenient for quick switching.
Pros
Powerful, room-filling audio with Dolby Atmos support
Height Virtualization for 3D sound system set-ups
Up to 13.2 channel processing
Supports streaming apps like TuneIn, Pandora, and Spotify
Compatible with HEOS multi-room music
Wide voice control support with easy smart home integration
Good array of wired inputs, including phono for turntables
Cons
Highest cost on the list
Can be intimidating for beginners
---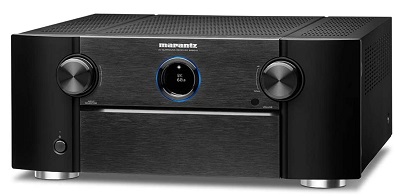 The Marantz SR8015 is among their most powerful A/V receivers and is an especially great choice for music lovers. It produces authentic and immersive sound from all content sources, giving the same balanced, musical audio performance to everything from streaming services to old-school vinyl.
The 11.2 channel support of the Marantz SR8015 is perfect for large listening rooms and home theater spaces where there's a lot of sound to fill. It also lets it support multiple 3D speaker configurations with height virtualization for overhead speakers. Support for technology like DTS Virtual:X and IMAX enhanced provides the same exceptional sound quality for movies and games that it brings to music.
One thing to keep in mind: The SR8015 is a beast of a receiver, both in terms of its power and its overall size. It's one of the trickier options on the list to set up simply because of the breadth of connections and options, though it does come with a helpful set-up and calibration guide. Tech-savvy users will likely find its setup intuitive, but like the Denon AVR-X6700H above it may be intimidating for A/V beginners.
Pros
Maintains sound quality even at high output
Processing for up to 13 speaker channels
Supports Pandora, Spotify, and TIDAL streaming services
Supports Dolby Atmos Height Virtualization for 3D sound
Works with all major voice control systems
Compatible with HEOS multi-room music and AirPlay2
Cons
Bulky build may not fit on all home entertainment systems
Can be more complicated to get set up
---
Denon AVR-X4700H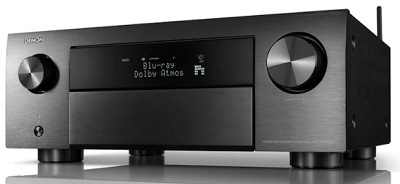 The Denon AVR-X4700H is the slightly scaled-down version of the X6700H. It has 9.2 native channels, with support for systems up to 11.2 channels—plenty large enough for most spaces. Those channels can also be configured into a 3D soundscape using Height Virtualization, with 125 watts of power per channel for a massive output with high audio quality and no distortion, even at higher volumes.
The design of the Denon AVR-X4700H includes a digital display and intuitive control panel. You can also change sound settings or inputs using the included remote or hands-free through voice control systems like Amazon Alexa, Apple Siri, and Google Assistant. It's another great choice for smart home users, too, integrating seamlessly into most smart home systems.
Setting up the Denon AVR-X4700H is relatively straightforward. Its rear connection panel has a good array of inputs and outputs, with an additional HDMI and USB input on the front control panel so you won't always need to get behind the receiver to plug in a new device. The only potential issue from a set-up standpoint is that it can have issues connecting to older Blu-ray players and devices, so it may not be the best choice if your home entertainment system uses a lot of older generation equipment.
Pros
Powerful sound from any content source
Processing for up to 11.2 channels
3D audio support
Multi-room music through AirPlay2 or HEOS
Easy smart home integration
Good array of inputs and outputs
Cons
Can have compatibility issues with older content sources
---
Marantz SR6015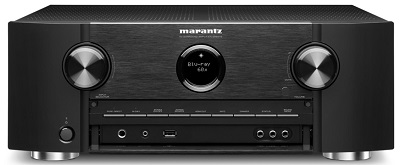 The Marantz SR6015 has 110 watts of power for each of its 9.2 channels—not the most on the market, but plenty to produce massive, room-filling sound. It preserves the integrity of your music well, too, with detailed lossless audio that's well-balanced across the frequency range. It uses the same circuitry and pre-amps you'll find on the SR8015, matching the sound quality of the more expensive model in a smaller package.
Controlling the Marantz SR6015 is easy, whether you're using the included remote or a voice control system like Siri or Alexa. The digital display on the receiver is somewhat small and limited compared to other models, though this isn't an issue for everyone, especially if you only need it to tell you which input you're on.
As far as compatibility and connectivity, the Marantz SR6015 is relatively versatile. It has a good number and variety of inputs, works well with home automation systems, and can be used with most speakers and devices. The only notable exception to this is that it's not compatible with all Sonos speakers—something to keep in mind if you use those for your home theater or listening room.
Pros
Output and channels to fill most listening areas
No compression for object-based audio formats through HDMI
Height Virtualization for 3D sound
Supports multi-room music
Voice control and smart home integration support
Cons
Limited information on digital display
Doesn't work with Sonos speakers
---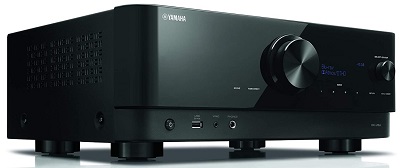 Yamaha has a reputation for delivering high-quality audio equipment at a great value, and they've lived up to that with their RX-V6A receiver. It uses the Yamaha Parametric Room Acoustic Optimizer (YPAO) which measures the output in 8 listening positions and adjusts to ensure the sound quality is equal across the room. It's also one of the most user-friendly options on the list, with a guided setup process that walks you through connecting speakers and devices, giving even beginners a fast and frustration-free installation.
The 7.2-channel system on the Yamaha RX-V6A powers enough speakers for most rooms, even larger spaces like home theaters. The output and quality are high and it has the wireless connectivity most expect in a modern receiver, including voice control and multi-room music support. The main sacrifice it makes compared to pricier models is that its 3D sound capabilities are more limited, with no configuration option for overhead speakers.
The Yamaha RX-V6A is an especially good choice if you listening to a lot of streamed music and MP3s. It supports a ton of streaming services, for one thing. Along with that, its Compressed Music Enhancer that restores lost information to compressed files, making them sound truer to their original format. On the flip side, it's not a great choice for complicated set-ups, with a single HDMI output and fewer input options.
Pros
Compressed music enhancer makes digital formats sound better
Acoustic optimizer adapts sound to suit your space
AV setup guide ideal for beginners
Wide support for music streaming systems
MusicCast multi-room music and surround sound
Voice control support through Alexa, Siri, or Google
Cons
Limited inputs and outputs
No Height Virtualization for overhead speakers
---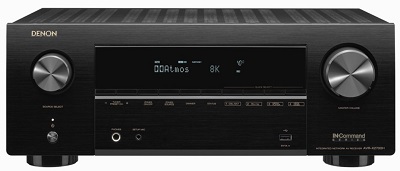 Here's another excellent option for smaller rooms and buyers on a budget. The Denon AVR-X2700H is one of the most affordable ways to get true 3D audio in your listening room, supporting 5.1.2 set-ups in addition to 7.2-channel surround sound systems. While it's not as powerful as pricier models, its output is plenty for most users.
There's no sacrifice in sound quality with the AVR-X2700H compared to other Denon receivers, another reason it's a top choice for value. Its design is similar, too, with a full digital display and a robust rear connection panel. One notable omission is that it doesn't have a front-facing HDMI port, so you will need to access the rear panel to add content sources.
From a usability standpoint, the Denon AVR-X2700H is one of the strongest performers on the list. It's a bit more streamlined, with a smaller and less complicated remote. Full wireless support gives it the same hands-free voice control and smart home integration options you'll get with other Denon receivers, as well as direct streaming through services like Pandora and Spotify.
Pros
High sound quality with balanced output
Full voice control through a range of services
True 3D audio with overhead speakers
Built-in wireless and HEOS support
Detailed digital display
Easy to set up and use
Cons
Output isn't as powerful (95 watts per channel)
No front-facing HDMI input
---
The Verdict
The Marantz SR8015 is the most impressive overall receiver on the list thanks to its wide channel support and superior hi-fi sound (>>> Check on Bhphotovideo). For many users, though, it's honestly more receiver than you need. A smaller, more affordable option like the Denon AVR-X2700H will still give you great sound and is easier to use for most. Consider what music formats you listen to most and the needs of your space. One of the receivers reviewed here is sure to be the perfect fit.
REFERENCES AND FURTHER READING: