When you begin your search for an A/V receiver, the Marantz SR8015 should be on your list for consideration. This high-quality receiver will simplify our setup and control of all of the components that make up your entertainment system. Will it stand up to the expectations you may have? We think so. Let's dig into it and explore what makes this our top pick. (>>> Check current price on Amazon)
Marantz SR8015 Features
The SR8015 is Marantz' latest A/V receiver to be introduced to the public. It has an 11 channel amplifier, produces 140 watts, and has a limit of 13.2 channel processing. It has 8K pass-through and supports all the latest sound formats, like Atmos, Dolby, IMAX, and DTS Virtual: X. You can expect to see the best in video compatibility as well as outstanding gaming. And this model allows you to use voice controls like Google Assist, Alexa, or Siri.
Audio Processing
Streaming music from sources like Pandora and Amazon Music is effortless with the Marantz SR8015. This receiver has built-in HEOS, 8K upscaling, Variable Refresh Rate (VRR), and HDMI Enhanced Audio Return Channel (eARC), which delivers a big boost in bandwidth and speed, allowing higher-quality audio to be delivered through the Marantz SR8015 receiver and driven out to your speakers. Each channel is amplified independently, providing a balanced sound that any true audiophile will appreciate. It also has some of the most flexible speaker and audio connection options of any of the its competition on the market today. Because it supports Dolby Atmos Height Virtualization, the use of overhead speakers is not a problem.
Pros
All surround sound sources supported
Excellent sound quality
13 channel processor
Speaker setup flexibility
HDMI 2.1 support
Auto Eco Mode to manage energy consumption
Low lag time for gaming consoles
Built-in Bluetooth and WIFI
Accepts commands from many voice control systems
Cons
Remote functionality is lacking
Runs hot
Expensive
Visual Execution
The Marantz SR8015 can handle video signals up to an 8K resolution through each of its 8 HDMI inputs. This makes it worth the investment because it won't become outdated any time in the near future. It processes video quickly enough that using the receiver for gaming consoles will not cause any disruption (lag) in the video signal. The SR8015 will process a 4K signal at a fast 120Hz pass-through rate, with VRR (variable refresh rate) and ALLM (automatic low latency mode).
Connections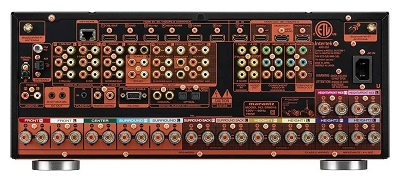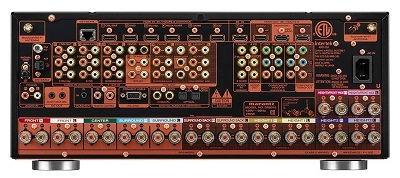 One look at the back panel will ensure you that the sky is the limit when it comes to connectivity. There are 8 HDMI inputs (one is 8K) and 3 outputs. It will deliver exceptional video integrity performance for gaming consoles because of the latest HDMI technologies such as 4K/120Hz pass-through and Auto Low Latency Mode (ALLM). It will enable you to send audio and video to multiple rooms and will work well with today's smart home setups. Because of its built-in Bluetooth and WIFI capability it will accept voice commands from all of the today's digital voice assistants, like Siri and Alexa.
Final Thoughts
The Marantz SR8015 is a top of the line A/V receiver. It will take your listening, video, and gaming experiences to a whole new level of enjoyment. It has a powerful amplifier, 8K pass-through, 8K upscaling, is full of streaming possibilities, and is compatible with all of the latest audio formats. (>>> Check current price on Bhphotovideo)
It may seem to be more receiver than you need at the moment, but that simply means that as new technologies are developed, you will not need to replace this receiver. It is an impressive A/V receiver from a company with a solid reputation for producing high-quality electronics.
REFERENCES AND FURTHER READING: