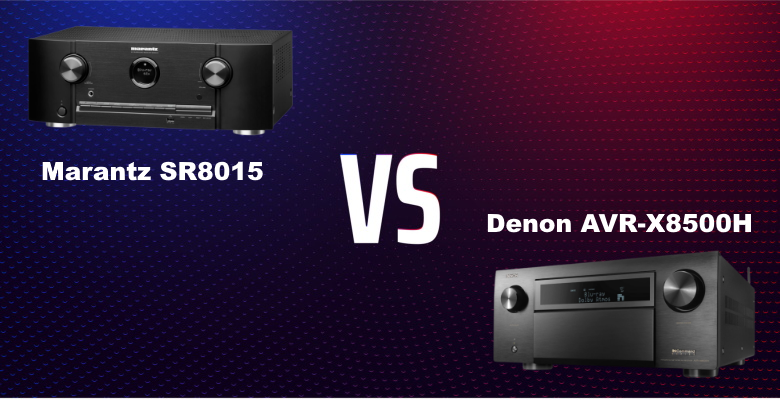 Today's televisions bring you stunning color and three-dimensional clarity, shouldn't your audio back that up with realistic sound and theater-quality depth? If you are picking between the Marantz SR8015 vs Denon AVR-X8500H receivers, we will let you know why the Denon is a better buy (>>> Find on Amazon).
Marantz SR8015 vs Denon AVR-X8500H Side by Side:
At a glance, these units look strikingly similar. In fact, if it were not for the labels, you might not tell them apart. That makes sense, since Marantz and Denon are both parts of Sound United LLC. In fact, these units share most of the internal and external components. They are both gorgeous, high-end units, and they look the part. But what matters is the technology you find underneath the classy exteriors.
Surround Sound Capabilities
One of the reasons the Denon takes the top rank here is because of the versatility. With a unit in this price range, you deserve the best options for getting complete sound coverage. The Denon 8500 is the world's first 13.2-capable home theater unit. It can be configured to incorporate numerous different setups including 9.1.4 and 7.1.6 Atmos designs, 9.1.2, 7.1.4, and it will even support speakers in other rooms with up to 15 speaker outputs.
With a capability of only 11.2 configuration max, the Marantz is at an obvious disadvantage. It can configure to the Dolby Atmos settings of 9.2.2 and 7.2.4, or can be set in more conventional configurations. The extra channels can power speakers in other rooms, on the patio, or in the garage. The biggest disadvantage here is the additional offerings from Denon.
Per-Channel Power
The Denon receiver edges out the Marantz, offering 13 powered channels at 150 watts a piece. The Marantz offers up to 140 watts to 9 channels, so it isn't as powerful or as versatile when it comes to designing the ultimate in home theater surround sound. When you are considering equipment in this price range, you deserve the very best available, and it is clearly the Denon receiver. Click here for our more in-depth Denon AVR-X8500H review.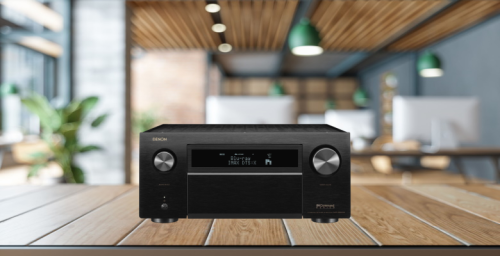 Denon AVR-X8500H
Pros
2 channel surround sound receiver
Class-AB amplifiers for 13 channels
Unbelievably realistic surround sound
Cons
Lacks Dolby Height Virtualization
Only capable of providing 4k video resolution passthrough at 60hz
Playback Options
You need your receiver to do more than just perform, you need it to perform regardless of the source. These two are nearly identical in the various types of audio input protocols they accept. There are a few, minor differences, and it comes down to the age of these units. The Denon was introduced in late 2018, while the Marantz hit the market in Spring of 2020. As such, the Denon does not support Dolby Height Virtualization or DTS Virtual:X protocols.
Both options include HDR10, while the Marantz also is capable of HDR10+ content from Amazon. Both units are eARC supported and provide upscaling to 4k UHD from multiple sources.
Both units use the same software for voice control. Users can program Apple AirPlay, Google Assistant, and Amazon Alexa using the identical Bluetooth protocol. Neither device includes built-in Chromecast, but there are eight USB ports available on either device.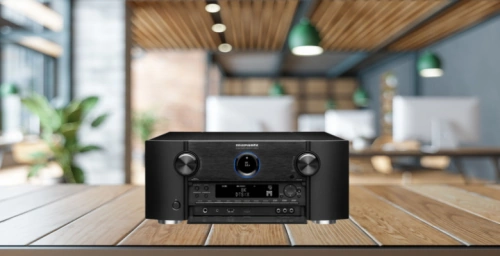 Marantz SR8015
Pros
Excellent 3D sound options, including the latest formats
Better HDMI port protocols for the audio-video feeds of the future
Cons
Not as powerful as the Denon AVR
Only provides power to 9 speakers
Room Correction Technology
This one is another draw, since Sound United uses one room correction protocol that is divided into four categories. Both Denon and Marantz offerings provide the top-of-the-line features using Multi EQ32 technology.
The Audyssey Platinum room correction provides you with an amazing amount of control to fine-tune your audio experience. Though the Denon lacks Dolby height Virtualization, it tends to be a non factor when you are using ceiling- or stand-mount speakers.
Expandability
Another win for Denon on this one. Simply having the multitude of speaker options would give the 8500 the advantage, but it is even more than that. Both units can provide other-room options, but only the Denon unit can do so without using any speakers from the main configuration.
That is because there are a total of 13 powered channels to the Marantz' nine. Setting your system up with remote speakers from the Marantz means you will lose speakers from your surround sound system.
Other than having more speakers, both units have identical connection options. You'll have dual subwoofer ports for external powered subs, three HDMI monitor outputs, and a total of eight audio-video inputs. Either of these receivers is going to provide you with expandability options galore, but the four additional powered speakers simply beats out the nine options with the Marantz.
Video Pass-Through
Here is another example of time being unkind to the Denon 8500. While both units provide pass through for numerous HD options, the Marantz uses the latest technology to provide video pass through at 8k resolution, while the Denon is limited to 4k formats. Even more notable, the Marantz SR8015 provides 4k resolution at 120 hz, providing a flicker-free environment particularly important for gamers. For our more in-depth review of this receiver click here. The Denon gives you only a 60hz framerate, which seems significant, but under most conditions, won't be relevant.
You'll have native pass-through for 4:4:4 color subsampling, support for Dolby Vision, and both units are 3d-ready. The Marantz gets the edge here simply because the new technology is available, even if it isn't wide spread.
Conclusion
There are more reasons to choose the Denon AVR than the Marantz, literally four of them. These are flagship, top-of-the-line receivers meant to provide the very best in sound quality, and side-by-side, there is very little difference. At some point in the future, should 8k resolution become more available, the Marantz may be a better receiver. But considering the lack of television and media support at this time, the Denon wins (>>> Check the current price on Amazon).
Neither of these units will be a disappointment, and they are both so similar, you may have a hard time telling them apart. Sound quality is simply so realistic action movies will make you flinch. Only time will tell how the merger of Marantz and Denon will affect the quality of each brand's products, but for the time being, Denon is still the best choice.
REFERENCES AND FURTHER READING: