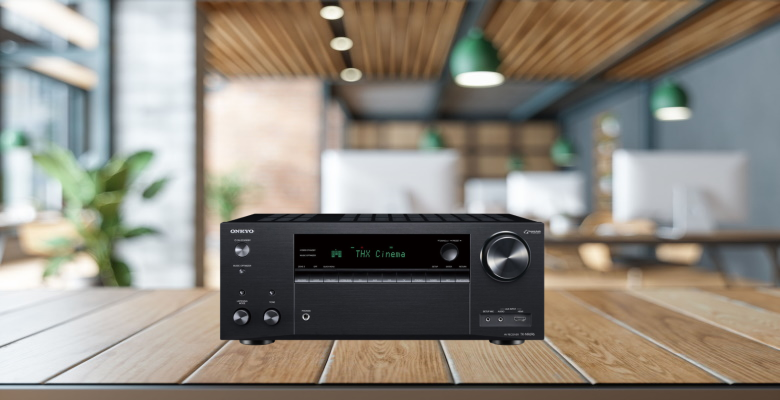 The Onkyo TX-NR696 was CNET's Best Receiver of 2020, praised for its exceptional sound quality and convenient smart features. With support for home theater technology like 4K resolution and THX sound, it's an excellent choice for most modern home theaters—but is it the best choice for your home?
We'll help you answer that question in this Onkyo TX-NR696 Review. With its broad wired and wireless connectivity and powerful 7.1-channel audio, it's a great fit for listening rooms, media rooms, and anywhere you want immersive sound (>>> Check current price on Amazon).
Onkyo TX-NR696 Review of Specifications:
Onkyo TX-NR696
Video
4K / 60p
Amplifier
7.2 Channel (100W per channel)
Sound
5.2.2 Dolby Atmos
Wi-Fi
Yes
Bluetooth
Yes
Price

Find on Amazon





B&HPhotoVideo
Installation and Set-up
The Onkyo TX-NF696 has both Bluetooth and Wi-Fi connectivity built in, along with an ample range of wired inputs, so it's an easy receiver to work into most home entertainment set-ups. It's also versatile in terms of which speakers you can use it with, and it works well with notoriously finicky Sonos speaker systems, along with Bluetooth and wired speakers from a range of manufacturers.
This is a fairly compact receiver, too. It's a bit tall, potentially an issue on crowded entertainment systems, but for most it fits nicely into your existing space. The front panel is clear and easy to navigate, with a digital display that make it easy to adjust your settings, change inputs, and control the receiver.
Audio Quality
A high dynamic power output of up to 210 watts per channel makes the Onkyo TX-NR696 one of the most powerful receivers you'll find. Not only can it get loud, it'll maintain the sound quality at all volume levels, with no distortion and a full sound that's well-balanced across the frequency range. It utilizes advanced audio technology to optimize the signal, with Phase-Matching Bass Boost and automatic compensation to avoid signal loss in compressed audio formats. Its AccuEQ Room Correction uses a microphone to read the room and adjust the audio output to match.
For home theater use, the Onkyo TX-NR696 supports technology like DTS:X, Dolby Atmos, and THX Certified Select. You'll hear dialogue and sound effects the way they were intended, at a consistent volume across content sources. You can also use Height Virtualization to add overhead speakers in a 5.2.2 set-up, giving you an immersive and three-dimensional soundscape.
Pros
Immersive sound with Dolby Height Virtualization
TXH certified for a consistent output across content
Supports 4K content and HDR10
AccuEQ automatic room correction system
Built-in wireless and Bluetooth connectivity
Compatible with Sonos speaker systems
Mirror content through Chromecast and AirPlay
Broad music streaming support
Cons
No built-in voice control
Not a great choice for gaming (No VRR or ALLM)
Video Quality
The 4K/60Hz pass-through on the Onkyo TX-NR696 makes it a great choice for modern home theaters. It works in both TV and projector based systems, giving it good versatility. The supported visual technology is just advanced as its audio support, including HDR10, Dolby Vision, HLG, and the BT.2020 color space. Paired with the right video equipment, you can get an Ultra HD picture as sharp and vibrant as what you'd see in a movie theater.
Smart Features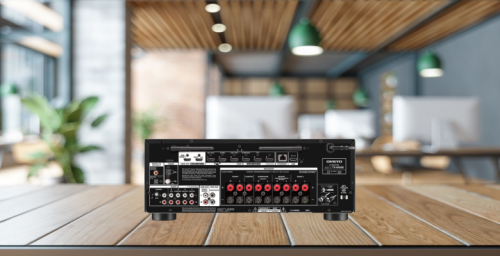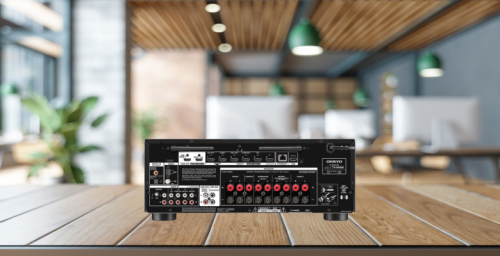 The Onkyo TX-NR696 lives up to its billing as a smart receiver from a streaming perspective. It has full wireless connectivity and support for popular music apps like Spotify, Pandora, and Amazon Music. You can also mirror content from Windows, Android, and Apple devices since it supports services like AirPlay2 and Chromecast.
The only thing this receiver is lacking from a smart perspective is built-in voice control. If you have a smart speaker equipped with Google Assistant voice control it will work with the Onkyo TX-NR696, at least for playback controls or changing tracks, but it lacks that capability without outside devices.
Onkyo TX-NR696 Review: The Bottom Line
For home theaters or listening rooms, the Onkyo TX-NR696 is an excellent choice. It's certainly one of the best receivers you'll find from a sound quality perspective, and its visual performance is strong, too. The only thing limiting its versatility is its gaming performance, and it may add lag when connected to modern consoles. With that caveat aside, it's a user-friendly option that's great for a range of home entertainment set-ups (>>> Check on Bhphotovideo).
REFERENCES AND FURTHER READING: