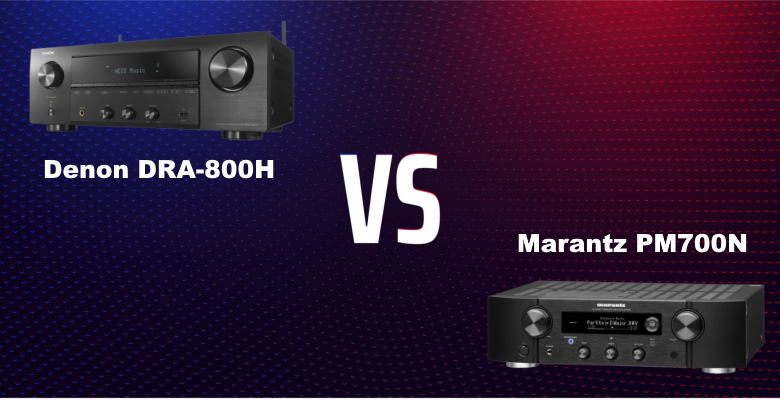 Comparing the Denon DRA-800H vs the Marantz PN7000H seems easy at first glance, especially if the price is a concern. The Denon A/V receiver and amplifier is priced lower and has more power per channel (>>> Check on Amazon). It also supports 4K content making it a great choice for movie lovers. The Marantz model is designed for music aficionados. The audio is crisp and clear with plenty of body.
Still having problems choosing between the two models. Here's a closer look at what you get with each component.
Denon DRA-800H vs Marantz PM7000N Side by Side:
Either model will boost audio quality, but there are some differences that may make one a better fit in your home.
Power
The amount of power per channel is something to look at. It can determine how good audio sounds across the room. The DRA-800H boasts 100W for stable, well-balanced sound at any volume. Music and dialogue are crisp and clear.
In comparison, the PM7000N has 60W of power per channel. It is less than the Denon model, but the amplifier comes with Pure Mode technology. It reproduces music accurately, so you hear every note and nuance of your favorite tunes.
Better Power: Denon DRA-800H
Connectivity
If you can't connect your external devices any amplifier is useless. The DRA-800H does come with a more robust control panel, but the Marantz still offers plenty of connectivity.
Both components come with phono, USB, and audio ports, along with inputs for TVs. Built-in HEOS simplifies streaming popular music services. It also lets you listen to different stations in various rooms. W
Where the DRA-800H comes out ahead is with its 5 HDMI inputs. You can connect a 4K TV, DVD player, gaming console, and others and enjoy exceptional image clarity that matches the audio quality.
Better Power: Denon DRA-800H
Ease of Installation and Use
You won't have a problem installing either component. Both are pretty straightforward with similar user manuals. Simply connect your external devices and turn the receiver on. As long as you are using the right outputs, you shouldn't have any problems. Even connecting a 4K TV is a breeze.
When it comes to using the receivers, they are equal. Both models come with simple remotes. Just press the button for the component you want. You can also play, pause, rewind, and skip tracts with either your voice or the remote. The receivers are compatible with Amazon Alexa making it easy to control the speakers in another zone.
Easier Installation and Use: Denon DRA-800H & Marantz PM7000N
---
Denon DRA-800H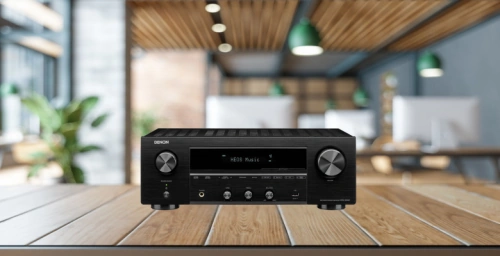 The Denon DRA-800H is an amplifier and A/V receiver capable of reproducing accurate audio and video. The 2-channel amp produces stable, well-balanced sound with a low impedance. You don't have to worry about interference ruining your audio experience. Advanced engineering ensures music and dialogue sound great every time.
HEOS technology is built-in so you can start streaming music from your favorite channels without spending time downloading the apps. Just plug your external device into the USB port. Hi-Res playback lets you store your favorite tunes on any USB compatible device. Plug the device in and the music you listen to most often is at your fingertips.
Along with crisp, clear audio, the DRA-800H also produces exceptional video. The component is compatible with 4K content. The 60Hz refresh rate is a little slow, especially for gamers, but you will get smooth frame-by-frame action with movies and live sports. HDR10 and HLG technology ensure colors are bright and accurate.
Pros
HDMI connectivity
Built-in HEOS
HDR10 and HLG support
Easy installation
Powerful sound
Cons
The refresh rate is slow and can cause live-action frames to blur or freeze
---
Marantz PM7000N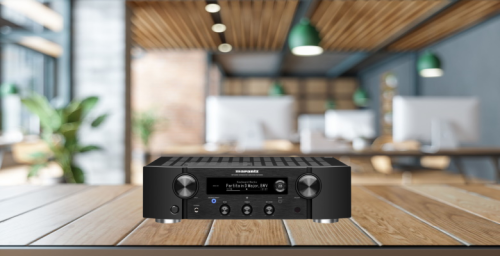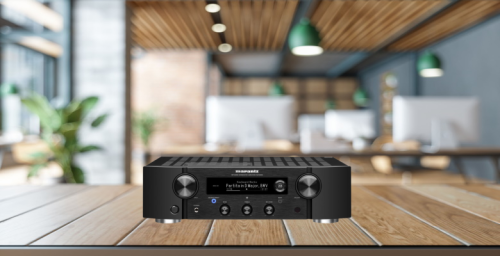 The Marantz PM7000N is a 2-channel app that integrates seamlessly into almost any entertainment setup. It comes with multiple ports, including one for LPs. You can listen to vinyl without distortion. Built-in HEOS and a USB port make it easy to stream your favorite music channels. You can even set up two separate zones in your house.
Pure Mode prevents interference from other digital devices. The Pure Mode function disables some or all connected devices, not in use. It turns the receiver into an analog amplifier capable of producing crisp, clear sound without any fuzziness or audio breaks. It also comes with feedback amplification further reducing any noise interference.
Your TV remote is compatible with the PM7000N. You don't have to memorize the buttons on another remote or try and keep track of it. It is also compatible with Amazon Alexa for easy voice control.
Pros
Multi-zone
Built-HEOS
Pure Mode
Hi-fidelity audio
Easy installation
Cons
It is not compatible with all TIDAL audio files
---
Conclusion
When you're deciding between the Denon DRA-800H and Marantz PM7000N, it comes down to what you need in an A/V receiver and amplifier. If you want a component that pays as much attention to image quality as sound, the DRA-800H is the better option (>>> Find on Bhphotovideo). It is also priced a little lower than the Marantz PM700H. However, audiophiles will find more to like with the PM700H. It is designed for streaming channels and capable of producing rich, full sound.
REFERENCES AND FURTHER READING: