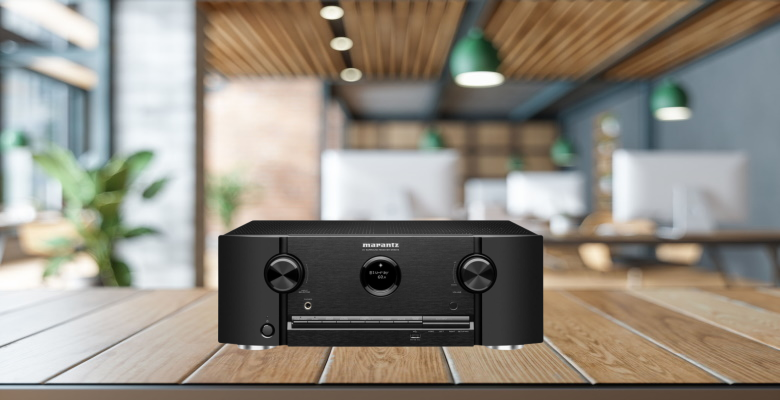 If you have a home entertainment system, or you are planning on installing one, then you need a high-quality AV receiver to bring it all together. If you want to invest in the best of the best, check out the Marantz sr5015.
As you would expect from a Marantz receiver, the SR5015 is all about immersive surround sound with richness and clarity. Take advantage of the latest technology to stream music, listen to your audio library, watch movies in your home theatre, or chill with your favorite show after a long day at work (>>> Check price on Amazon).
Want to know more? Read our Marantz SR5015 review to see what you could be missing out on.
Marantz SR5015 Review of Specs:
Sound
Before the Marantz sr5015 leaves the manufacturer, it is tuned and tested to provide you with the best sound possible. The extensive expert tuning means that the unit comes to you optimized for audio. When you do connect up your devices, you do not need to go through the exhaustive process of playing around with the settings (though that is fun too).
The multi-dimensional audio output gives a refined sound that pairs well with Dolby, IMAX, DTS, and more for flawless surround sound. The HEOS technology offers you high-resolution, uninterrupted music across multiple rooms. Focus your music on a single room or have it playing through your entire house. The best part is that there a multitude of ways that you can present the sound so that you are not disturbing family members in other rooms or the neighbors next door.
Home Cinema
If you have a home cinema and want to get cinema-quality screenings (or better), then prepare to be dazzled with 8k entertainment. The Marantz sr5015 has an 8k/60Hz video pass-through with up-scaling to take advantage of HDMI technology and give you visuals that you can't get with other equipment.
The Dynamic HDR and Quick Media Switching results in fewer video delays and other video interruptions. Watching movies with surround sound on a home entertainment system is amazing, but the visuals with this receiver are equally stunning.
Pros
8K & 4k with 60Hz & 120Hz passthrough
Amazing 3D sound
Zero lag for most gaming sessions
Voice assistant compatible
Almost every input/output you can imagine
Cons
More expensive than other models
Some bugs reported after upgrades
Support
Welcome to the future. The Marantz sr5015 is compatible with all of your voice assistants. Pair it with Amazon Alexa, Google Assistant, Apple Siri, or Josh.ai Smart Home and control everything with only your voice. The AV receiver may also be compatible with other voice assistants but always check with the manufacturer before you make a purchase.
Once you have the receiver hooked up to your voice assistant, you can use voice commands to play video and audio, as well as pausing, stopping, adjusting volume, and controlling any hooked up appliances, lights, or thermostats. Ditch the remote, sit back, relax, and stay in the moment.
Superior Gaming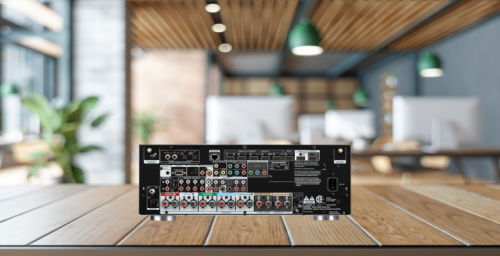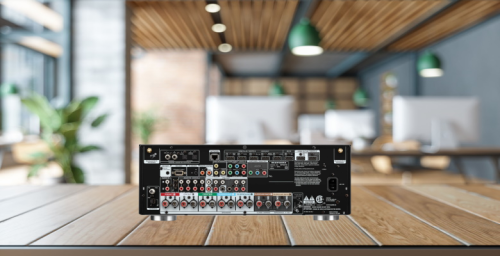 If you are a gamer, then you will appreciate the quality that you get with this piece of equipment. The 4k/120Hz passthrough gives you some of the highest quality gaming to date, allowing you to play your favorite first-person shooter or online games as they were meant to be played.
The Variable Refresh Rate, Quick Frame Transport, and Auto Low Latency Mode mean reduced lag and frame tearing, and, in most cases, that lag is eliminated altogether. There is nothing worse than a game glitching or stopping and starting, but that is a worry that you are not going to have.
What Are Customers Saying?
Most of the reviews for this unit are positive, and many customers have commented on the quality of the device. Amazing sound and visuals when watching movies, high-quality audio for music and podcasts, and great gaming experiences are what customers like the most, and there is a connection for everything.
With that said, having so many connections and options can leave some people overwhelmed with the numerous inputs and outputs on the back of the device, and you may not know where to start if you are new to the technology. It is also recommended that you read reviews before updating the software. There are devices that may not work with the new software, though not many have been reported and the manufacturer is actively working to remove these bugs.
The Verdict: Marantz SR5015 review
This is not an everyday AV receiver, and it is not marketed as that. It is on the upper end of the scale when it comes to cost, but there is a reason for that, and you very much get what you pay for (>>> Check current price on Bhphotovideo).
With so many connectivity options, and the ability to support almost every device, you can connect everything that you have and let the Marantz SR5015 take care of the rest. Once you have your tech hooked up to this receiver, you will understand what you are paying for. Not many devices at this price point come close in quality.
The bottom line is, if you want the best of the best, you have found it with the Marantz sr5015.
REFERENCES AND FURTHER READING: