Today we will review two nearly identical audio-video receivers. It shouldn't be a surprise to you how similar these devices are as both Denon and Marantz are brands of Sound United. If you are trying to decide to purchase the Marantz model SR5015 vs Denon AVR-X2700H you might have a hard time choosing. At the time of this writing, the Denon AVR-X2700H retails for less money, making it the better pick. (>>> Find on Amazon)
Marantz SR5015 vs Denon AVR-X2700H Side by Side:
Appearance
As far as the appearance of the Marantz SR5015 and the Denon AVR-X2700H, both have a modern, black finish and are nearly identical. The main difference between the appearance of the two models is the display screen. Denon elects to use a longer, rectangular display on the AVR-X2700H while Marantz uses a tiny, round screen for the SR5015 AV receiver.
Which AV Receiver Looks Better
Both the Marantz SR5015 and Denon AVR-X2700H have small physical buttons on a bar for selecting various options. Both units have large rotary knobs that provide volume and source selection. Though the Marantz SR5015 has a nice, modern look in comparison with the more dated appearance of the Denon AVR-X2700H av receiver, the longer display provides more room for larger characters, making it more practical.
Winner: Denon AVR X2700H
Power
Apart from the mild difference in appearance, these receivers have the same features. The Marantz provides slightly more power at 100 watts per channel to Denon's 95 watts, a difference that is all but irrelevant.
Power is supplied by integral amplifiers that are discreetly connected to each of the seven power channels. You'll get superior results from most speakers and the configuration makes connecting a separate power amplifier a snap.
Power Consumption
Both units provide a 7.2 channel sound environment. The Denon AVR-X2700H is more efficient, consuming 500 watts of power to 650 watts used by the Marantz SR5015. Lower power consumption and equal power output place the Denon ahead of the Marantz receiver.
Winner: Denon AVR-X2700H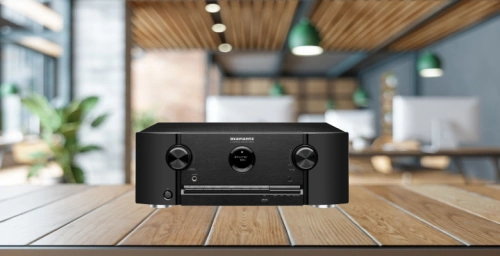 Marantz SR5015
Pros
Sleek, modern appearance that will look good in a modern setting
Front panel input ports provide easy options for connecting source devices you don't often use
Excellent audio quality that is fine tuned for a perfect environment
8K ready so you won't need to buy a new receiver as better technology is released
Cons
The cost is almost $1,200 at this time, making this receiver significantly more expensive than the Denon receiver priced at $899
If you need to send your receiver in for service, be prepared to pay shipping to Connecticut
Connectivity
There is only one difference in the available connection options between these two receivers. Marantz provides audio, composite, and USB inputs on the front. Denon only provides USB on the front panel, all other connections are in the back.
All HDMI ports are 4k-compatible. Both two models have six HDMI input ports and two HDMI output ports. This makes connecting a Blu-Ray player or your favorite video consoles a snap while ensuring you get the best possible video features.
Built-in Wi-Fi, Bluetooth, and ethernet networking are available on both models. They are designed to run a number of your favorite streaming apps including Pandora, Serios XM Radio, Spotify, and Apple Air Play2 so you can rock out your favorite tunes however you want to access them.
Both feature the latest in HDMI technology on all six inputs and both outputs. They both include the latest HDCP 2.3 protocol to ensure copyright protection and compatibility. Both receivers provide the same speaker connections, audio, and composite inputs.
An eARC port is ideal for connecting to a 4k-compatible television so that you can watch and hear content in the most realistic format. You'll also find a phono input that lets you combine your turntable with either of the two models. The Denon AVR-X2700H vs Marantz SR5015 difference is the better front panel connection options offered by the Marantz sr5015.
Winner: Marantz SR5015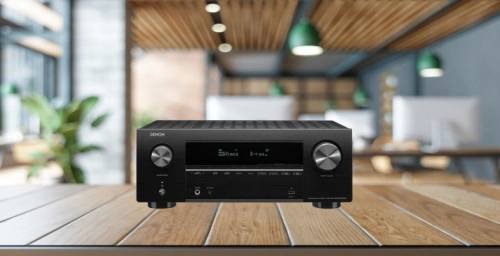 Denon AVR-X2700H
Pros
Easy to set up and provides lots of adjustment to fine-tune your system to your liking
Offers amazing audio quality and simple 4K passthrough that works well
Ideal for gaming due to the built-in technology to provide seamless video and amazing audio quality
Priced right for the market
Cons
Dated look due to the display screen
Repairs suffer the same problem as Marantz
8K/4K Performance
The two models are 8K ready and have pass-through for 4K on all HDMI inputs. Both offer 8K at 60 Hz and 4K at 120 Hz for flicker-free, no-lag performance. These receivers offer 4:4:4 pure color sub-sampling to ensure you get the proper color on-screen.
Gamers are not an afterthought in technology with either AV receiver. Both include several important gaming-specific video features that reduce lag and improve graphics representation on screen for a superior immersive gaming experience.
The two models support Dolby Vision, HLG, HDR10, 21:9 video, and BT.2020 pass-through. Either of these receivers provides breathtaking video quality and true 3D realism. This category is a draw between the Denon AVR-X2700H vs Marantz SR5015.
Winner: The Marantz SR5015 and Denon AVR-X2700H are equal
Audio Performance
These receivers offer similar performance and options. Both provide amazing sound capabilities that support the newest sources including Dolby Atmos, Dolby Atmos Height Virtualization Technology, DTS:X, and DTS Virtual:X.
Both provide HDMI eARC connections. Neither unit provides support for HEOS speakers used as wireless surrounds, but they can be used for multizone stereo setups. Speaker connections are standard screw-type and there is no precious material plating.
The wide variety of supported formats means that no matter what type of media you are playing, you'll get the optimal effects as the original composer intended. Both of the av receiver models are top performers in terms of sound quality.
The Marantz sound is often referred to as 'balanced,' while Denon is more frequently described as a 'laid back' sound quality. Neither of these AV receiver models is considered to be punchy in the way they sound.
The Marantz SR5015 is likely going to impress gamers and movie fans while the Denon AVR-X2700H is better for people who listen to vinyl and want a more easy-going sound.
Winner: The Marantz SR5015 and Denon AVR-X2700H are equal
Tuning
The Marantz SR5015 and Denon AVR-X2700H use several technologies to tune the output to suit your entertainment room. They use Audyssey MultiEQ XT, an award-winning customization tool. This ensures your speakers get the proper signal at the right time to help create a comprehensive surround sound system.
There is little difference between the two, though more users report frustration using the Marantz app over the Denon app when tuning the Denon AVR-X2700H vs Marantz SR5015. Both support iPhone and Android along with many tablets for the setup process.
The tuning system allows you to set the specific frequency response for each speaker region. This will also allow you to artificially increase the height of the speaker without using ceiling-mount speakers.
Since both the AVR X2700H and the SR5015 use the same tuning program, you'll get similar results. In practice, the Audyssey MultiEQ XT does a fantastic job of managing the noise ratio to create a three-dimensional soundscape.
Winner: The Marantz SR5015 and Denon AVR-X2700H are equal
Networking
These two receivers offer several options for adding audio to other rooms. They use HEOS to power wireless speakers. Both devices offer two multiroom zones. Sound quality is excellent when using HEOS speakers and the loss of two channels in the main listening area is minimal.
Controlling music through built-in Bluetooth while streaming from a device is simple. Both units are ready to use Google Assistant, Apple Siri, and Amazon Alexa. They are also compatible with josh.ai to allow you to connect the receiver through your network environment. Since there is no difference between Denon AVR-X2700H vs Marantz SR5015, there is no winner here.
Winner: The Marantz SR5015 and Denon AVR-X2700H are equal
Gaming
These AV receiver models are ideal for an immersive gaming setup. The native 4K/ 120Hz passthrough is ideal for lagless gaming sessions. Variable refresh rates and Auto Low Latency Mode further enhance the sparkling gaming performance. There is no difference in features for the Denon AVR-X2700H vs Marantz SR5015.
Gaming Mode Issues
In the past, there were reports of faults with the chipset providing 4K passthrough. At this time, both companies provide an adapter that enables proper 4K passthrough. Problems with blackscreen should be a thing of the past. Gamers report that the Denon AVR-X2700H vs Marantz SR5015 differences are non-existent.
Winner: The Denon AVR-X2700H and Marantz SR5015 are equal.
Why We Chose Denon AVR-X2700 vs Marantz SR5015
If you think it might be a challenge to choose between these two models based on audio features and sound quality, you think correctly. Because they offer so many nearly or completely identical options, it really came down to splitting hairs.
The union between Marantz and Denon under the Sound United banner may result in high-quality and affordable products, but it is also making trouble for consumers who struggle to find the differences between the Denon AVR-X2700H vs Marantz SR5015.
Our extensive experience with both the classic and modern models of receivers from these companies tends to draw us toward the Denon AVR-X2700H vs Marantz SR5015, but that is a subjective qualifier. In reality, adding the Denon AVR-X2700H vs Marantz SR5015 will give you a very similar experience.
One thing that should be noted about these models is that the Denon AVR-X2700H is currently available and fully detailed on the Denon website. The Marantz sr5015 has not been officially discontinued and some models are still available through some third-party sellers, but the Marantz sr5015 is no longer on the manufacturer's website, indicating they don't intend to resume production.
Numerous companies scaled back on products during the COVID-19 pandemic and the resulting chip shortage. It may be the case that the debate of the Denon AVR-X2700H vs Marantz SR5015 has been settled by the bean-counters.
At the end of the day, we really like the sound and video options available through Denon and the model has consistently remained one of our favorites for jamming out to music, watching a legendary movie marathon, or kicking back with friends destroying it on a video game.
Conclusion
The Denon AVR-X2700H is one of our favorite receivers in this price range for lots of reasons. It works very well and provides an unbelievably deep and full sound stage. The Denon AVR-X2700H makes not-so-great speakers sound fantastic. When comparing the sound of the Denon AVR-X2700H vs Marantz SR5015 using identical speakers, the AVR-X2700H sounds smoother.
We like the modern appearance and the front inputs on the Marantz SR5015, but not enough to justify paying more to have them. Sound United claims to have alleviated the HDMI 2.3 issue, however, some buyers continue to report issues. As of 2022, issues with the protocol have largely evaporated indicating that Marantz solved the issue through an update.
If you are planning on using this receiver for gaming through a Playstation 5 or Xbox Series X, you may want to contact Sound United if you encounter problems. By and large, users are reporting only a few issues as of 2022 with gaming performance.
Overall, either of these units is fantastic and if it were not for the price difference, picking the Denon AVR-X2700H vs Marantz SR5015 would be somewhat of a coin flip. The cost difference coupled with the lower power consumption Makes the Denon AVR-X2700H receiver a better choice than the Marantz SR5015. (>>> Check the current price on Bhphotovideo)
REFERENCES AND FURTHER READING: