Today we will review two nearly identical audio-video receivers. It shouldn't be a surprise to you how similar these devices are as both Denon and Marantz are brands of Sound United. If you are trying to decide to purchase the Marantz SR5015 vs Denon AVR-X2700H you might have a hard time choosing. At the time of this writing, the Denon AVR-X2700H retails for less money, making it the better pick. (>>> Find on Amazon)
Marantz SR5015 vs Denon AVR-X2700H Side by Side
Appearance
As far as the appearance of these receivers goes, they have a modern, black finish. The receivers are nearly identical. The main difference is the display screen. Denon elects to use a longer, rectangular display while Marantz uses a tiny, round screen. Both units have small physical buttons on a bar for selecting various options. Both units have large rotary knobs that provide volume and source selection. Though the Marantz has a nice, modern look in comparison with the more dated appearance of the Denon receiver, the longer display provides more room for larger characters, making it more practical.
Power
Apart from the mild difference in appearance, these receivers have the same features. The Marantz provides slightly more power at 100 watts per channel to Denon's 95 watts, a difference that is all but irrelevant. Both units provide a 7.2 channel sound environment. The Denon receiver is more efficient, consuming 500 watts of power to 650 watts used by the Marantz product. Lower power consumption and equal power output places the Denon ahead of the Marantz receiver.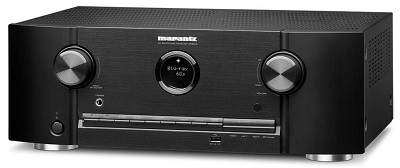 Marantz SR5015
Pros
Sleek, modern appearance that will look good in a modern setting
Front panel input ports provide easy options for connecting source devices you don't often use
Excellent audio quality that is fine tuned for a perfect environment
8K ready so you won't need to buy a new receiver as better technology is released
Cons
The cost is almost $1,200 at this time, making this receiver significantly more expensive than the Denon receiver priced at $899
If you need to send your receiver in for service, be prepared to pay shipping to Connecticut
Connectivity
There is only one difference in the available connection options between these two receivers. Marantz provides audio, composite, and USB inputs on the front. Denon only provides USB on the front, all other connections are in back.
Both feature the latest in HDMI technology on all six inputs and both outputs. They both include the latest HDCP 2.3 protocol to ensure copyright protection and compatibility. Both receivers provide the same speaker connections, audio, and composite inputs.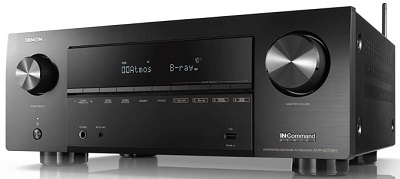 Denon AVR-X2700H
Pros
Easy to set up and provides lots of adjustment to fine-tune your system to your liking
Offers amazing audio quality and simple 4K passthrough that works well
Ideal for gaming due to the built-in technology to provide seamless video and amazing audio quality
Priced right for the market
Cons
Dated look due to the display screen
Repairs suffer the same problem as Marantz
8K/4K Performance
Both receivers are 8K ready and have passthrough for 4K on all inputs. Both offer 8K at 60 Hz and 4K at 120 Hz for flicker-free, no-lag performance. These receivers offer 4:4:4 pure color sub-sampling to ensure you get the proper color on-screen. Both support Dolby Vision, HLG, HDR10, 21:9 video, and BT.2020 pass-through. Either of these receivers provide breathtaking video quality and true 3D realism. This category is a draw between the two.
Audio Performance
These receivers offer similar performance and options. Both provide amazing sound capabilities that support the newest sources including Dolby Atmos, Dolby Atmos Height Virtualization Technology, DTS:X, DTS Virtual:X. Both provide HDMI eARC connections. Neither unit provides support for HEOS speakers used as wireless surrounds. Again, due to the near identical options, there is no winner in this category.
Tuning
These devices use several technologies to tune the output to your entertainment room. They use Audyssey MultiEQ XT, an award-winning customization tool. This ensures your speakers get the proper signal at the right time to help create a comprehensive surround sound system. There is little difference between the two, though more users report frustration using the Marantz app over the Denon app. Both support iPhone and Android along with many tablets.
Networking
These two receivers offer several options for adding audio to other rooms. They use HEOS to power wireless speakers. Both devices offer two multiroom zones. Controlling music through built-in Bluetooth while streaming from a device is simple. Both units are ready to use Google Assistant, Apple Siri, and Amazon Alexa. They are also compatible with josh.ai to allow you to connect the receiver through your network environment. Since there is no difference between these receivers, there is no winner here.
Gaming
These are ideal receivers for an immersive gaming setup. The native 4K/ 120Hz passthrough is ideal for lagless gaming sessions. Variable refresh rates and Auto Low Latency Mode further enhance the sparkling gaming performance. In the past, there were reports of faults with the chipset providing 4K passthrough. At this time, both companies provide an adapter that enables proper 4K passthrough. Problem with blackscreen should be a thing of the past.
Conclusion
The Denon AVR-X2700H is one of our favorite receivers in this price range for lots of reasons. It works very well and provides an unbelievably deep and full sound stage. The X2700H makes not-so-great speakers sound fantastic. We like the modern appearance and the front inputs on the Marantz, but not enough to justify paying $300 more to have them. Sound United claims to have alleviated the HDMI 2.3 issue, however some buyers continue to report issues. If you are planning on using this receiver for gaming through a Playstation 5 or XBox Series X, you may want to contact Sound United if you encounter problems.
Overall, either of these units are fantastic and if it were not for the price difference, picking between them would be somewhat of a coin flip. The cost difference coupled with the lower power consumption Makes the Denon AVR-X2700H receiver a better choice than the Marantz SR5015. (>>> Check the current price on Bhphotovideo)
REFERENCES AND FURTHER READING: