At first glance, it seems silly comparing the Denon AVR-X2600H vs the AVR-X2700H. Both A/V receivers come with the same number of channels and are equal in power. Audio support is also the same, but you need more than a great sound from an A/V receiver.
When it comes it video, the Denon AVR-2700H is the clear winner, especially with image quality (>>> Find on Amazon). You do get more connectivity with the AVR-2600H, along with a slightly easier installation.
If you're not sure which receiver is the right choice for your entertainment system, here's a closer look at each component.
Denon AVR-X2600H vs AVR-X2700H Side by Side:
Both Denon receivers deliver amazing sound quality, but they have differences that can help you decide which one to take home.
Sound Quality
The 7.2 channel receivers support Dolby Atmos and DTS:X for optimal sound quality from the high-current amplifiers. You get an impressive sound across all frequencies, without annoying distortion. Thanks to the 95-watts of power, you can fill a large room with crystal clear audio.
Have your entertainment system set up in a room with a high ceiling? Both models also come with Dolby Atmos Height Virtualization. Sound fills the room without leaving dead spots above your head. You'll hear the same great audio whether you are sitting or standing up.
Better Sound Quality: Denon AVR-X2700H
Video Quality
You can't compare the two A/V receivers when it comes to video quality. You won't be disappointed with the Denon AVR-X2600H. You get 4K upscaling, so even HD content is crisp and clear. It also comes with HDR10 support to optimize image clarity.
The AVR-2700H also boasts HDR10 support, but it also comes with an 8K video passthrough. 8K content may not be a thing yet, but you're ready for the next generation of picture resolution. You don't need to replace the AVR-2700H when 8K content is the new normal. It also comes with 4K upscaling, so all content is crisp and clear.
Better Video Quality: Denon AVR-X2700H
Connectivity
You get support for all of the popular audio streaming apps including Pandora, Spotify, Deezer, Napster, and more. The AVR-X2700H does support Bluetooth 4.2, while the AVR-X2600H is only compatible with the 4.1 version.
Where the AVR-X2600H comes out ahead is with its number of ports. Both have a front input for USB. It makes it easy to connect streaming sticks and other devices. A phone input, along with dual ones for composite video are also standard with both A/V receivers, but the AVR-X2600H comes with more HDMI ports. You even have one on the front.
Better Connectivity: Denon AVR-X2600H
---
Denon AVR-X2600H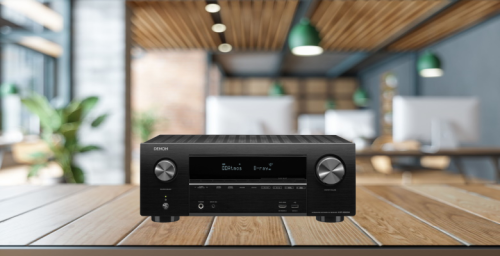 With Dolby Atmos and Surround, you get incredible three-dimensional audio. The 7.2 channels are powered by 95-watts producing amazingly clear sound. Add in DTS:X and Neural:X technology, and you can configure 5.1.2 channels to cover bass, mid, and treble ranges. You'll get an immersive audio experience.
Installation is a breeze with the Denon AVR-X2600H. It's a sturdy receiver but comes with all of the connections you need. You get 7 HDMI ports on the back panel that include a 4K pass-through. Audio and video ports are also standard, including an HDMI and USB port on the front. It makes it easy to swap out devices without having to move the receiver to get at the back.
The receiver is also responsible for image clarity, and you won't be disappointed with the AVR-X2600H. It is 4K compatible and comes with HDR10 support. You get bright, vivid images with crisp details.
Pros
Dolby Atmos
4K support
Alexa compatible
Powerful sound
HEOS support
Cons
The receiver does not support the newest Bluetooth version
It does not come with an 8K passthrough
---
Denon AVR-X2700H
Three-dimensional audio is an immersive experience, and it's what you get with the Denon AVR-X2700H. You have full Dolby Atmos and DTS:X support, along with Imax Enhanced. Audio is crisp and clear, whether you're listening to music or dialogue. 7.2 channels let you use a 5.1.2. configuration. You can fill almost any room with immersive audio.
You get stunning 4K content, even if it's cast in HD resolution. HDR10 support optimizes image clarity, along with the 240Hz refresh rate. Action films play smoothly, along with live-action sports. The fast refresh rate is also good news for casual gamers, but the input lag is too slow for avid players.
With six HDMI inputs and 3 outputs, you can easily connect all of your external devices. You also have an HDMI passthrough for 8K content. You may not need the passthrough yet, but it means the A/V receiver will still be relevant with image resolution increases. Click here for our more in-depth Denon AVR-X2700H review.
Pros
Voice control support
Multi-room connectivity
8K passthrough
Dolby Atmos sound
HDR10 support
Cons
Input lag is too slow for most gamers even with the 240Hz refresh rate
---
Conclusion
You won't regret taking home either Denon A/V receiver. You get the same great audio quality out of both models. It also applies to image clarity. Both upscale content to 4K definition.
Where the A/V receivers differ is with connectivity. The AVR-X2600H comes with more inputs, but the AVR-X2700H comes with an 8K passthrough. It is ready for the next generation of picture resolution.
If you want an A/V receiver that is ready for the future, the AVR-2700H is a great option (>>> Check the current price on Bhphotovideo). However, if you want more inputs and aren't ready to think about 8K the AVR-2600H deserves a look.
REFERENCES AND FURTHER READING: