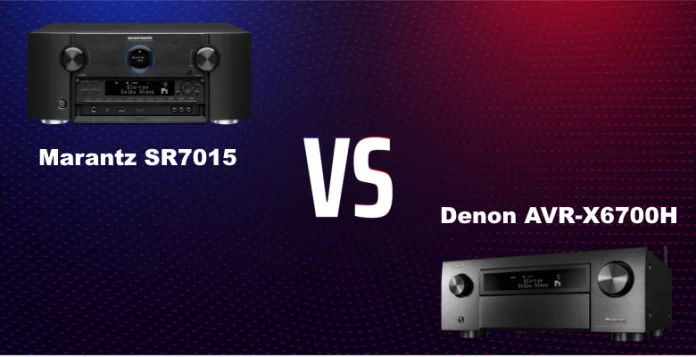 The day has finally arrived and you are ready to purchase a proper AV receiver for your home theater and entertainment room. You want excellent power, expandability, and a product that will last. If you are trying to decide between Marantz SR7015 vs Denon AVR-X6700H, we will make it easy for you.
The Denon AVR-X6700H packs way more features, better sound quality, and more versatility into the receiver at the same price point as the inferior Marantz product. This one is a no-brainer- buy Denon (>>> Find on Amazon).
Marantz SR7015 vs Denon AVR-X6700H Side by Side:
Marantz and Denon – Two Sides of the Same Coin
Years ago, there was a lot of difference between these two brands. That has changed as they are both part of the same conglomerate today. Now, you'll find nearly the identical product with different badges which can make it difficult to pick between the two products. That is certainly the case with these two top-of-the-line receivers.
Both of these units will support Dolby Atmos, 3D virtualization, and can support playback from dozens of sources. They have built-in voice recognition technology to allow you to use your favorite AI assistant. You can connect numerous HDMI components using the eight in and three out designs common to both units.
Even the video options are basically identical with full 8k/60Hz and 4k/120Hz resolution and frame rates. This provides lag-free video and gaming for smooth and accurate images. Full support for 3D video is included in both of these units.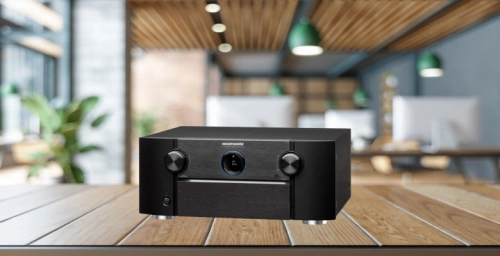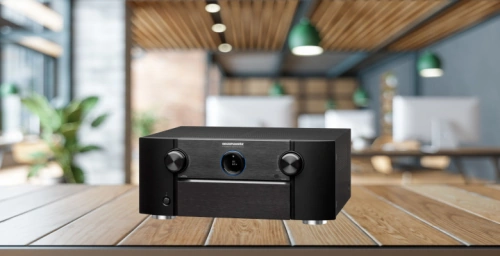 Marantz SR7015
Pros
Provides excellent options for 8K/4K pass-through
Receiver looks nice
Cons
Lacks HEOS support
No customer service
Impossible to service Marantz products- no product support outside of warranty, and limited availability of warranty claims due to third-party service centers
Frequent failures of amplifier channels that are irreparable
Lacks HDMI 2.3 support and all HDMI ports have numerous connectivity problems that require lots of additional effort to circumvent
Marantz SR7015 vs Denon AVR-X6700H – Key Differences
Armed with the above information and looking at the price tags full-well knowing these products are made by the same company, it would seem like they are too similar to tell the difference. Well, that's only part of the story here. Denon tosses in a little more for you, and provides an AV receiver you will love.
The biggest difference right off the bat is that the Denon features a fully amplified 11 channels of power. Rated at 140 watts per channel, you get tons of functionality and the ability to customize your audio experience to your particular tastes. Marantz only provides nine channels of power, and they only rate at 125 watts per channel. Denon offers you more power, more channels, and all for the same money. In fact, if you are sold on Marantz, they offer several receivers with up to 13 powered channels for less money than the SR7015.
Other differences are somewhat minor but can make a big difference. For example, the Marantz receiver uses HDMI 2.1 protocol while Denon uses HDMI 2.3. That gives you better functionality, more secure connections, and less dropping of signals.
Marantz is behind the times these days. This receiver lacks support for common protocols including DTS Neural:X, DTS Virtual:X, and other formats that you'll encounter when playing BluRay discs, renting from RedBox, and playing video games using Playstation PS4 Pro consoles.
Where the differences do count is in room calibration. Marantz uses a basic system to set the particular frequencies, phases, and function of speakers. Denon includes the award-winning Audyssey MultiEQ XT32 calibration system that provides a superior level of control to custom tailor your speakers to the room. Calibrating any AV receiver is a chore, so you should definitely buy a product that makes it easier and that is exactly what you get with Audyssey MultiEQ XT32.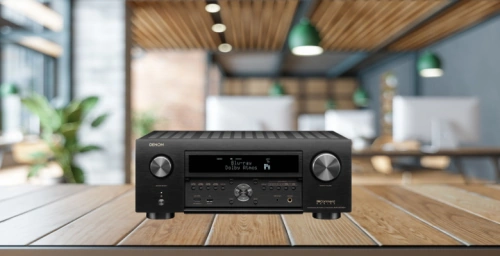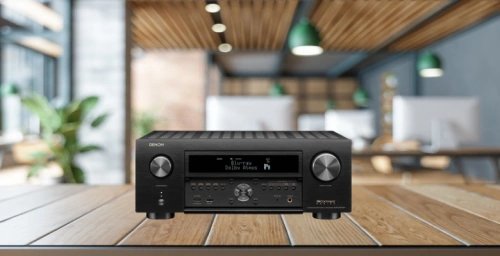 Denon AVR-X6700H
Pros
Lots of power and volume from 11 powered channels
Excellent room customization features through Audyssey MultiEQ XT32
Full compatibility with the most modern protocols and support for legacy systems
Built-in HEOS lets you add wireless speakers in other rooms
Very reliable receiver with few problems
Cons
Same customer service department as Marantz, which apparently doesn't exist
Problems Common to Both Receivers
It makes sense that anything wrong with one is wrong with the other, since they are made by the same company. There is one glaring issue both of these receivers have that causes buyers endless frustration: a total lack of customer service through Sound United, inc., the owner of Denon, Marantz, Polk Audio, and Boston Acoustics. Very few customers report positive experiences dealing with customer service. Numerous people report that they are simply ignored when they ask for help with Sound United products.
Problems that Separate These Receivers
Some issues are kind of surprising considering the incredible similarity of these two receivers. The biggest issues users report about the Marantz unit are issues connecting devices and staying connected. This unit tends to drop audio randomly and for no apparent reason, relegating it to mostly useless for many people. That's not good when you fork over this kind of cash.
A major source of the problem may have to do with outdated technology Marantz uses for connection ports. While Denon is using the latest and best of technology, Marantz continues to use systems that have been flawed for many years. Modern televisions and audio sources only make this issue more glaring.
Marantz also seems to have lost control of their marketing department, as this receiver is frequently advertised as providing 11 channels of power, despite only having nine powered channels. This is an issue numerous buyers have reported, yet Marantz has not changed their marketing. Chalk this one up to another instance of Sound United lacking customer support.
Head-to-Head Comparison
Perhaps nothing sets these two units apart like placing them side-by-side and running the same audio and video feeds to them. The Denon AVR simply shines, to the point you would think the Marantz receiver is a budget buy. The Denon produces much more realistic audio, better bass response, a more believable 3D sound environment, and it's easier to customize for your room. There really is no comparison in the way these receivers sound and function- The Denon AVR-X6700H sounds, looks, and feels high-end. The Marantz comes across like someone stuck in early 2000's tech in a modern chassis. Maybe it's the advantage of more powered channels or the easier ability to control the audio output, but the Denon simply sounds phenomenal while the Marantz makes you want to listen to the Denon again.
Conclusion
This is an easy choice. The Denon AVR-X6700H is simply a superior product with better technology at the same price as Marantz. In fact, you can buy cheaper Marantz products that offer more features and have a better reliability. When you are looking to upgrade your home audio experience, buy a Denon AVR and never look back (>>> Check the current price on ProjectorScrren.com).
Related Comparisons: