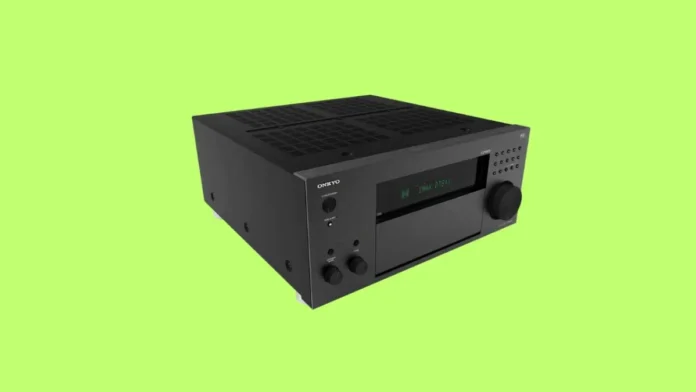 In our Onkyo TX-RZ70 review, we delve into the crowded realm of audiovisual equipment where the TX-RZ70 stands out. Garnering significant attention not just for its specifications, but also for its real-world performance, it becomes evident that Onkyo has, once again, aimed to strike a balance between cutting-edge technology and practical usability. Whether you're an audiophile, a movie buff, or simply seeking a reliable centerpiece for your home entertainment system, the TX-RZ70 is innovatively designed with the user experience in mind. Read on as we provide a comprehensive analysis of this receiver, enriched by genuine user experiences and hands-on insights. Discover the Best Price on Amazon Today!
In This Review:
Onkyo TX-RZ70 Specifications:
Onkyo TX-RZ70
Number of Channels
11.2
Stereo RMS Power (watts)
140
Hdmi Inputs/Outputs
7/3
Video Upscaling
To 4K and 8K
Weight
48.5 lbs
Features
Wi-Fi/Bluetooth®
Dirac Live® Room Correction
Optional Dirac Live® Bass Control
THX® Certified for Theater Reference Sound
Klipsch Optimized Mode
Today's Best Price

Find on Amazon



Unboxing the Onkyo TX-RZ70
The first thing you'll notice upon receiving the TX-RZ70 is its secure and well-designed packaging, ensuring that the unit arrives in pristine condition. Onkyo seems to have prioritized the product's protection during transit.
As you open the box, the Onkyo TX-RZ70 sits snugly within its protective styrofoam casing. Lifting the receiver out, its weight becomes immediately noticeable, reinforcing the idea that this isn't just another standard AVR. The build quality exudes durability and a premium feel, with a brushed metal front panel and sleek, minimalistic design.
  Get the Best Deal on Amazon Today!
Included in the box, aside from the receiver itself, are:
A comprehensive user manual that is both well-organized and easy to understand. For those who aren't well-versed in AV lingo, the guide does an excellent job of breaking down the setup and feature utilization.
A remote control, which, in comparison to some other AVRs on the market, feels ergonomic and user-friendly. The layout of the buttons seems intuitive, with frequently used controls easily accessible.
The necessary power cables and an assortment of labeled speaker connectors to assist in the setup process.
A calibration microphone for the Dirac Live® Room Correction system. The quality of this mic indicates that it's not merely an afterthought but a crucial component in ensuring optimal sound quality.
Design & Build of the Onkyo TX-RZ70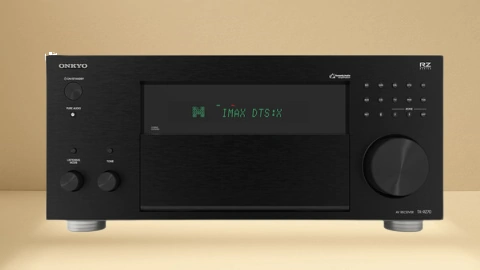 The Onkyo TX-RZ70's design is a harmonious blend of contemporary aesthetics and practical architecture. With dimensions of 17.1 x 7.9 x 18.9 inches, it takes up a notable space in an entertainment setup. Our tested device boasts a matte black finish, offering a sleek and stylish appearance that easily complements various interior styles. The brushed metal front panel, combined with the matte black hue, exudes sophistication without being overly flashy. The neatly organized buttons and the smooth volume knob on the front further demonstrate Onkyo's meticulous attention to both form and user experience.
Tipping the scales at 48.5 lbs, the TX-RZ70 is undoubtedly a substantial piece of equipment. Its weight, indicative of its robust build quality, provides a reassuring presence in one's setup. The solid construction, from its durable outer casing to its high-quality internal components, assures users of its longevity. Additionally, the unit's weight, coupled with a well-designed ventilation system, promises efficient heat management essential for prolonged usage. In summary, the TX-RZ70 is a clear embodiment of Onkyo's dedication to crafting products that are both aesthetically pleasing and built to stand the test of time.
Connectivity and Setup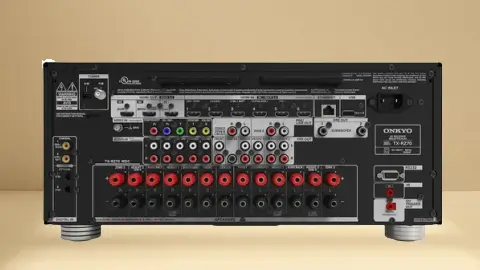 Upon our hands-on evaluation, the connectivity options of the TX-RZ70 stood out as both extensive and forward-thinking. The receiver offers a total of seven HDMI inputs and three outputs, all supporting eARC and ready for 8K/4K Ultra HD, which we found to be more than sufficient for connecting multiple devices, from gaming consoles to Blu-ray players and streaming devices. The inclusion of legacy connections like component and composite inputs was a pleasant nod to enthusiasts with vintage equipment. Additionally, the 13 preamp RCA connectors with two independent subwoofer outputs ensured flexibility for diverse audio setups.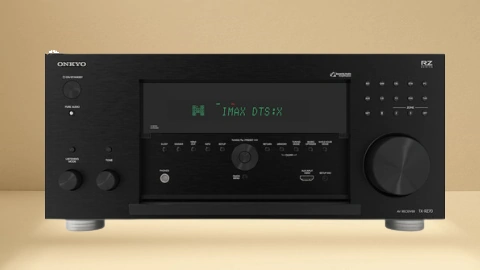 Setting up the TX-RZ70 was remarkably intuitive. Plugging in the provided calibration microphone, we initiated the Dirac Live® Room Correction system. The process was streamlined, with the system intelligently recognizing the connected speakers and adjusting the audio output to optimize performance for the room's acoustics. The on-screen interface, displayed on our test television, was easy to navigate, guiding us seamlessly through each step. For someone who might be new to AV receivers, Onkyo's user-friendly approach ensures that the initial setup doesn't feel daunting. For us, from unboxing to complete setup, the experience with the TX-RZ70 was both smooth and gratifying.
Amplifier and Sound Performance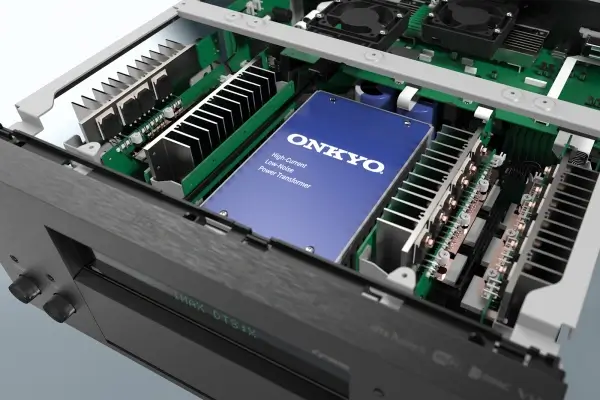 One of the main aspects we were eager to delve into was the TX-RZ70's amplification capabilities. With a formidable 140W x 11 channels at 8 ohms, we anticipated a powerful sound delivery, and the unit did not disappoint. We began our testing phase with a demanding soundtrack, wanting to push the receiver's Class AB amplifier to its limits. It was evident that Onkyo had engineered this device for resilience; even at higher volumes, the sound remained crisp, distortion-free, and dynamic. The layers of audio were distinctly discernible, with both the highs and the lows maintaining their clarity. The two independent subwoofer outputs enhanced the bass performance, resulting in a deep and resonant low-frequency response. We have selected the TX-RZ70 among the best 11.2 AV Receivers for 2023.
Transitioning to movie content, we activated the Dolby Atmos mode to evaluate its surround capabilities. The TX-RZ70 effortlessly recreated a cinematic atmosphere in our testing room, enveloping us in multi-dimensional sound that seemed to emanate from every direction. Dialogue remained clear and centered, while ambient sounds and soundtracks were presented with a spatial accuracy that truly immersed us in the on-screen narrative. It became evident that, beyond the technical specifications, the TX-RZ70's genuine prowess lies in its ability to translate audio files into a real-life auditory experience, proving itself as an essential addition to any serious home theater setup.
Video Performance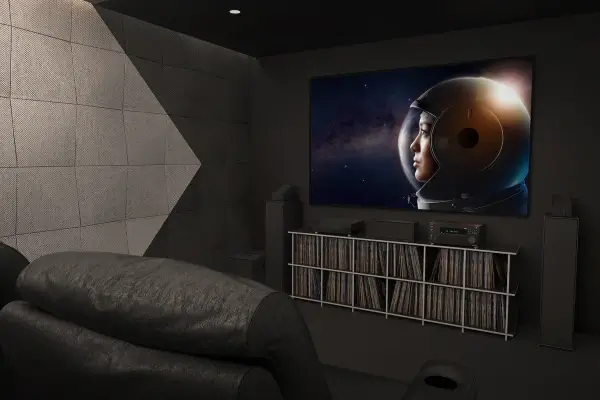 Assessing the video performance of the TX-RZ70, we first examined its 8K/4K Ultra HD support. Upon connecting the receiver to our 8K test television, we played a range of content from standard high-definition movies to gaming sequences. The TX-RZ70 reliably transmitted clear and detailed visuals. Color reproduction was accurate, and the added Dolby Vision support subtly improved contrast in scenes where it was employed.
Its HDMI 2.1 capabilities, including Variable Refresh Rate (VRR), Quick Frame Transport (QFT), and Auto Low Latency Mode (ALLM), became apparent when subjected to gaming tests. There was a noticeable consistency in the display, reducing instances of lag and screen tearing. While these features certainly enhanced the experience, it's worth noting that individual results might vary based on the connected display and source content. Overall, the TX-RZ70 performed its role competently, serving as a reliable conduit between the source and the display.
Pros & Cons
Pros
Extensive connectivity options support modern and legacy devices.
Intuitive Dirac Live® Room Correction system enhances audio setup.
Robust amplification delivers clear, distortion-free audio at high volumes.
8K/4K Ultra HD video support ensures sharp, detailed visuals.
THX Certification guarantees high fidelity sound reproduction.
Cons
Some users report issues with specific TV compatibility.
Occasional lag observed in audio-video synchronization.
---
Onkyo TX-RZ70 Review: The Verdict
In our Onkyo TX-RZ70 review, we found the receiver to be versatile, offering impressive audio and video performance, backed by comprehensive connectivity options. While the overall impression is positive, there are occasional compatibility and synchronization concerns. It stands as a solid choice for most home theaters, though individual needs might vary. Check the Latest Price on Amazon Now!