An 11.2 receiver gives you a lot of flexibility for a home entertainment system. For home theaters, it gives you the potential for full 3D surround sound. The extensive channel support is also ideal for multi-room music set-ups, letting you manage the sound in your entire home through one convenient place.
Any of the options reviewed on this list could earn the title of best 11.2 receiver. While the Marantz SR8015 scores the highest across all categories (>>> Find on Amazon), all of these receivers have their strengths and can be the perfect fit in the right home.
Best 11.2 Receiver 2022 – Top picks:
Home Theater Performance
When you're using a receiver to control a home theater, there are two main factors you want to consider: the quality of the video signal processing and the realism of the 3D soundscape. While all of these support 3D sound in some form, the variety of configurations on the Marantz SR8015 gives it a leg up. It's also the best from a video signal perspective, with 8K upscaling on all of its HDMI inputs and support for the latest visual technology.
Best home theater performance: Marantz SR8015
Music Listening
Audiophiles want to hear every detail of their favorite songs, every time they play. The balance of the sound signal is important, too. It's not just about having a powerful low end—you want a bass response that's full but doesn't obscure the clarity of the mid- and high-range frequencies. The option to stream your favorite songs through services like Spotify or SiriusXM is a convenient option, too.
The expert tuning of Marantz receivers makes them a good choice for listening to music, and the room optimization system on the Yamaha CX-A5200 also makes it a strong frontrunner, especially for music lovers on a budget. That said, the sophisticated amplification technology of the Pioneer Elite SC-LX904 gives it a slight edge over the competition, providing lossless, distortion-free audio at all dynamic levels.
Best for music: Pioneer Elite SC-LX904
Gaming Performance
The same things you want in a home theater receiver are also great for gaming, like an immersive 3D soundscape and high-contrast, high-resolution video. There's a third consideration gamers need to keep in mind, though: input lag. If your receiver adds delay to the signal, this could put you at a disadvantage in reflex-based games and make them frustrating to play.
The Denon AVR-X6700H is built with gamers in mind. It includes technology like Auto Low Latency Mode (ALLM) and Variable Refresh Rate (VRR) that prevent lag and frame tearing. The 120Hz 4K pass-through is also a plus for gamers, keeping the on-screen action smooth for all types of content.
Best for gaming: Denon AVR-X6700H
Smart Features
Hands-free control is a very helpful feature in an A/V receiver. You'll at least get the option of using Alexa with all of these receivers. The Denon AVR-X6700H is also compatible with Google Assistant, Siri, and Josh.ai, expanding its options for voice control.
There are two other stand-outs on the list from a smart perspective. The Yamaha CX-A5200 has the best intelligent internal controls, with automatic room calibration and sound optimization. For use with home automation systems, the Marantz SR8012 is our top choice. Not only does it support a range of voice control platforms, it works with more 3rd party home automation systems than other receivers.
Best internal smart features: Yamaha CX-A5200
Easiest smart home integration: Marantz SR8012
Use with Powered Speakers
Powered speakers need a different kind of receiver than other styles. Since they have amplifiers built in, they don't need a receiver with individual amps on the channels, but they do require more energy to sound their best. For this type of set-up, you're looking for a pre-amplifier like the Marantz AV7706, that can drive the amps in powered speakers to their full effect.
Best for use with powered speakers: Marantz AV7706
---
Denon AVR-X6700H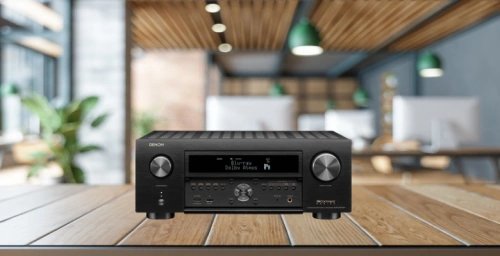 The Denon AVR-X6700H is an excellent receiver for a multi-purpose home entertainment system. It supports every kind of content with the same high quality. For movies and TV, you'll get video processing up to 8K resolutions, with support for advanced video technology like HDR10+, HLG, and 4:4:4 Pure Color sampling. Gamers will appreciate the 120Hz 4K pass-through and lag-reduction technology like ALLM and VRR.
The AVR-X6700H brings that same excellence to its sound processing. It uses Dolby Atmos Height Virtualization for an immersive 3D soundscape, with support for DTS:X and IMAX enhanced that ensures you're hearing music and movies the way they were intended. Each channel is driven by 140 watts of power for full output and clear, detailed sound.
We also appreciate how easy the AVR-X6700H is to use, even for a complete A/V beginner. The rear panel is robust but well-labeled, while the on-screen setup assistant guides users through connecting and calibrating the speakers and content sources. It's just as easy to use in wireless setups, with support for HEOS multi-room music and compatibility with all the popular voice control services. Click here for our more in-depth Denon AVR-X6700H review.
Pros
8K video processing with HDR10+
3D audio
Lag-free gaming
Multi-room music with HEOS
Guided on-screen setup and calibration
Compatible with multiple voice control services
Supports up to 13.2 channels
Cons
120Hz pass-through not supported for all sources
---
Marantz SR8015
Marantz has earned a reputation as one of the best companies for high-quality audio equipment, and they live up to this reputation with the SR8015. Its advanced technology makes it one of the top receivers for home theater use. This starts with its 8K upscaling on all HDMI ports, paired with visual technology like Dolby Vision and BT.2020 that brings remarkable clarity and color production to all content types.
Where the Marantz SR8015 really shines is its sound quality. Each channel uses a discrete high-power amplifier, driven by 140 watts. That gives it a massive potential output, for one thing, and also means more sonic detail and depth than most receivers can provide. If you want a fully immersive 3D soundscape for your home theater, the Marantz SR8015 will provide it.
For experienced home theater users, the Marantz SR8015 has an intuitive setup menu and rear connection panel. There's not much guidance through the set-up process, though, which could be frustrating for first-time receiver owners. It has a convenient layout once you get the hang of it, though, with front-facing HDMI and audio inputs and a sleek backlit digital display. Click here for our more in-depth Marantz SR8015 Review.
Pros
Powerful, well-balanced audio output
8K upscaling on all HDMI ports
Dedicated amplifiers on all sound channels
3D sound with Height Virtualization
Auto Eco Mode reduces power consumption
Built-in Alexa and Google voice control
Cons
Not as much home automation systems
Less set-up guidance
---
Yamaha CX-A5200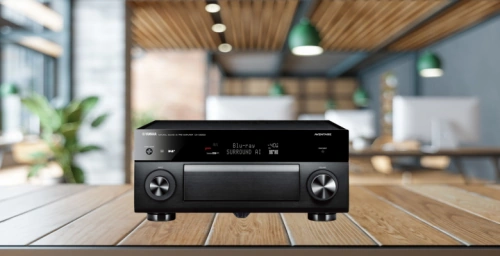 If the receivers above are a bit out of your budget, the Yamaha CX-A5200 is an option to consider. It sells for about half the price of high-end Marantz receivers and offers similar connectivity and wireless functionality. This includes support for the 3 most popular voice control systems, as well as direct streaming through services like Spotify and Pandora and easy multi-room music with MusicCast.
The Yamaha CX-A5200 supports video resolutions up to 4K, along with visual technology like BT.2020 and HLG for a crisp, vibrant image. On the sound side of things, its intelligent surround sound makes it a top choice for home theaters, using AI to optimize the balance of dialogue, music, and effects. Combined with its 3D sound technology through Dolby Atmos, it's an ideal tool for getting truly immersive, realistic home theater audio.
The Yamaha CX-A5200 is smart in other ways, too. Its YPAO calibration system analyzes the room's acoustics and tunes the sound to match the space. Along with the clear digital display and well-designed rear panel, this gives it an easy and fast set-up for users of all experience levels.
Pros
4K video signals with HLG and HDR10
Intelligent sound optimization
Supports 3D surround sound
Directly stream music through many popular apps
Voice control through Alexa, Siri, or Google
Supports MusicCast for multi-room music
Cons
No support for 8K resolution
---
Pioneer Elite SC-LX904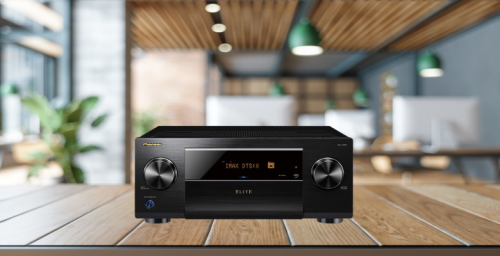 The Pioneer Elite SC-LX904 uses the company's proprietary MCACC Pro Auto Room Tuning technology, automatically correcting phase issues between the speakers to ensure a realistic 3D soundscape. This is further enhanced in IMAX Mode, giving you full, powerful audio to match the sharp 4K video.
The SC-LX904 uses the sixth generation of Pioneer's Direct Energy HD Amp, and the company has improved the technology with each iteration. The signal is well-balanced with no noise or loss, while the Precision Quartz Lock System (PQLS) ensures jitterless sound with no distortion. This is good news for music lovers, who can take advantage of the Audio Exclusive Mode to eliminate potential interference from video signals and just focus on the sound.
The GUI of the Pioneer Elite SC-LX904 is just as well-designed as its video and audio processing. It's easy to find and navigate the menus, switch inputs, and connect your speakers and content sources. The only place it falls a bit short is its voice control and smart features. It can work with Alexa if you already have an Echo or other device, but lacks the built-in streaming and broad smart home support of other models.
Pros
Optimized sound with MCACC Pro Auto Room Tuning
IMAX Mode gives a true cinema experience
Great for music lovers or home theater use
Supports Dolby 3D surround sound
Compatible with SONOS speakers
Works with Alexa through external device
Cons
Limited built-in smart features
---
Marantz SR8012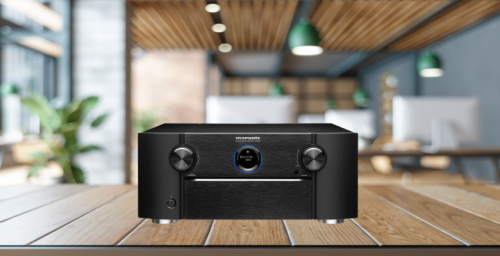 The Marantz SR8012 is very similar to the SR8015 reviewed above, especially when it comes to the high sound quality. In fact, the SR8012 exceeds its fellow Marantz receivers from a sound quality perspective, with more than 200 watts powering the dedicated driver on each channel. The Marantz SR8012 also offers a lot of flexibility for different sound configurations, whether you want a straightforward surround sound set-up, Dolby Atmos 3D sound, or multi-room control.
The SR8012 is an ideal receiver for use in 4K home theater set-ups, with 4K signal upscaling for lower resolutions. Support for HDR10, Dolby Vision, and 4:4:4 Pure Color sampling maintains the color and contrast of the video signal, for a picture that's realistic, accurate, and detailed from all sources. The only caveat here is that it doesn't support 8K resolutions—not an issue for most yet, but potentially a problem if you plan to upgrade to 8K in the future.
The Marantz SR8012 is one of the more accessible receivers in their catalog, too. It comes with a setup assistant that makes installing it fast and painless for most users. Smart homeowners will also find it integrates easily with a range of home automation systems, not just the Alexa voice control that comes standard.
Pros
4K upscaling for HD video signals
Dynamic EQ and volume control
Exceptional output and sound quality
Stream music through most online platforms
Supports 3D sound and multi-room music
Works with Alexa and 3rd party home automation systems
Cons
Doesn't support 8K video resolutions
---
Marantz AV7706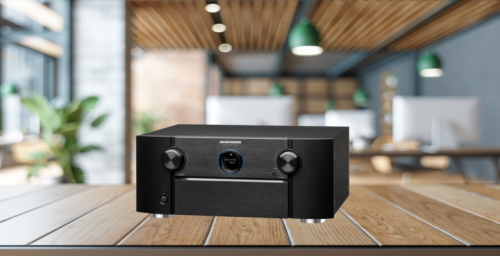 Last but not least, the Marantz AV7706 is another all-purpose home entertainment powerhouse, providing audiophile-level sound for music lovers and a cinema experience for home theaters. High resolution pre-amplifiers keep the sound signal pure, with support for the latest signal decoding technology to ensure that's true regardless of its source. The exclusive Hyper Dynamic Amplifier Module (HDAM) further optimizes the sound quality, and it supports the same flexible arrange of 3D sound configurations as other Marantz receivers on the list.
The video signal performance of the Marantz AV7706 is just as exceptional. It has an 8K pass-through with upscaling and dynamic HDR, with Quick Media Switching to prevent delays. However you watch your content, you'll get the full movie theater experience on both the visual and audio side with the Marantz AV7706.
The only downside of a receiver that's designed for audiophiles it that it does have a slightly higher learning curve. The guided set-up assistant covers the basics, but it may still take beginners a while to feel comfortable navigating all the settings. That said, its color-coded rear panel and graphic user interface make it relatively easy to install and connect into your system, and it supports multiple hands-free control options. For our more in-depth Marantz AV7706 review, click here.
Pros
High audio quality for music or home theater
8K pass-through and upscaling
Supports multiple 3D audio formats
Music streaming through Pandora, Spotify, and more
Voice control through Alexa, Apple, or Google
Guided setup
Cons
Higher learning curve for beginners
Should be used with external power amp or powered speakers
---
So What's the Best 11.2 Receiver?
The answer to that depends on your lifestyle and home. The Marantz SR8015 is the best overall performer, especially in a home theater context (>>> Check on Bhphotovideo). On the other hand, gamers will appreciate the low lag of the Denon AVR-X6700H, while the Yamaha CX-A5200 offers the best value. We hope this side-by-side comparison has helped you pick out the best 11.2 receiver for you!
REFERENCES AND FURTHER READING: