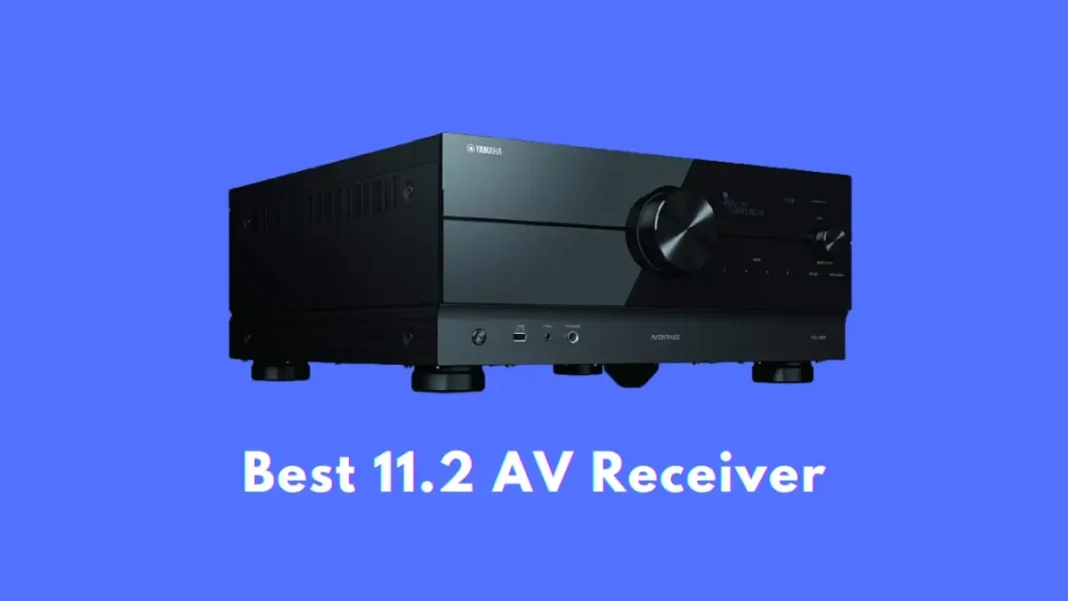 Welcome to our comprehensive guide for the best 11.2 receivers of 2023. Designed to help you navigate the complex world of home theater equipment, we have spent countless hours testing and researching to compile this list of six top-notch options that stand out in the market.
Our mission is to assist you in choosing the perfect 11.2 receiver that not only meets your needs but enhances your audio-visual experience to cinematic levels. Whether you're an audiophile seeking the most accurate sound reproduction, a home cinema enthusiast wanting a truly immersive experience, or simply a casual user looking for a reliable and versatile receiver, we've got you covered.
After rigorous comparison and evaluation, we're delighted to present the Yamaha RX-A8A AVENTAGE as our top pick for 2023. This powerful, state-of-the-art receiver from Yamaha's acclaimed AVENTAGE series redefines what's possible in terms of audio clarity, immersive surround sound, and smart connectivity. >>> Get the Best Deal on Amazon Today!
However, we acknowledge that every home theater setup is unique and has its own specific requirements. So, we have included five other impressive models on our list, each excelling in its own way, to help you make the most informed choice possible. Stay tuned to find the perfect 11.2 receiver that matches your budget, features, and performance expectations.
Best 11.2 Receiver 2023 – Top picks:
YAMAHA RX-A8A AVENTAGE
Onkyo TX-RZ70
Sony STR-AZ5000ES
Denon AVR-X6700H
Marantz SR8015
Marantz AV7706
Amplifier
11.2 Channel (150W per channel)
11.2 Channel (140W per channel)
11.2 Channel (120W per channel)
11.2 Channel (140W per channel)
11.2 Channels (140W per channel)
11.2 Channel
Audio Signal Formats
Dolby Atmos, Dolby Digital Plus, Dolby TrueHD
DTS:X, DTS-HD Master Audio, DTS-HD High Resolution, DTS Express
Dolby Atmos, Dolby Digital Plus, Dolby TrueHD, Dolby Digital
DTS:X, DTS-HD Master Audio, DTS-HD High Resolution, DTS Express, DTS-ES, DTS 96/24, DTS
Dolby Atmos, Dolby Digital Plus, Dolby TrueHD
DTS:X, DTS-HD Master Audio, DTS-HD High Resolution, DTS Express
Dolby Atmos, Dolby Digital Plus, Dolby TrueHD
DTS:X, DTS-HD Master Audio, DTS-HD High Resolution, DTS Expres
Dolby Atmos, Dolby Digital Plus, Dolby TrueHD
DTS:X, DTS-HD Master Audio, DTS-HD High Resolution, DTS Express
Dolby Atmos, Dolby Digital Plus, Dolby TrueHD
DTS:X, DTS-HD Master Audio, DTS-HD High Resolution, DTS Express
Video
8K/60Hz, 4K/120Hz
4K/120Hz; 8K/60Hz
8K/60Hz, 4K/120Hz
8K/60Hz, 4K/120Hz
8K/60Hz, 4K/120Hz
8K/60Hz, 4K/120Hz
HDMI Inputs
7
7
7
8
8
8
3
3
2
3
3
3
Where to buy?

Find on Amazon





B&HPhotoVideo

B&HPhotoVideo

ProjectorScreen.com





B&HPhotoVideo

Find on Amazon





B&HPhotoVideo





ProjectorScreen.com

Find on Amazon





B&HPhotoVideo





ProjectorScreen.com

Find on Amazon





B&HPhotoVideo





ProjectorScreen.com
---
Yamaha RX-A8A AVENTAGE – Our Top Pick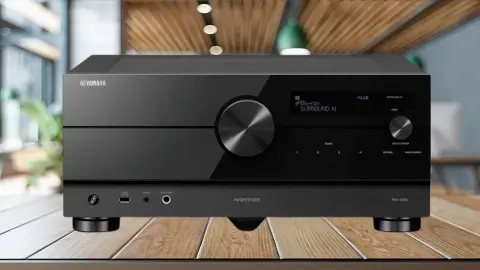 The Yamaha RX-A8A AVENTAGE is indeed the home cinema perfected. Following our extensive hands-on testing, it's safe to say that this AV receiver sits atop the AVENTAGE line not by chance but by virtue of its exceptional performance and features.
Pros
Delivers powerful, room-filling 150-watt sound across 11.2 channels.
Supports 4K120, 8K60 HDMI, and HDR10+ for vibrant visuals.
Equipped with cutting-edge tech like Dolby Atmos and DTS:X.
Features precise EQ tuning and room correction with YPAO-RSC 3D.
Convenient remote IP control for seamless sound setting adjustments.
Cons
Generates heat, typical of Class AB amplifiers.
Pricey, especially when compared to similar model A6A.
Performance and Flexibility
The RX-A8A's capabilities truly shine when it's put to work. It effortlessly delivered 150-watts of rich, room-filling sound across our 11.2-channel setup, creating an immersive audio environment that transformed our average room into a cinema. The versatility to tune the sound to our preferences, a feature loved by one of the customers, made the listening experience even more personalized.
Moreover, the AVR's heat emission, a concern for one user, was within our expectations for an amplifier of this class (Class AB). It's a small trade-off for the audio power it delivers.
Visual Experience
The video capabilities are equally impressive, handling 4K120 and 8K60 HDMI, as well as HDR10+. Watching movies was a breathtaking experience – the vibrant colors and incredible details brought the screen to life.
Tech-Savvy and User-Friendly
The RX-A8A is laden with cutting-edge technologies like Dolby Atmos Height Virtualization and DTS:X with CINEMA DSP HD3. However, it's the YPAO-RSC 3D multi-point measurement that impressed us the most with its precise EQ tuning and room correction.
Connecting the AVR to our network was a breeze, and the ability to control it remotely using its IP address was a bonus. On the other hand, one of our team members found no noticeable difference between the RX-A8A and its sibling, the A6A, which may be a point to consider before purchasing.
Read our full review of the Yamaha RX-A8A AVENTAGE.
---
Onkyo TX-RZ70
Performance and Extensive Features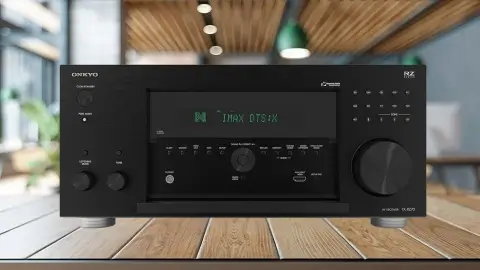 After thoroughly testing the Onkyo TX-RZ70, its array of powerful features and impeccable performance are apparent. The unit delivers audio powerfully with 140 watts per channel. The THD in stereo, at 0.08%, demonstrates clear and almost distortion-free sound. The unit's broad frequency bandwidth ensures that every tone from 20-20k Hz is accurately reproduced, lending to a vivid listening experience.
Pros
Powerful sound output with minimal distortion.
Extensive connectivity options including Bluetooth and AirPlay.
Immersive Dolby Atmos and DTS:X surround sound.
Convenient multi-room audio functionality.
Feature-packed with user-friendly app control.
Cons
Minor lip sync issues experienced.
No support for wireless rear speakers.
Connectivity Options
The device exhibits robust connectivity with built-in Bluetooth, Apple AirPlay 2, and compatibility with both Alexa and Google Assistant. The embedded Chromecast and DTS Play-Fi expand the scope of streaming services. Moreover, the App remote control functionality adds convenience, allowing us to control the receiver directly from our smartphones.
Surround Sound Experience
Incorporating Dolby Atmos and DTS:X, the receiver offered a stunning immersive experience, capturing the essence of a movie theatre right at home. The Dolby Atmos Height Virtualization and DTS Virtual:X added a perceptible three-dimensionality to the audio, heightening the overall impact.
User-Friendly with Multi-room Capability
The TX-RZ70's multi-room functionality with three total zones further impressed us. This functionality enabled us to stream different audio sources in various rooms, providing entertainment for everyone at home.
Customer Feedback Integration
On taking note of customer feedback, there were minor challenges with lip sync. However, the sound quality and separation were lauded, reflecting our own experience with the unit. Given the receiver's comprehensive feature set and overall performance, we are confident that addressing such minor issues can elevate the user experience further.
---
Sony STR-AZ5000E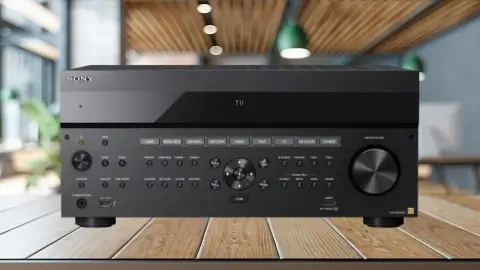 In our extensive testing, the Sony STR-AZ5000ES truly shines as an 11.2 channel network A/V receiver, pumping out 120 watts per channel, lending robust and detailed sound to our home theater setup. It strikes a fine balance between power and audio clarity, making it a solid cornerstone of an immersive audiovisual experience.
Pros
Impressive 120W/channel output for powerful, detailed sound.
Hassle-free setup with automatic speaker calibration.
Exceptional Dolby Atmos and DTS:X support for immersive audio.
Noticeable video enhancement providing sharp, clear visuals.
Multi-room and multi-zone functionality for versatile usage.
Cons
Incompatibility with Apple AirPlay and noticeable white noise with AppleTV.
Small, non-premium remote design lacking an accompanying app.
Ease of Set-Up and Calibration
One aspect that deeply impressed us is the seamless calibration process. This receiver features Sony's D.C.A.C. IX auto speaker calibration which allows it to automatically optimize sound output for the room it's in. The setup was straightforward, echoing the sentiments of one customer who appreciated the hassle-free process that breathed new life into their old system.
Movie Audio Experience
The receiver's Dolby Atmos and DTS:X support is a standout feature. With these, it can render lifelike, object-based audio that brings out the best in movie soundtracks. We felt it improved our movie viewing experience by adding depth to the audio and creating an expansive soundstage, something another customer also highlighted in their review.
Lack of Apple Compatibility and White Noise Issue
However, not all features performed equally well. While the receiver is compatible with Google Assistant and Chromecast, it lacks support for Apple AirPlay and Alexa. Additionally, we noticed the volume issue with AppleTV reported by one user – it needed to be significantly increased compared to other sources, which introduced some white noise. Despite these issues, the receiver still performed exceptionally well with other sources like Sony Blu-ray players and music sources.
Video Enhancement and Remote Design
When it comes to video quality, the Sony STR-AZ5000ES receiver left us impressed. Our team noticed a distinct improvement in video sharpness after setup, affirming another user's experience of enhanced video quality. The only drawback noted was the receiver's remote. Its small size and plasticky look detract from the otherwise premium feel of the Sony STR-AZ5000ES receiver. Unfortunately, we couldn't find a Sony remote app to circumvent this minor shortcoming.
---
Denon AVR-X6700H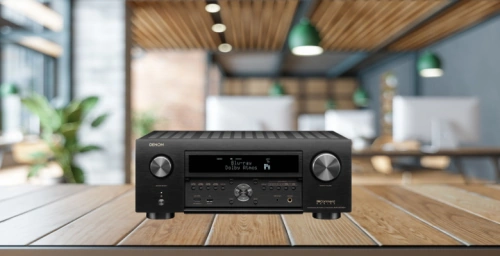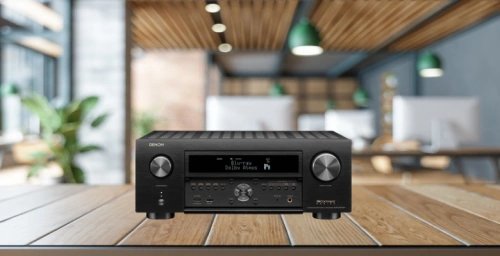 The Denon AVR-X6700H is an excellent receiver for a multi-purpose home entertainment system. It supports every kind of content with the same high quality. For movies and TV, you'll get video processing up to 8K resolutions, with support for advanced video technology like HDR10+, HLG, and 4:4:4 Pure Color sampling. Gamers will appreciate the 120Hz 4K pass-through and lag-reduction technology like ALLM and VRR.
The AVR-X6700H brings that same excellence to its sound processing. It uses Dolby Atmos Height Virtualization for an immersive 3D soundscape, with support for DTS:X and IMAX enhanced that ensures you're hearing music and movies the way they were intended. Each channel is driven by 140 watts of power for full output and clear, detailed sound.
We also appreciate how easy the AVR-X6700H is to use, even for a complete A/V beginner. The rear panel is robust but well-labeled, while the on-screen setup assistant guides users through connecting and calibrating the speakers and content sources. It's just as easy to use in wireless setups, with support for HEOS multi-room music and compatibility with all the popular voice control services. Click here for our more in-depth Denon AVR-X6700H review.
Pros
8K video processing with HDR10+
3D audio
Lag-free gaming
Multi-room music with HEOS
Guided on-screen setup and calibration
Compatible with multiple voice control services
Supports up to 13.2 channels
Cons
120Hz pass-through not supported for all sources
---
Marantz SR8015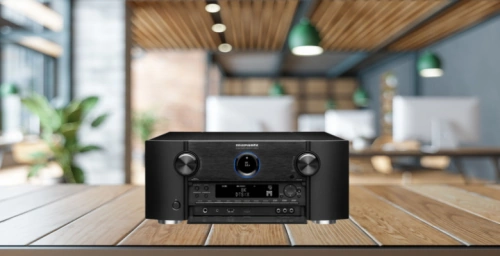 Marantz has earned a reputation as one of the best companies for high-quality audio equipment, and they live up to this reputation with the SR8015. Its advanced technology makes it one of the top receivers for home theater use. This starts with its 8K upscaling on all HDMI ports, paired with visual technology like Dolby Vision and BT.2020 that brings remarkable clarity and color production to all content types.
Where the Marantz SR8015 really shines is its sound quality. Each channel uses a discrete high-power amplifier, driven by 140 watts. That gives it a massive potential output, for one thing, and also means more sonic detail and depth than most receivers can provide. If you want a fully immersive 3D soundscape for your home theater, the Marantz SR8015 will provide it.
For experienced home theater users, the Marantz SR8015 has an intuitive setup menu and rear connection panel. There's not much guidance through the set-up process, though, which could be frustrating for first-time receiver owners. It has a convenient layout once you get the hang of it, though, with front-facing HDMI and audio inputs and a sleek backlit digital display. Click here for our more in-depth Marantz SR8015 Review.
Pros
Powerful, well-balanced audio output
8K upscaling on all HDMI ports
Dedicated amplifiers on all sound channels
3D sound with Height Virtualization
Auto Eco Mode reduces power consumption
Built-in Alexa and Google voice control
Cons
Not as much home automation systems
Less set-up guidance
---
Marantz AV7706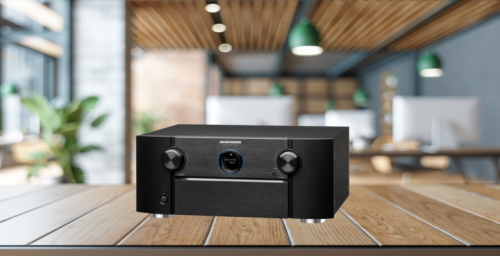 Last but not least, the Marantz AV7706 is another all-purpose home entertainment powerhouse, providing audiophile-level sound for music lovers and a cinema experience for home theaters. High resolution pre-amplifiers keep the sound signal pure, with support for the latest signal decoding technology to ensure that's true regardless of its source. The exclusive Hyper Dynamic Amplifier Module (HDAM) further optimizes the sound quality, and it supports the same flexible arrange of 3D sound configurations as other Marantz receivers on the list.
The video signal performance of the Marantz AV7706 is just as exceptional. It has an 8K pass-through with upscaling and dynamic HDR, with Quick Media Switching to prevent delays. However you watch your content, you'll get the full movie theater experience on both the visual and audio side with the Marantz AV7706.
The only downside of a receiver that's designed for audiophiles it that it does have a slightly higher learning curve. The guided set-up assistant covers the basics, but it may still take beginners a while to feel comfortable navigating all the settings. That said, its color-coded rear panel and graphic user interface make it relatively easy to install and connect into your system, and it supports multiple hands-free control options. For our more in-depth Marantz AV7706 review, click here.
Pros
High audio quality for music or home theater
8K pass-through and upscaling
Supports multiple 3D audio formats
Music streaming through Pandora, Spotify, and more
Voice control through Alexa, Apple, or Google
Guided setup
Cons
Higher learning curve for beginners
Should be used with external power amp or powered speakers
---
So What's the Best 11.2 Receiver?
As we conclude our comprehensive guide for the best 11.2 receivers of 2023, we want to emphasize that our selections are the result of thorough testing, extensive research, and a genuine passion for bringing the finest audio-visual experiences into your home.
In total, we put six top-tier receivers under the microscope, carefully analyzing their features, performance, reliability, and value. Our objective was to assist you in making an informed decision that perfectly aligns with your individual needs and preferences.
After all our testing and evaluations, we're confident in naming the Yamaha RX-A8A AVENTAGE as our top pick for 2023. This exceptional 11.2 receiver shines with its unrivaled audio clarity, immersive surround sound, and advanced smart connectivity. Yamaha's commitment to excellence, as embodied in the AVENTAGE series, truly sets the RX-A8A apart from the competition. >>> Find on BHPhotoVideo
However, we also recognize that each of the six receivers we tested has its unique strengths and could be the perfect fit for different home theater setups. We hope that our detailed reviews and comparisons have helped illuminate these nuances and guide you towards the best choice for your own audio-visual journey.
REFERENCES AND FURTHER READING: