With any luck, the global chip shortage caused by the Covid-19 pandemic will be over in mid-September 2021. If and when that happens, buyers are sure to be searching for the best audio-video receivers on the market. We took a look at two of the flagship models to decide the best between Denon AVR-X8500H vs Marantz SR8012. When the markets open again, you'll want to snap up the Denon AVR-X8500H before they run out. The Marantz SR8012 has been discontinued, so you'll only find this one on the refurbished market. The Marantz SR8015 is the current model.
Denon AVR-X8500H vs Marantz SR8012 Side by Side:
| | Denon AVR-X8500H | Marantz SR8012 |
| --- | --- | --- |
| | | |
| Video | 4K/120Hz | 4K/60Hz |
| Amplifier | 13.2 Channel (150W per channel) | 11.2 Channel (205W per channel) |
| Sound | 7.1.6 or 9.1.4 Dolby Atmos | 11.2 or 9.1.2 Dolby Atmos |
| Wi-Fi | Yes | Yes |
| Bluetooth | Yes | Yes |
| Price | Find on Amazon | Find on Amazon |
Similarities and Differences
It should be pointed out right away that these two receivers will share lots of components and technology. Both are built by the same company, Sound United, Inc., which also owns Polk Audio. That is the reason that at a casual glance, these two receivers look so similar. You'll notice that both receivers are of similar size and color, and the fit and finishes are nearly identical. On the rear panel, you'll notice most of the connections are in the same locations and provide the same functions.
Similarities -Tuning
A key to any AVR is the ability to set it up to create the best sounding stage environment in your particular room. Both of these units use the Audyssey MultiEQ XT32 system that is easy to use and does a fantastic job of quickly getting you the best sound.
Surround Sound Technology
These two receivers sport identical features in terms of support for surround sound options. You'll find Dolby Atmos, a full suite of DTS support, and Aura 3D. Denon offers support for IMAX enhancement, a feature not available on Marantz SR8012. Click here for our more in-depth Marantz SR8012 review.
HDMI Input & Output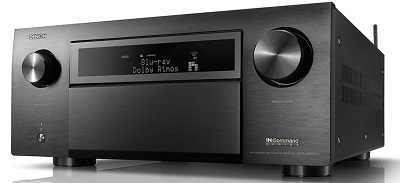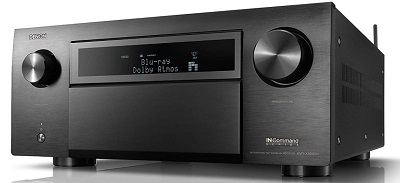 These two receivers feature identical HDMI panels. They have a total of seven HDMI ports on the back panel and an additional HDMI port on the front panel.
Denon AVR-X8500H
Pros
Upgradable to 8k for the future of home cinema
Powerful receiver/ preamp that delivers clean, accurate sound
13 channels allow for the ultimate surround sound setup for your room
Cons
Recent quality control issues and a lack of customer service since the Sound United acquisition
App Compatibility
The receivers use a functionally identical app which works very well for controlling functions of your AVR using a WiFi or Bluetooth connection. The app is essential for properly tuning the system.
Differences
Major differences exist, though. If you are on the fence, the differences may help you decide to save up for the Denon AVR-X8500h. We'll start with some obvious differences, then get into a few of the more technical things you'll want to know as you build the ultimate home theater.
Key Differences- Channels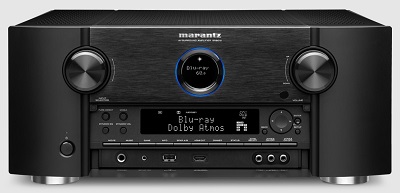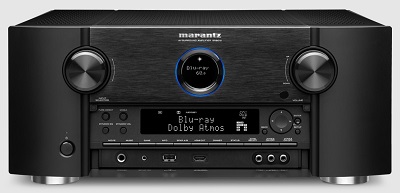 Denon offers a full 13 channels of pre-amp power, providing up to 150 watts per channel. Marantz offers you only 11 channels and somewhat less power at 140 watts. While 11 channels is probably plenty, having the full 13 channels allows you to build out your system to your own preferences, including adding zones and running speakers to different rooms. Simply put, more is always better when it comes to ways to connect bigger, better speakers.
This receiver is capable of supporting up to three separate zones that you can direct audio to using HEOS wireless speakers connected through your home network. Both the Denon and Marantz receivers support popular digital assistant programs including Alexa and Google Home.
Marantz SR8012
Pros
High-quality build that provides an excellent home theater solution
Many people prefer the unique sound of Marantz receivers over Denon and other brands
Cons
Outdated and has been replaced by newer model leaving very little support behind for customer problems
Video Quality Pass-Through
Both of these receivers offer the same 4k/ 60 Hz pass-through for realistic video streaming. However, the Denon AVR-X8500H is 8k-ready. Upgrading the receiver is now possible at a cost of about $600. The Marantz receiver will not get an upgrade, a let-down particularly for gamers who want to take advantage of the most modern graphics available.
The ability to upgrade this unit is one of the key things we like about it. There have been numerous issues over the last few years with the implementation of 8k resolution and Denon seems to be at the forefront of providing the necessary technology to consumers who are interested in upgrading for the future.
Conclusion
When the SR8012 was first available, we thought it was a good unit with a few small bugs that needed to be worked out unlike the Denon AVR-X8500H. That one we loved right away and still do. Having the ability to upgrade the chipset to finally provide full 8k resolution is exciting, particularly for gamers that have invested in expensive audio and video monitors to take advantage of the highest resolutions offered by today's consoles.
Since the SR8012 was discontinued in favor of the SR8015, the problems with it have become more apparent. More and more receivers on the market are suffering from failed components and various problems as it's clear that Sound United wanted to clear out inventory to make room for the next system. Spend your money on the Denon AVR-X8500H, buy the upgraded chipset for 8k resolution, and get ready to enjoy your home theater experience like never before (>>> Find on Amazon).
REFERENCES AND FURTHER READING: