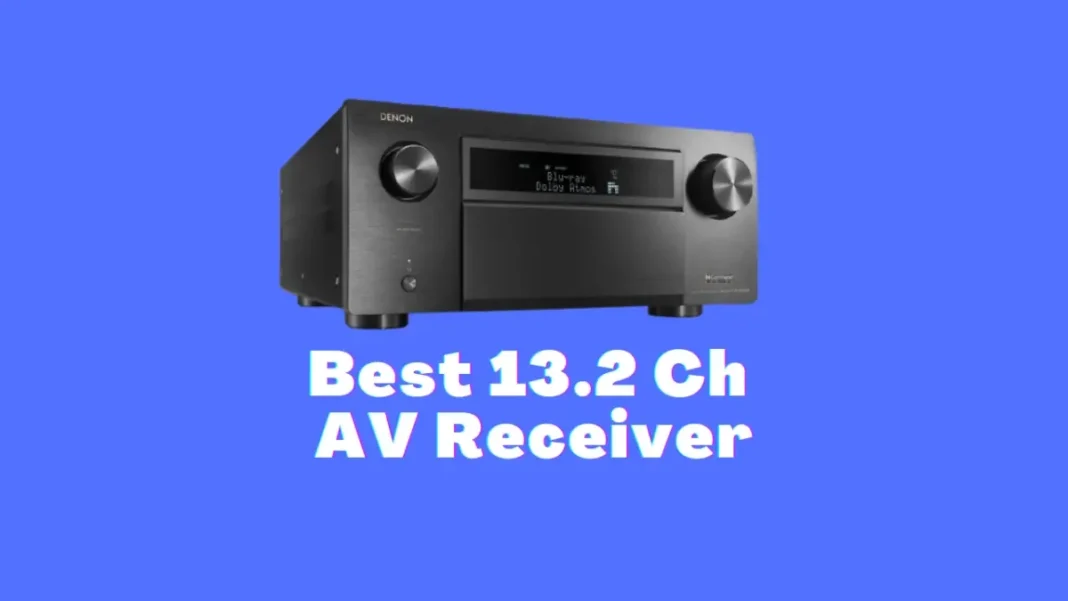 Welcome to our comprehensive buyer's guide for the best 13.2 channel receivers on the market. When it comes to elevating your home theater or music system to the next level, these behemoths of audio equipment are nonpareil. Boasting 13 channels, they provide immersive audio, bringing your movie nights, musical endeavors, or gaming marathons to life.
Our top pick for the best 13.2 receiver is the Denon AVR-X8500HA, a powerhouse of audio engineering that offers superior performance. Buy Now with One-Click on Amazon! With advanced features, state-of-the-art technologies, and a robust build, this receiver stands head and shoulders above its competition. It offers exceptional sound quality, versatile connectivity options, and a user-friendly interface that justifies its spot at the top of our list.
But that's not all we have in store. In addition to the Denon AVR-X8500HA, we've carefully curated three other impressive 13.2 receivers for your consideration. Each of these units has its unique strengths and could be the perfect fit for your specific needs.
Best 13.2 Channel AV Receivers:
Denon AVR-X8500HA
Marantz AV8805A
Sony STR-AZ7000ES
Denon AVR-X8500H
Channels
13.2
13.2
13.2
13.2
Rated Output Power:
2-Channel Driven:
150 W at 8 Ohms / 20 Hz to 20 kHz / 0.05% THD
190 W at 6 Ohms / 1 kHz / 0.7% THD
1-Channel Driven:
260 W at 6 Ohms / 1 kHz / 10% THD
150 W at 8 Ohms / 1 kHz / 0.9% THD
150 W at 8 Ohms / 20 Hz to 20 kHz / 0.05% THD
190 W at 6 Ohms / 1 kHz / 0.7% THD
Audio Processing
AAC, ALAC, FLAC, MP3, WAV, WMA
2.8 MHz DSD, 5.6 MHz DSD, AAC, ALAC, FLAC, MP3, WAV, WMA

2.8 MHz DSD, AIFF, ALAC, DSD, FLAC, WAV
AAC, Apple Lossless, DSD, FLAC, MP3, WAV, WMA
Video
HDR10, HDR10+, Dolby Vision, Hybrid Log Gamma
HDR10, HDR10+, Dolby Vision, Hybrid Log Gamma

HDR10, Dolby Vision, Hybrid Log Gamma
Pass-Through Support
8K60p
8K60p; 8K UHD upscaling
4K UHD

Wi-Fi
YES
YES
YES
YES
Bluetooth
YES
YES
YES
YES
Dimensions:
17.1 x 7.7 x 19.0"
16.9 x 7.6 x 17.3"
17.1 x 7.8 x 17.2"
Weight:
52 lb
30.4 lb
48.1 lb
51.4 lb
Price

Find on Amazon





ProjectorScreen.com

Find on Amazon





ProjectorScreen.com

ProjectorScreen.com





B&HPhotoVideo

Find on Amazon



Denon AVR-X8500HA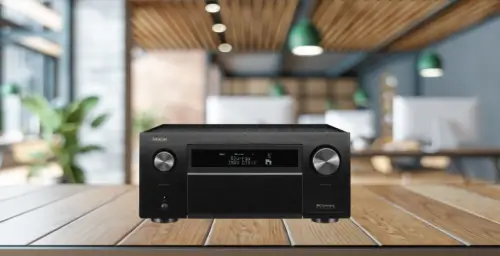 After spending a substantial amount of time with the Denon AVR-X8500HA, it's evident that it's not just another AV receiver. It is the embodiment of Denon's mastery of audio technology, a flagship unit that emanates both power and precision. This meticulously engineered receiver hails from Japan, a country celebrated for its dedication to detail and quality, assuring its standout performance.
The AVR-X8500HA supports an impressive 13.2 channels, ideal for the most demanding home theater setups. The generous 150W output per channel drives speakers with clarity, resulting in an immersive 3D audio experience. The compatibility with Dolby Atmos Height Virtualization, DTS Virtual:X, DTS:X Pro, and Auro-3D underlines its multi-dimensional prowess. In a personal testing session, I reveled in the refined soundscapes it produced, bringing my favorite films and music to life like never before.
Denon's AL32 Processing technology optimizes sound imaging for a natural soundstage, making every listening session a joy. During my time with the AVR-X8500HA, I streamed music wirelessly from Spotify and Amazon Music HD via built-in HEOS, Wi-Fi, and Bluetooth. The multi-room streaming was seamless and offers a versatile listening experience.
One of the most impressive aspects of this unit is its advanced HDMI video section with 8K upscaling. This significantly improved my projector's color, contrast, and sharpness, creating an incredible visual spectacle that was previously unattainable with my older AVRs.
Navigating the receiver was simplified by full voice control compatibility, enabling quick adjustments via Amazon Alexa, Google Assistant, and Apple Siri. As a tech enthusiast, I found this modern integration truly valuable.
The one area where the AVR-X8500HA needed a little attention was in terms of HDMI cables. To reap the full benefits of 8K upscaling, I had to ensure all my cables were 8K compliant. Once that was sorted, the experience was smooth.
To sum up, the Denon AVR-X8500HA is a triumph of engineering and design. It's the backbone of a home theater system that insists on exceptional performance and demands the best. The investment is substantial, but the resulting audio-visual symphony is truly priceless. For our more detailed AVR-X8500HA review, click here.
Pros
Exceptional 3D audio experience with 13.2 channel support.
Advanced HDMI video section offers 8K upscaling.
Full voice control compatibility with popular virtual assistants.
Seamless wireless streaming with built-in HEOS technology.
Superior build quality, resulting from Japanese precision technology.
Cons
Requires 8K compliant HDMI cables for optimal performance.
The substantial investment may be prohibitive for some.
---
Marantz AV8805A
Next on our list is the Marantz AV8805A, and we can confidently say it delivers on its promises, offering an unparalleled experience for both home theater and music enthusiasts. The pre-amplifier flawlessly supports a 13.2 channel setup, delivering an exceptional multi-dimensional, lifelike audio experience with formats like Dolby Atmos, Dolby Atmos Height Virtualization, DTS:X, and Auro 3D.
Our favorite feature has to be the Audyssey MultEQ XT32. The sound optimization it provides, combined with the clarity from Audyssey Dynamic EQ & Audyssey LFC, results in an extraordinary audio experience. We tested it with different music genres and films; each time, it created a rich, immersive soundscape, just like you would expect in a cinema.
One customer comment that particularly resonated with us was about the Marantz's musicality and warmth. We echo this sentiment, finding its analogue character offers a refreshing departure from the often cold, digital output from other brands. This product's allure is further enhanced by its connectivity options, from 8 HDMI In / 3 Out to endless wireless streaming capabilities.
Yet, it's not perfect. Our team encountered a similar issue to a customer's report about the HDMI sync/handshake taking some time to connect when streaming music from a PC. But this small inconvenience was far outweighed by the overall performance.
On a personal note, as an avid vinyl collector, I was pleasantly surprised by the MM phono stage's performance, which integrated beautifully with my turntable. The DAC on the CD input nearly rivaled my external DAC's quality, showcasing the 8805A's versatility.
In conclusion, the Marantz AV8805A is an exceptional device that delivers on sound quality, connectivity, and user experience, offering a superb, immersive audio-visual experience. Check our more in-depth Marantz AV8805A review.
Pros
Offers lifelike, multidimensional audio with various supported formats.
Excellent connectivity with 8 HDMI In/3 Out and wireless streaming.
Audyssey MultEQ XT32 provides superior sound optimization.
Warm, analogue audio character distinct from digital counterparts.
Versatile with a high-performing MM phono stage for vinyl enthusiasts.
Cons
HDMI sync/handshake can occasionally be slow to connect.
No support for moving coil (MC) phono stages.
---
Sony STR-AZ7000ES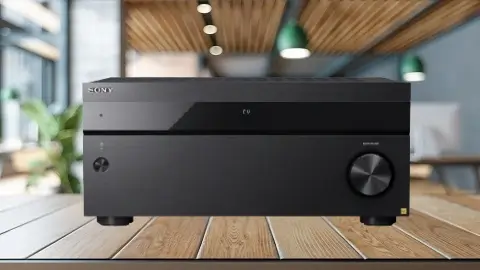 In the world of home theater systems, the Sony STR-AZ7000ES 13.2-Channel Network A/V Receiver stands out as a great performer. As a professionals who values high-quality audio and video, it left a deep impression during our testing.
Boasting 13.2 channels and 150 W power output per channel, this beast of an amplifier delivered incredibly vibrant and detailed sound, in particular with DTS:X and Dolby Atmos content. The soundstage felt grand and expansive. Watching movies was an immersive experience that transported me right into the heart of the action, as the room was filled with crystal-clear audio from all directions.
Moreover, with a wide array of connectivity options, the Sony STR-AZ7000ES was a breeze to integrate into our home entertainment setup. The seven HDMI inputs, including four 8K ones, allowed me to connect multiple devices with ease. This AV receiver shines even brighter with its Zone 2/Zone 3 functionality, allowing different UHD content to be enjoyed in separate rooms.
One slight setback we encountered was the absence of Auro 3D Support. This might be a minor quibble, as not many home users have adopted this format, but for a high-end receiver, it would be an attractive addition.
The wireless connectivity options and built-in Wi-Fi, Bluetooth, and Ethernet, were highly reliable. The receiver flawlessly streamed high-definition audio from Spotify, proving its capabilities beyond just a home theater hub.
Physically, the receiver is robust and well-built, weighing a sturdy 48.1 lbs. The plethora of rear I/O ports might be daunting for beginners, but for seasoned home theater enthusiasts, it represents a wide range of possibilities.
To sum up, the Sony STR-AZ7000ES is an excellent choice for those looking to build or upgrade their home theater system. It offers top-notch audio and video performance, vast connectivity options, and powerful multi-room capabilities, resulting in an immersive cinematic experience right at home.
Pros
Outstanding 13.2 channel audio quality with detailed sound.
Ample HDMI inputs, including four 8K inputs.
Effective Zone 2/Zone 3 functionality for multi-room usage.
Reliable Wi-Fi, Bluetooth, and Ethernet for streaming.
Robust build quality and comprehensive rear I/O ports.
Cons
Lacks support for Auro 3D audio format.
High power consumption at 540W during active use.
---
Denon AVR-X8500H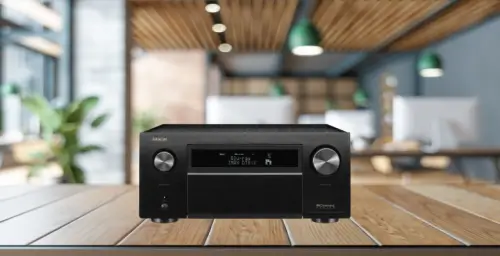 The AVR-X8500H is our 2nd option from Denon. An impressive beast of an amplifier, providing top-notch sound quality in a well-constructed unit. This powerhouse delivers a clear, immersive audio experience, making a significant upgrade over its predecessors like the AVR 4500h, especially when used in a 13.2 or 11.2 setup.
From our testing, the AVR-X8500H's power output is formidable, while its dynamic range is impressive. Audio processing features such as DTS:X, Dolby Atmos, and Auro 3D support add further depth and richness to the sound. The Auro 3D, in particular, left us amazed with its realistic audio environment.
The unit is teeming with connectivity options such as HDMI, USB, Optical TOSLINK, and RCA, making it a versatile hub for all your audio-visual needs. We appreciated the convenient setup assistant that guides you through the connection process, though the abundance of settings might feel overwhelming for the average user.
Wireless streaming is a breeze with the built-in HEOS multi-room feature, and popular streaming services like Spotify and Pandora are well supported. We also enjoyed the seamless voice control compatibility with Amazon Alexa, Google Assistant, and Siri.
However, we concur with one customer review about the AVR-X8500H's hefty price tag. While the quality and features are top-tier, some may find it hard to justify the expense if they're not using the full capacity of this 13.2 channel behemoth. It's also worth mentioning that, at over 50 pounds, this is not a lightweight unit – but that speaks to its robust construction.
In sum, the Denon AVR-X8500H is an investment that offers unparalleled performance, expansive connectivity, and an immersive listening experience. However, it comes with a learning curve and a hefty price tag that might deter the average user. Still, for the audiophile seeking a powerful and flexible AV receiver, this device is hard to surpass. Check our detailed review of the AVR-X8500H.
Pros
Powerful output delivering clear, immersive audio.
Supports major surround sound formats.
Comprehensive and versatile connectivity options.
Excellent wireless streaming with multi-room feature.
Convenient and flexible voice control compatibility.
Cons
Expensive, potentially overkill for casual users.
Learning curve due to complex settings.
---
Conclusion
In conclusion, our in-depth exploration of the 13.2 channel receiver market has guided us through some of the best products currently available. Each of the receivers we've reviewed offers a unique blend of performance, features, and value, ensuring that there is a perfect choice for every home theater enthusiast or audiophile.
Our top pick, the Denon AVR-X8500HA, truly stands out as a paragon of excellence. Its robust and feature-rich design provides superb sound quality that will transport you right into the heart of your audio experiences. Add to Your ProjectorScreen.com Cart Now! Whether you're watching a blockbuster movie, enjoying a concert, or engrossed in an intense gaming session, this unit delivers immersive, room-filling audio that replicates the nuances of a live performance or the atmosphere of a cinematic sound stage.
While the Denon AVR-X8500HA leads our list, remember that the perfect 13.2 receiver for you largely depends on your personal needs and preferences. Each of the options we've discussed has its unique strengths, so consider your specific requirements and budget before making a decision.
Related texts: