Denon is a well-respected manufacturer of high-end audio and video devices. The Denon AVR-X2700H and the AVR-X3700H share more than just a familiar appearance. Most of the features and functions of the two models are the same.
The primary difference between the two is the addition of extra channels for creating a larger surround sound system that the X3700H offers. ( >>> Check how much it cost)
Our Top Pick
Both the AVR-X2700H and the AVR-X3700H are excellent choices for building a legendary home audio system. More channels and opportunities to expand along with more power and better tuning capabilities make the Denon AVR-X3700H a superior pick.
Denon AVR-X2700H vs AVR-X3700H Comparison:
In this article, we will examine the similarities and differences between these two fantastic AV receivers and give you some tips about why the technologies are valuable and desirable. Then, we will give you full reviews of the products.
Speaker Channels
The greatest difference between these two receivers is the number of available speaker channels. The AVR-X2700H provides seven powered channels while the AVR-X3700H offers nine. In terms of setup, the more numerous channels offer greater flexibility in the arrangement of speakers you can configure in your entertainment area.
The extra channels let you set up ceiling-mount speakers and make routing speakers to a second zone better than the AVR-X2700H. That is because the remote zone speakers remove speakers from your main listening area, reducing the total number of channels to five, while the AVR-X3700H will still have seven channels in the main area available.
Connectivity Options
Connection options are similar and offer a wide range of opportunities to connect your favorite devices, gaming consoles, or turntable for the most complete audio experience. The HDMI inputs and outputs vary slightly, with the Denon AVR-X2700H having six inputs and two outputs while the Denon AVR-X3700H has seven inputs and three outputs. All are HDMI version 2.1.
ARC and eARC Compatible Components
One of the outputs on both models provides connectivity for an audio return channel and both support an enhanced audio return channel or eARC. Processing Dolby Atmos, DTS:X, and many other audio protocols are simplified by the eARC HDMI port.
Video Resolution Capabilities
All of the HDMI outputs on both devices are capable of video upscaling to 4k at 60 Hz, while one HDMI input is reserved for 4k/120Hz or 8k/60Hz video upscaling passthrough. This is an excellent option for connecting to one of today's most popular gaming consoles.
Video and Sound Processing Technologies
There is little difference between the way the Denon AVR-X2700H vs Denon AVR-X3700H process sound and video. Both feature Dolby Vision compatibility along with Dolby Digital processing. Both handle Dolby Digital DD, DD+, EX, and TrueHD. They are also compliant with Dolby Atmos Height Virtualization, DTS:X, and DTS Virtual:X. Video capabilities include Dolby Vision, HDR, HDR10, and HDR10+.
Speaker Connection Options
Both models use binding post connectors for speaker connections. From there, you'll notice a big difference in the connection options available. The Denon AVR-X3700H offers RCA preouts for advanced surround sound setups. The Denon AVR-X2700H only provides preouts for subwoofers and Zone 2 connections.
Advanced inputs
Audiophiles looking for a receiver that works with their turntable will appreciate that both models have a phono input. Both offer a pair of coaxial and digital inputs but don't offer coaxial digital outputs. They also have a pair of digital audio inputs.
Tuning Capabilities
The Denon AVR-X3700H offers a more advanced version of the award-winning Audyssey dynamic eq program. The AVR-X3700H uses Audyssey MultiEQ XT32, a 32-bit version that offers superior tuning capabilities. The Denon AVR-X2700H uses the more basic Audyssey MultiEQ. Though less sophisticated, it is also an excellent tuning program that helps get the most lively sound from your speaker setup using the Audyssey dynamic volume mapping abilities.
---
Denon AVR-X2700H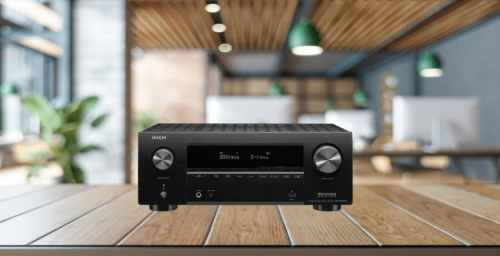 The Denon AVR-X2700H was introduced in 2020 and was one of the first AVRs to offer 8k pass-through. The receiver offers seven individually amplified speaker channels and two outputs for powered subwoofers offering traditional surround sound configurations which can also be modified to create more exotic layouts by using the multi-room HDMI output options.
The AVR-X2700H offers 95 watts per channel of power. It processes inputs through Dolby Digital, Dolby Atmos, DTS, and IMAX enhanced protocols to create the most realistic and immersive environment around. Wi-Fi and Bluetooth enable wireless internet music streaming sources such as Spotify and Pandora that are easily controlled by your compatible smartphone.
The AVR-X2700H provides six HDMI inputs and two HDMI outputs. One of the inputs is capable of 8k resolution while the others are limited to 4k. One of the HDMI outputs is designated for an HDMI ARC or eARC connection.
The Denon AVR-X2700H is a popular choice for gamers because of the auto-low latency mode and variable refresh rate that provides a 4k/120Hz passthrough for stutter-free gaming. Coupling this technology with an immersive surround sound package brings new life to any gaming console. Click here if you want to read our more detailed Denon AVR X2700h review.
Pros
Amazing sound and video capabilities for movie buffs, audiophiles, and gamers
Integrates with other components for a complete cinema-quality experience
Cons
Lower-spec tuning program limits the extent of tuning capabilities
Early models may have inoperable 8k HDMI input
---
Denon AVR-X3700H
The Denon AVR-X3700H was introduced in 2020 along with the X2700H. The two receivers share virtually all of the same technology. The primary difference is that the X3700H has speaker connections for up to a 9.2-channel surround sound system versus only seven powered channels of the X2700H.
Power is slightly higher, coming in at 105 watts per channel. It offers the same audio and video processing capabilities and gaming modes. One notable difference is the inclusion of the 32-bit Audyssey MultiEQ XT32 tuning program which is considered to be one of the best in the world for audiophiles. Read our full review of the Denon AVR-X3700H.
Pros
Ideally suited for a whole home theater system
Numerous advanced processing features
Cons
Tuning system can be overwhelming
---
Conclusion
Choosing between these two receivers comes down to how much expandability you want. The additional channels and impressive tuning system make the Denon AVR-X3700H our favorite choice (>>> Check current price on Bhphotovideo). With that said, the Denon AVR-X2700H is a solid performer with the features you want. You can save some money if you are not that interested in building a full surround sound system picking the lower model.
REFERENCES AND FURTHER READING: